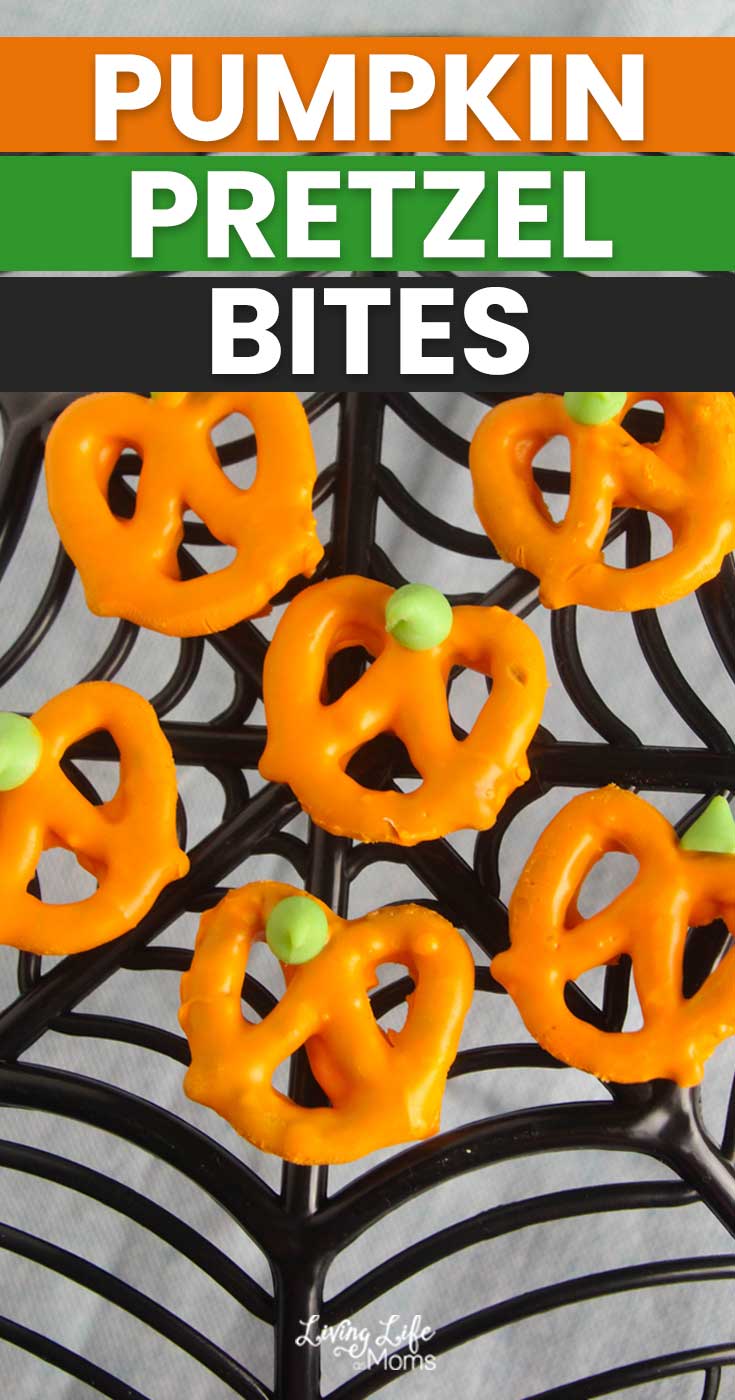 The kids are going to have so much fun making these Pumpkin Pretzel Bites! Not only are they easy to make but they're the cutest fall dessert as well! Find out how simple it is to make this easy pumpkin treat!
We're big fans of pretzel desserts because they're fast and simple to do. The kids love being able to dip the pretzels in chocolate and have them ready to enjoy. I'm all about it as well as it's a fun way to get the kids to help out more in the kitchen.
Use this simple pretzel recipe as a way to get treats in your house fast! They're crunchy, delicious, and fun to make!
Be sure to check out my Spooky Halloween Pretzel Bites for another fun Halloween and Fall pretzel dessert.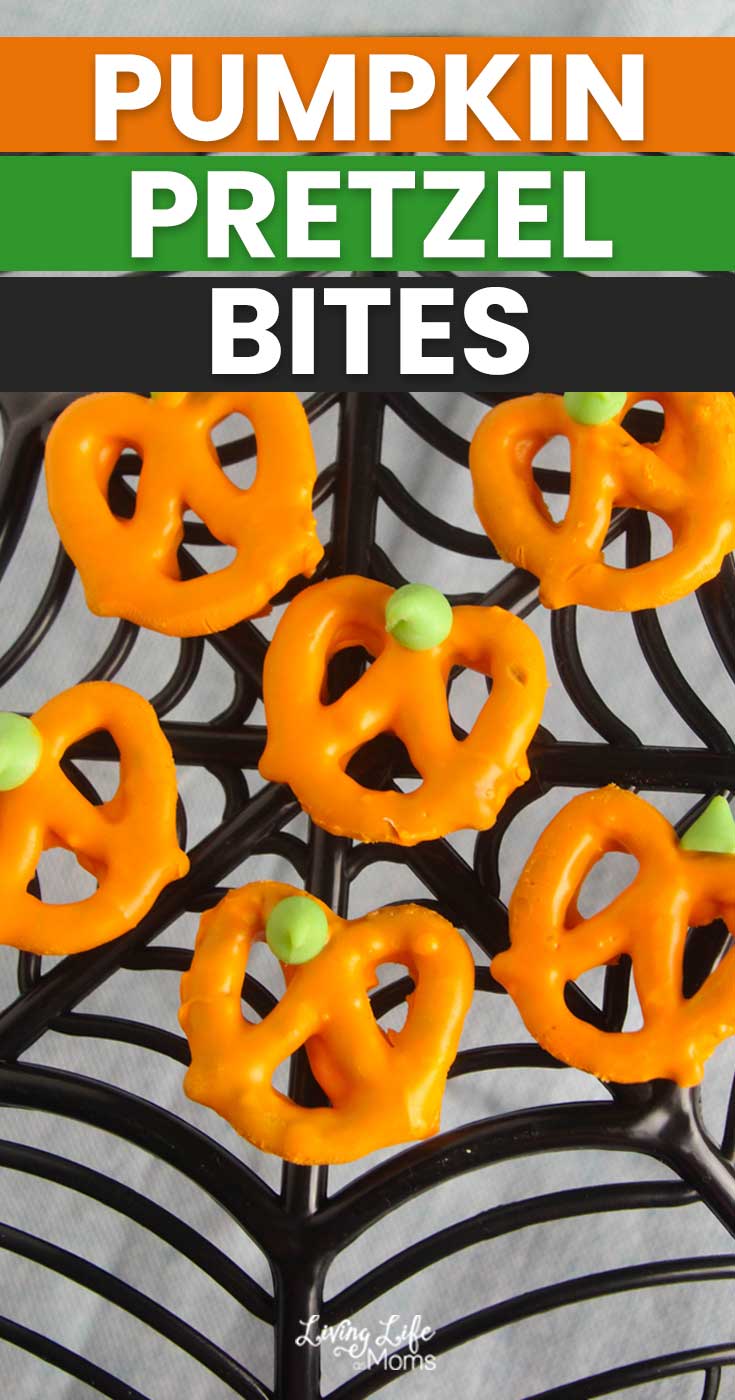 Pumpkin Pretzel Bites
Can we all just agree that these pretzel bites are the cutest? They're the perfect fall snack that gets up pumped up and excited for Halloween and then winters. We love to make themed snacks because it's just a great way to be in the moment and make each season something that we can all look forward to as well.
Plus, let's face it. Since these pumpkin pretzels are super simple to make, it's an easy snack recipe that we can make and enjoy in less than an hour of time! That's my kind of snack to make over and over again!
Ingredients Needed To Make Pumpkin Pretzel Bites
The great thing about this simple pretzel dessert is that you don't need a ton of ingredients to get started!
24 Pretzels
1/2 cup Orange Candy Melts (or pumpkin spice chips)
24 Green Chocolate Chips (or green sixlets or even jellybeans that are green that you cut in half)

How To Make Pumpkin Pretzel Bites
Once you get the hang of making this simple pretzel treat, there's nothing that's going to stop you from making it all year long. Who says you can't eat pumpkin pretzels every single month?
Make sure that you take your time and melt the chocolate slowly. You will have to melt it in the microwave but you want to do it in spurts and stir in between otherwise you run the risk of burning the chocolate which makes it no good to use.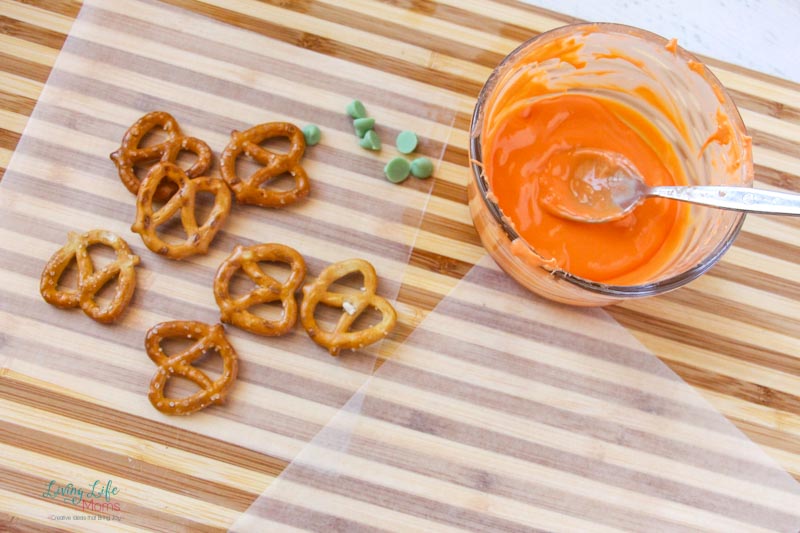 I also lay down parchment paper because as the chocolate dries and starts to melt off a bit, it's going to stick to whatever it's on. Parchment paper makes it super simple to pull off of and it keeps it from breaking as well.
Once you dip the pretzels into the melted chocolate, you're going to have excess to deal with. I use a fork to pull the chocolate covered pretzels out and let them drip the excess chocolate right back into the bowl.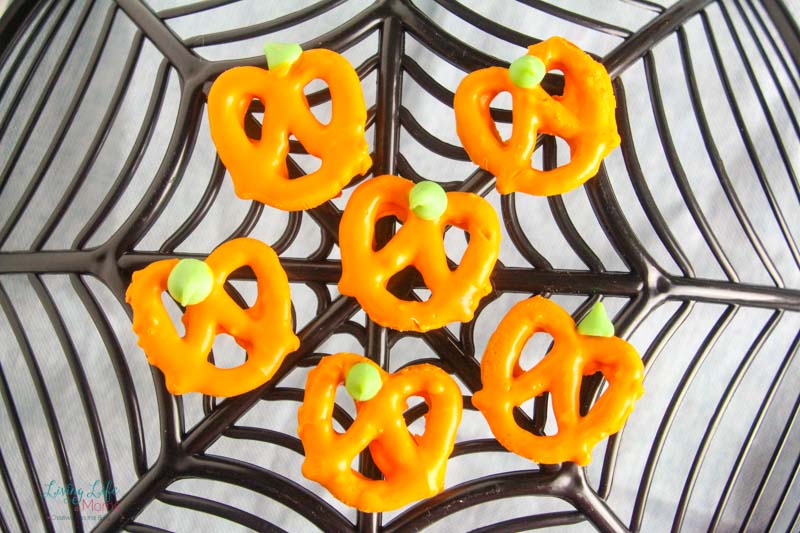 As you can see, they'll dry quickly and easily and will be ready to scoop up and eat in no time at all!
How do you store pumpkin pretzel bites?
The biggest thing that you need to remember when storing these pretzel treats is that you need to keep them out of the air. The air is not good for them and will cause them to become stale. Even if they're covered in chocolate, they're going to be stale.
I like to store them in a baggie or a container with a lid. This keeps them fresh for several days and they still have a nice crunch to them.
Can you put chocolate-covered pretzels in the freezer?
Absolutely. If you have some that you want to save for later or are just trying to limit eating them before a certain time, you can place these pumpkin pretzel bites in the freezer to enjoy at a later point in time.
I freeze them all the time and they're still so good! Just make sure that you're using a bag or container that is freezer-safe so that it doesn't take the risk of them being freezer-burnt.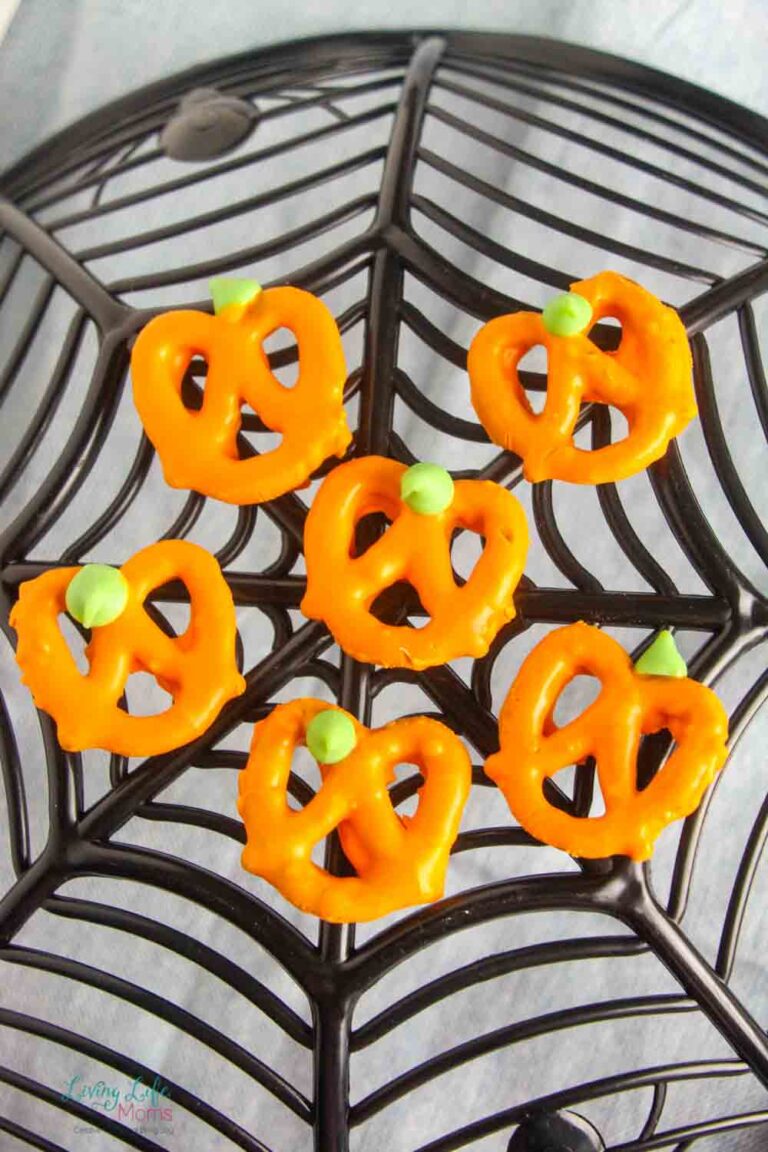 What are some other fun ideas to decorate pretzels?
Since we're all about the fall season, it's just a lot of fun to decorate the pretzels any way that you want. We have orange and brown sprinkles that we'll add on top as well as some orange sugar crystals, too.
The kids know that when it comes to being creative in the kitchen, there are no issues on my part from letting that happen.
Fun Ways To Share pumpkin Pretzel Bites
The fun thing about making sweets and treats like this is what they're really fun to share. The kids can help be a part of the creative process and then have them as a surprise for family and friends.
Since this recipe creates a large amount and it's easy to double or triple, there's no reason that this can't be a fun family tradition where everyone joins in on the pumpkin pretzel fun.
Just grab some really cute baggies to put the pretzels in and have them sealed and tied and ready to gift. Who wouldn't love getting a bag of homemade sweets and treats delivered right to their door?
Like I always tell the kids…When it comes to trying to figure out what to share and gift to people, you really can't go wrong with sweets and treats. People love the thought and the effort and of course love snacking on the end result. It just may motivate them to think that way the next time that they're looking for something to share!
Have fun making these pumpkin pretzel bites! They're a really great way to get a fun flavor and taste with the cutest sweets as well.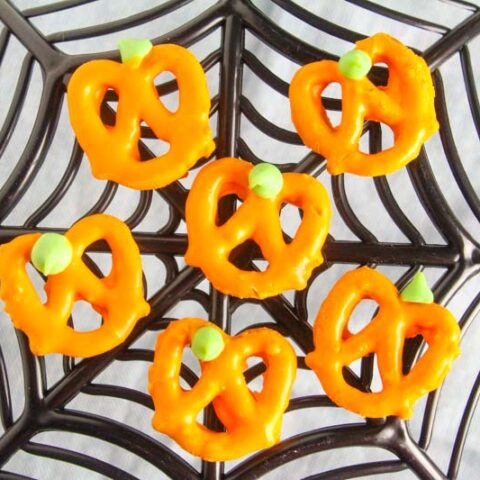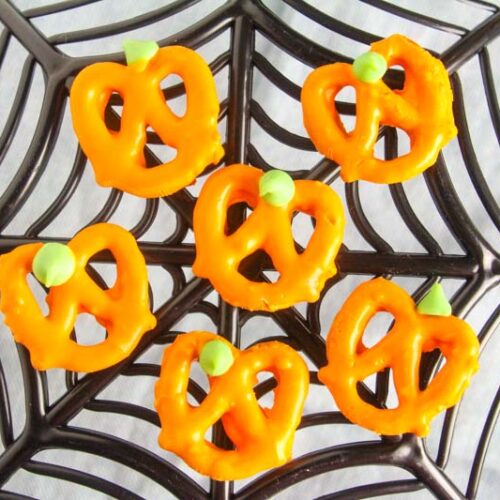 Pumpkin Pretzel Bites
These easy pumpkin treats are a super fun and easy way to make something sweet for the family to enjoy!
Ingredients
24 Pretzels
1/2 cup of orange candy melts or orange pumpkin spice chips
24 green chocolate chips or green sixlets or even green jelly beans cut in half.
Instructions
Lay down parchment paper on the counter.

Melt the candy melts in a microwave-safe bowl in 20-second increments, stirring between each one.

Use a fork and dip the pretzel to cover with the chocolate. Put on the parchment paper once done.

Put the green chocolate chip at the top of the pretzel.

Let dry for up to 1 hour before eating.

Recommended Products
As an Amazon Associate and member of other affiliate programs, I earn from qualifying purchases.
More Pretzel Treats
We actually create a lot of pretzel desserts in our house because they're simple, easy, and delicious. And when you find a recipe that just fits, why vary it any other way? Here are some other great desserts that I think you'll like as well!
Pretzel Snacks You Have to Try