Yummy Snowman Pretzel Bites
When you have the delectable combination of chocolate and pretzels, you can't go wrong with any treat. These treats are seriously some of the easiest pretzel treats, ever. The kids will love to help create these simple snowman treats!
Take the blah out of winter while you brighten things up with these yummy snowman pretzel bites. Your family will thank you.
They're super easy to make and only take a few ingredients. We love to make this on a cold afternoon as a fun snack to enjoy after playing out in the snow. (but really these can be made up anytime to be enjoyed!)
Need more cute snowman treats for the family, cheer up your winter spirit with these fun snacks.
Snowman Pretzel Bites
You have to admit that these are the cutest treats, right? There's nothing better than being able to have a pretzel treat stuffed full of yummy chocolate and sweetness. My kids love these because they can sneak one and grab one each and every time they run by the kitchen.
Make these ahead for any winter themed party or a winter birthday party. Who doesn't love snowmen? These adorable treats would be a delight for any occasion.
If you're looking forward to making a simple winter treat, this is it! It's cute, tasty, and delicious! The perfect holiday dessert for all your family and friends. Or a fun dessert for the kids to help create as well.
Ingredients needed to make these Snowman Pretzel Bites
You just need a few easy ingredients to make these simple treats! Once you gather up the ingredients, it's time to get started!
24 Pretzels
White candy melts
Mini peanut butter cups
Orange & Black frosting
Once you gather these up, that's all you have to do! You can start assembling and enjoy them easily.
Fun Ways to Give These Snowman Pretzel Bites To Others
There are so many fun ways that you can share these pretzel bites with others. No matter how you share them, they're certain to make their day!
Wrap them up for a gift for any friend or family who isn't feeling well, these would be the perfect treat to gift someone.
You can easily add them to a fun baggie and drop them off at their door or load up and share these sweets any way that you want. The best part about sharing sweets and treats with others is that you're giving a gift that they're going to truly enjoy. There's no way that anyone wouldn't want these lovely dessert treats! They're literally the best! (and cutest!)
How To Make These Simple Snowman Treats
They may look like they take hours to create but I promise they do not. Not when you have a system in place to get them done efficiently.
All of the pretzels fit on one baking sheet and if you have tiny helpers, they'll help make this task go super quick.
Kids are super helpful when it comes to baking or making delicious treats, take advantage of that.
Once all of the pretzels are laid out on the tray, it's easy to assemble the snowmen. Just like a factory, you can churn these out in no time.
They don't take any time at all but look like they do! Have the kids hop in and have fun decorating these adorable treats. They're really fun, really delicious, and really festive, too.
This recipe should make 24 of these cute little snowmen so you'll have plenty to eat and enjoy! You can always double or triple it if you're wanting to make more treats for a crowd!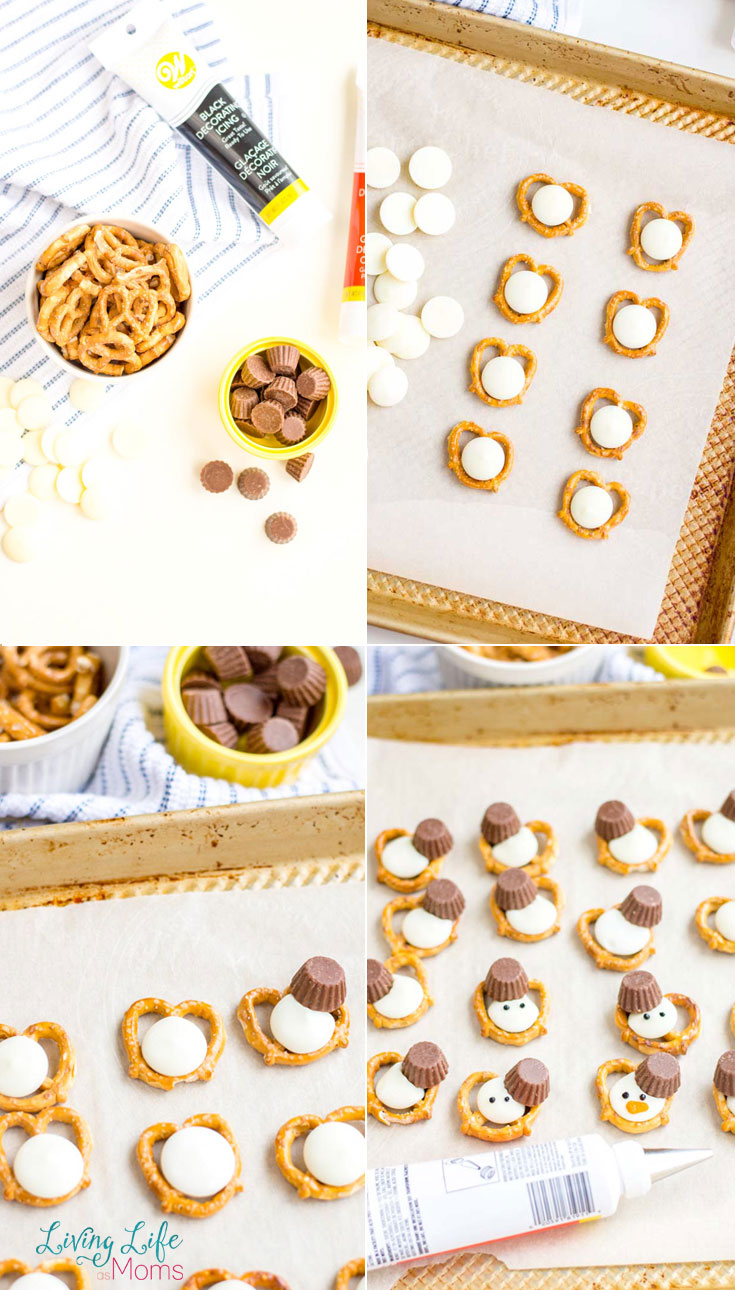 Recommended Snowman Pretzel Supplies
Pretzels and chocolate, you just can't go wrong with this delectable treat, your whole family will thank you. Only a few ingredients to make these adorable snowmen.
Make sure that you always gather the ingredients that you need before getting started on the recipe. Trust me – I make this mistake sometimes so learn from me! The last thing that you want to have to do is run out the door and head to the store in the middle of a recipe. This can create a major problem in the flow.
REESE'S Chocolate Peanut Butter Cup Candy, Minis, 7.6 Oz Pouch, Pack of 8

Wilton Candy Melts Flavored 12oz, Bright White, Vanilla

Rold Gold Tiny Twists Pretzels, 1 Ounce (Pack of 40)

These dessert treats are easy to make but there are a few tips that you're going to want to keep in mind.
Tips for Making Pretzel Snowman Dessert
When it comes to making this dessert, you need to know a few simple tips. Above everything else, these have to be stored in an airtight container. If you don't store them properly, the pretzel will become soft in the air and lose its crunch.
This will happen quickly so make sure that you keep them in a container from the first day. You don't have to store them in the fridge but you can if you want. I tend to keep them in a container on the counter at room temperature.
Also, let the kids join in on the fun. This is an easy recipe that will have them loving their independence in the kitchen and being able to make their very own recipe. This could be a fun way for them to create a gift idea for someone else and do it all on their own.
These would also be super cute for a class party or a holiday party as well. I love to make these up and have them on the dessert table because they're always a huge hit. The kids always go for them first but the adults don't shy away either.
Have fun making these treats – they're really quite delicious!
Snowman Pretzel Bites
Additional Time:
20 minutes
Ingredients
24 Pretzels
Orange frosting
Black frosting
Instructions
Preheat the oven to 170 F degrees.

Line the baking sheet with parchment paper.

Spread out 24 pretzels onto the baking sheet.

Place one candy melt in the center of each pretzel and bake in the oven for 2 minutes.

While the candy melt is still warm add one mini peanut butter cup for the snowman's hat in the top corner of the pretzel.

Allow to the candy melt to set for 20 minutes.

Use Wilton icing tip #3 with the black frosting to add two eyes to the candy melt.

Use Wilton icing tip #5 with the orange frosting to add the carrot nose underneath the eyes.

Serve and enjoy!
More Snowman Desserts
When it comes to snowman treats, the more the merrier! Utilize this time of year to make some fun and tasty treats!
Cute Marshmallow Snowman Cupcakes