Want to make a simple Valentine's day treat for your family, you need to try these easy heart pretzel bites. They'll be a huge hit with your entire family. These are some of the most simple Valentine's Day treats and snacks that you can possibly make. If you're ready for a sweet treat that takes moments, you're going to love these Heart Pretzel Bites. They're not only loaded with flavor but they're loaded with sweetness as well!
Show your family you love them by taking a teeny bit of time to make them something special. These are great to have around the house to snack on and are also great to make and gift to others as well.
After one try, I think you're going to agree! Don't miss out on these easy Sweet Treats! They're a fast and fun treat that everyone will love!
>> See the other pretzels snacks you have to try
Heart Pretzel Bites
If you love that sweet and salty combination, you're not going to want to miss out on this simple pretzel dessert. They're a fast way to feed your sweet tooth fast without feeling as though you need to have a ton of time to make them.
We can literally whip them up and start enjoying them in a matter of just a few moments of time. And you know as well as I do when you're going to want to have these sweets in your belly as fast as you possibly can!
Anything that involves pretzels and candy makes the perfect treat. I love the crunch and saltiness of the pretzels combined with something sweet.
Make certain that you use the type of pretzels shown before because you need the middle portion to hold in the rest of the goodness!
Recommended Heart Shaped Plates and Boxes
Need to add hearts to your favorite treats, create heart shaped cookies or plate your heart desserts onto a cool heart dish or gift them inside a heart shaped box. This is a super fun way to gift to your family and friends and they'll be certain to love the time and effort that you put into thinking of them.
Wouldn't that make the perfect gift? I love getting handmade items, shows they love you so much to have put in so much thought.
These are also great to make and decorate for Valentine's Day or to share with family and friends. It's never a bad idea to share treats with love for those that you love!
Ann Clark Cookie Cutters 4-Piece Heart Cookie Cutter Set with Recipe Booklet, 2.75

CHOOLD Elegant Ceramic Heart Shaped Dinner Plate/Salad Plate/Dessert Plate/Steak Plate for Kitchen Party Xmas Gift 7"(white/pink)

Heart Shaped Plates, package of 4

Set of 3 Valentine's Day Heart Shaped Treat Boxes with Window; Cardboard Goody Box Party Favors by Gift Boutique

AVESON Classic Vintage Antique Heart Shape Jewelry Box Ring Small Trinket Storage Organizer Chest Christmas Gift, Silver

JETEHO Unfinished Heart Shape Unpainted Wooden Jewelry Box DIY Storage Box

While these delectable pretzel bites look like they're more trouble than they're worth, I promise you won't regret trying these. Treat yourself to these simple treats!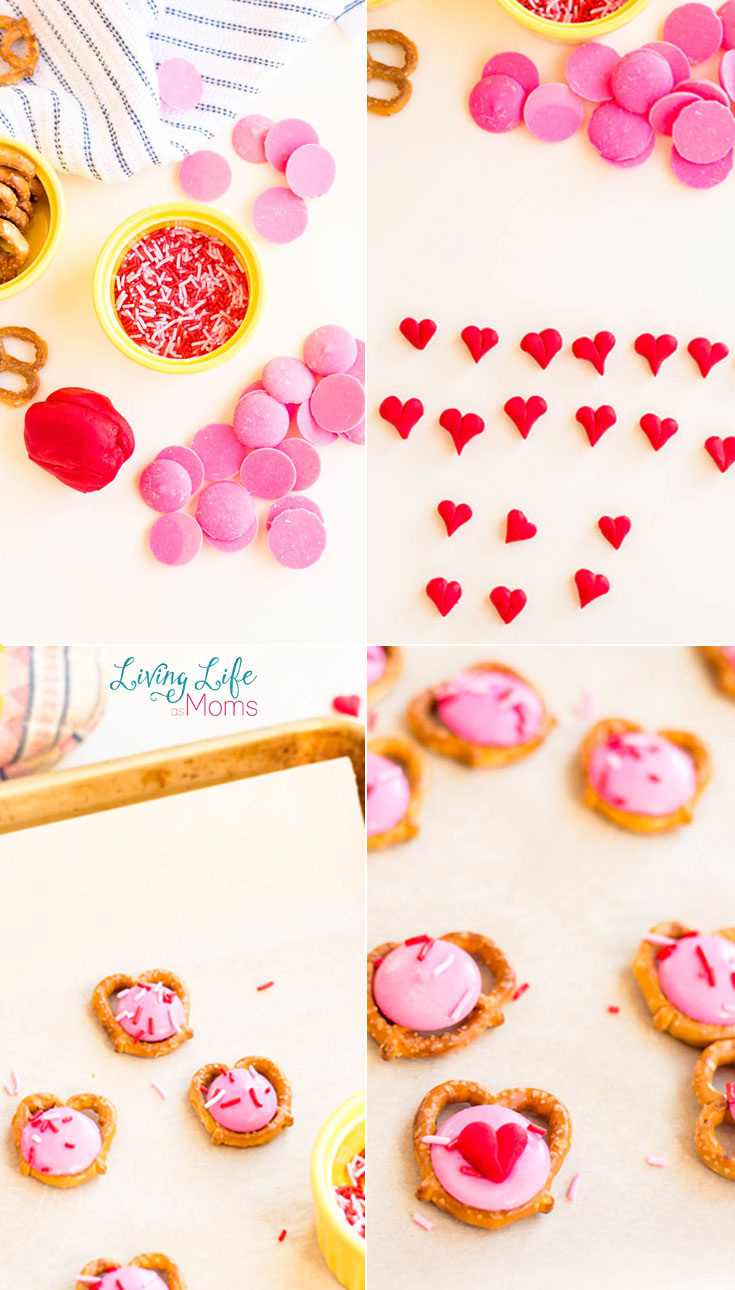 Recommended Heart Pretzel Bites Supplies
Do you have everything you need to make these heart pretzel bites? Grab them below for your convenience.
We could easily finish a giant bag of pretzels as a family, who doesn't love pretzels? We always tend to have pretzels setting around the house so when this Valentine's Day treat arises, I know that I don't have to run to the store to grab the ingredients. I'm always prepared for this treat!
If you want to make them on a whim, stock your pantry full of the items listed below. They're a fun and simple way to make a dessert on the fly.
Rold Gold Tiny Twists Pretzels, 1 Ounce (Pack of 40)

Wilton Pink Candy Melts Candy, 12 oz.

Satin Ice Red Fondant, Vanilla, 2 pounds

Don't wait another moment, let's get to the recipe!
What is the best way to store pretzel desserts?
You don't want to lose the crunch of the pretzels! To keep them crunchy is the key! The easiest way to make that happen is to store this dessert in an airtight container. You can easily just them in any size container or split it up between several as well.
You can also use a simple sealable bag as well. Anything that is going to keep out the air is what you're going for. You also need to be sure that the chocolate is hardened before adding them to a bag or a container.
You don't want them to stick together so letting them cool all the way before storing them in anything is key.
Fun ways to change up these pretzel desserts
You can easily make these your own, too. Adding a different color of melted chocolate, changing the colors of the center, or adding sprinkles or anything at all.
This means that you can change them into Christmas pretzels, Halloween pretzels, or anything that you want. The best part about making these dessert pretzels is that you can change them to be anything that you want them to be.
Heart Pretzel Bites
Additional Time:
30 minutes
Try these delectable heart pretzel bites to make the perfect treat for your family or to gift to a loved one.
Ingredients
20 Hard pretzels
2 tbsp pink sprinkles
2 tbsp red sprinkles
Instructions
Preheat the oven to 200F.
Line the baking sheet with parchment paper and spread out the 20 pretzels onto the baking sheet and set aside.
Make a fondant heart by rolling two fondant spheres that are 1/3 inch in diameter and pressing them together to form a heart.
Repeat to make 20 hearts and set aside.
Add one pink candy melt on top of the pretzel and repeat for all 20 pretzels.
Bake the pretzels and candy melt in the over for two minutes.
In a small bowl, mix the red and pink sprinkles together.
Remove the pretzels from the oven and add the sprinkles to the pretzels.
Gently press the fondant heart into the center of the pretzela and allow it to set for 30 minutes.
More Pretzel Snacks
If you love pretzels, you need to make more yummy snacks! Here are a few of my other recipes that I think that you're going to love as well!
Be sure to check out how simple and easy making delicious treats can be. You can easily make these other treats in a super short amount of time. You don't have to make it hard on yourself to make a fun treat!
These are great to make for the holidays or any time of the year that you want.
Everyone loves a great Oreo recipe and this is one of my favorites! You'll love how fast and simple this recipe can be that it might just be one of your favorites.