Spooky Halloween Pretzel Bites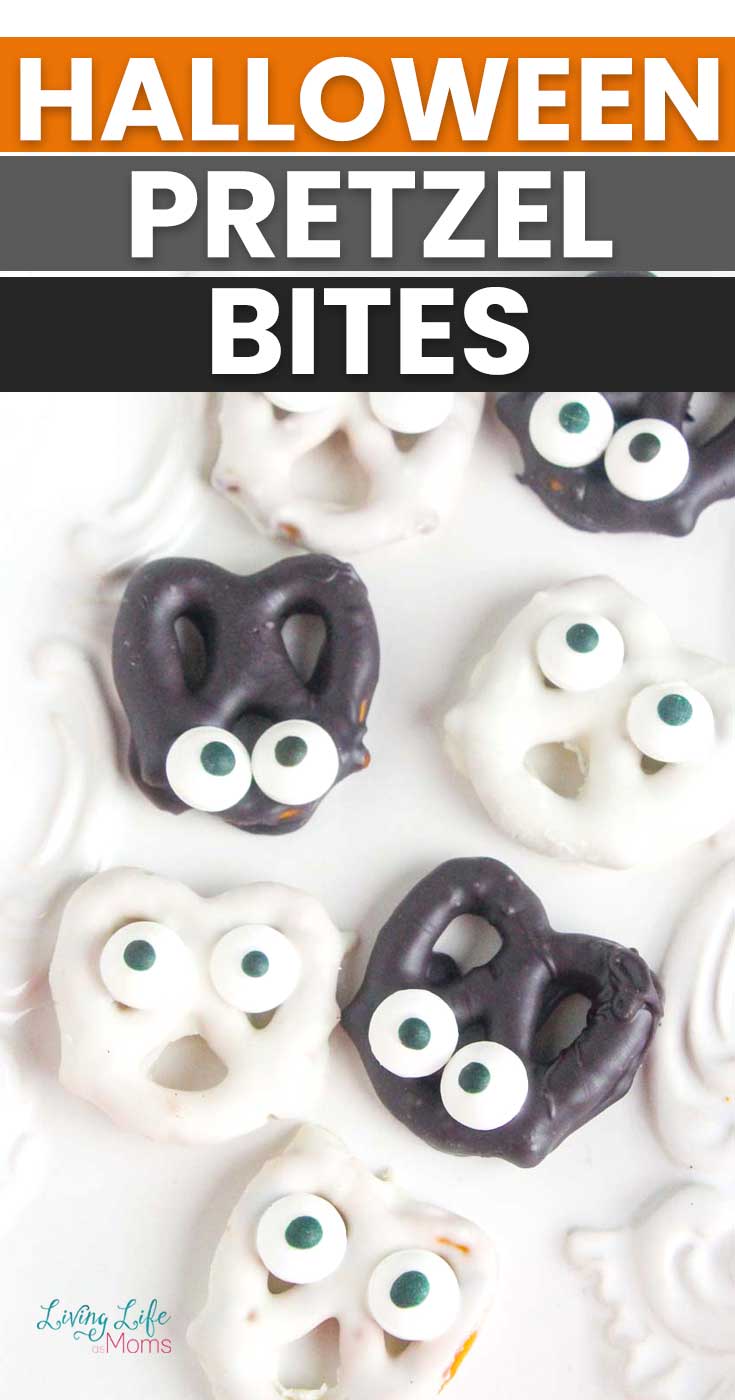 These Spooky Halloween Pretzel Bites are literally the easiest Halloween treats! You don't have to stress out over making something difficult when you can make this sweet treat! Find out how simple and easy it can be to create this simple pretzel dessert.
We like to make these for a fun snacking night at home or they could be great for a Halloween class party, too. The great part about this simple pretzel snack is that they're fast and easy to make! The added googly eyes are just part of the added fun!
If you're ready to get the kids in the kitchen to help you create, this simple Halloween pretzel recipe is the best. They'll love making and eating them and so will you.
Be sure to check out my Easy Mummy Sugar Cookies for more spooky delicious treats.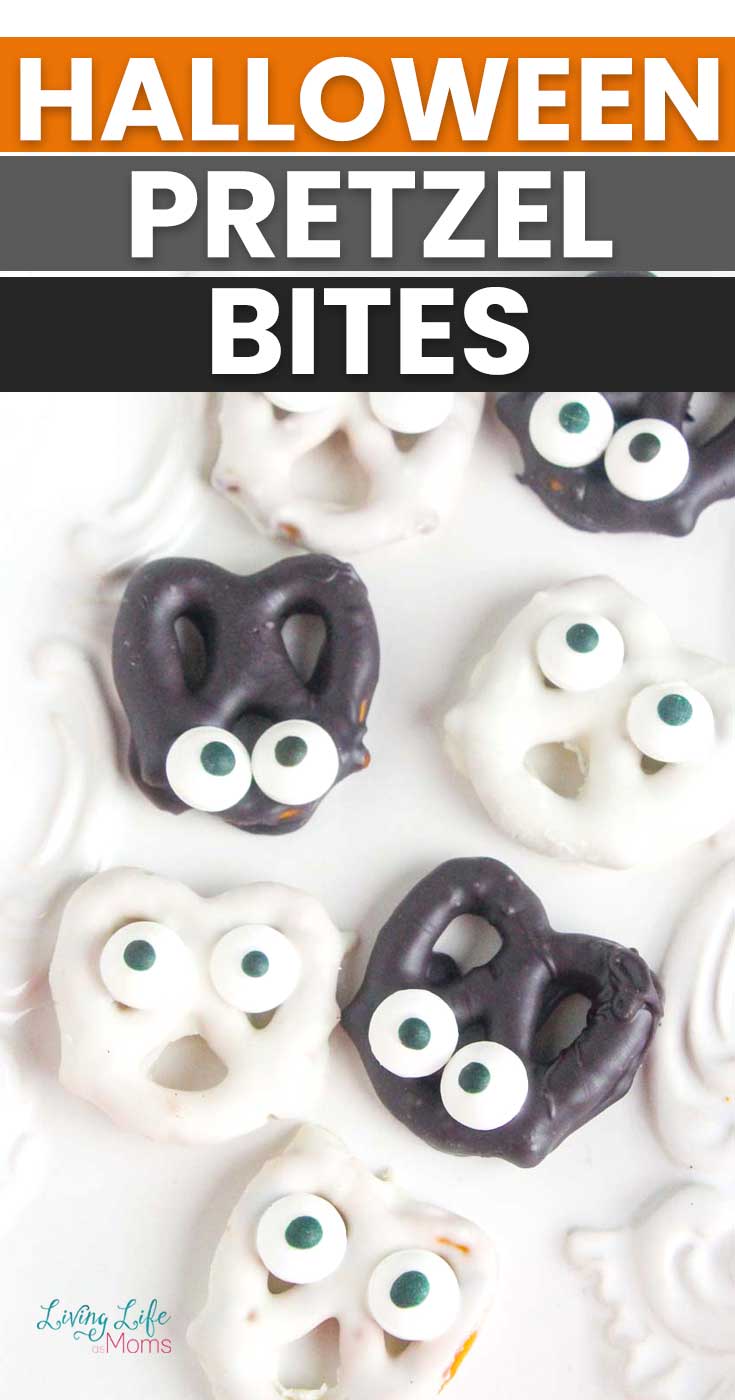 Spooky Halloween Pretzel Bites
Isn't it fun to create delicious Halloween desserts? Since we know that the kids are going to be making all sorts of fun desserts over the next few months, it just makes sense to start creating Halloween treats and sweets.
Why wait when you can start the treat-making process right now? Since this recipe just needs a few simple ingredients, there is no time like the present to get started.
What I've found is that when we make delicious Halloween treats, the kids just get that much excited for Halloween! And this means that I do as well!
There is nothing better than getting geared up for holidays than by cooking fun themed desserts.
Ingredients Needed To Make Halloween Pretzels
24 Pretzels
1/2 cup Black Candy Melts (can use plain chocolate chips)
1/2 cup White Candy Melts (can use white chocolate chips)
48 Candy Eyes
How To Make Spooky Halloween Pretzel Bites
I promise you that this simple Halloween recipe is the easiest! You do have to melt the chocolate but besides that, it's not much work at all!
Make certain that you're using a microwave-safe bowl and melting the chocolate in intervals. You want to get it hot enough to melt but you don't want to burn it.
I also melt for about 20 seconds, then stir and melt for another 20 seconds and keep following along with that process.
This won't take very long to do but you need to pay attention to it during the process.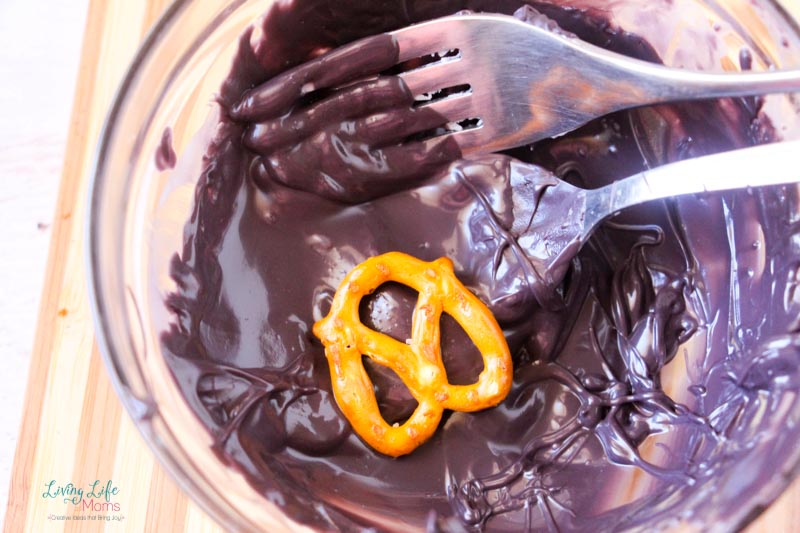 Once the chocolate is melted you can start dipping in the pretzels. Dropping them in the melted chocolate and using a fork to dig them out is the best but you can do whatever works best for your process.
Lay the dipped pretzels on parchment paper and add on the googly eyes asap so that they stick as the chocolate dries.
It really doesn't get much better than that!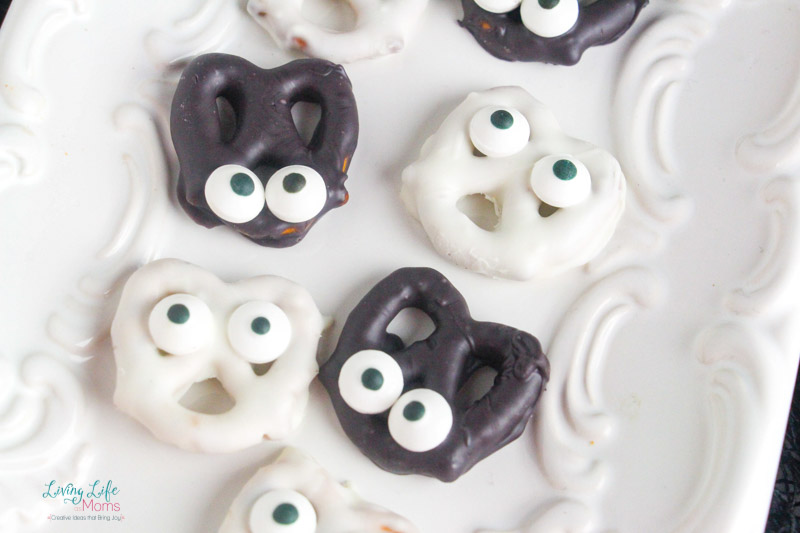 Why is it good to cook with the kids in the kitchen?
Cooking together is a lot of fun. Kids like to cook in the kitchen because it shows independence while also getting to make yummy foods. If you're looking for a fun experience that can create family traditions, I highly recommend having the kids start to help out more in the kitchen.
I use this time to also teach as well, even though I don't make it feel like a lesson. We talk about the importance of ready directions, measuring out ingredients, and also checking the ingredients and directions before we actually start a recipe because it's no fun to not be able to finish!
Can kids make these Halloween pretzels on their own?
They'll need parental guidance to help with the heating of the chocolate. This can be hot for them and if you don't choose a good bowl, the outside of the bowl can be extremely hot as well.
Besides that, they should be able to do the majority of this recipe on their own. As long as you're there with them, it shouldn't be a problem at all.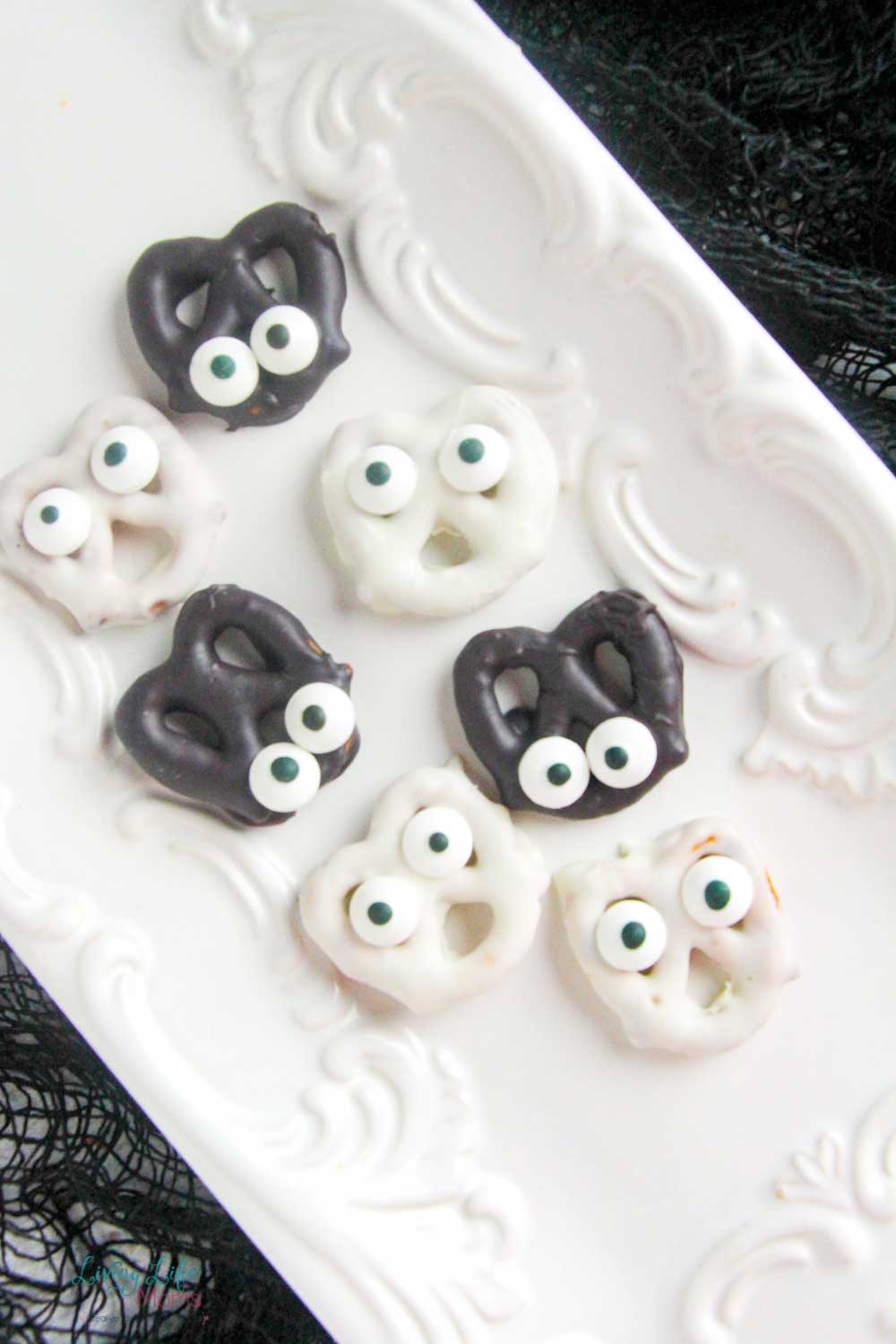 How to store Halloween pretzels
Even if they're covered in chocolate, you still need to be sure that you're storing the pretzels in an airtight container or bag. Air is an enemy of pretzels and will make them stale fast.
Once they've cooled down completely, I add them to my container so that they stay as fresh as possible for as long as possible.
Can you freeze chocolate covered pretzels?
You can and this is just another reason that we love them. If you make a ton and have some left or just want to try a bit of portion control, put them in a freezer-safe bag and save them for later.
I will have to admit that eating a pretzel straight from the freezer is actually good as well! It's hard and then sort of softens up in your mouth just from your internal warmth.
Fun Ways to Decorate Halloween Pretzels
You can also use this simple recipe as a way to decorate the pretzels in other fun ways. Let the kids be creative and have a blast. You can always make these and decorate them with Halloween pretzels or other fun sprinkles, too.
There are some fun-shaped sprinkles that you and the kids can add on and really take the look over the top.
I also think that melting some orange chocolate wafers and drizzling that over the top of the pretzels would create a really fun look, too! You can have a ton of fun creating these delicious pretzels with minimal time and effort. Nothing is better than a Halloween treat that is ready in less than an hour!
No matter how you decide to make these pretzels, just plan on making them! They're so much fun to make and have the kids enjoy during the Halloween season as well.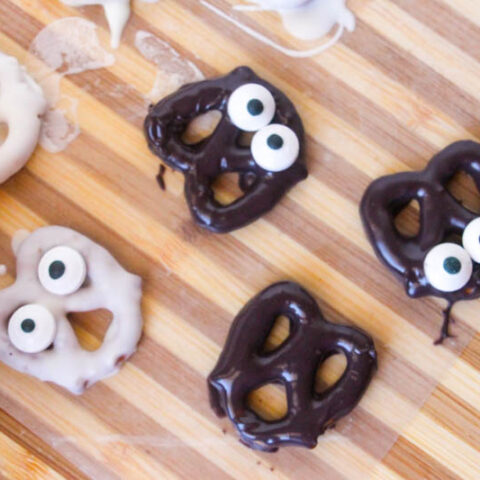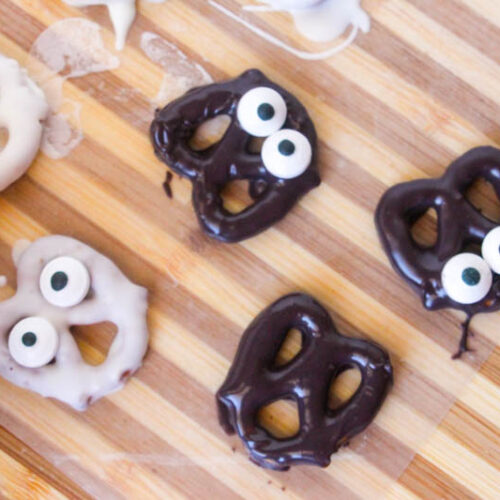 Spooky Halloween Pretzel Bites
These spooky pretzel bites are so much fun to make!
Ingredients
24 Pretzels
1/2 cup of White Candy Melts ( or white chocolate chips)
1/2 cup of Black Candy Melts ( or milk chocolate chips)
48 Candy Googly Eyes
Instructions
Place parchment paper on a cutting board. Melt the candy melts in a microwave-safe bowl in 20-second intervals, stirring between each time.
Dip the pretzels in the melted chocolate and use a fork to turn and drip off excess chocolate.

On the white candy pretzels, put the eyes on the top arches of the pretzels.
For the black candy pretzels, put the eyes at the base (the round end) of the pretzels.
Let the pretzels dry for about 30 minutes to 1 hour of time.

Recommended Products
As an Amazon Associate and member of other affiliate programs, I earn from qualifying purchases.
More Halloween Fun
Don't forget that once you get going with making fun Halloween treats, there are so many other things to do. As you can see from the list below, all of these Halloween fun ideas should be on your radar!
Ideas for Spider Themed Snacks