Christmas Tree Gingerbread Cookies Recipe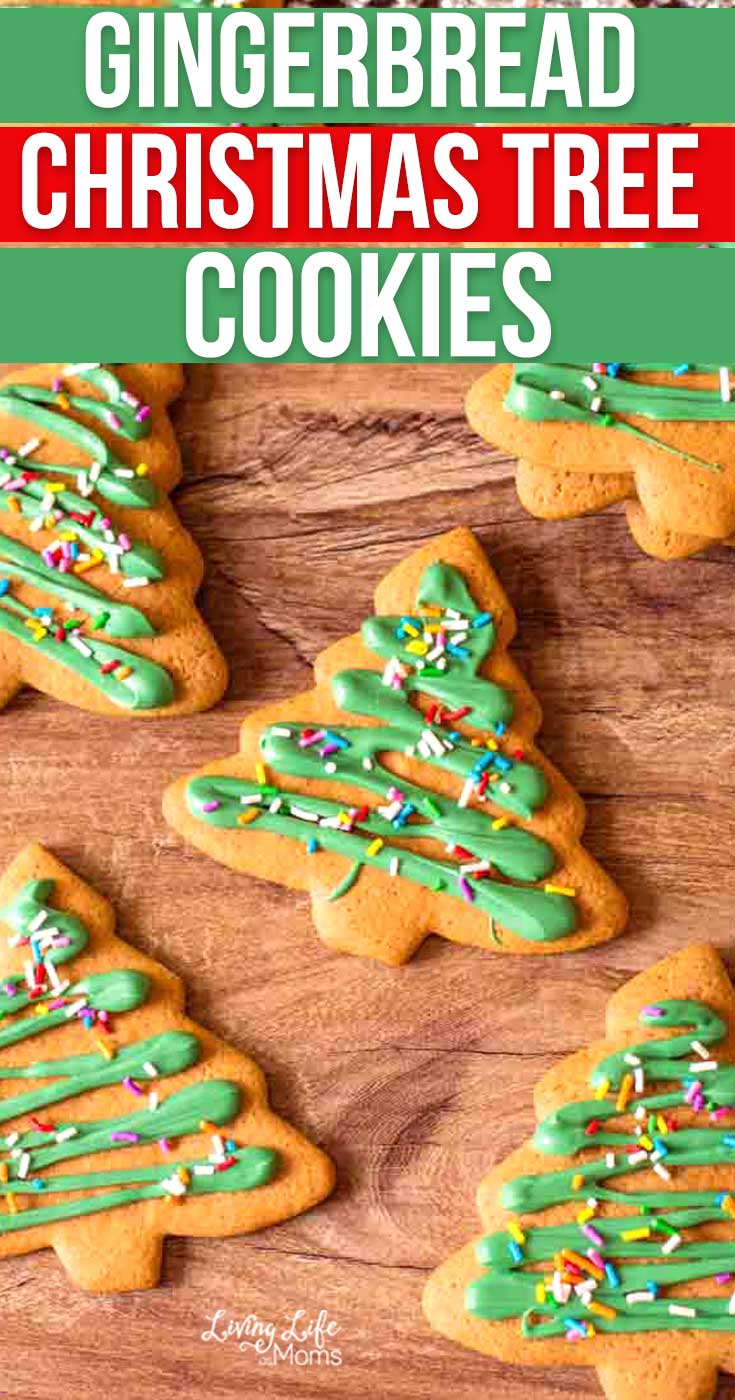 It's time for all things Christmas! This Christmas Tree Gingerbread Cookies Recipe is a simple and easy cookie recipe that is so much fun to make together as a family. We love this time of year because we tend to spend a tad bit more time indoors baking up delicious treats in the kitchen.
I'm also a big fan of using cooking as a good learning experience as well. The kids get to help with the measurements and reading and following directions which I think are super important skills to have and follow.
And once the cookies are baked, the fun of decorating these Gingerbread Christmas Tree Cookies is so much fun! We all get to decorate them how we want them and each one looks unique.
Make sure to check out my Chocolate Unicorn Cookies for another fun treat!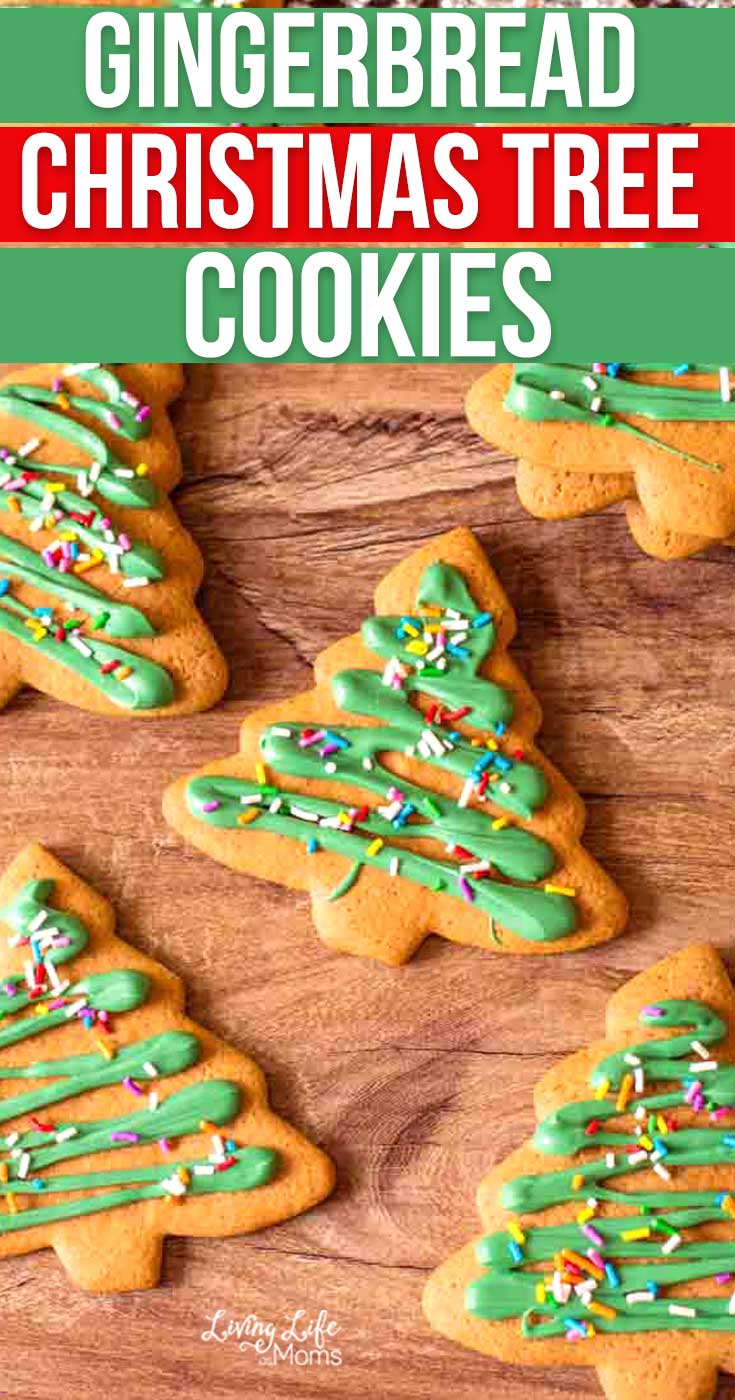 Christmas Tree Gingerbread Cookies Recipe
There's just nothing quite like homemade gingerbread cookies. That crunchy edges with the soft center are what keeps me coming back for more. If you're looking for an awesome Christmas cookie recipe that everyone will love, you really can't go wrong with these.
We make these literally every holiday season and they're just really, really good. I promise you that I need to just make a double batch because they're literally gone before I know it!
Why are my gingerbread cookie cracking after being baked?
The biggest reason that your gingerbread cookies are going to crack after they're baked is that you might be trying to move them too soon from the cookie sheet. You need to let them cool before trying to lift them or you're going to have the edges crack and cause quite a few issues.
Ready to learn how to bake these Christmas tree cookies? Find out what you need to know below!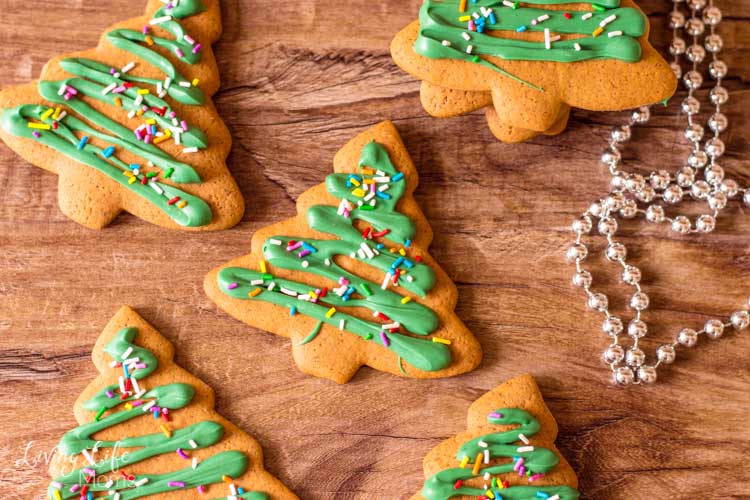 Recommended Christmas Cookies Platter and Boxes
Christmas cookies are perfect holiday treats to share with friends and family. They are also a wonderful gift that you can give that shows a lot of thought and is more personalized than gift cards.
Make sure that you have fun picking out kitchen items that are festive! Everyone should have holiday platters and plates for their cookies! These are just a few that I love and think that you're going to love as well!
Christmas House Holiday Prints Round Tin Serving Trays Cookie Plates Christmas Platters Bundle Set Set of 3 10 inch

2 Set of 3-Tier Plastic Cupcake Stand Dessert Plates Mini Cakes Fruit Candy Display Tower White for Kids Birthday Tea Party Baby Shower Serving Tray Small

Enjoy Patterned Multicolored Dots 15 x 8 Vibrant Glass Rectangular Platter

Christmas Cookie Boxes – Bulk 12 Pack Kraft – Large Holiday Christmas Food, Bakery Treat Boxes with Window, Candy and Cookie Boxes for Gift Giving – Kraft Packaging Containers & Tins with Lids

TOMNK 28 Pack Christmas Treat Boxes 3D Xmas House Cardboard Gable Gift Boxes for Candy, Holiday Party Favor Supplies, Crafting and Cookie Boxes 6 x 3.5 x 3.5 Inches

24 PACK Christmas Bakery Boxes with Window Cookie Boxes for Gift Giving 6x6x3 inch by NPLUX (White)

Ingredients needed for these Gingerbread Christmas Tree Cookies
This list of ingredients is just a quick view of what you need to have to make these homemade cookies. For the measurements, scroll down to the full recipe listed below.
Granulated sugar
Butter
Molasses
Egg
All-purpose flour
Ground cinnamon
Ground nutmeg
Baking powder
Ground ginger
Ground cloves
Baking soda
Salt
Green candy melts
Sprinkles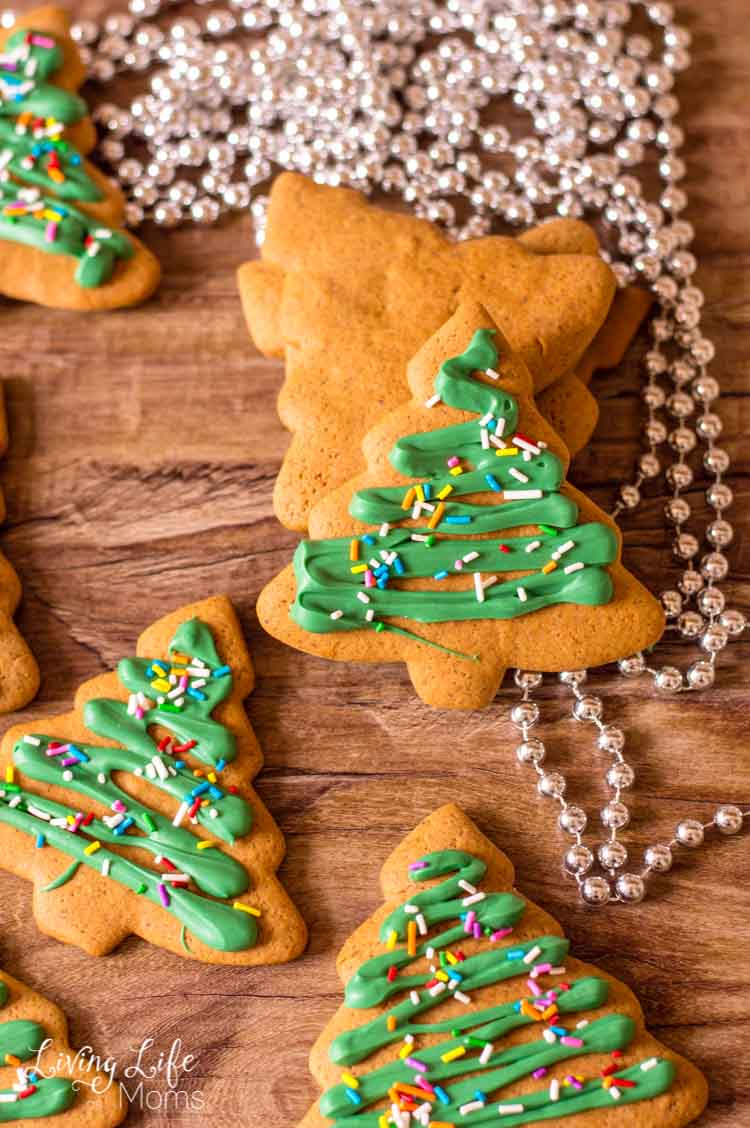 Once you start combining and putting together the ingredients, you're going to love that gingerbread smell!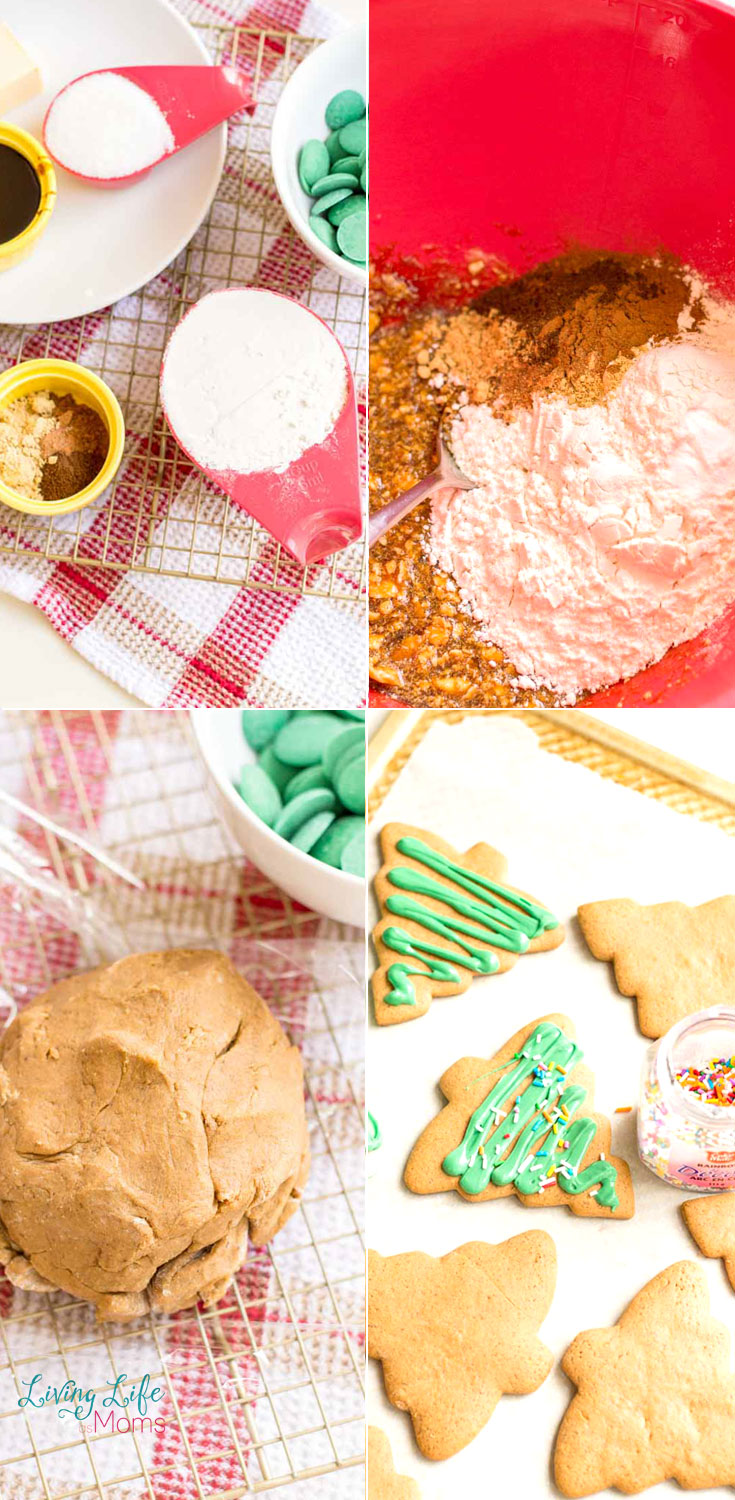 Be patient when it comes to baking and decorating. This is probably the hardest part.
How long do the cookies need to cool before decorating?
I would say that you could let them cool for a few minutes before starting to decorate. You don't want the cookies to be too hard to where the frosting all melts off!
Are you ready to make this simple cookie recipe? Grab the full recipe below!
How to store these cookies once baked?
The easiest way to store these Christmas tree cookies is to put them in an airtight container and have them stored on the counter. This way, you can easily grab one as you're walking by!
Make sure that you let them cool down all the way before adding them to the container. If you add while the cookies are still hot, the released steam and moisture are going to make them soft and soggy. (and these cookies are meant to have a bit of crunch to them so soft and soggy is not what you want!)
Can you freeze these cookies for later?
You can! You'll want to set aside a few before you start decorating them though. You can easily decorate them once you thaw them out to enjoy later.
Just store the cookies in a freezer-proof bag and place them in the freezer for later. You don't want them to get freezer-burnt so make certain that you're using a bag or container that keeps out the air!
Gingerbread Christmas Tree Cookies
These Christmas Tree Cookies are wonderful!
Ingredients
¼ cup of granulated sugar
¼ cup of butter, softened
¼ cup of molasses
1 + 2 tablespoon all-purpose flour + extra for rolling
1 large egg, room temperature
¼ teaspoon ground nutmeg
1 teaspoon ground cinnamon
½ teaspoon baking powder
¼ teaspoon baking soda
1 teaspoon ground ginger
½ teaspoon ground cloves
½ teaspoon salt
Sprinkles
1 cup of green candy melts
Instructions
Grab a bowl and mix the sugar, butter, molasses, and egg. It should be fluffy once mixed.

In a different bowl, add in the flour, cinnamon, nutmeg, baking powder, ground ginger, ground cloves, baking soda, and salt and whisk.

Once combined, take the dry ingredients and slowly add to the wet ingredients. This will form the dough.


Once the dough is formed, wrap in plastic and put it in the fridge for an hour.

After that time has passed, remove from fridge and let it sit out of the fridge for about 5 minutes.

Preheat your oven to 350 degrees. Line a baking sheet with parchment paper.

Put some flour on your counter and grab a rolling pin.

Roll out the dough to about 1/4 inch thick. Take a tree cutter and cut out 15 cookies.


Put them on the baking sheet and bake for 8 minutes. Allow cooling before starting to decorate.

Put candy melts in bowl and microwave in 30-second intervals, stirring in between. Candy should be melted totally.

Put the candy melts into a piping bag and add strips to the cookie. Add on sprinkles.
Fun ways to share these cookies with others
Part of the holiday fun is sharing baked goodies with others. If you want to make someone's day, share these homemade gingerbread cookies with all your family and friends. They'll love having a wonderful homemade treat!
You can purchase cute little Christmas gift bags and store the cookies in there or have the kids create a fun homemade gift box as well. Then all you have to do is add a little bow and a cute little note and you've got the cutest DIY gift idea, ever!
If you want more cookie recipes, this Strawberry Crunch Cookie recipe is a must-try!
More Christmas Cookie Recipes
Since this is an amazing cookie recipe, why stop? Below you'll find a few more cookies that we're pretty crazy about, too! I think that you should make some of these for a holiday cookie exchange and share them with your family and friends!
30+ Best Christmas Cookie Recipes
Double Chocolate M&M Christmas Cookies