How To Organize Your House, With One Etsy Order!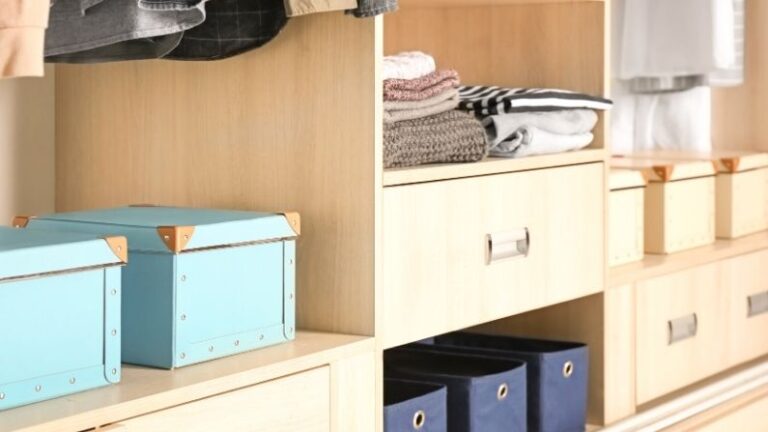 I really didn't know too much about what Etsy was about until a few months ago. I thought it was just for handmade blankets and printables.
Boy, was I wrong. There are a TON of beautiful, well-priced products for pretty much anything you can think of. I went down a pretty big rabbit hole looking through their home organization categories.
I'm so excited to share with you all the ways you can organize each room in your house, using gorgeous and unique Etsy items!
How to Organize Your House with One Etsy Order:
Bathroom Organization:
Over-the-Door Room Organizer with Mirror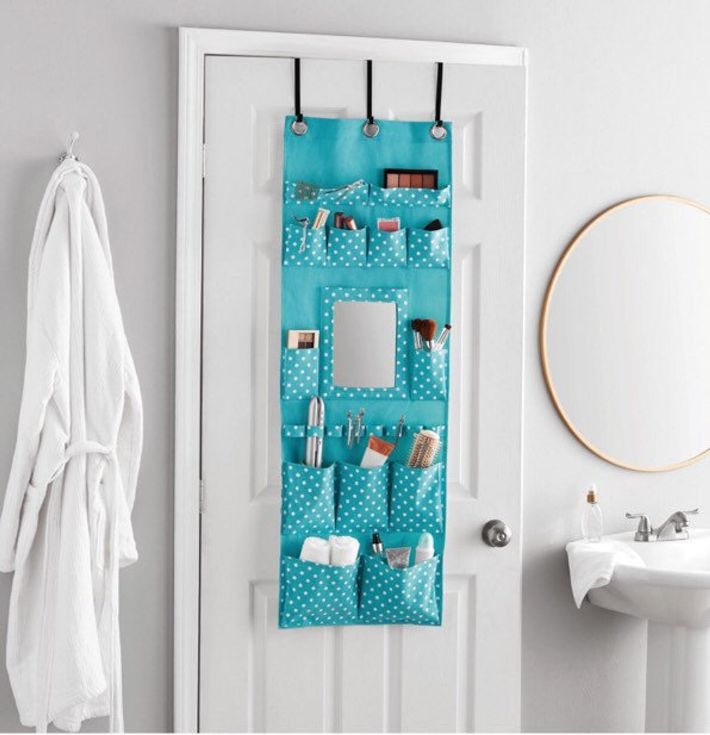 In our kids' small bathroom, we have a pedestal sink (read: no cabinets eek!) and they need as much storage as they can get. Makeup, toothbrushes and toothpaste, brushes, hair dryers and more can all fit in this organizer, I love it!
Bathroom Shelving Sets with Baskets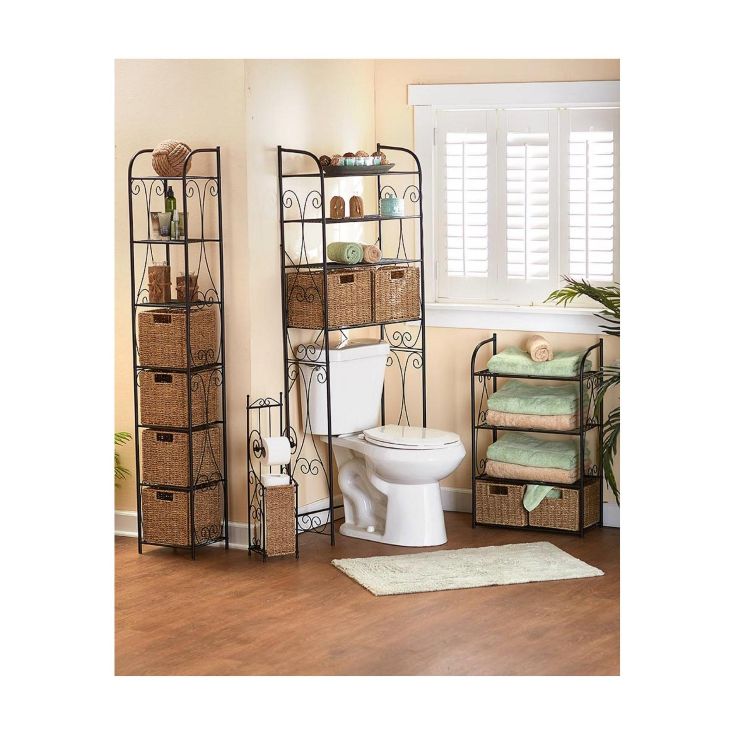 You can pick any of these pieces separately, or order the whole set! I love that the boxes are included, and make plenty of space for more discreet bathroom items. My over-the-toilet shelving set has been a lifesaver in my tiny bathroom.
Bedroom Organization:
Natural Bamboo Floating Bedside Shelf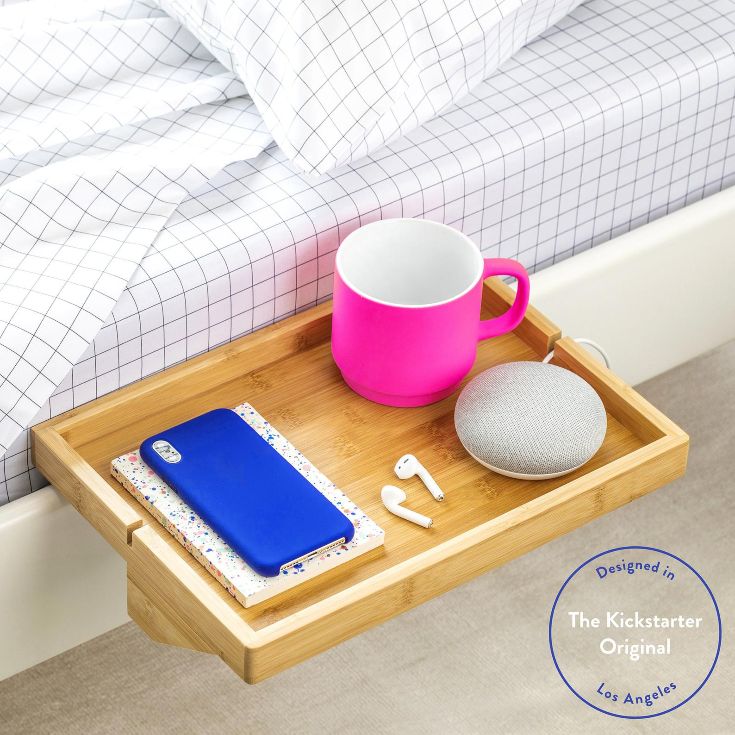 This space-saving, minimalist nightstand is perfect for any bedroom with space next to the bed. I know how hard it can be to find a piece of furniture that fits in that tiny space when a bed is super-close to the wall. This is a perfect solution, and even has a lip around it so nothing will fall off!
Floating Nightstand with Drawer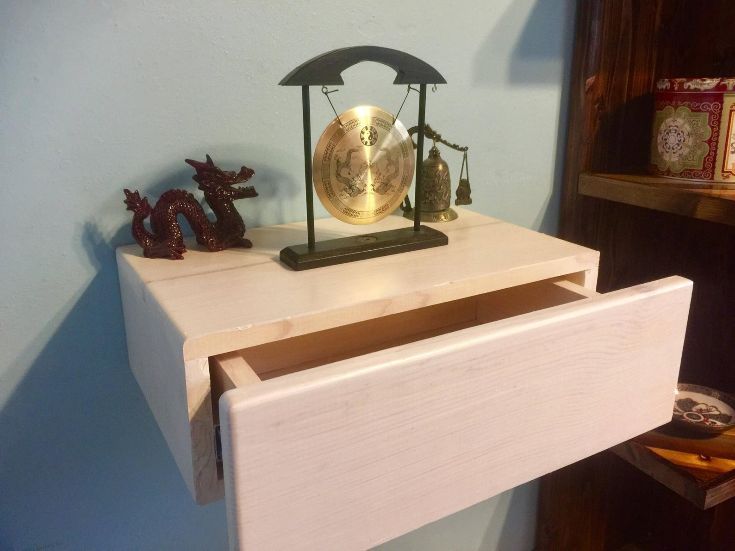 Another made in the USA piece. My favorite part about this floating nightstand is that it can be custom colored to match your decor. Plus, there are so many creative ways to use it – think your entryway, closet or home office.
If you are looking for an organizer that won't stick out as much, but will keep your odds-and-ends in one place (and off of your nightstand), this fabric bedside caddy is for you.
It can easily hold the remote, reading/tv glasses, a book or two, and it's even washable! The creator's shop has quite a few color options, too!
My kids each have one for their beds, to hold books, a book light, some paper and pencils.
Kitchen Organization: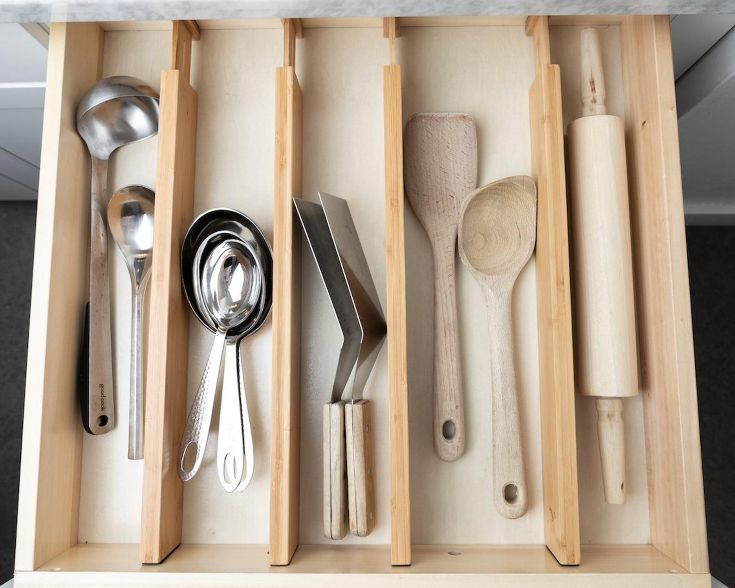 Adjustable and Expandable, these drawer dividers can fit into almost any drawer. Pre-divided utensil containers can sometimes be a pain, these are practically made for those larger, uniquely-shaped cooking tools.
"Catch-all" Kitchen or Entryway Counter Organization:
I can't stand cleaning around my family's dumping spot. You know what I mean, that space on the counter where everyone drops their stuff when they come in? That's why I love ideas like this docking staton. It holds pretty much everything:
Cell Phone,
Watch,
Keys,
Glasses,
Wallet,
Plus, a hidden space in the back for things like change & receipts.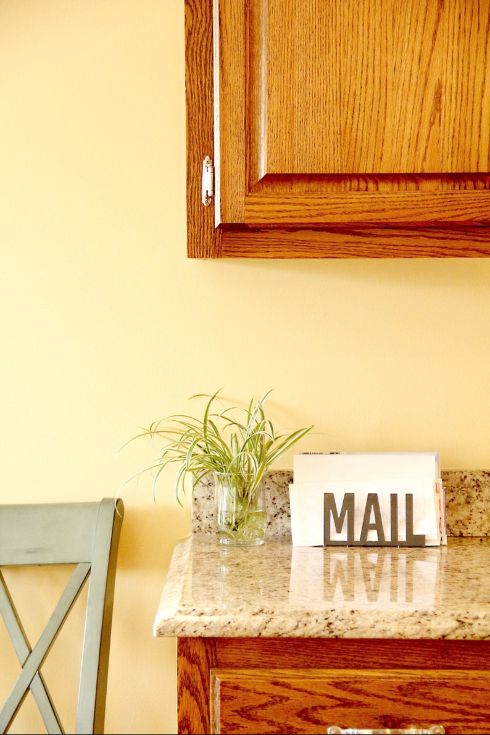 instead of throwing mail in any old spot (or cluttering up the entryway), why not keep it in this cute made-in-the-USA organizer? It advertises as an office desk organizer, but I absolutely love it for the entryway or to neaten up the catch-all counter space.
Closet Organizing:
I don't know about you, but folding my bras makes them take up even more space! And forget about trying to stack them in a pile, it just gets messy again every day.
This bra organizer helps keep the shape intact, and makes it easy to pick one out of the drawer or closet, without messing up the others.
Part mirror, part Jewelry holder, this organizer is almost too beautiful to keep in your closet! It has 19 hooks (!) to hold necklaces, rings, earrings and bracelets. This piece is so beautiful and versatile, I hope you consider it as a gift for someone close to you!
Garage Organizing:
Cordless Tool Organizing Shelf
Now I don't know much about tools, but I know how disorganized the garage can get, and trying to dig through things to find the right tool can waste a lot of time.
My husband has especially collected quite a few different drills over the years, and they do take up shelf space, either on their own or in their boxes. Keeping them elevated and displayed goes a very long way to keeping the garage clear for car parking.
Entryway Organizing:
This is definitely a statement piece for your mudroom or entryway. It's perfect for families and can add that "just-right" amount of structure for sports stuff, shoes, jackets, backpacks and handbags, without looking like a bunch of stacked-up boxes.
Entryway Coat Rack with Cubbies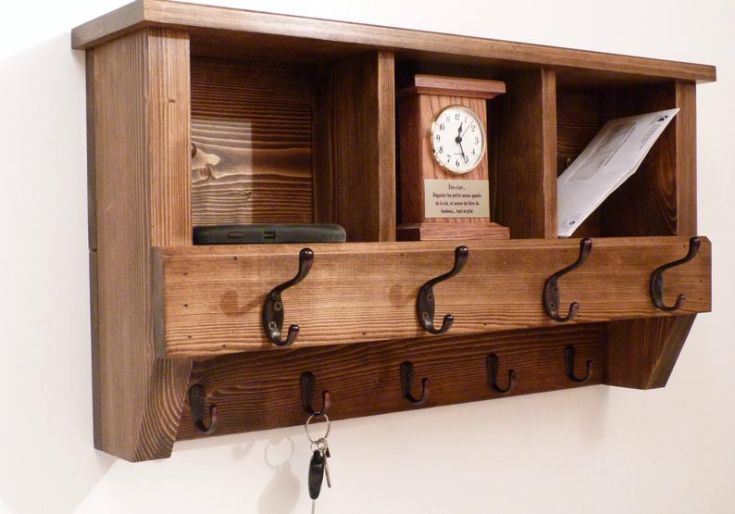 A smaller option for your entryway is this coat rack with built-in storage. I love the two sets of hooks for double the hanging space! It's a great place to keep mail, keys, and other things you don't want to forget when you're leaving the house.
If you're just looking for a place to hang your keys, this beautiful & affordable personalized keyholder is gorgeous and hardly takes up any space on your wall. It comes in so many colors and would make a beautiful housewarming gift!
Magnetic Wooden Hook Keyholder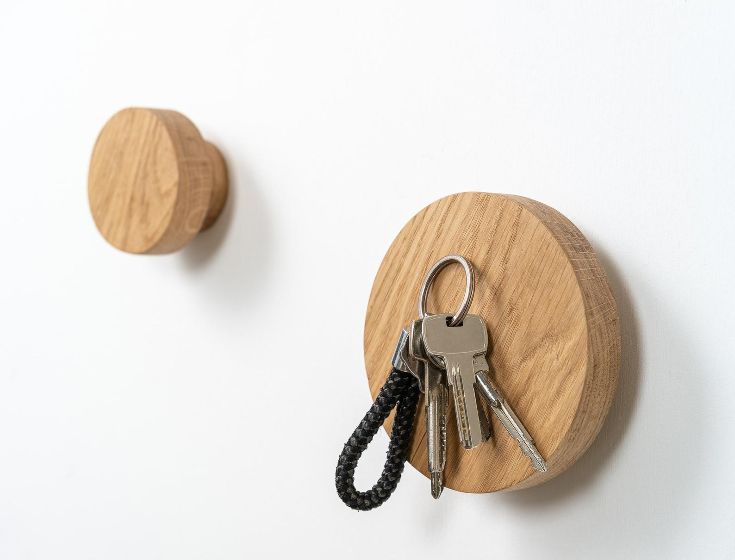 Here's a beautiful, minimalist entryway organizing idea. These wooden hooks hold hats, jackets, totes and bags, and are also magnetic for holding keys and keychains.
Livingroom Organization:
Crochet Remote Control Organizer
If I had a dollar for how many times my family asked me where the remote is, I'd have my very own private island by now. This organizer obviously holds more than just the remote, and it's so sturdy and cozy-looking, I know any family would get a lot of mileage out of it. You'll be surprised how many people will ask you where you got it from!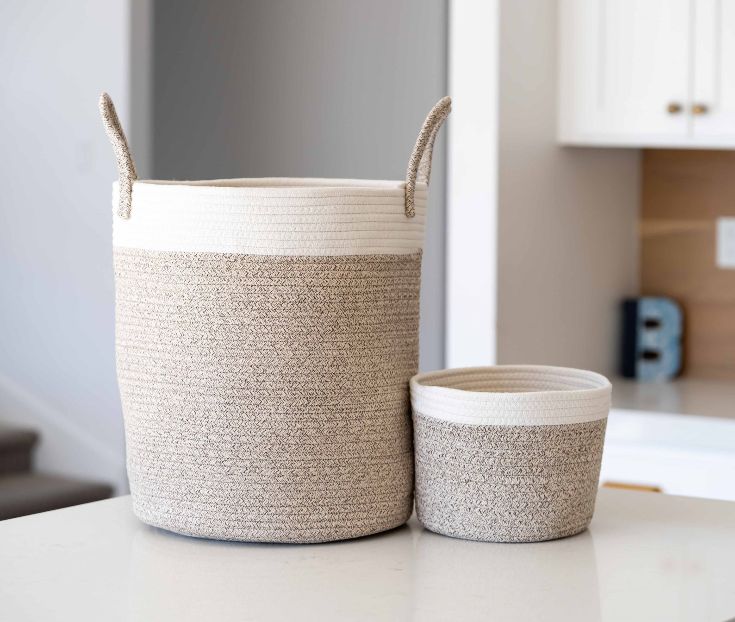 These baskets are such a steal for the price, I almost can't believe it! I can't even find them in TJMaxx for this price. I love these because of all the things they keep off of the floor – kid toys, pet toys, towels and more. They are even machine-washable!!
If you are looking for a shorter one with just as much space, here is a similar style.
Home Office Organization:
Wood Over-The-Keyboard Desk Organizer
I love elevated storage, especially for work spaces. If you have a computer screen that is elevated or wall-mounted, this organizer is definitely for you! Desks without drawers will definitely benefit from the compartments that can hold supplies, up and off of the desk.
If you work with a laptop, you can put it along the back space of your desk, and take advantage of the storage space underneath.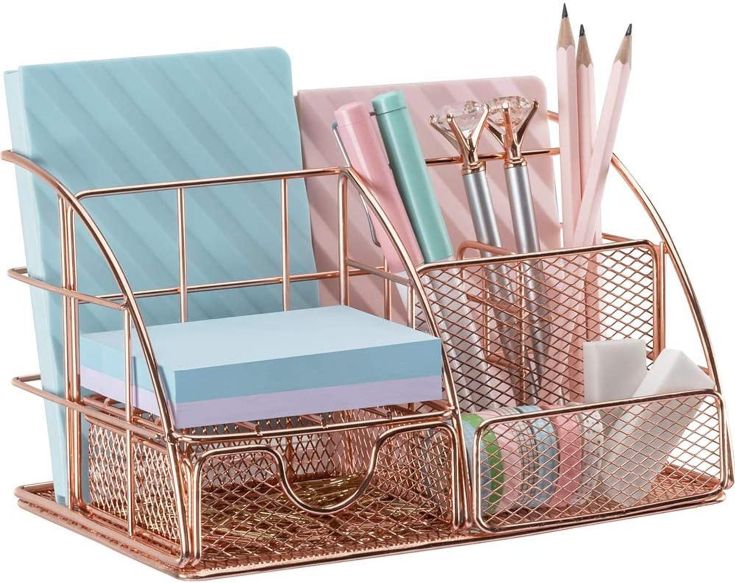 Another all-in-one option is this cute wired desk organizer to hold all of your office supplies. It's on the small side as far as desk organizers go, but it can even hold a small planner or notebook upright in the back row!
Ceramic Vase with Phone Holder
This is absolutely gorgeous, and hides your phone wire beautifully. The height is pretty much the size of your average smart phone, and I love that I can swap out different artificial flowers and stalks to go with the seasons. Really great and unique co-worker or secret Santa gift!
Related: The Best ALREADY ASSEMBLED Home Office Filing Cabinets on Amazon
Kids' Room Organization: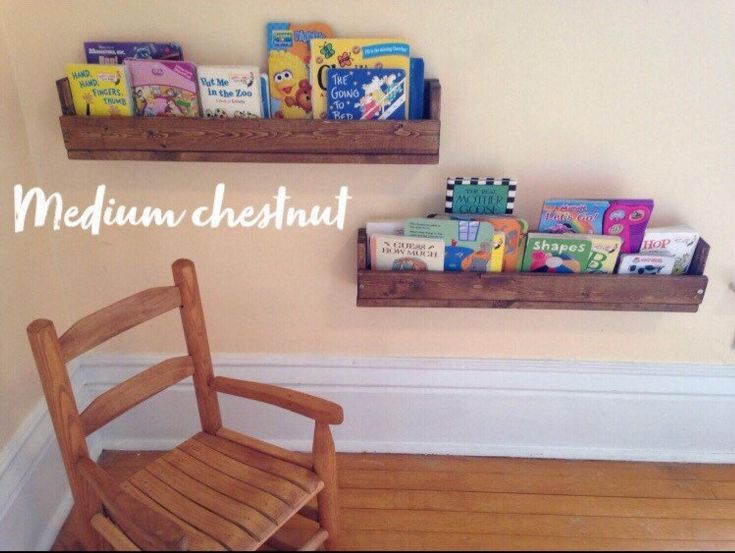 I like to keep dust out of my kids' room, and book holders can get very heavy to move around. You can mount these floating book shelves at any height, perfect for little hands.
Cotton Woven Basket Organizers for Children
How adorable are these?! Little toys like blocks, figurines and legos can get out of hand, quickly.
I love the idea of asking the kids to "feed the blocks to the frog" or "feed the crayons to the giraffe." What a creative way to help get the habit going of cleaning up after themselves.
Here is another tried-and-true easy place to keep light toys off of the floor. We can even "tuck in" (a.k.a. put away) our toys as a nice part of the bedtime routine.
Organize Your House with Awesome Etsy Finds!
Etsy really blew my mind once I really started to look around their site. They have so many unique and functional items that are also decor pieces that you'll be getting compliments on for years to come.
Organizing aside, their Gift Guides are really well structured too.
I hope you found some beautiful Etsy organizing ideas for your home in this post! Let me know what your favorite Etsy purchase is, in the comments below!
XO,
-Mina
P.S.: Here are some more posts you might find useful!