Best Shortbread Thumbprint Cookie Recipe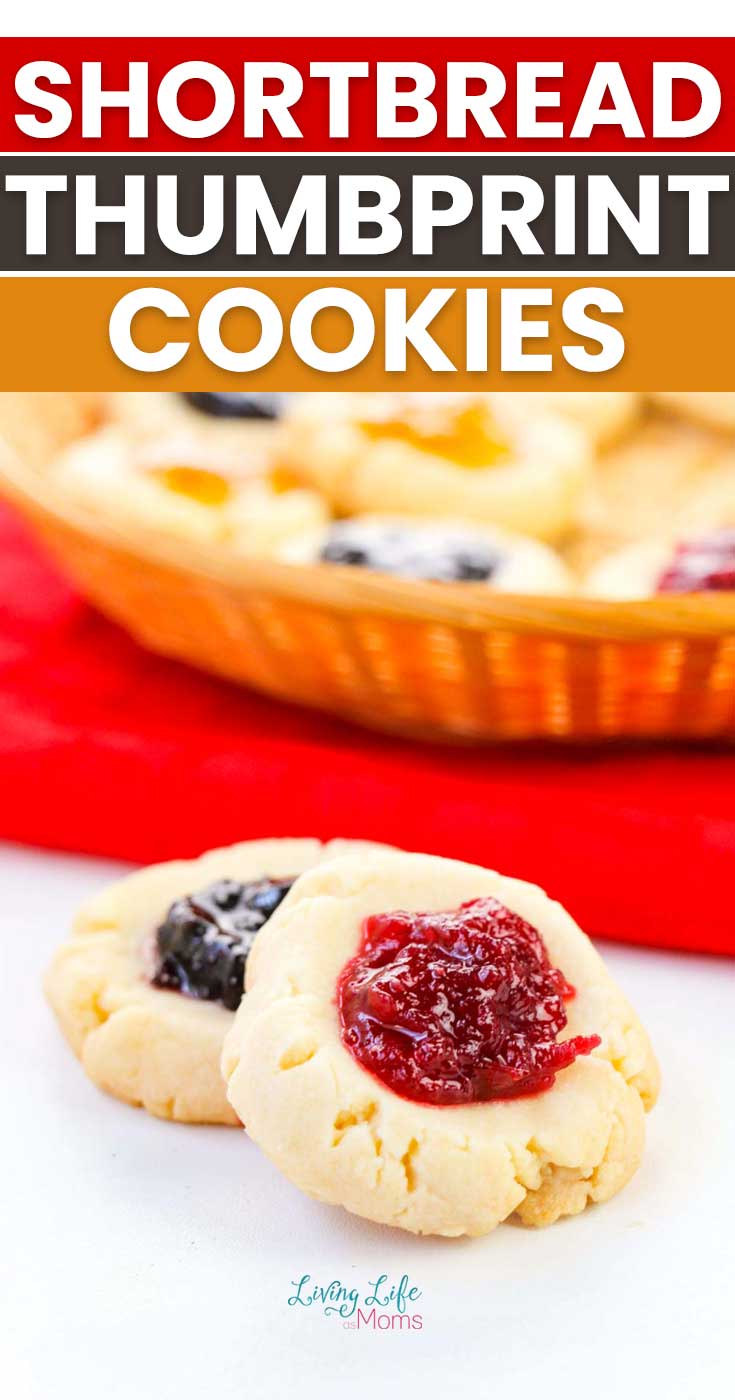 Are you looking for the Best Shortbread Thumbprint Cookie Recipe? I've got just what you need! This fun cookie recipe is great for the holidays, weekend desserts, or a simple cookie recipe anytime that you're craving something sweet.
There's no denying that sweet and crumbly texture paired with the gooey goodness of the center. Thumbprint cookies are some of my favorite cookies to make because they hit all my top textures and tastes that I love.
If you're ready for a fun cookie recipe, give these a try. The more times that you make them, the more that you're going to love them over and over again.
Be sure to check out my Nutella Thumbprint Cookies Recipe for another fun flavor and easy cookie recipe.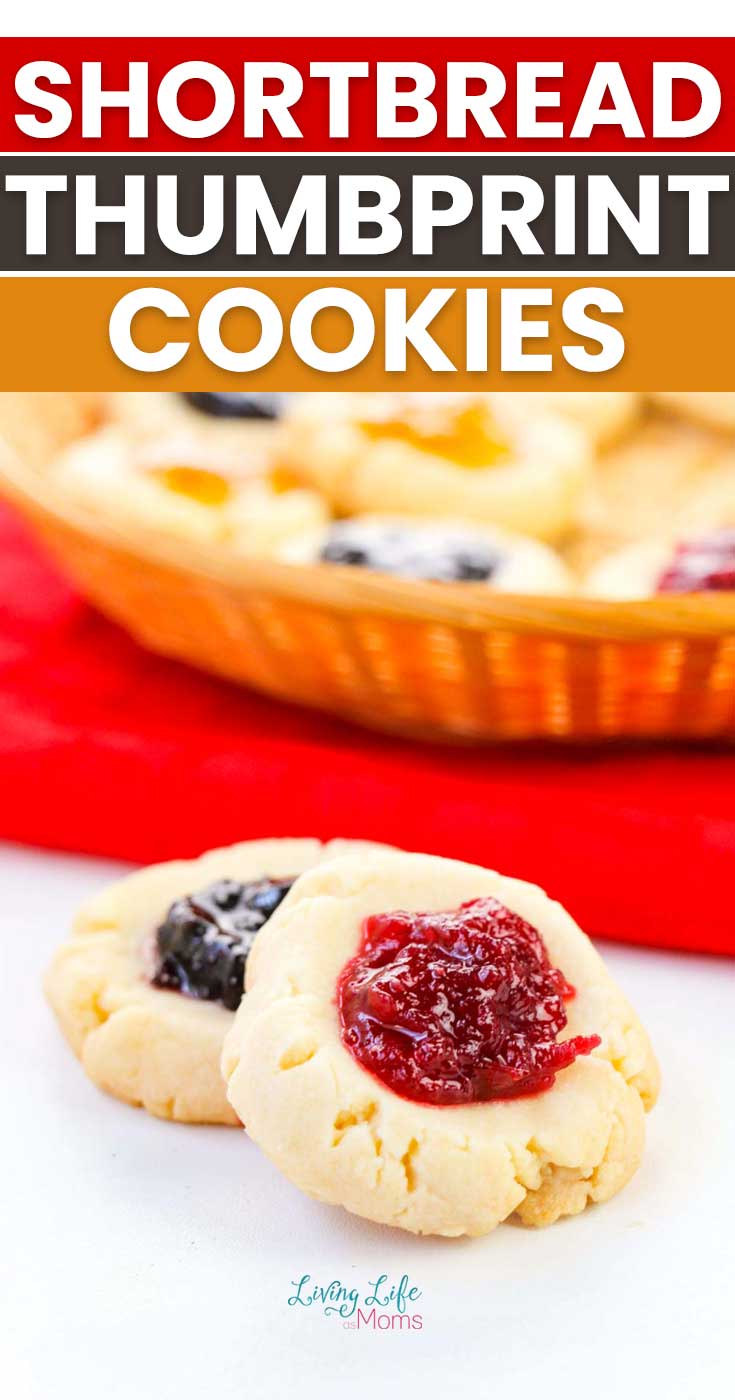 Best Shortbread Thumbprint Cookie Recipe
It seems like shortbread cookies are one of the best flavors of the holidays. I really like to make these cookies all year long and the delicious fruit filling in the middle takes the flavor over the top.
The way that we get so many flavors out of one cookie recipe is that we like to use jam and put that in the middle. It's such a great way to have a bunch of varieties of shortbread cookies without having to make batch after batch after batch.
Are you ready to learn how to make these simple shortbread cookies? It's a fun and easy recipe that everyone can jump in and help.
Ingredients Needed To Make Shortbread Thumbprint Cookies
As you can see, there aren't many ingredients that are needed at all! Just one other reason that this simple cookie recipe rocks!
Butter
White Sugar
Vanilla Extract
All-Purpose Flour
jam of choice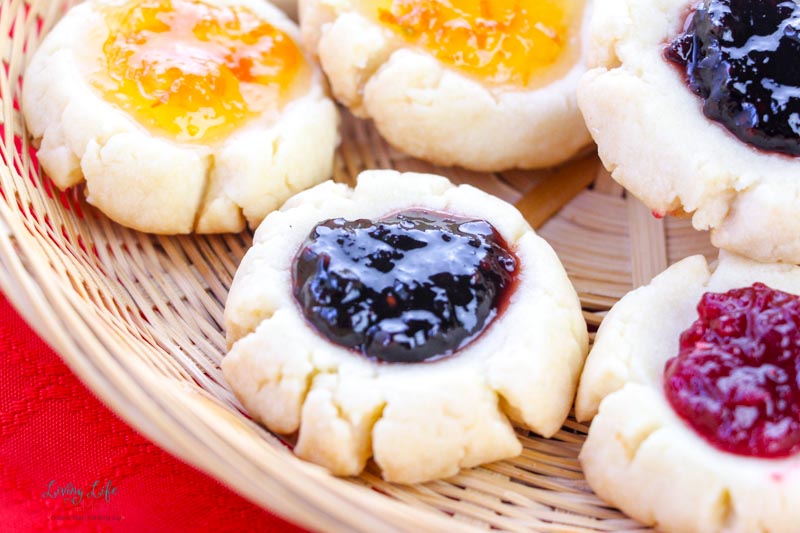 How To Make Jam Filled Shortbread Cookies
It's really important to preheat the oven and line your baking sheets with parchment paper. Why take the risk of overcooking the cookies or having them stick if you don't have to?
The recipe is going to have you mix the butter and sugar and make sure that you do until it's light and creamy. This will take about 2 minutes of time, which isn't that long at all.
I like to use a cookie scoop to put the dough on the baking sheet. The reason for this is that it makes the cookies very similar in size. (If you don't have a cookie scoop, you can totally use a spoon as well)
Make your indent in the middle of the cookie and bake them for about 12-15 minutes of time.
Once they're done baking, that's when you'll add in the jam.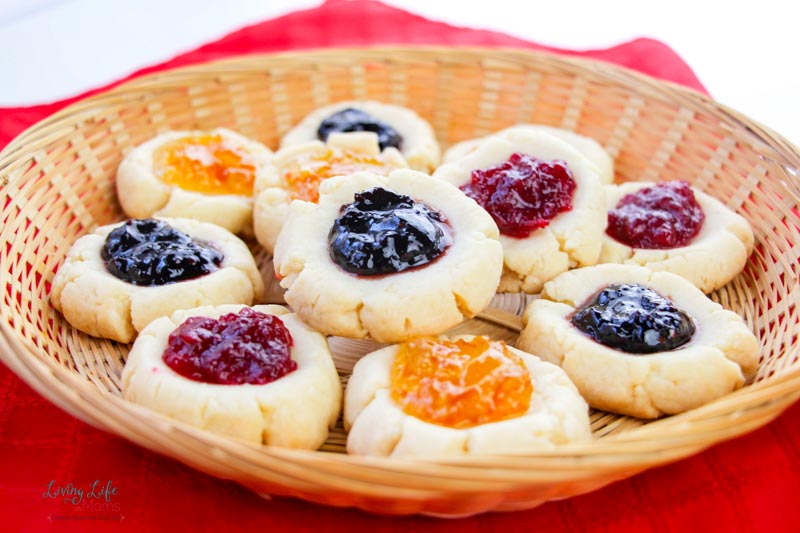 How do you make the thumbprint in the middle of the cookie dough?
You have options! One way is to use the back of the spoon and press the cookie down in the center.
The other option is to literally use your thumb! Although you'll have to use your thumb and make a bigger hole because the size of your thumb isn't big enough.
Keep in mind that when you bake the cookies, the thumbprint hole is going to pop up a bit so you'll have to push that area back down again. Because it's so hot, you'll want to use the back of the spoon for this.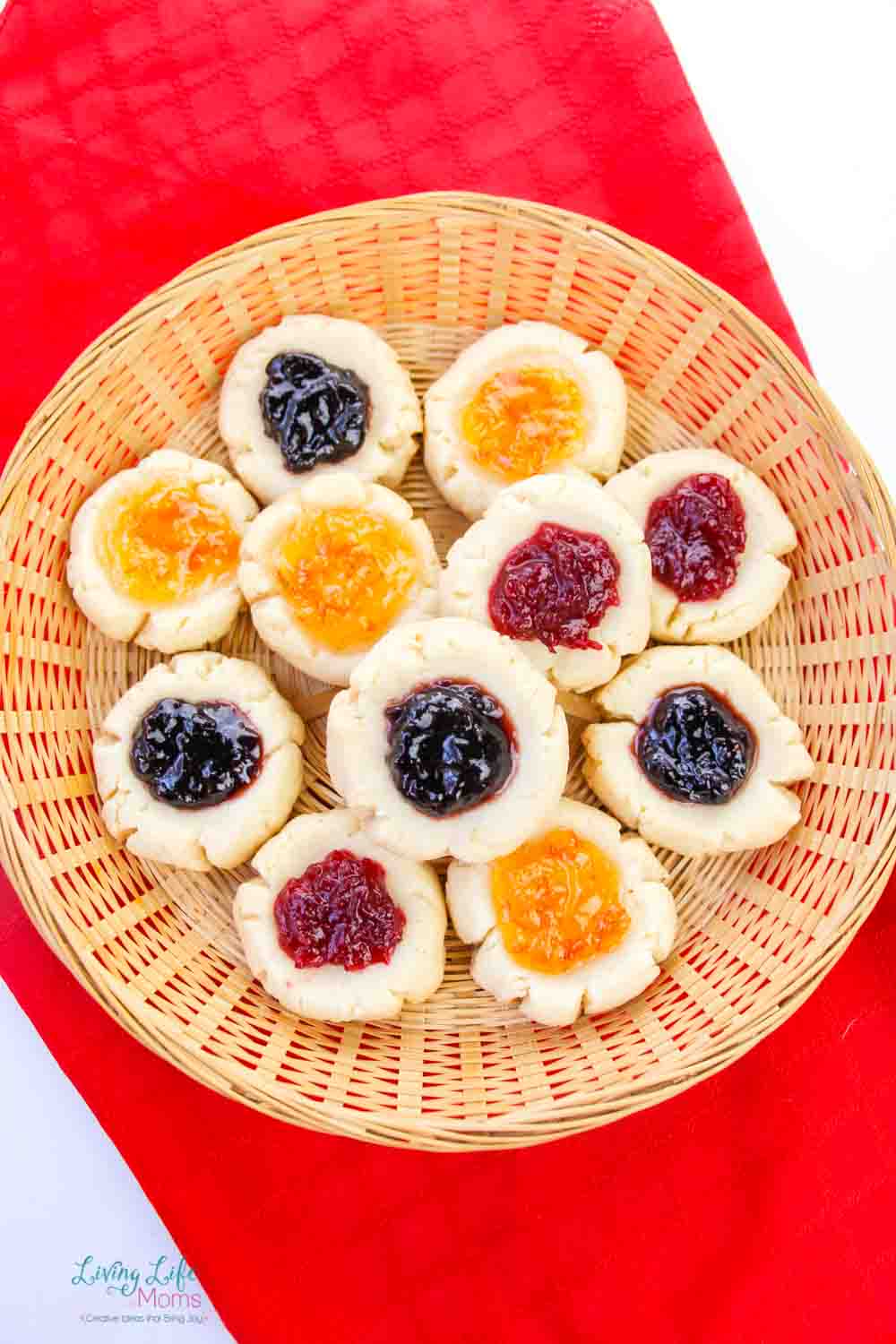 How do you know when shortbread cookies are done baking?
Shortbread cookies are simple to bake! The biggest way to know that they're done and ready to take out of the oven is to pay attention to the edges of the cookie. The edges will start to brown and that will be your cue.
What jam flavors taste best?
You can have so much fun with this! I love to try a mixture of hams because why not? Strawberry, blueberry, blackberry, and raspberry are just a few yummy options to consider. I also think that apricot and orange marmalade make for amazing tastes, too.
If you have unique jams at home, use them for this recipe! Having that flaky and crunchy texture paired with the sweet jam is a match made in tastebud heaven.
Easy Tips for Making Shortbread Cookies
Even though this cookie recipe isn't hard to do, there are a few simple tips to keep in mind.
Make the thumbprint large for more jam flavor. Don't skimp on the thumbprint area. If you make it too small, you're missing out on the chance to get some yummy and sweet tastes.
Don't overcook the cookies. Remember – the edges of the cookies are going to start to turn brown and that is your cue.
Change up the jam flavors to keep the cookies tasting new! This is key and a great way to get your cookies staying fresh and new. Since this batch of cookies makes almost 40 cookies, you have plenty that you can change the flavor of.
Giving Cookies as Gifts
Once the holiday season rolls around, I'm always trying to think of gift ideas to share with others. While it's fine to buy things at the store, I'm all about making and gifting desserts and sweets, too. In fact, most people really enjoy getting food as a gift because it gives them something yummy to nosh on.
If you know someone that won't bake cookies for themself, deliver them some of these cookies and brighten their day. I know a lot of people that don't like to have a ton of sweets in the house but would be totally fine and excited to have one or two cookies to enjoy!
And since this cookie recipe makes a ton of cookies, you'll have more than enough to share! Use this simple recipe to bake cookies and share with family and friends and keep a few extras in the house for yourself. You never know when that cookie craving will hit and you'll be glad to have held some back for you!
Best Shortbread Thumbprint Cookies
Additional Time:
15 minutes
How to make the best shortbread cookies.
Ingredients
1 1/2 cups of softened butter
3/4 cups of Sugar
1 tsp of vanilla
3 1/2 cups of Flour
1 cup jam of your flavor choice
Instructions
Preheat the oven to 350 degrees. Put parchment paper on the baking sheets.
Beat the sugar and butter together in a light bowl for 2 minutes. Beat in the vanilla and then slowly add and beat the flour.

Use a cookie scoop to put the dough on the baking sheets. Space them 1 inch apart.
Use a spoon and press down the middle of the cookies.

Put the baking sheet in the oven and bake for 12-15 minutes. Once you pull the sheet from the oven, use the back of the spoon and press down the indent asap again.

Let the cookies cool for 15 minutes.

Fill the cookies with the jam.

More Cookie Recipes
Christmas Tree Gingerbread Cookies Recipe
Double Chocolate M&M Christmas Cookies