White Chocolate Peppermint Pretzels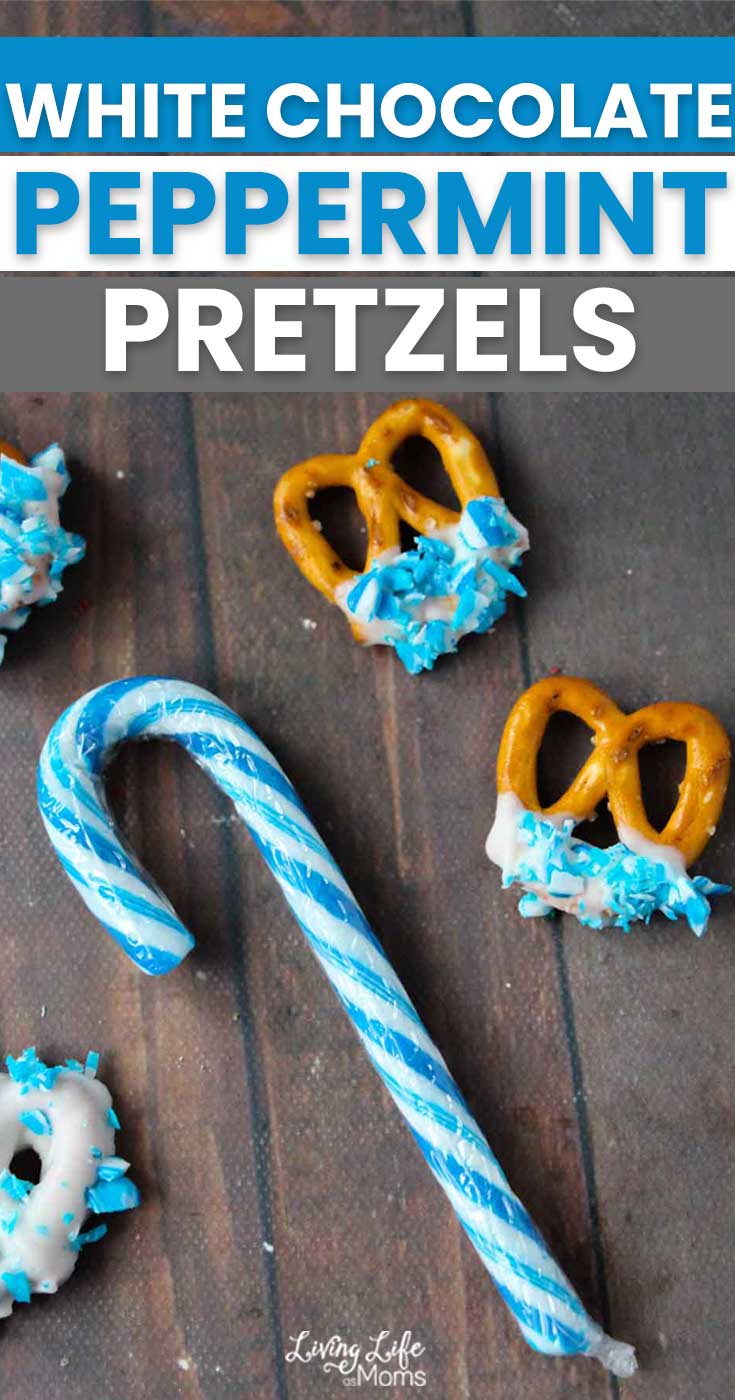 These White Chocolate Peppermint Pretzels are fast and easy to make. If you're ready for a simple dessert, this is just what you need. The sweetness of the chocolate paired with the crunch of the pretzel will have you grabbing for just one more.
There's just something about this time of year that gets me excited to be in the kitchen. Cooking up desserts is something that we do every holiday season! What I love about these easy peppermint pretzels is that they're little enough to grab just one or two to get rid of that sweet tooth craving.
Or, if you're like my kids, you can grab a massive handful and run out of the room. Either way, you're going to like the flavor!
Make sure to check out my Pumpkin Pretzel Bites for even more fun pretzel dessert recipes.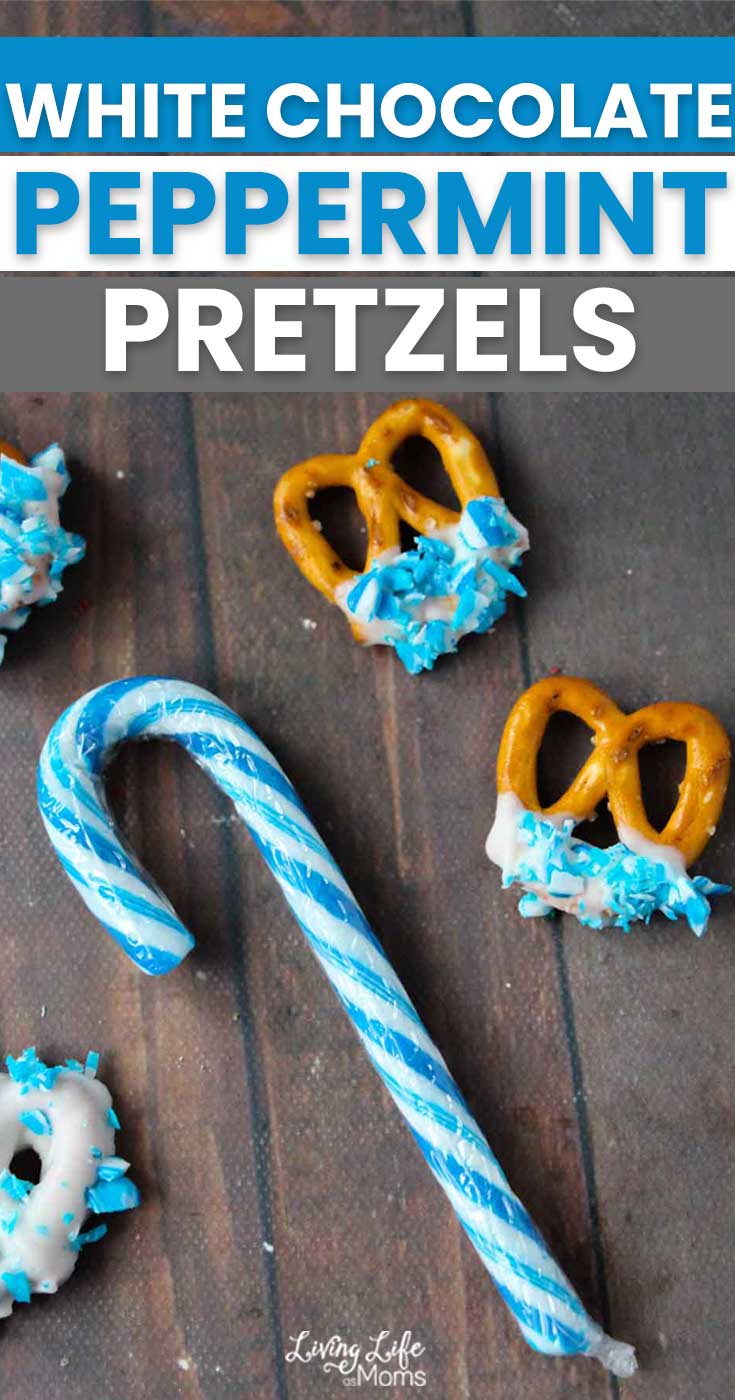 White Chocolate Peppermint Pretzels
Who knew that pretzels and chocolate were such a perfect pairing? This easy dessert will have everyone loving making up another batch.
And be ready – because the first batch is going to go extremely fast. Because as soon as they're ready to eat – they're going to be going, going, gone.
To be honest, I usually make this pretzel dessert at least 2-3 before Christmas even arrives! My kids love it, I love it, and it's just simple to do.
When we're wanting something sweet and fast, this recipe literally never lets us down.
Ingredients Needed To Make White Chocolate Peppermint Pretzels
Did I mention that you just need three simple ingredients to get started? This dessert is so fast – you're going to love it!
Pretzels
White candy melts
Crushed candy canes
Literally, that's all you need. Crazy easy, right? Now you can see why we love them so much!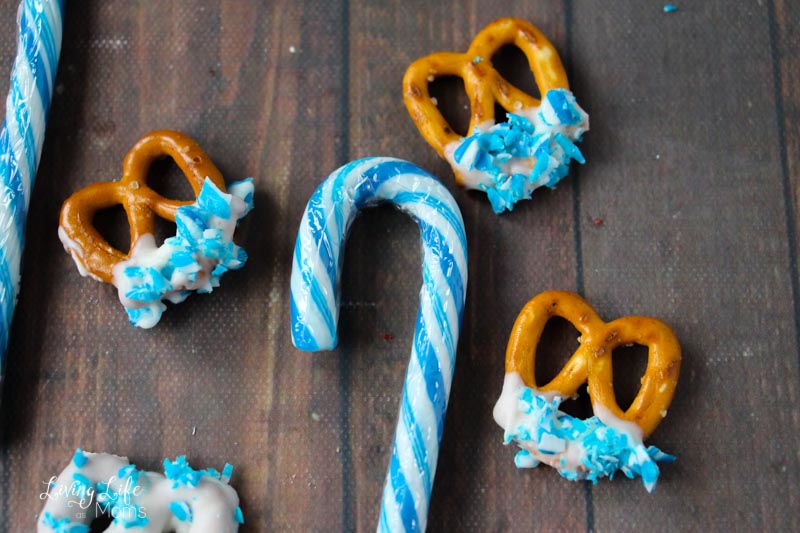 How To Make Peppermint Chocolate Pretzels
This is one recipe that the kids will love to jump in and help out with! That's because someone has to help crush up all the candy canes! Just put them in the bag and let the kids start hitting away! This part of the recipe was made for them!
Once you melt the chocolate, all you have to do is tip the pretzels into it and then dip that into the crushed candy canes.
Make sure that you set them done on waxed paper or parchment paper to dry.
And that's literally all there is to it!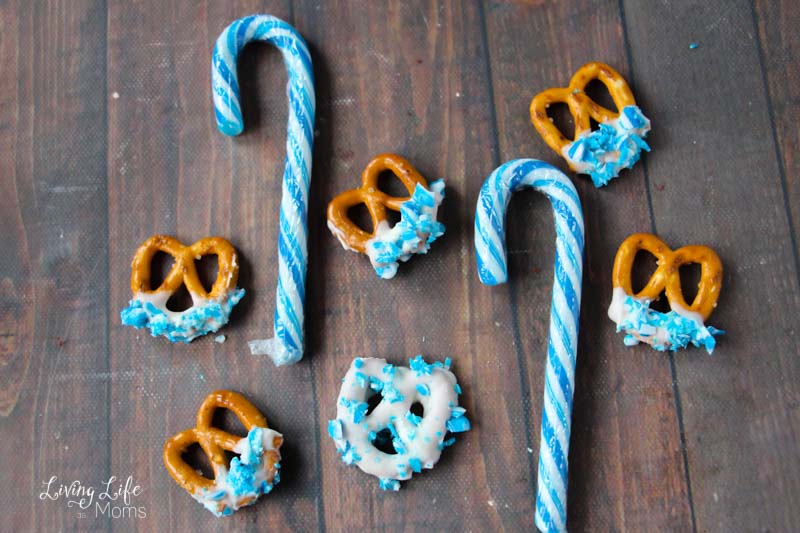 How long do I have to wait to eat these pretzel treats?
Once you melt the chocolate and dip and then dip into the crushed candy cane, it will take about 30 minutes to 1 hour to harden and be ready to eat.
Be patient, it's worth it. The time will be done and over before you know it and you'll be chowing down on them and loving life.
When I'm waiting for them to be ready, I'll read, go for a walk, etc – anything to get my mind off the treats at hand! If I sit there and stare, it seems to take that much longer to get ready to eat!
Fun Ways to Change up These Peppermint Pretzels
Although I think that these pretzels are pretty perfect as is, there are some fun changes that you can do.
Change up the type of candy canes – We all know that there are unlimited candy cane flavors that start hitting the shelves this time of year! Stock up on all the fun flavors and see what you like best. From cherry to hot cocoa, you can literally make each one of these pretzel bites taste totally unique and fun.
Use pretzel rods – While I love the little pretzels, you can easily do this recipe with pretzel rods or sticks, too. You can ever do all the above. Because sometimes I have half eaten bags of all different types of pretzels so why not do a mixture of them all. It's your recipe, have fun with it.
Change up the flavor or color of the almond bark – I like using white chocolate with the blue candy canes because it reminds me of the holidays, but you can easily use any flavoring or color that you want. Using brown almond bark and white crushed candy canes would look just as awesome and taste just as good.
How to store peppermint pretzels
The last thing that you want to have happened is to have these pretzels get stale and soft. That's the worst! But there are things that you can do to stop that from happening.
You need to make sure that you store these treats in an airtight baggie or container with a lid. I love to store them in a container but you also have to be very careful that they're cooled and the chocolate is solid before adding them to a container. If you add when the chocolate is still wet, they're going to stick together and be a big mess.
I also love that you don't have to store these in the fridge. I can keep them on the counter for us to grab and snack.
These also make a great snack to take and go on the road. The kids are always asking for treats in the car so having this that doesn't have to be kept cold is great.
Homemade Holiday Gifts
Don't forget that you can easily share these with others. Everyone loves receiving homemade sweets and treats and this is perfect because you can quickly make a large batch and share.
A great way to present them is to add them to a cute gift box or a jar. This is a fun presentation and a simple way to transport the food. Everyone loves getting a gift that they don't have to make themselves and they can eat and enjoy!
White Chocolate Peppermint Pretzels
These peppermint pretzels are so simple to make!
Ingredients
24 Pretzels
1/2 cup of White Candy Melts or white almond bark
1 candy cane
Instructions

Break up the candy cane in pieces.
Put the pieces in a bowl and set them aside.
Put the candy melts in a microwave-safe bowl and heat according to the directions on the package.
Dip the pretzel end into the melted candy. Then dip into the crushed candy cane.

Repeat with all the pretzels.
Let it dry before eating.

More Christmas Recipes
This recipe just might get you craving even more! Here are some other fun holiday treats that I think you'll love.
DIY Christmas Brownie Mix Mason Jar
Christmas Bark Recipe with M&M