Peanut Butter and Jelly Thumbprint Cookies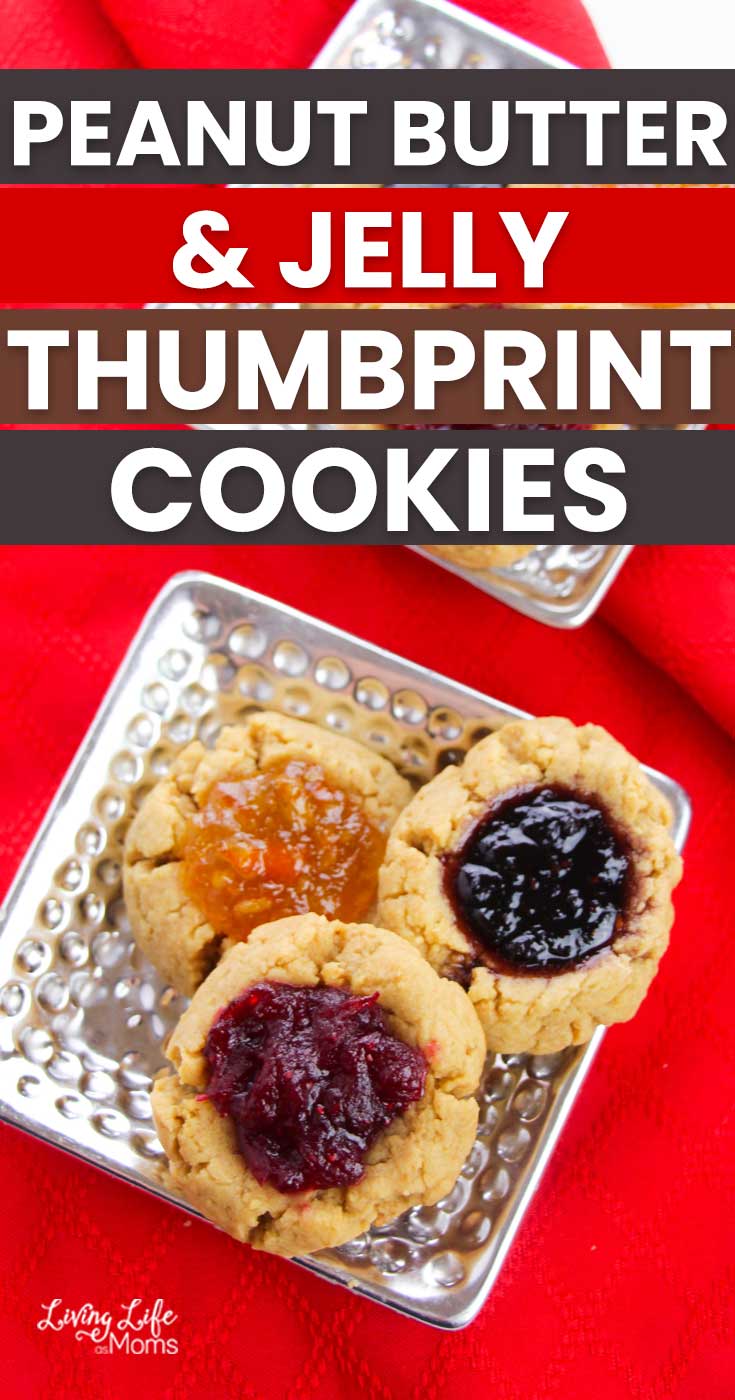 Love the combo of PB&J? These Peanut Butter and Jelly Thumbprint Cookies are perfect! I love the sweet and creamy centers of these yummy cookies paired with the crunchy outer texture. I've been making thumbprint cookies for years and these are always at the top of my list.
The good news about making cookies is that you can't go wrong with the timing. Cookies are great for any time of day, year, and literally, these yummy sweet treats pair up with just about any meal or dish, too.
Since we like to start baking more during the holiday months, these tend to become baked quite a bit more during this time in our house. They don't last long and everyone loves to gobble them up!
If you love this recipe, you must also try this yummy Peanut Butter and Jelly Sandwich Cookies!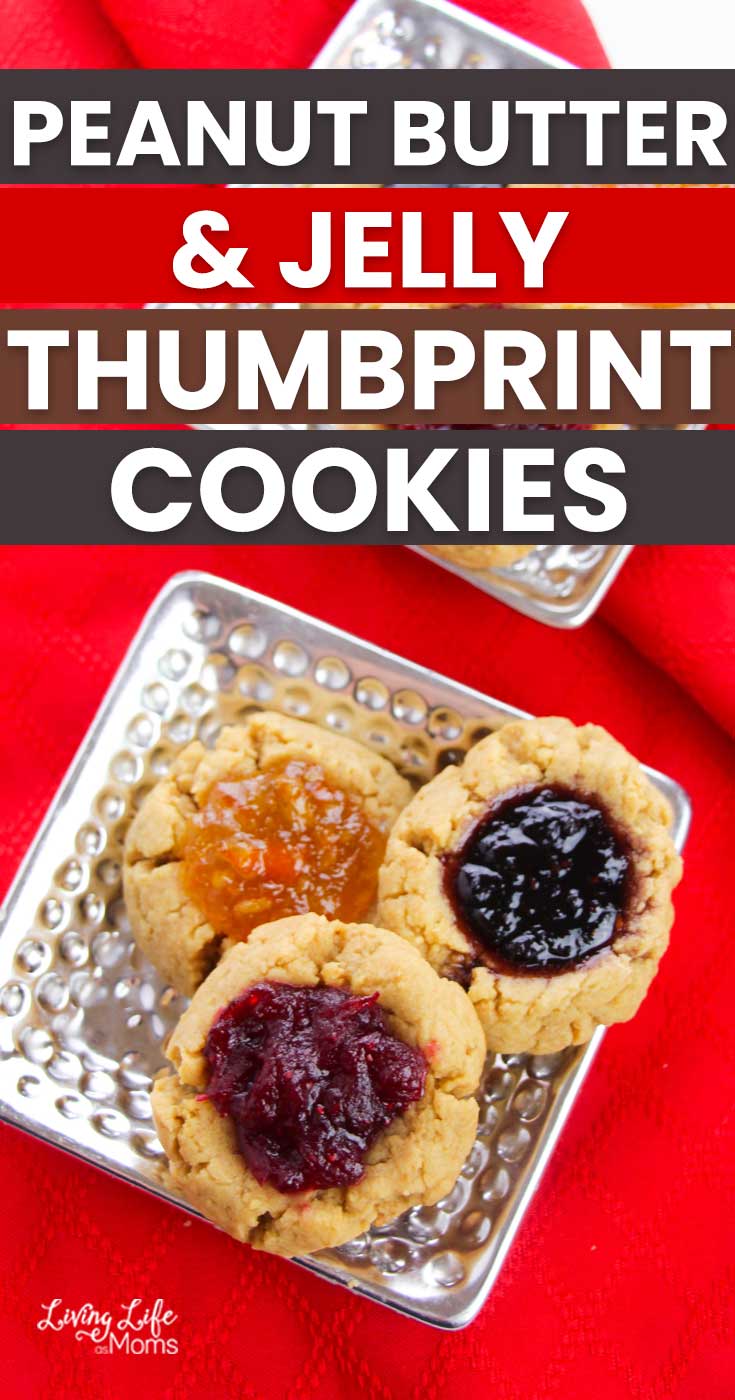 Make sure you check out my Best Shortbread Thumbprint Cookie Recipe for even more easy cookie ideas that are a must.
Peanut Butter and Jelly Thumbprint Cookies
I grew up eating thumbprint cookies and they hold a special place in my heart. I l love the sweetness and the crunch of the outer crunch. They're not overly crunchy, just the perfect amount.
My kids have gotten to a point in their lives where they like to help making the thumbprint cookies, too. This means that we get to spend some quality time in the kitchen baking and baking p some fun memories and treats at the same time.
If you're ready to bake some yummy cookies, this recipe is for you! I think that you'll enjoy the sweet flavors just like I do.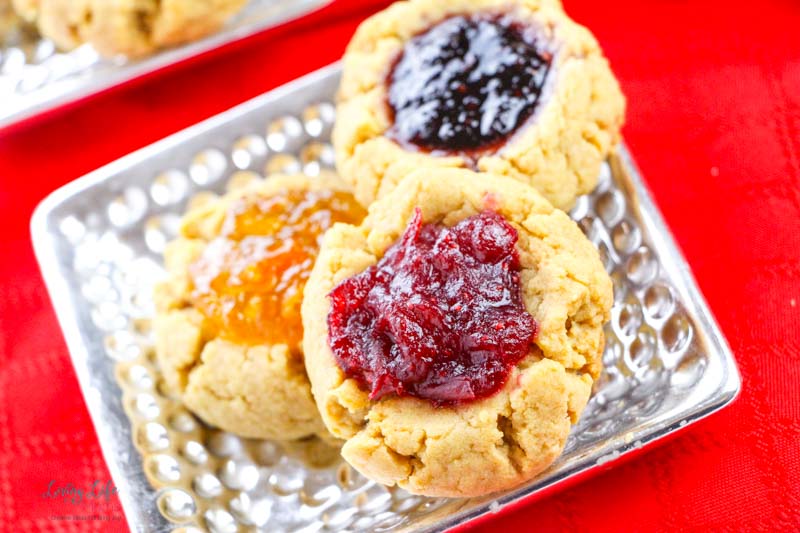 Ingredients Needed to make Thumbprint Cookies with Peaut Butter & Jelly
You don't need a ton of ingredients to make these cookies and the ones that you do need are all simple ingredients that you more than likely already have right at home.
Just gather them up to get started!
all-purpose flour
baking soda
baking powder
salt
butter
peanut butter
white sugar
brown sugar
egg
vanilla extract
jam of choice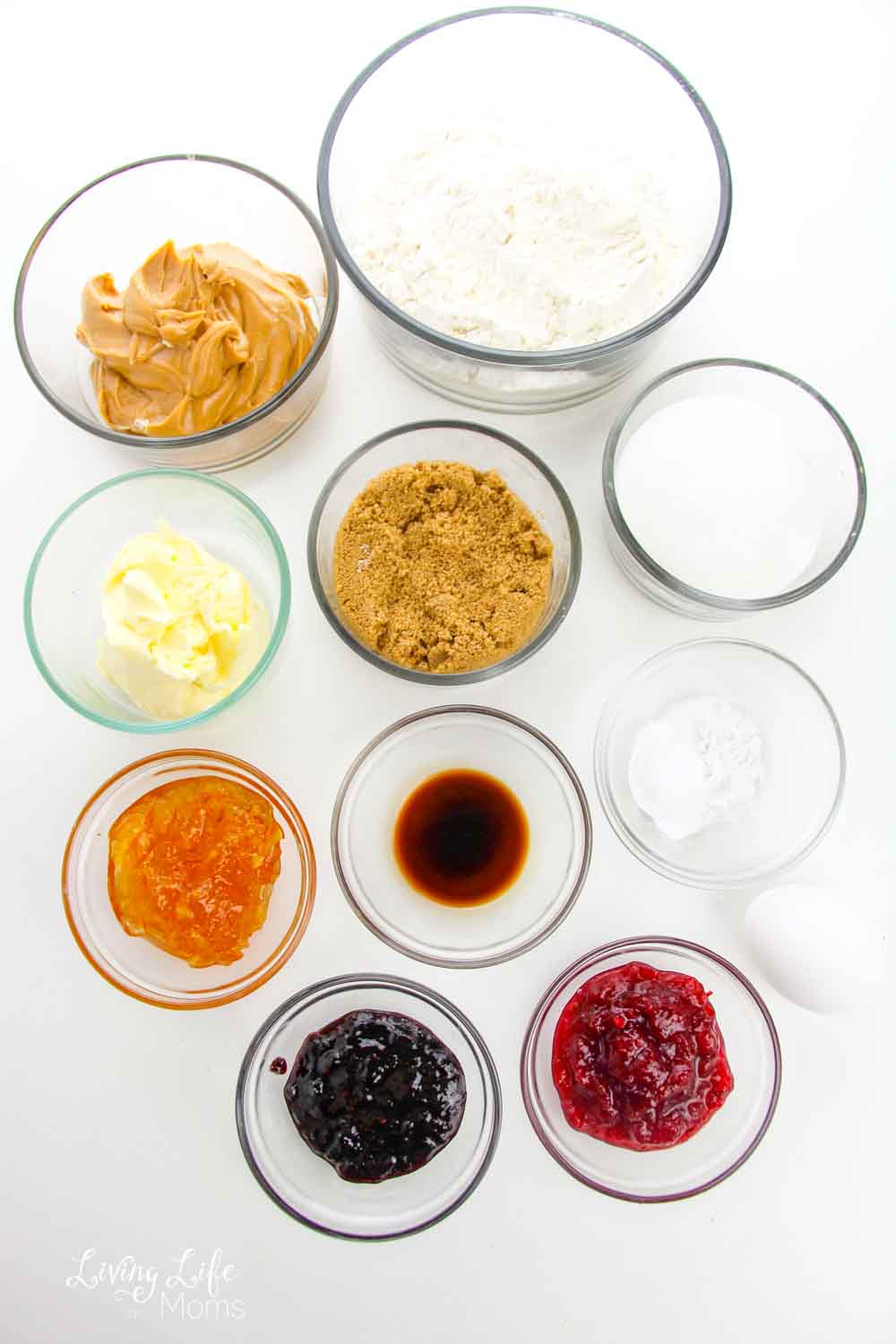 How to make PB&J Thumbprint Cookies
If you've ever made thumbprint cookies before, you know that they're not hard to do. This recipe is a fast and easy recipe that will give you homemade cookies so quickly. My kids love it, I love it, and I can't wait to hear what you think.
I can promise you one thing – that after I made these cookies one time, I make sure to make them over and over again. They're really just that good.
The first step is to make your cookie dough. (You'll find the entire recipe listed below with the steps and amounts of ingredients needed)
Once you make your cookie dough, you're well on your way to making thumbprint cookie magic.
Once you make the thumbprint in your cookies, it's time to bake them in the oven. Once you bake the cookies and take them out of the oven, you're going to have to press down on the thumbprint area again as it will have puffed up. (Just be careful, it's going to be super hot!)
After the cookies have some time to cool down a bit, it's time to add in the peanut butter and jelly. Switch out the jelly and have fun with the flavors.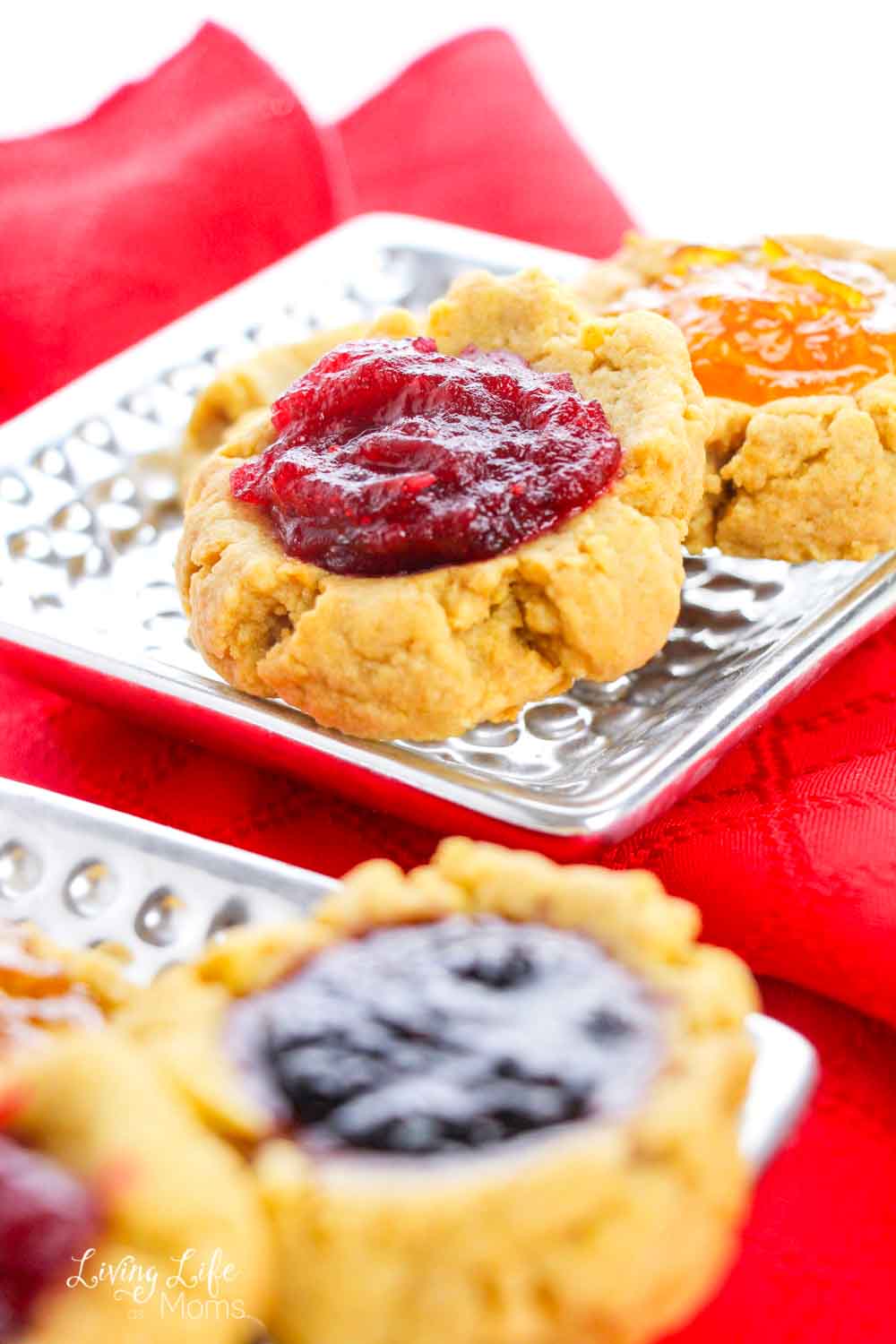 How do you know when cookies are done baking in the oven?
To know when it's time to pull cookies from the oven, it's actually a very visual thing. For these types of cookies, they're going to start to turn a golden brown around the edges. This is your clue that they're ready to be taken from the oven.
What type of jam tastes best in thumbprint cookies?
This is all up to you and what you prefer! I'm a huge fan of jams so I'll literally eat them all. I've found that raspberry jam and blackberry jam are super popular choices with the kids but you can choose whatever flavor you like the best. Any type of fruit james are going to be good so enjoy the flavor and taste.
Can you use chunky peanut butter instead of smooth?
I prefer smooth because of the texture, but again, this is up to you. The chunky peanut butter will give a chunkier texture, just like the name suggests. If you're wanting a smoother cookies, smooth or creamy peanut butter is the way to go.
How do you store thumbprint cookies?
If you're using jam in your cookies, those cookies will need to be kept stored in the fridge. I just make space for them and store them in an airtight container and that does the trick every time.
Can you freeze thumbprint cookies?
You can! If you want to save these cookies for later, freeze them! I actually really like them frozen as the jam because harder in texture and has more of a tacky and sticky texture, which I love. To freeze them, just add them to a freezer safe bag and store them in the fridge. You can also freeze them without any of the filling in them and then add that filling once they thaw and you're ready to eat them.
Giving Cookies as Gifts
Don't forget that giving homemade cookies makes for perfect holiday gifts! Kids and adults will love having homemade cookies delivered right to their door! This is a super simple way to fill their bellies with great good and their hearts full of love!
Making cookies together and then gifiting them to others is a lovely family tradition. You just might find that this becomes one of your favorite parts of the holiday season!
Just get a cute box or jar to put the cookies in and that is all that you need! This just might become one of your favorite holiday treats to whip up and share with all your family and friends! Fast, easy, and delicious!
Peanut Butter and Jelly Thumbprint Cookies
Ingredients
1 1/3 cups of all-purpose flour
1 tsp of baking soda
1/2 tsp of baking powder
1/2 tsp of salt
1/2 cup of butter
3/4 - 1 cup peanut butter
1/2 cup of white sugar
1/2 cupof brown sugar
1 egg plus 1 egg yolk
1 tsp vanilla extract
1 cup of jam flavor of choice
Instructions

Preheat the oven to 350 degrees. Stir the baking soda, flour, baking powder, and salt and set aside.
In a different bowl, beat together the peanut butter and the butter until smooth.
Add the sugar and beat the mixture for 2 minutes. It should be light and creamy once done.
Add in the vanilla and egg and beat for 30 seconds. Slowly add the flour mixture until mixed well.
Grab a cookie scoop or tablespoon and scoop out the dough on your cookie sheet.
Use the back of a spoon to press down the center of the cookie to make a dip in the middle.

Put the cookies in the oven and bake for 8=10 minutes.
Once done baking, take the tablespoon and press down the indent in the middle of the cookies again.
Let the cookies cool on the baking sheet for 15 minutes.
Once cooled, fill the thumbprint with 1 - 1 1/2 tsp of a jam of your choice.

I love sharing doable and easy recipes that will be easy to make with your kids like this yummy Edible Cookies and Cream Dough so make sure to check this one too.
If you love cookies, make sure to try these delicious Birthday Cake Cookies!
More Cookie Recipes
This tasty snack is a special treat for your next get-together, these Lemon Thumbprint Cookies are sure to please.
Are you a cookie lover? These easy-to-prepare funfetti cookie sandwiches will satisfy your cravings! A perfect treat for the whole family.
Best Shortbread Thumbprint Cookie Recipe
Christmas Tree Gingerbread Cookies Recipe
Double Chocolate M&M Christmas Cookies