DIY Stress Balls with Netting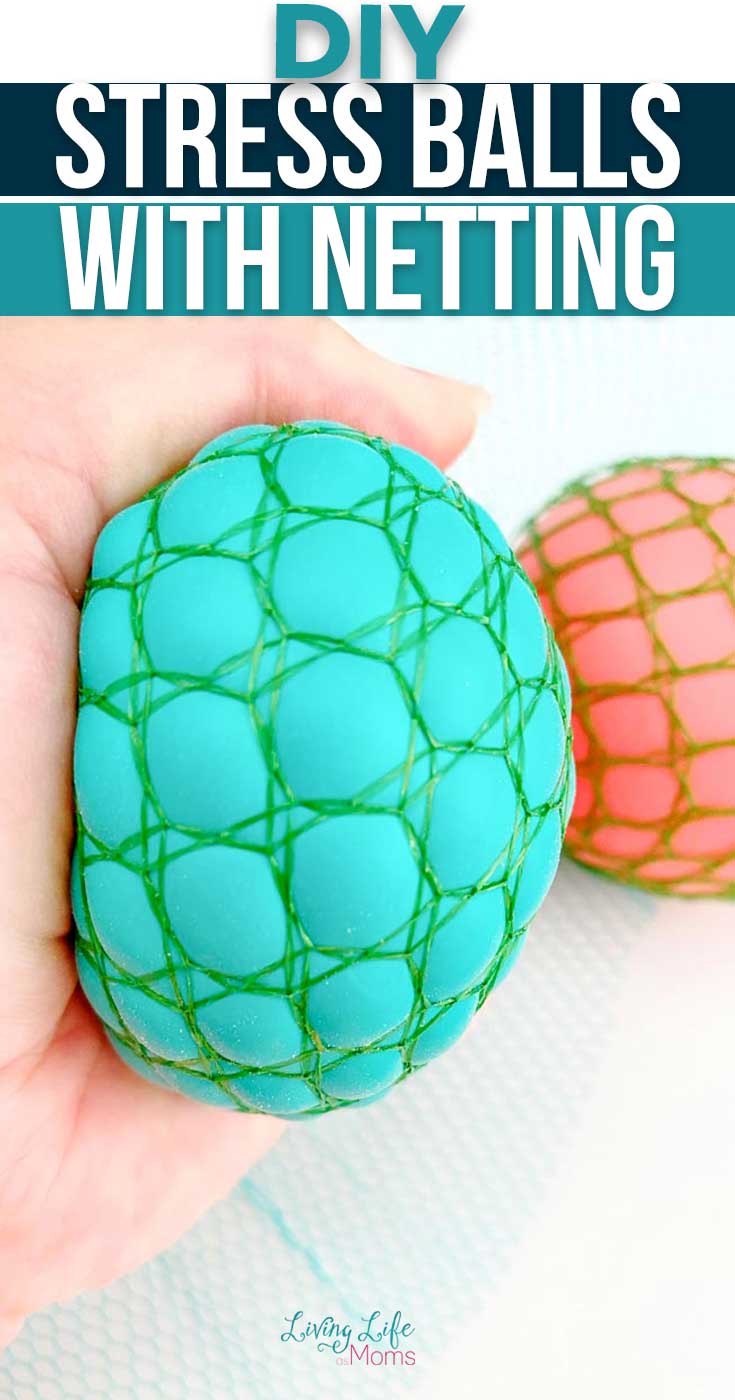 Looking for a fun project for the kids? These DIY Stress Balls with Netting are certain to bring them happiness and hours of sensory fun! All you need are a few simples supplies to make this simple craft.
Since this has been quite the year, I'm going to branch out and say that these stress balls are not only great for kids, but they're also great for adults, too.
We've all been feeling a bit of stress and having some homemade stress balls on hand is always a good idea. The kids will love making them and they're really fun to squeeze as well!
We make these up and keep them with us in the car and also when we're waiting during appointments as well.
Not only are they helpful to relax but they're actually pretty fun to play with also.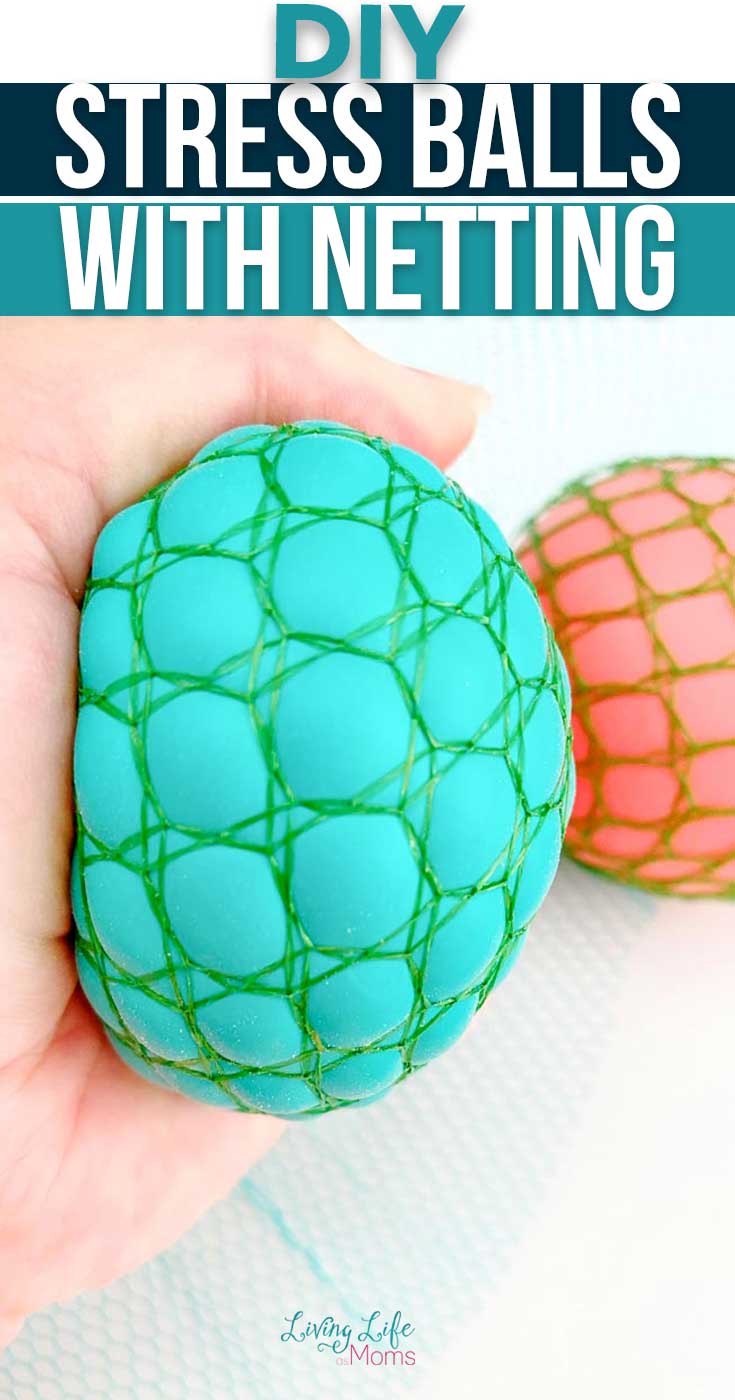 The netting makes this really fun as well because it just creates a cool look. Every time that you squeeze the stress ball, a little bit of it pops through the netting and it's always fun to see.
Since we've found ourselves at home a lot more this past year, we've had a lot of conversations about stress and relieving stress and how to do so in a healthy manner.
Once we discovered this simple activity and how much fun it was to make, the kids have literally made this many, many times.
As you can see from the picture below, there isn't a ton of supplies that you're going to need to have. Just gather them up to get started.
DIY Stress Balls with Netting
The following ingredients are all that you'll need to get started with this simple activity.
Balloons
Flour
Netting
Funnel
Spoon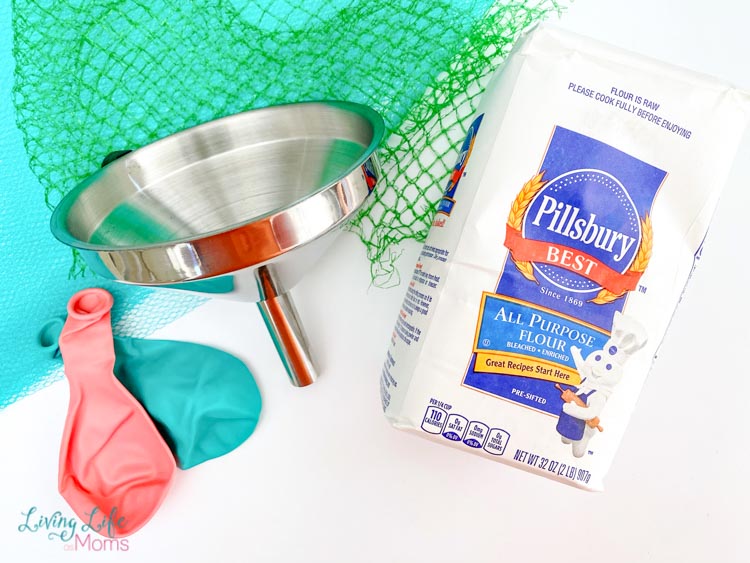 The other really cool part of this STEM activity is that you can easily change it up, too. We've used all different colored balloons in this activity and the kids really like that aspect to be able to change it up.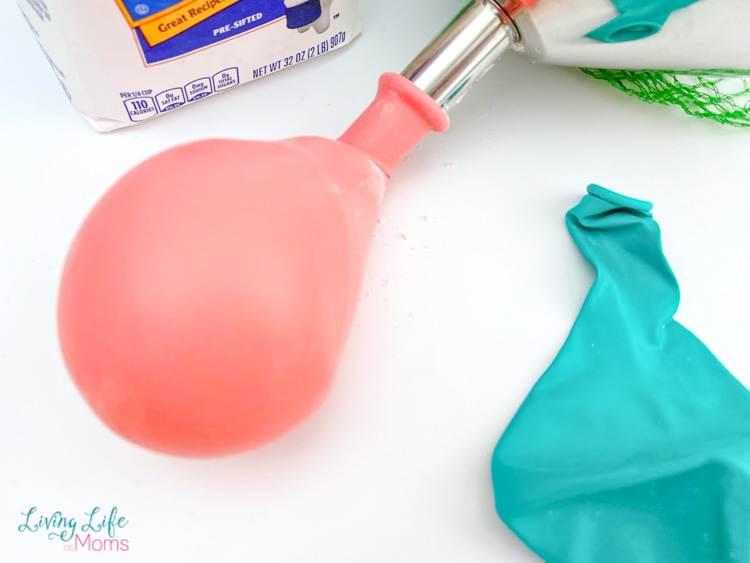 The trick to making this DIY stress ball is that you don't want to overfill it too much because then it could burst. (and even though it's just flour, it's still going to be making a big mess!)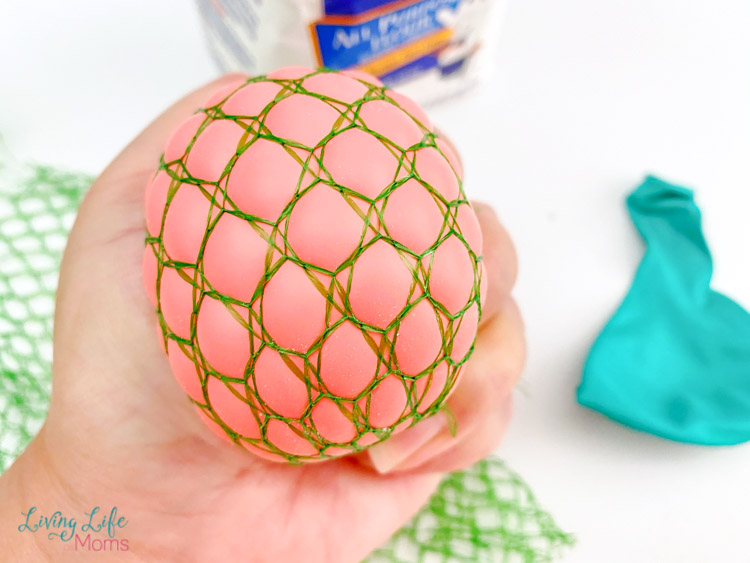 Since this is such an easy project, be certain to let the kids take charge and make this all on their own. They'll have so much confidence in making these simple stress balls!
As long as you're there for adult supervision, they'll have a blast creating these stress balls all on their own. And once they get the hang of how to make one, they're going to want to make these over and over again.
Just keep in mind that if one does end up breaking, it's totally fine. Just clean up the mess and make another one easily. In a matter of just a few minutes, they'll be a new stress ball without worry.
Keep in mind that while this is a simple activity to make at home, it's also a great one to make and give as a gift, too.
Homemade gifts are always a good idea and who doesn't need a stress reliever after this year? Buy a pack of balloons and let the kids make a bunch of these stress balls to hand out to their family and friends.
Not only is this a great way to teach them about sharing but it's also a great way for them to do something kind for others, too.
DIY Stress Balls with Netting
Check out these DIY Stress Balls with Netting!
Materials
Balloons
Flour
Netting
Funnel
Spoon
Instructions
Open the end of a balloon onto the bottom of a funnel and hold the balloon on with your fingers.
Fill the funnel with flour and slowly use the end of a spoon to push the flour into the balloon through the funnel.
Once the balloon is full, slowly slide the balloon off the funnel and tie into a knot close to the flour filled side of the balloon. Carefully cut the end off the balloon about 1/2" away from the knot.
Cut a piece of netting about 5x5", wrap it around the balloon and tie into a double knot, cutting off any excess netting.
Squish the stress ball and watch the flour filled balloon come out the holes of the netting.
More Easy Activities
If you like this simple stress ball activity, you'll love these, too!
DIY Unicorn Sugar Scrub Recipe
Make your skin feel amazing by trying this simple recipe.