DIY Stress Balls with Orbeez
Feeling like making something fun and creative at home? These DIY Stress Balls with Orbeez are so much fun to make! The kids will love being able to create a cool product like this and it's actually a super simple way to create a learning lesson as well.
What I love most about this simple activity for kids is that it's really simple and easy to make. It just takes three simple supplies and the kids are having so much fun.
Stress balls are good to have around the house because we all have stresses and worries, right? The thing to keep in mind is that you can use this stress ball as a simple way to show your kiddo how to alleviate their stress or to also show them how to create a cool gift for their friends as well.
DIY Stress Balls with Orbeez
No matter what you feel about Orbeez, they're really quite fun for the kids. I know that we've made a mess a time or two with them but it doesn't begin to even compare to the hours of fun that the kids have had when playing with them.
They love the colors of them and the texture, too. Orbeez is great for sensory skills as well and is super fun to just hold and squeeze also. (and as an adult, I have fun with them, too!)
All you'll need to get started is listed below!
Materials
I told you that there were only three supplies needed for this activity!
Balloons
Orbeez Water Beeds
Funnel
How to make DIY Stress Balls with Orbeez
The good part about making these stress balls is that it's a simple project for all ages to do.
You can even use this as a learning project and work on your teamwork.
Using a funnel is going to be the easiest way to get all the Orbeez down into the balloon. Plus, the tip of the funnel will help to get as many into the balloon as possible as well.
Your children may have trouble tying the balloon so this is where you'll get to be the hero! Stand by as they create them and then come in at the end and tie them up.
Make certain that you're careful with this project as there are small parts to it. There are choking hazards for small children and pets as well so this activity does need to be supervised, just in case.
Once your child makes the stress ball, they can have fun squeezing it and feeling their stresses melt away. Don't forget to make one for you, too. It's been quite a year!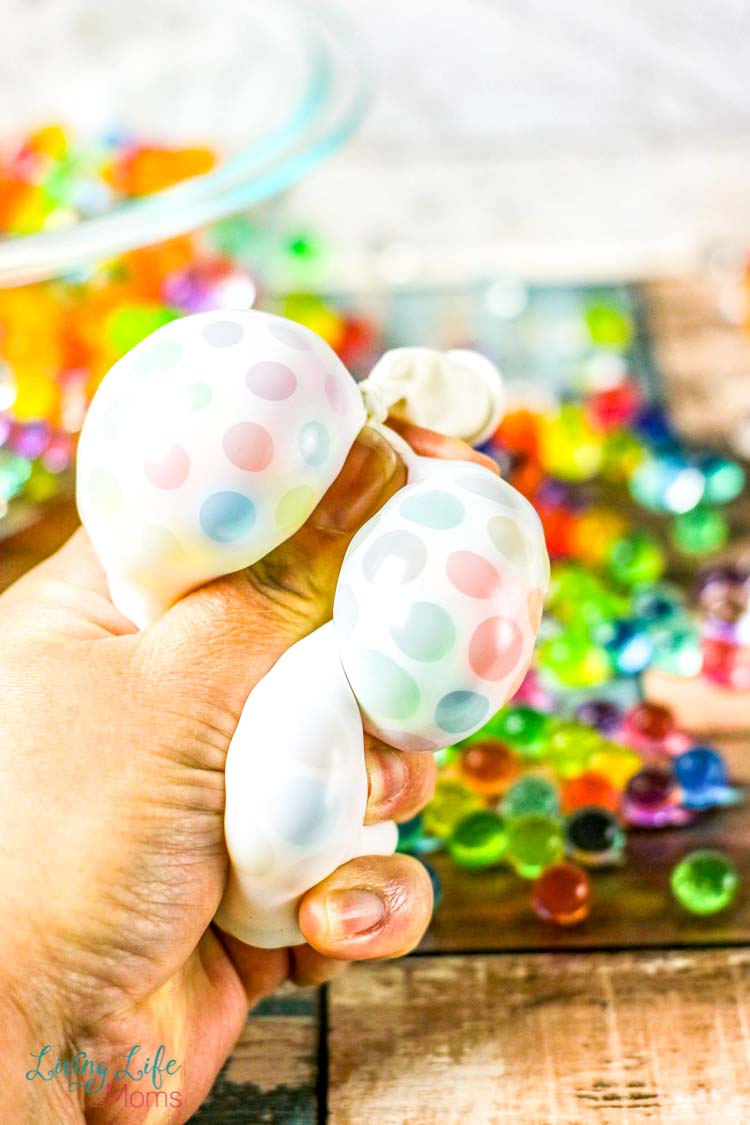 How do you store stress balls?
You don't really have to do too much for care for these stress balls but they will start to wear down over time. There is a chance that after some time that the balloon might rip and if that happens, just clean up the Orbeez and let the kids make another one.
As for storage, just keep it up and away from any pets or small children and that is all you should have to worry about.
Make certain to talk to your child about what they're stressed about as well to keep those lines of communication open. Oftentimes a good discussion can be a simple way to melt away the stresses of the day.
DIY Stress Balls With Orbeez
Total Time:
4 hours
15 minutes
These DIY Stress Balls With Orbeez are so much fun to make!
Instructions
Carefully open the Orbeez and place into a large bowl of cold water. Set sit for about 4 hours, or until they are full marble sized.
Open the end of a balloon onto the bottom of a funnel and hold the balloon on with your fingers.
Place a couple Orbeez in the funnel and let them slide into the balloon.
Once the balloon is full, slowly slide the balloon off the funnel and tie into a knot close to the Orbeez filled side of the balloon.
Squish the stress ball and the Orbeez will move around.
More DIY Ideas
If you liked this simple activity, make certain to check out these as well. The kids will love being hands on and learning how to make many of their own activities!