Give your kids a fun bath with a little surprise inside. The best part is by making these Rainbow Surprise Bath Bombs yourself at home you know that the ingredients are safe for your sweet kids and you can also customize the scents, colors, and shape. You can either make it by yourself to surprise your little bather or include them in on the fun and let them help mix, measure, and create as well.
Rainbow Surprise Bath Bomb Ingredients
Citric Acid – 1 Pound – Food Grade
ColorKitchen Cupcake Coloring Set (PINK, YELLOW, and BLUE)
Epsoak Epsom Salt 2 Lbs – 100% Pure
You will also need:
A bowl
Spoon
A mold or container to use as a mold
Small toys or other objects to put inside
Bath Bomb Directions
In a large bowl combine citric acid, corn starch, Epsom salts, coconut oil, and lavender essential oil and stir until very well mixed.
Divide your mixture evenly among bowls, depending on how many colors you choose to do. Slowly add a few drops of colorant to each, stirring frequently, until the desired color is reached. This 3 pack of colors are great for making your rainbow bath bomb, just mix colors to make purple, green, and orange.
Spray each one with one or two spritzes of water, stir and mix with your hands until the mixture just stays together when squeezed. Be careful not to overwet it, or it will activate and start to fizz.
Begin layering colors in your mold, pressing firmly each time and fill halfway- these little plastic containers came from Dollar Tree 8 to a pack and are the perfect size for kid bath bombs but you can also grab molds with any shape you like.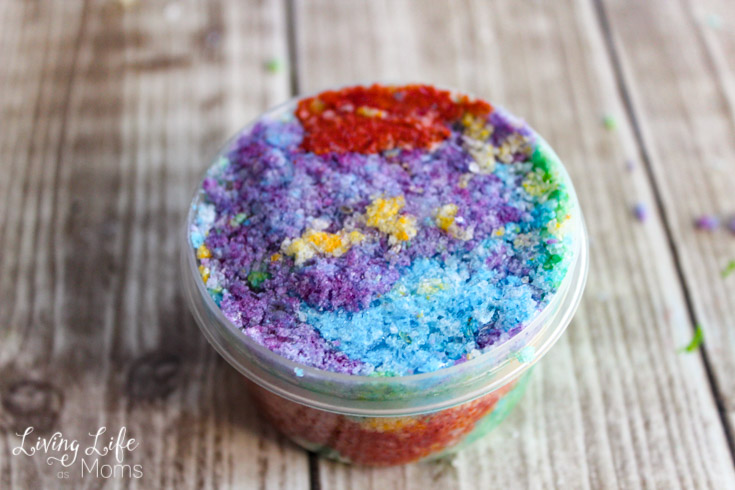 Place your small toy firmly in the layers and then continue layering until it is covered up completely.
Let your fizzy bath bomb dry for 3 to 4 hours or even overnight.
Gently remove from your mold and store in a dry spot.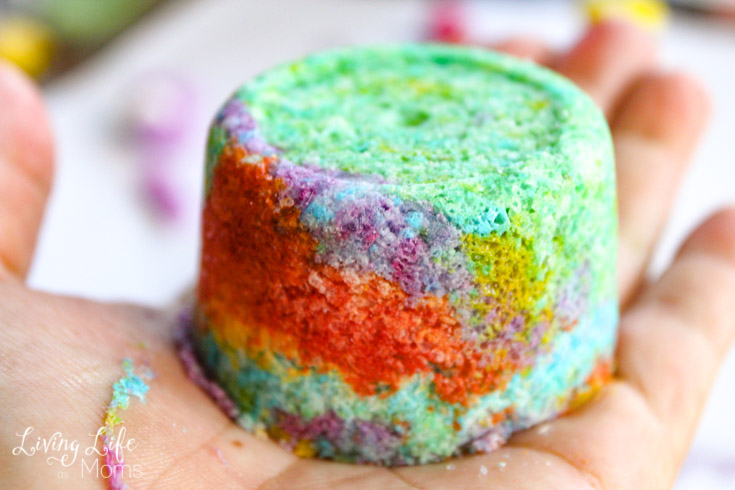 To use: Add one or two to a warm bathtub and watch the fizzy fun as the secret toy hidden inside bubbles out!
These rainbow surprise bath bombs can be packaged and made into gifts for others.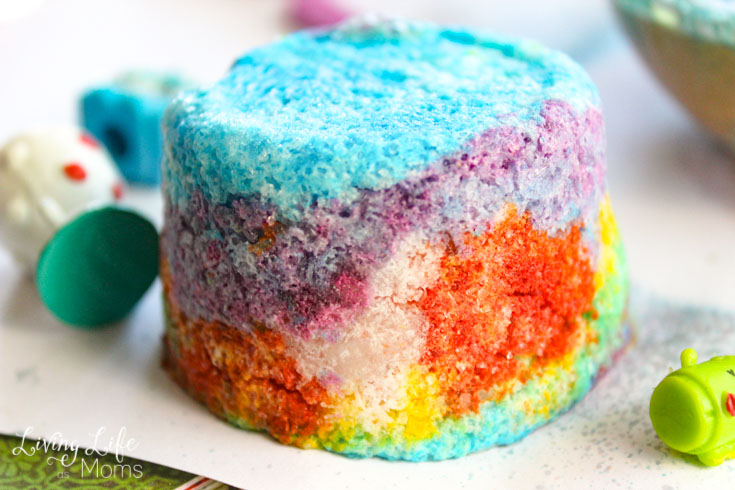 Thank you for visiting our Essential Oils Rainbow Surprise Bath Bombs post!
More Essential Oils Tips
Essential Oils for Personal Care
How to Choose Quality Essential Oils
Why I Use Essential Oils and You Should Too
Get Weekly Updates
Taming the chaos of motherhood -
Subscribe and get a daily schedule printable