Valentine's Day Rice Krispies Treats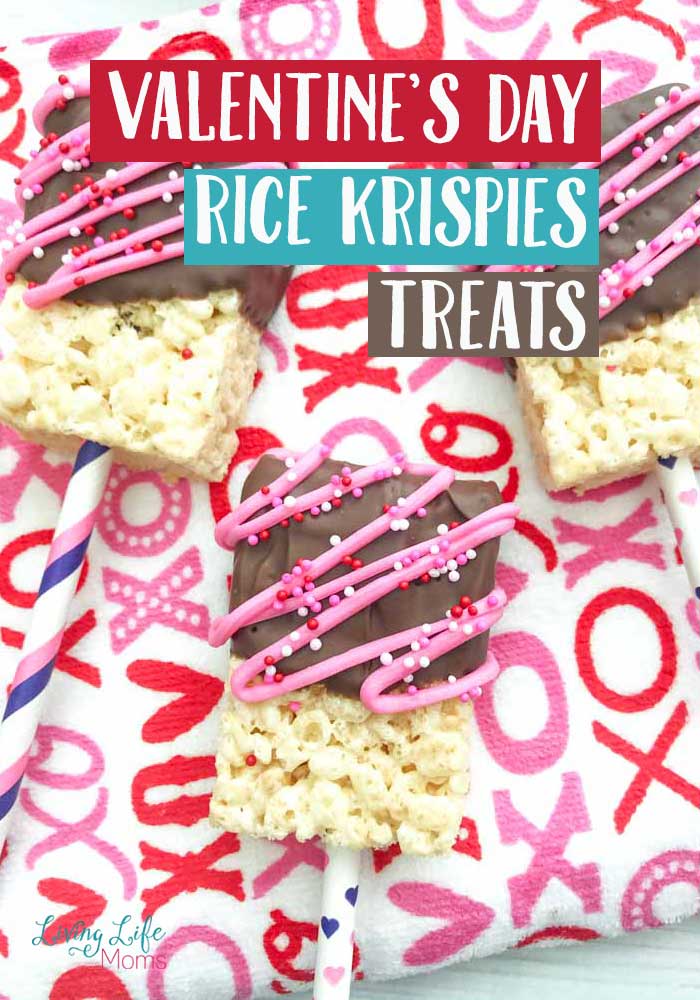 I love how you can change up Rice Krispies treats to make them suitable for any holiday. These Valentine's day Rice Krispies treats would be a wonderful treat for any loved one in your life.
I love Valentine's day because you can whip out the pink, red, and white sprinkles to decorate any treat like cupcakes, cookies, and cakes. It's the perfect way to express love for everyone in your life. Bake them a special treat and they surely will surely feel the love you have for them.
These simple Valentine's Day treats are fun to make together and so simple as well! The kids will love to be able to create a tasty treat for Valentine's Day that they can eat by themselves or share with their family and friends!
>> See more Rice Krispies Treats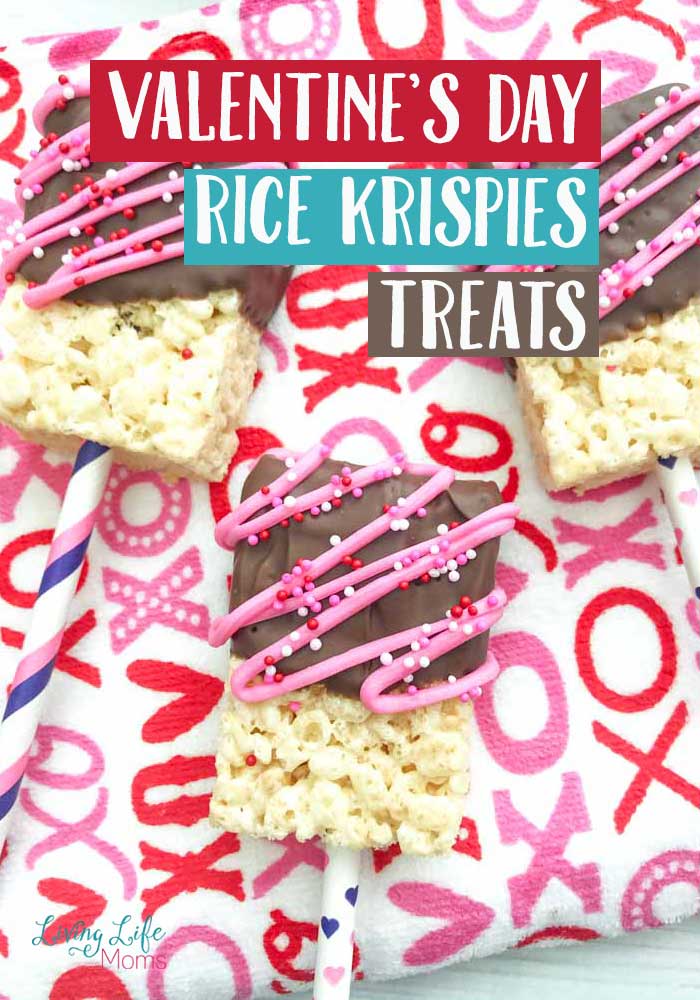 Valentine's Day Rice Krispies Treats
These Rice Krispies treats used ready-made Rice Krispies treats but you could make your own as well. Adding your own decorative straws really dresses up your dessert for any occasion.
These are fun to make because there is minimal work and effort on your part. It's a great way to make a simple treat that everyone can easily grab and eat.
No matter if you're looking for a quick treat or one that everyone in the family can join in on, this is a great dessert to do!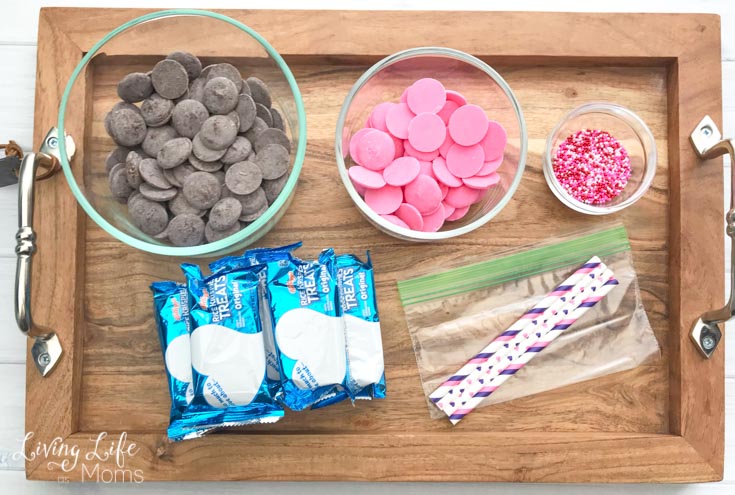 All you need is two microwave-safe bowls, a sandwich bag, and scissors along with the Rice Krispies and chocolate. And to be honest, you don't even have to have the straws but eating foods off a stick is just too much fun to pass up!
This also means that you can keep the hands clean as they grab and walk around and snack! Get the kids to help out in the kitchen and they're going to have a blast.
This is a fun way that they can build confidence and be a part of creating something yummy. Not only that but this will give them a launching point to possibly want to create even more treats.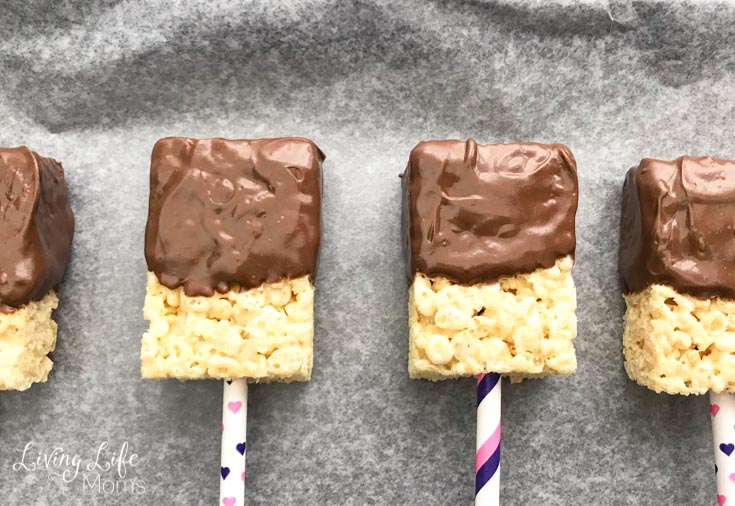 You can switch out the colors of the candy melts to make it festive for any holiday, like orange and green for St. Patrick's day or red and green for Christmas. We literally make these rice Krispie treats for all the holidays and never have any issues or problems doing so. The kids will love being able to have a treat that they can alter and change for all the various seasons of the year.
My kids would totally be happy if I just left them with only chocolate on them. Heck, they'd appreciate the Rice Krispies on their own. And it's not a bad idea…sometimes we might just leave them without adding the chocolate on them but for these Valentine's Day Rice Krispies Treats, we're going to go all out and make them special!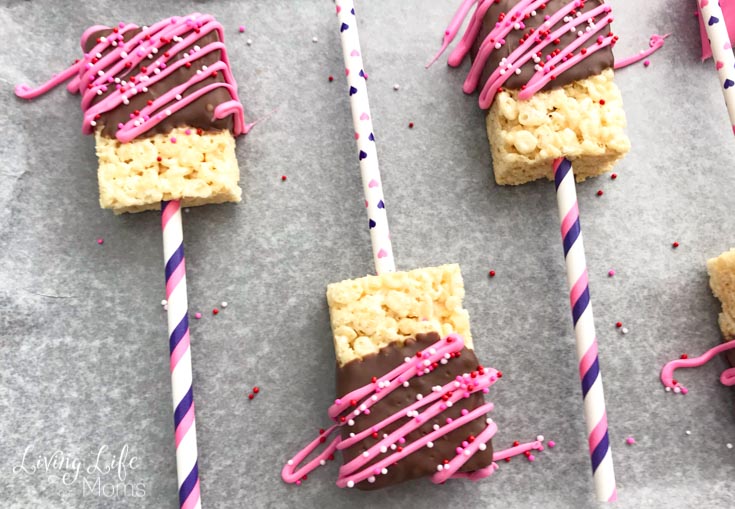 This recipe makes 8 Valentine Rice Krispie Treats, pair it with a glass of milk and you have the perfect treat for Valentine's day. These treats always go quickly in our house with no leftovers.
And if you do find that you have leftovers, just store them in an airtight container and keep them in the fridge or on the counter. Keeping the air out of them will keep them soft. (I also like them hardened up a bit so it's no big deal to me!)
Fun Ideas for Decorating Rice Krispy Treats
Don't forget to make them your own! If your kids are anything like mine, this means that they all want to try them differently.
Why not let them have fun with it? If you want to create a Rice Krispies bar for decorating, make it happen! You just need to have a few fun food items to let each person decorate their very own treat.
Fill up a few bowls with different colored chocolate wafers, fun sprinkles, or anything else that you think that they'd want to use. This is a great way to have everyone decorating their own treats in any way that they want.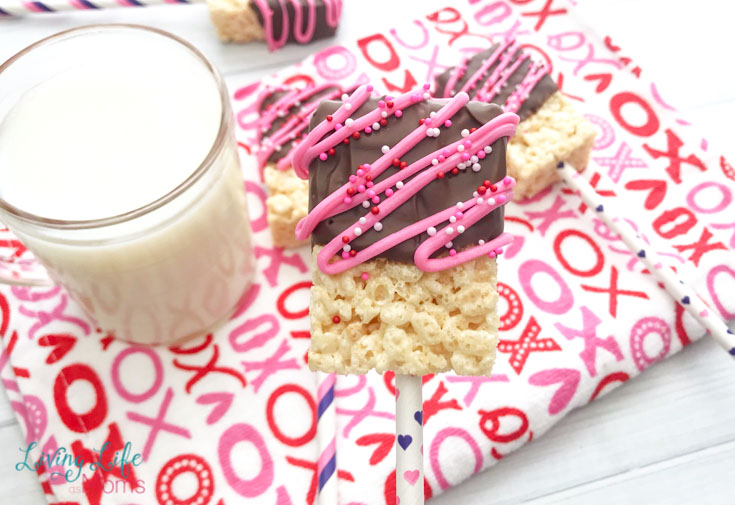 Ready to make your own batch of yummy Rice Krispies treats? These won't take long to prepare and you'll be the family favorite for the day.
You can even have the kids make these up and give them out as super delicious Valentine's Day Rice Krispies Treats. Put them in some cute baggies to hand out or make up a sweet treats gift basket for the numbers.
This is a great way to get the kids involved in making diy rice Krispy treats as well as learning how to cook, measure, and be safe in the kitchen, too.
Valentine's Day Rice Krispies Treats
Cook Time:
10 minutes
5 seconds
Total Time:
40 minutes
5 seconds
Ingredients
8 ct package Kellogg's Rice Krispie Treats
12 oz package Wilton Bright Pink Candy Melts
12 oz package Wilton Chocolate Candy Melts
Small sandwich bag
Instructions
Line a large baking sheet with wax or parchment paper.
Insert the straws into the base of each Rice Krispie Treats.
Place the treats on the baking sheet and allow them to set in the fridge for 20 minutes.
Place the Wilton chocolate candy melts into a microwave-safe dish. Heat them in the microwave in 30 second increments, stirring occasionally until melted.
Take the Rice Krispies treats out of the fridge and dip them into the melted chocolate coating half the treat. Use a spoon if needed.
Place the dipped treat onto the prepared baking sheet and repeat with the rest.
Allow the melted chocolate to set.
Place the Wilton bright pink candy melts into a microwave-safe dish. Heat in the microwave in 30-second increments, stirring occasionally until melted.
Let cool a few minutes and place the melted chocolate into the sandwich bag. Snip one small corner and drizzle the pink chocolate onto the Rice Krispie Treats.
Sprinkle the treats with the Valentine sprinkles.
Allow the chocolate to set and enjoy.
Show your family how much you love them with these yummy Valentine's day Rice Krispies treats, they'll be a huge hit. Go ahead and take out yours so that it doesn't get gobbled up from everyone else chowing down on them! These Valentine's Day Rice Krispies Treats will be gone before you know it!
I think that you're going to love how to make these easy treats! When you don't even have to make them or turn on the oven, you know that they're going to be good. Give yourself a break this year and make a simple dessert. Why stress yourself out over making something time consuming and difficult if you don't have to?
Use this treat as a way to create and have fun in the kitchen. It's a great way to make something awesome that everyone in the family will love. I can't wait to hear how awesome these were for you!
More Rice Krispies Treats
Do you love making easy treats? Who doesn't? Find out why you should make these treats to do something really delicious! You're going to find out that it doesn't have to be hard to cook something yummy at all. Below are two more that you'll love!