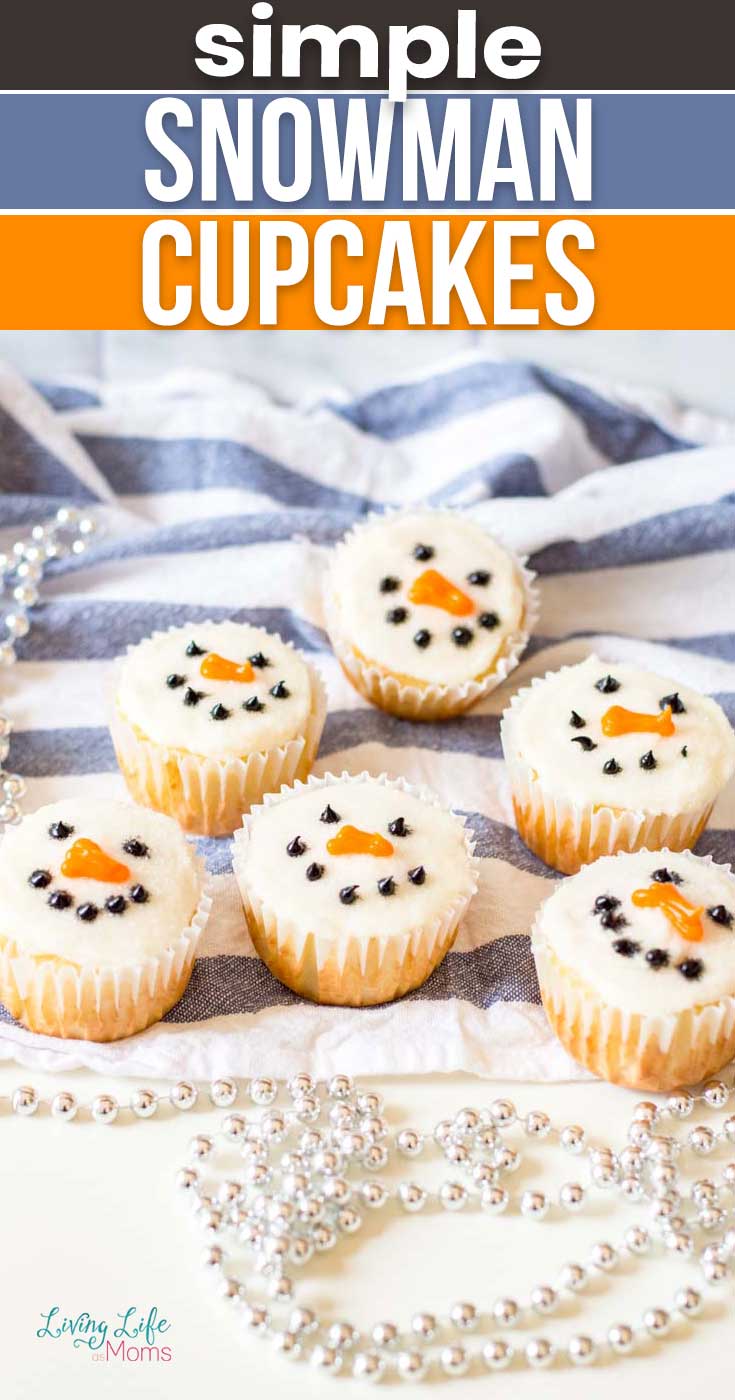 Looking for a super fun holiday recipe that the kids are going to love? These Simple Snowman Cupcakes need to be on your holiday baking radar! You're going to love how simple and easy they are and they taste great, too.
Best of all, the kids can easily help make these cupcakes and decorate them also. We are always looking for super fun activities to do in the kitchen and now that it's time for holiday baking, these are definitely on our list!
If you're ready for a fun and simple cupcake recipe that will have smiles on everyone's face, you're going to find comfort knowing that these cupcakes are really easy and adorable!
Make certain to check out our Snowman Cupcake Decorating Ideas as well!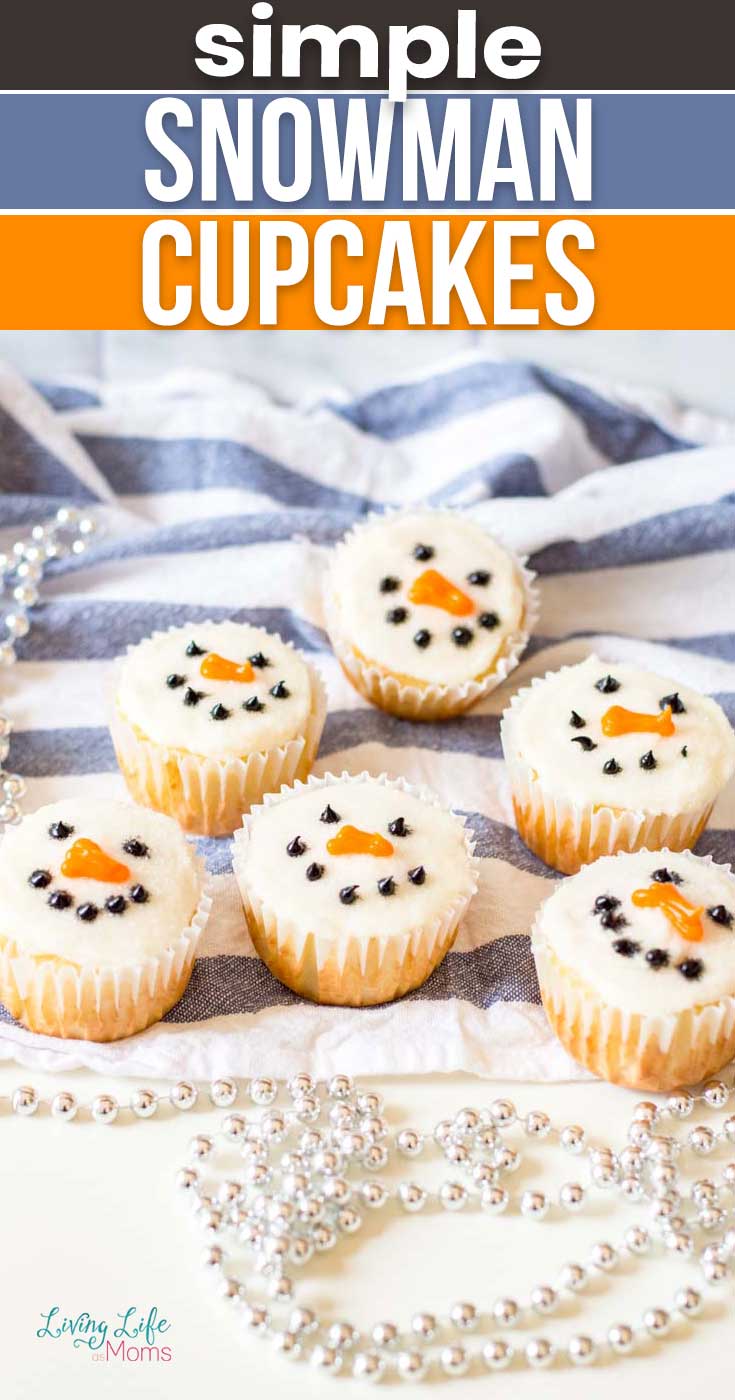 Simple Snowman Cupcakes
Can't we all agree that these are just the cutest? They're not only cute, but they're tasty, too. Imagine being able to chow down on these simple cupcakes after a long day.
They're the perfect cupcakes to make and let the kids take over and decorate. And they can easily make sillier faces on these cupcakes as well. Just look how cute they are? These are such a fun and simple winter treat for the kids to enjoy!
Ingredients needed for Simple Snowman Cupcakes
Make certain to scroll down to the bottom for the printable recipe. Here are the simple ingredients that you'll need to make this simple snowman cupcakes:
Cake mix
Butter
Confectioners' sugar
Milk
Granulated sugar
Black decorating frosting
Orange decorating frosting
Once you've gathered up all your ingredients, it'll be time to get started on creating the recipe.
And since you're able to use a cake mix, this recipe is really, really simple. You can even easily change up the flavor of the cupcakes just by changing up the type of cake mix that you're using!
Make strawberry snowman cupcakes, lemon, vanilla, or even something fun and funky, too.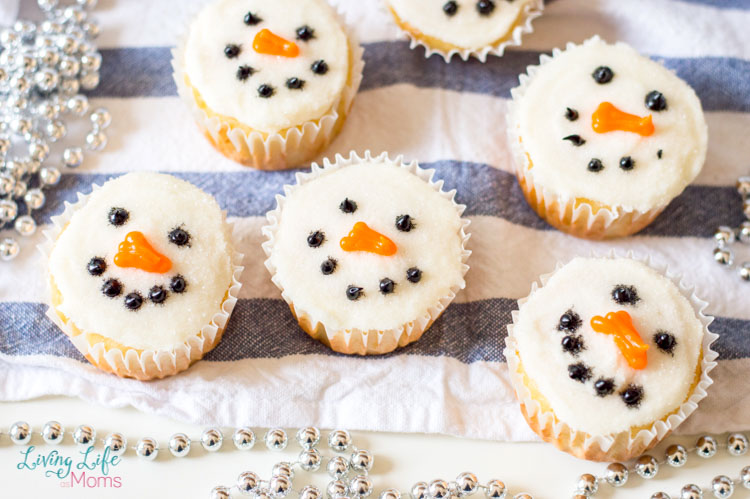 Since these cupcakes are so simple to make, it's not going to be hard for the kids to join in on the fun and help. They'll love being able to mix the ingredients and pour them into the cupcake pan to bake up nice and pretty in the oven.
Using a cake mix is a simple way to take out a lot of hard work as well. Just be certain that you're following the directions on the back of the box so that they turn out correctly and you're accounting for those ingredients, too. (but trust me on this one – this is one of the easiest cupcake recipes, ever!)
Topping Ideas for Cupcakes
The great part about making cupcakes is that you have options for toppings. While I'm a fan of the frosting and the way that they look like a cute snowman, you can also opt for something else, too.
Powdered sugar is a great topping since it's light and not as thick. You can totally change up the toppings and have fun with them. I also think that adding brown M&M's as the eyes would be a cute variance, too!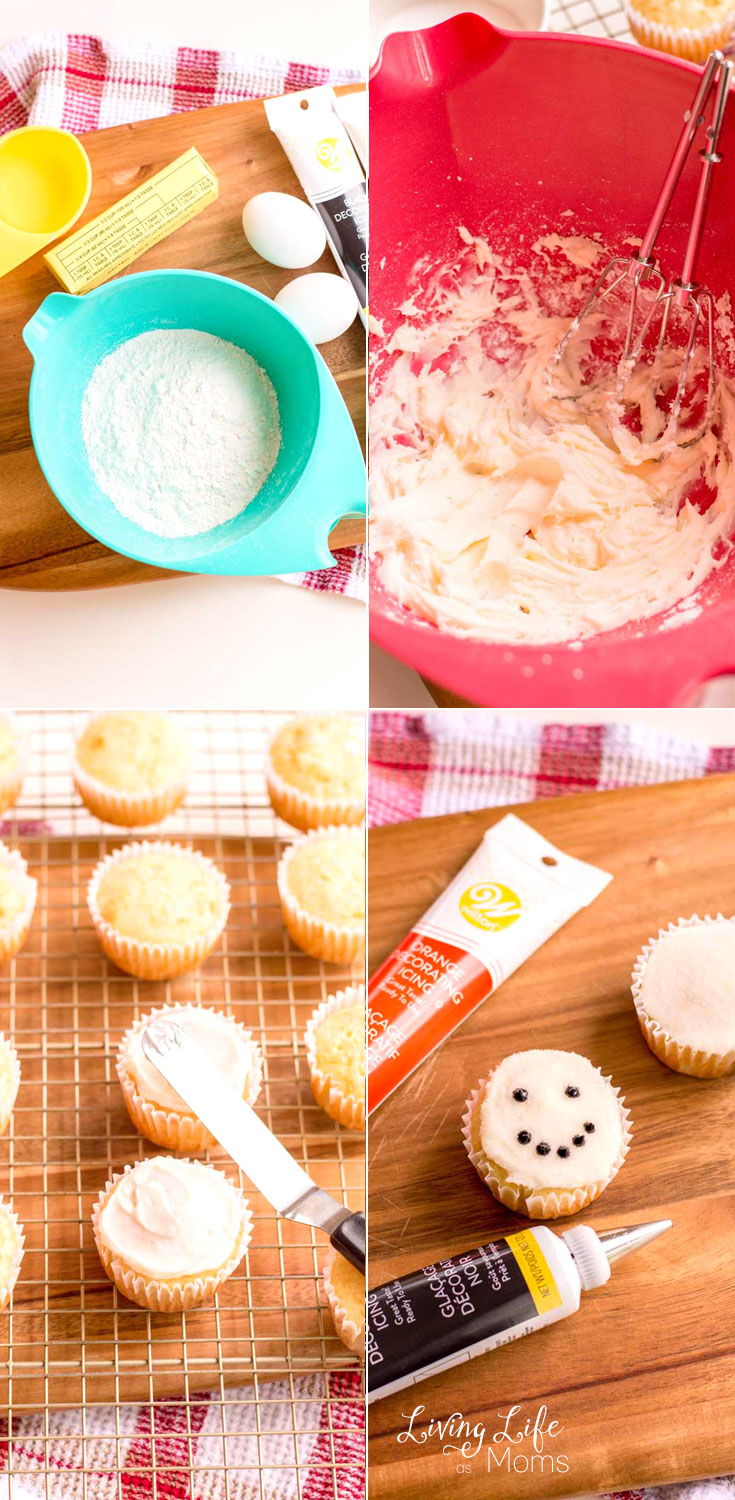 Tips for Making These Snowman Cupcakes
The main thing to keep in mind when making these cupcakes is that you need to let them cool all the way before you start frosting them. If you don't wait, you're going to have a very melty snowman face instead.
And even if the kids get impatient, no worries. These cupcakes are still certain to taste awesome no matter what.
I've learned that if cupcakes get frosted before they cool, you can just add on more frosting at that point in time. This means that they'll have super-duper huge amounts of frosting and the kids will probably love it!
Make sure that you store these cupcakes in an airtight container as soon as they cool down. Again, they have to be cooled or the heat will get trapped inside the container and release moisture into the air.
We've been making these cupcakes for many years and the kids love this family tradition! Once the cold weather arrives, the snowman cupcakes are on our minds. The kids can make these for the holiday class parties or just have them to enjoy on the weekends, too.
I also think that these make really fun homemade gift ideas to share with family and friends. Delivering some baked goods that look like the snowman is sure to be a hit! You can easily make this be a Christmas that is full of yummy treats. Some people love getting food instead of gifts. (and I'm one of the them!)
How do you store leftover cupcakes?
The easiest way to store leftover cupcakes is to keep them in an airtight container on the counter. Some people put them in the fridge, but I don't. I like them to be nice and soft and room temperature.
Can you freeze cupcakes?
You can but if you're going to freeze them, do so before you start to decorate them. You can always unthaw them and make up the frosting quickly and easily and decorate them at that point in time.
Simple Snowman Cupcakes
Inactive Time:
30 minutes
Total Time:
1 hour
15 minutes
Love cupcakes? These simple snowman cupcakes are the best!
Ingredients
Cake mix + ingredients on box
1 cup of sugar
1/2 stick of butter, softened
1 tablespoon milk
1 cup sugar that will be in a smaller separate bowl
Decorating frosting - black and orange in color
Instructions
Make and bake the cupcakes according to the cake mix directions. Let them cool.
Once they are cooling, use a mixer and mix the butter, sugar, and milk. This will make your frosting.
Take a spatula and frost each cupcake.
Then dip into that extra bowl of sugar for the topping.
Make a snowman face with the black and orange gel frosting using a Wilton icing tip #5.
See how simple and fun this snowman cupcake recipe is? You're going to love making these up for the kids!
Let the kids hop in and help and have so much fun! Forget about the mess, forget about the stress, and have fun creating as a family. It's always a great way to bond and then take a look at each other's creations.
This makes for a fun baking tradition that can happen around the holidays that creates a simple and fun treat.
More Snowman Desserts
Love this simple snowman treat? Check out these other great snowman desserts! When you're already in the mood to create and bake, keep going with that! You can never have too many great recipes about snowman food items so be sure to add these to the list! So tasty and fun to do!