Are you looking for some super fun snowman cupcakes decorating ideas? You're going to love these! There are so many fun ways that you can make a cupcake look like a snowman!
And if you need more cupcakes, we've got more creative cupcake decorating ideas here.  Why stop when you're on a roll?
We have been really enjoying our snowman studies and crafts lately. Tis the season! 🙂 We've made ornaments, edible crafts, white hot chocolate snowmen, and so much other fun stuff.
In this post, we share some snowman cupcakes decorating ideas to celebrate the Winter season. You and your kids will enjoy being the cupcakes then decorating them in super fun ways. We give you so great ideas! But I think you will love eating them the most!
Related: Cute Snowman Treats for the Family
Snowman Cupcakes Decorating Ideas
Decorating baked goods is so much fun! But when you get to make the cutest little snowman, it means that it's holiday time for sure.
Make certain that you gather up the family to have fun decorating. It's a really great way to bond. We love sitting around the table, baking up some fun treats, and then decorating them as well. Then when we compare, they all look so different but so tasty!
Gather up some of the needed supplies below to get started. You're going to have so much fun! Being able to decorate cupcakes together during the holiday season is a lot of family fun!
Snowman Cupcakes Decorating Ideas Supplies
These supplies are all you need to get started! Make sure that you have them all gathered and ready to go so you don't have to stop what you're doing.
Whipped cream or icing
Raisins
Mini Reese's Pieces
Cupcake liners
Optional (crushed candy cane)
Snowman Cupcake Instructions
I baked the cupcakes using our favorite cake mix, I'm not fancy, we're completely happy with the boxed version. The kids like this too and actually love that they can hop in and easily help. The directions are so simple and so fast, that it just makes sense for our timeline.
We iced the cupcakes when they were cooled, I had whipped cream on hand so I used that, otherwise, I would have made my own icing. (just make certain that the cupcakes are completely cool before icing them!)
Add the coconut flakes to a small bowl, then turn the cupcake upside down inside the bowl to cover the icing with flakes. Isn't it pretty? You get the snowy effect.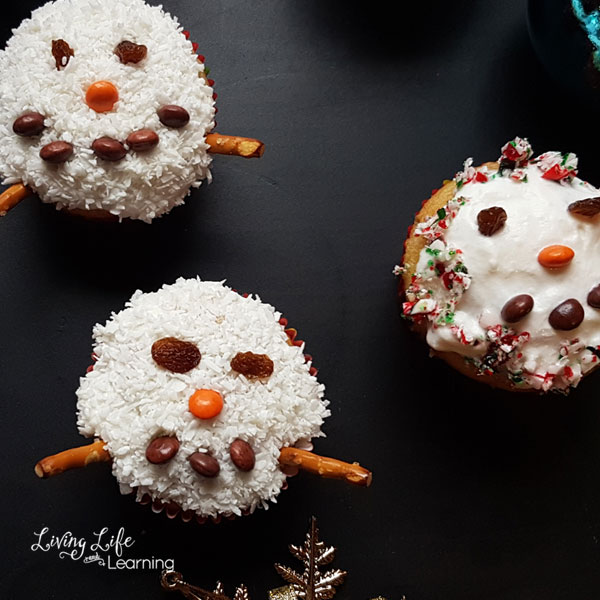 My kids added raisins for eyes, the orange Mini Reese's piece for the nose and the brown one for the mouth. But you can easily change up the ingredients as you see fit. (just use what you have in the house as well to save yourself a trip to the store!)
We also added pretzel stick arms which just make it more fun. Put those on last so that they don't soggy from being out too long.
I also made one that I rolled in crushed candy canes but my kids preferred the coconut flakes. Of course, these were snatched up so quickly by my kids that I think it took longer to decorate them.
(I do think that the crushed candy cane ones were cute, but it was a hard texture to try to eat for the kids.)
You'll need to keep the cupcakes cool so the frosting or whipped cream doesn't melt and your artwork disappears before you serve them. They're perfect for a party for a winter party decorations.
We've made these up every single year and have so much fun every time. The kids never get tired of creating their own snowman and this post will show you just how simple and easy it is. May each person make their own perfect snowman!
Tips for Making Cupcakes
Even though this cupcake recipe is super simple to do, there are a few tips to keep in mind.
Make sure that you pay attention to the cooking time of the cupcakes. Using a toothpick and inserting it into the middle of the cupcake is the quickest way to check and see if they're done baking. You don't want to overcook the cupcakes as that will dry them out.
Before applying any type of frosting or toppings, you need to make sure that the cupcakes are cooled down all the way. This may take a little bit of time but it's worth the wait. Otherwise, the frosting that you add to the top just might melt right off.
When it comes to decorating the cupcakes, let the kids hop in and help. The decorations don't have to be perfect so don't focus on that. Use this as a way to bond with the kid and create a fun memory of baking together in the kitchen. They'll remember the action of cupcakes decorating far longer than how the cupcakes looked!
For storing the cupcakes, you need to store them in an airtight container after they've cooled down. You don't have to store them in the fridge but you can if you want. Many people like to keep them covered in the fridge as they think that it keeps them fresh longer.
You can freeze baked cupcakes for later but if you're going to do that, you need to do this before adding on the frosting and toppings. Then, when you take them out of the freeze, you can unthaw and then decorate them fresh right then and there. This is a fun way to make cupcakes and have them last for quite some time.
More Snowman Recipe Ideas
If you like these snowman decorating ideas, you're going to love these other fun options as well. When it comes to all things snowman, why wait? Pair up these fun and yummy treats and make them all at once. You can easily have a snowman dessert party that everyone in the family will love!

Snowman White Hot Chocolate Decorating Ideas