Gingerbread Rice Krispies Treats Recipe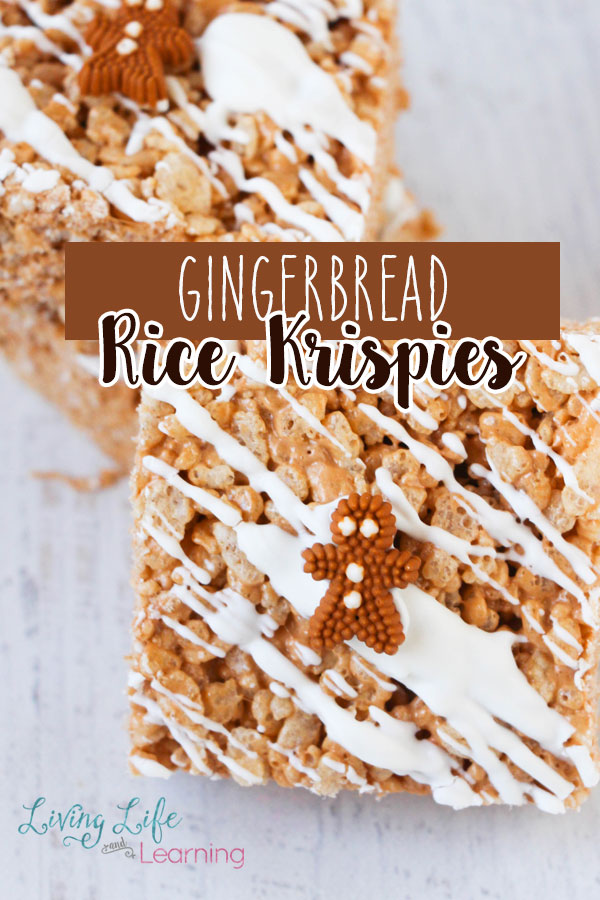 Are there any gingerbread lovers in the house? These Gingerbread Rice Krispies are literally the best! My hand goes up as quickly as I can! I just love this holiday season because it brings amazing flavors like gingerbread, cranberry, spiced everything, and pumpkin!
I also love that it brings all kinds of fantastic smells like pine and snow (yes, to me, the snow has a special smell, hehe). In this post, we will share with you the perfect snack or treat for this chilly holiday season. You will love these Gingerbread Rice Krispies treats!
We literally make these all the time because they're just so simple and easy to make. The kids love the flavor and I love the fact that they take just minutes to do. In our house, this is a win/win for the flavors and cravings!
>> See more Rice Krispies Treats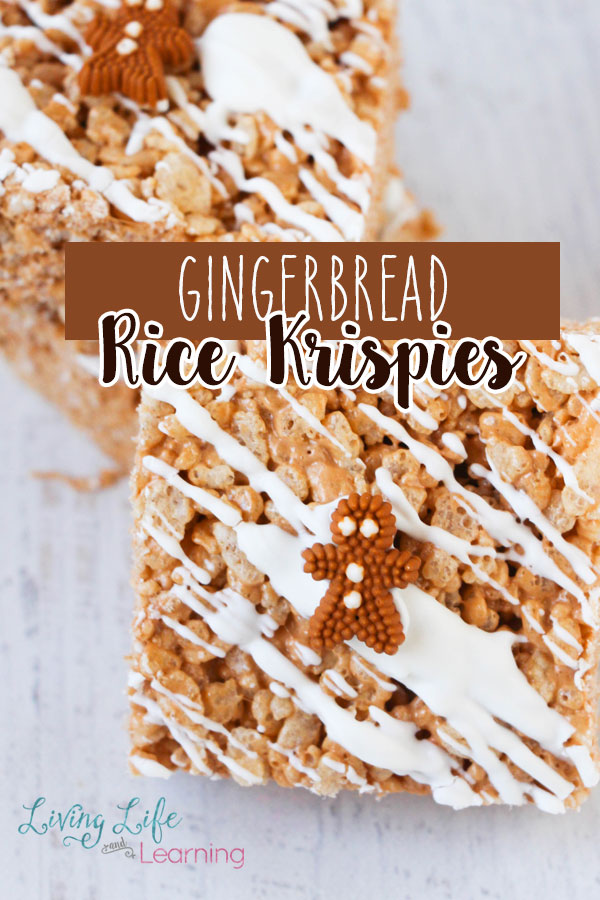 Gingerbread Rice Krispies Treats
If you're looking for a super simple recipe that screams holiday fun, you're going to want to make up this simple and easy dessert. It's one the kids will come running for and they might even want to help you make it in the kitchen in the first place!
If you're craving something new and different with a lot of flavors and fun taste, you really can't pass these up. They're really, really good.
These treats just scream holidays and will have everyone loving every single bite! We love to make these treats during the holiday months as they're always a huge hit!
Gingerbread Rice Krispies Treats Recipe
Anytime that you can find a recipe to make together with the kids in the kitchen, it's always a great idea. Cooking together means that you are bonding with your children in a way that they're going to remember forever.
Plus, it teaches them how to follow directions and learn how to cook. That's a great combination!
Gingerbread Rice Krispies Treats Ingredients
All you need to get started are the simple ingredients listed below. This recipe isn't hard to do at all!
1-10 oz bag gingerbread marshmallows*
6 cups Rice Krispie cereal
3 tbsp butter
2oz white almond bark
Gingerbread candies, optional
*NOTE: if gingerbread marshmallows are not available to you, use regular marshmallows and add 1 teaspoon molasses, 1/2 teaspoon nutmeg, 1/2 teaspoon ginger and 1 teaspoon cinnamon to regular marshmallows AFTER melting.
Once you gather up all your ingredients, it's time for the fun to get started! Start mixing and let everyone take turns. Talk about how as you add in more Rice Krispies, it gets harder and harder to stir.
The children will love to be helping plus they'll also be learning as well. And if you haven't noticed, I'm a big fan of incorporating cooking into our daily learning so this recipe is perfect for that.
The kids really like to help mix as this is something that they can easily do!
Tips for making Rice Krispie Treats
One of the biggest tips for making this simple recipe is that you're going to want to move quickly and stir a lot. This is because once you have the marshmallows melting, it's a really fast process from that point moving forward!
Be careful as well as the marshmallows being melted can get quite hot and this makes for a sticky mess. We love making this recipe because it also smells really good, too!
It's important to press down the rice krispies in the pan so that as they cool, it hardens. This will make it easier to cut as it will hold together a lot better as well.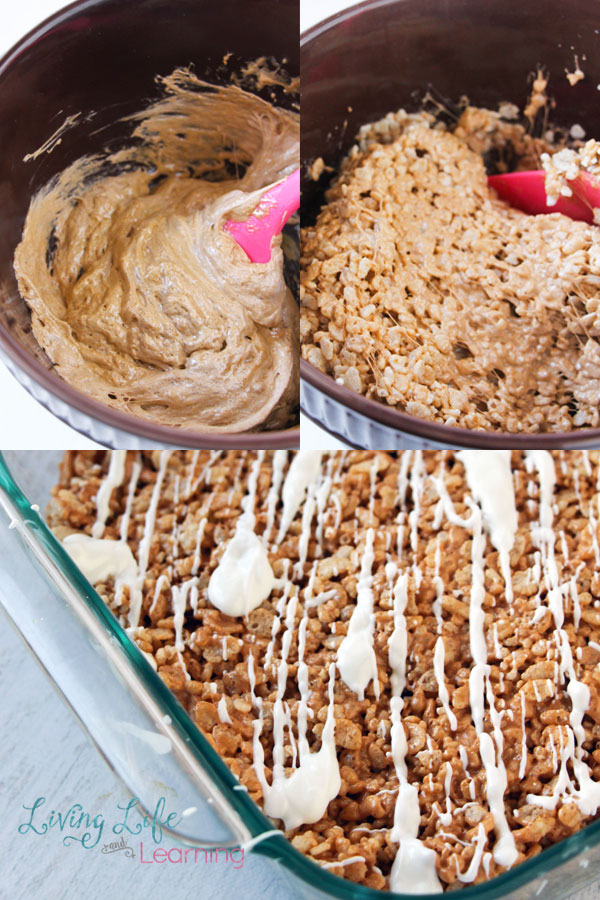 My simple tip is that once you make them up, be certain to clean and wash all the dishes right away. The melted marshmallow can turn so hard fast once it starts to cool down that it's easier to clean if you can do it right away.
If you wait too long, then you're going to have to soak everything and just give it some time. I've found out a long time ago that I try not to stress out over the dishes. If the crud is stuck on there, then it's going to just have to be stuck until I can give it time to speak.
You're going to love the flavors of this dessert recipe. It's even a great homemade gift idea to give to others during the holiday season. Buy some cute little baggies and bag up a few to hand out to all your family and friends.
You can also change up these treats a bit and add on some melted chocolate or even use a cute cookie cutter to cut out different cookie shapes. Using a gingerbread cookie cutter could be a super fun way to give these rice Krispie treats a gingerbread look, too!
Just head to the store and buy a cute box (or make one!) and package up some of these delicious Gingerbread Rice Krispies. Who doesn't love to receive the gift of homemade treats to eat?! Talk about one of the best holiday gifts, ever!
Thank you for reading our Gingerbread Rice Krispies Treats Recipe post! I really hope that you enjoy making them as much as we do at our house!
This has become one of our favorite holiday baking traditions and this is because they're so easy and delicious to do! I think that once you give this recipe a try, you're going to agree as well!
Print out the full recipe here! (and don't forget to share it with all your family and friends!) This is one recipe that you can have everyone make and pass along as well!
Gingerbread Rice Krispies Treat
Total Time:
2 hours
25 minutes
Don't miss out on this Gingerbread Rice Krispies Treat!
Ingredients
1-10 oz bag gingerbread marshmallows*
6 cups Rice Krispie cereal
3 tbsp butter
2oz white almond bark
Gingerbread candies, optional
Instructions
Oil or line a 9x9" square baking pan.
Place your marshmallows and butter in a large, microwave-safe bowl.
Heat for 30 seconds, then stir, and reheat as necessary.
Add in the Rice Krispies and stir well, until coated.
Fold the mixture out into the baking pan.
Wet your hands and then press down on the squares to make them even.
Refrigerate 2 hours to set.
Once the Rice Krispies have set, heat the almond bark in a small microwave-safe bowl for 30 seconds, then stir, and reheat if necessary.
Drizzle the white almond bark over the squares.
Add any sprinkles or decorations while the almond bark is still wet.
Once the almond bark is set, about 5 minutes, cut into squares and serve.
More Christmas Recipes
If you like this simple Christmas recipe, you're going to love these others, too. I tend to make a lot of sweets during the holiday season so I'm happy to be sharing some of my favorites with all of you! Enjoy!
Gingerbread Man Rice Krispies Treats
Pretzel Kisses Make the Best Holiday Snacks
Christmas Tree Gingerbread Cookies Recipe