Pretzel Kisses Make the Best Holiday Snacks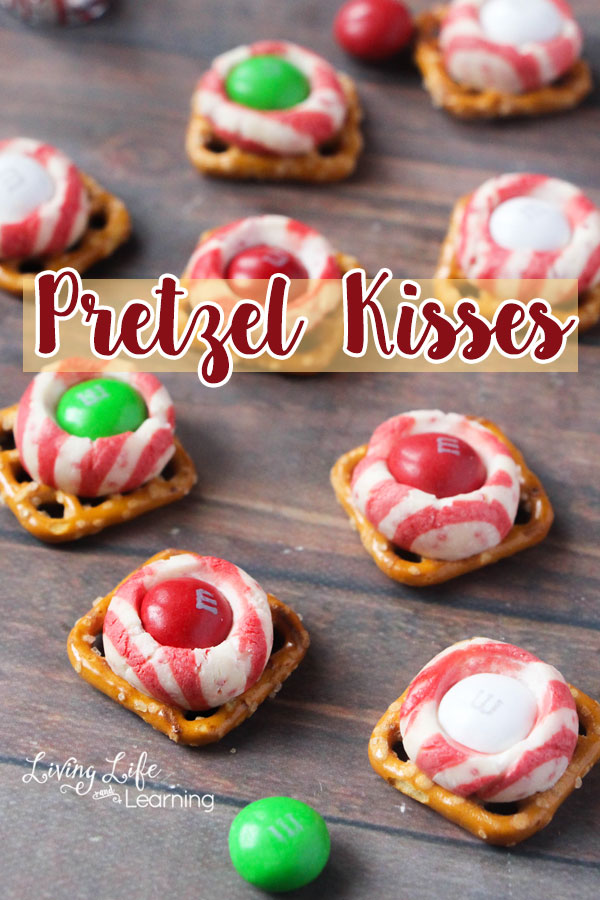 If you're looking for a super simple holiday snack, you're going to love the ease of these Pretzel Kisses! Minimal effort but results in huge flavor and taste!
The most wonderful time of the year is coming right up and we enjoy celebrating it to its fullest! We make crafts, activities and so much more (including snacks) to celebrate the season. In this post, you will find out how to make these fun, beautiful and festive pretzel kisses. And you will learn just why these pretzel kisses make the best holiday snacks.
We make these up every single year because the kids love helping and I love eating them! There probably isn't a holiday dessert that is much better than this!
And don't forget to check out more pretzel snacks you have to try!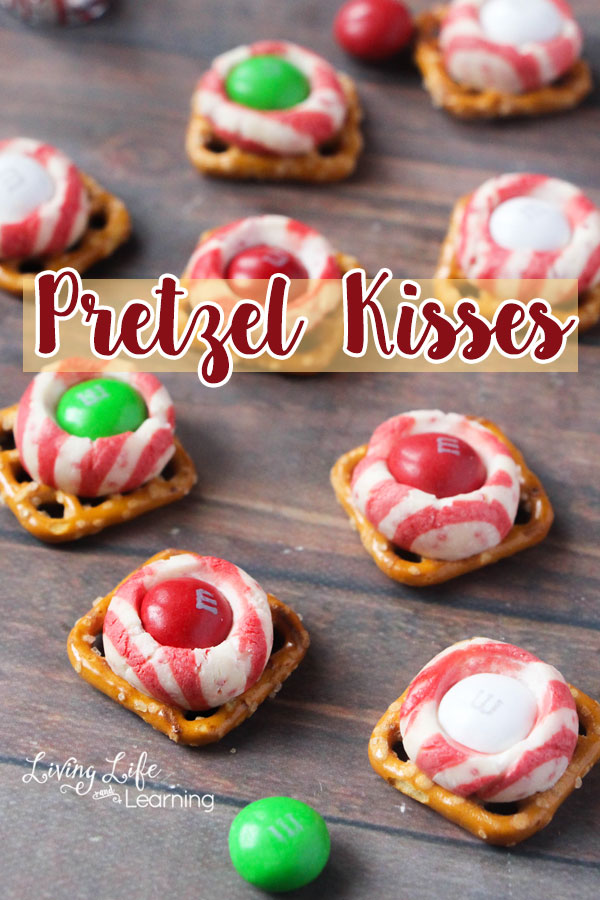 Pretzel Kisses Make the Best Holiday Snacks
This recipe is not only simple to make, but it only takes three ingredients as well.
Plus, this is such a family-friendly recipe that all can help with. Each person can have their own step to do and then everyone can watch as it comes together in just a few moments of time.
While we love to make and keep this at home, we also like to make and take it with us when we're on the go or traveling for the holidays. I'm not a huge fan of stopping along the way to our destination so these snacks make it possible for us to stay on the road traveling as well.
All you need to do is gather up the short list of needed ingredients below.
Ingredients needed for Pretzel Kisses
Utz Butter Waffles & Classic Wheels Pretzel Variety 4- Pack

HERSHEY'S KISSES Holiday Candy Cane Christmas Chocolate Mint Candy with Peppermint Stripes, 33 oz. Bag

M&M's Holiday Chocolate Mints Candy 9.2 Ounce Bag (Pack of 6)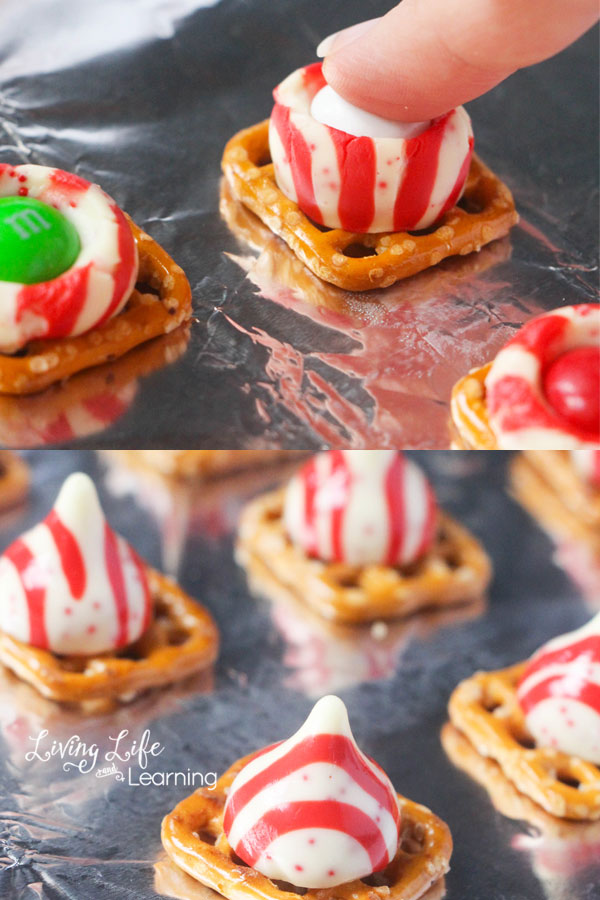 We always have a lot of fun making these delicious holiday treats. While we make up a big batch of these and keep them at our house, we also make up plenty of extras to share with all our family and friends.
One of the best parts of making these Pretzel Kisses is pushing that M&M down on top of the Hershey Kiss. It's such a fun feeling and it just looks really cool. (the kids love doing this as well so they'll likely take over this job!)
The more that you press down, the more that the kiss spreads down on the surface of the pretzel. It's so much fun and depending on how many people are making these, you'll be able to tell a pattern or who is making them how just by looking at them.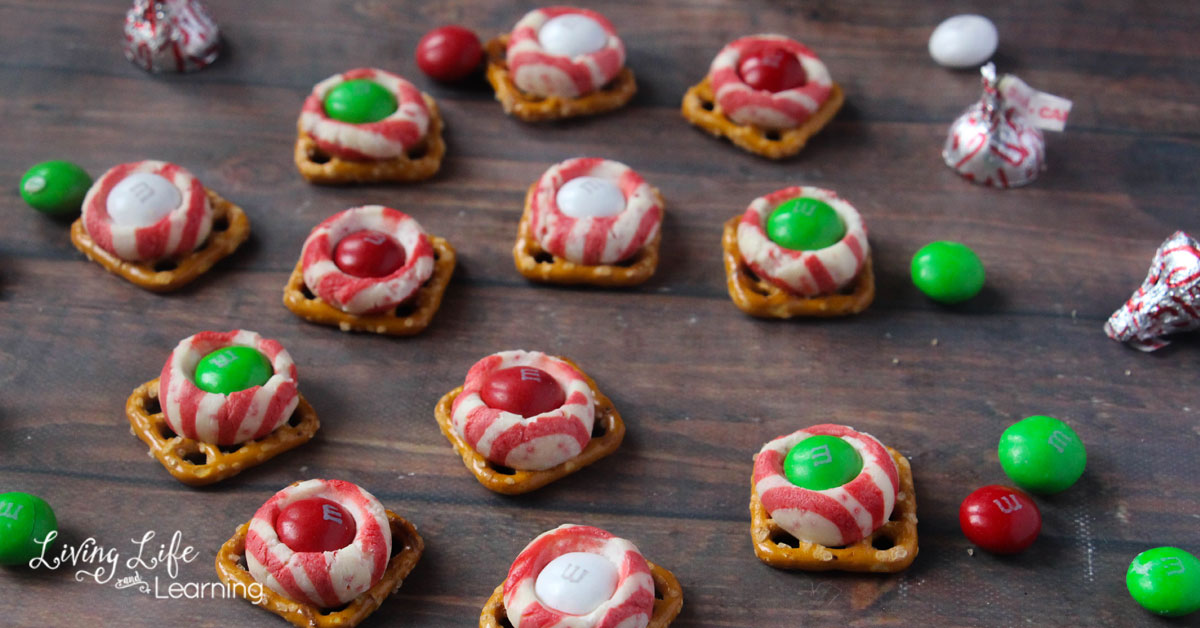 Just head to the store and buy a fun festive holiday tin to put them in or decorate a fun bag as well. Once you hand-deliver them to all the recipients, it's certain to make their day!
If you find that you have any leftover, just make certain that you store them in an airtight container. Leaving them out will cause the pretzels to get stale and nobody wants that!
Don't forget to print off the recipe below and share it with your family and friends! This is also a super simple recipe to make for a holiday party, a class party or for a fun weekend at home.
You might as well double up on the recipe because it's just that good!
Pretzel Kisses
Total Time:
1 hour
17 minutes
You're going to love these pretzel kisses!
Ingredients
24 waffle-style pretzels
24  (I used peppermint)
24 Holiday M&M candies
Instructions
Preheat oven to 350 degrees F.
Line a baking sheet with tinfoil or a silicone baking mat.
Place pretzels on baking sheets, spacing out so they don't overlap.
Unwrap Hershey's kisses and place one in the center of each pretzel.
Place in preheated oven for 2 minutes, until kisses become glossy.
Remove from oven and place one candy-coated chocolate in the center of each pretzel, pushing down gently to set.
Chill in refrigerator before serving.
Thank you for visiting our Pretzel Kisses Make the Best Holiday Snacks post!
Here are some more holiday snack ideas for a party or anytime!
More Holiday Snacks
If you love this holiday dessert, you're going to love these as well!
Christmas Chocolate Reindeer Bark
Christmas Tree Gingerbread Cookies Recipe
Double Chocolate M&M Christmas Cookies