These Snowman Marshmallow Pops are perfect for a fun winter treat or upcoming festive holiday surprise! Simple and easy to make, these simple desserts will become a family favorite in no time at all!
I don't know about you, but I'm always looking for a simple dessert that I know will be a hit. In our home, food that is also cute is always a winner. This is what I love about these Snowman Marshmallow Pops! Not only are they tasty delicious, but they're so darn adorable as well!
And honestly, my kids even enjoy helping create these winter treats too. With very few ingredients and super simple steps, this is one of those recipes that take no time at all to be creating and enjoying.
Perfect for winter parties, classroom parties or even snowman-themed birthdays, these marshmallow pops are the most fun way to enjoy eating food on a stick!

Snowman Marshmallow Pops
Remember when I said that there are few ingredients and steps? Seriously, you're about to discover your new favorite winter dessert! If you can't get outside and build a snowman, you need to bake 'em inside instead.
Ingredients to make these Marshmallow Pops
Directions
Line a large baking sheet with wax or parchment paper. You don't want the ingredients to stick!
Insert (1) large marshmallow onto the end of each lollipop stick.
Pour 6 oz of the Wilton chocolate candy melts into a microwave safe dish and heat in the microwave in 30-second increments, stirring occasionally until melted. (watch carefully so you don't burn it!)
Remove from the oven and let cool a few minutes.
Attach one frosting tip to a disposable piping bag and scoop the melted chocolate into the bag. (You'll want to move quickly here as it will start to harden quickly)
Gently squeeze the chocolate from the bag giving the snowman (2) eyes and 5 small dots for a mouth. (or you can try for a line to represent a smile!)
Repeat with all snowmen.
Next, add a small a handful of orange candy melts to a microwave safe dish and heat in 30-second increments, stirring until melted. (same as above…watch to make certain it doesn't burn)
Remove from the microwave and let cool a few minutes.
Attach the 2nd frosting tip and scoop the melted red chocolate into the disposable piping bag.
Gently squeeze the orange chocolate from the bag to form the snowman's nose. (try to make it look like a carrot, right?)
Allow the snowman's face to set.
Don't forget these steps to finish out your Snowman Marshmallow Pops
Squeeze a small amount of chocolate to the bottom of a Grasshopper cookie and place on the snowman. I stood them up, upside down until the chocolate had set. (this was easiest and worked just fine)
Repeat with all snowmen.
Place a small amount of melted chocolate on the top of the mini Reese's Peanut Butter Cup and place on top of the snowman.
Again, I let them stand upside down to set. (it's actually quite cute…they look like they're doing a headstand!)
Repeat with all snowmen.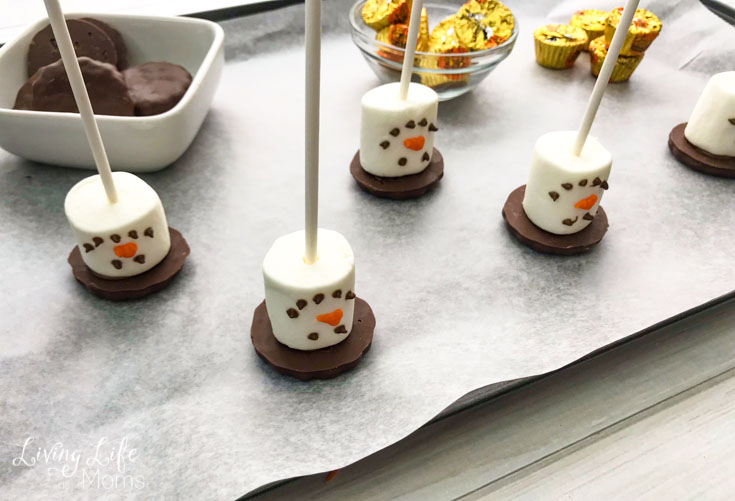 Once you've done this with all, it's time to enjoy!
More snowman recipes that you may like