Blueberry Cream Cheese Buckle Recipe
Everyone in the house is going to love this Blueberry Cream Cheese Buckle Recipe! It's flavorful, it's simple, and it's a great way to make a fast dessert.
Anytime that you're craving a delicious blueberry recipe, this is the one for you. It's loaded with flavor and you're going to love the creaminess! It's literally one of my favorite go-to desserts for the summer months, and I think you're going to see why.
Speaking of delicious desserts, check out this Best Shortbread Thumbprint Cookie Recipe. It's crunchy goodness that will literally melt in your mouth.
Blueberry Cream Cheese Buckle Recipe
When it comes to sweetness, this simple blueberry recipe takes the cake. And while it's not technically cake, you can literally call it whatever you'd like as long as you make it.
It's one of those flavors that have the texture of a cake, with the crumble top of a cobbler, and comes together as easy and as simple as a dump cake. It's literally one of the best tastes and textures, ever!
What is the difference between a buckle and a cobbler?
Many people think that they are similar but there are differences. A cobbler tends to have a crumble topping to it while a buckle is a mixture of fruits, cream cheese sometimes, and cake.
Buckles are made differently so the recipes will vary.
Does blueberry buckle need to be refrigerated?
It does. Once you make the buckle, it does need to be stored in the fridge to keep it fresh. It's one of those desserts that need to be eaten fairly quickly, so eating it within 2 days is best.
What is the difference between blueberry buckle and blueberry coffee cake?
The difference between a blueberry buckle cake recipe and a coffee cake recipe really comes down to the fact that not all coffee cakes have fruit added to them. Some just add the fruit on top as a topping at the end.
Can you make this buckle recipe with other types of fruit?
You can. You can use any type of fresh fruit that you want. Berries are a great addition so strawberries and raspberries would be great. If you're a fan of blackberries, that would be great, too.
Recommended Dessert Cookbooks for Moms
When it comes to creating recipes, cookbooks are great to have. No matter what you're wanting to make, you'll find options on the pages of the cookbooks below.
Finding excellent dessert recipes within the pages of cookbooks is so much fun to do! I love buying my own cookbooks to have at home anytime that I want to use them. There's just something so amazing about being able to flip through the pages and find the recipe that I was looking for.
Don't forget that cookbooks also make great gifts for others who love cooking as well. I've introduced so many fun new cooking methods and recipes to friends and family members over the years! Bonus if they make something from the cookbook and share it with me!
Here are some fun cookbooks that you can find inspiration from to make something delicious and unique.
How to Cook That: Crazy Sweet Creations (Chocolate Baking, Pie Baking, Confectionary Desserts, and More)
Tasty Dessert: All the Sweet You Can Eat (An Official Tasty Cookbook)
Dessert Person: Recipes and Guidance for Baking with Confidence: A Baking Book
Low Carb Desserts Cookbook For Working People: Healthy weight loss with over 100 effective fat burning, quick and delicious biscuits recipes
Desserts: The Ultimate Cookbook
Good Housekeeping The Best-Ever Cookie Book: 175 Tested-'til-Perfect Recipes for Crispy, Chewy & Ooey-Gooey Treats
Ingredients:
All you need to make this simple blueberry buckle dessert is the list of ingredients below.
White Sugar
Salt
Butter, melted
Egg Plus One Egg Yolk
Milk
Blueberries
Optional Topping Ingredients:
Cold Butter
All-Purpose Flour
You can easily add on any type of topping that you want, so have fun changing it up!
Kraft Philadelphia Cream Cheese (1 oz. cups, 60 ct.)
Watkins All Natural Original Gourmet Baking Vanilla with Pure Extract, 8 fl. oz. Bottle, 1-Pack
Kirkland Signature Ground Saigon Cinnamon 303g
Can you use frozen fruit to make a buckle dessert?
In my opinion, fresh fruit is the best. Frozen fruit will end up thawing and releasing liquid making your buckle dessert watered down.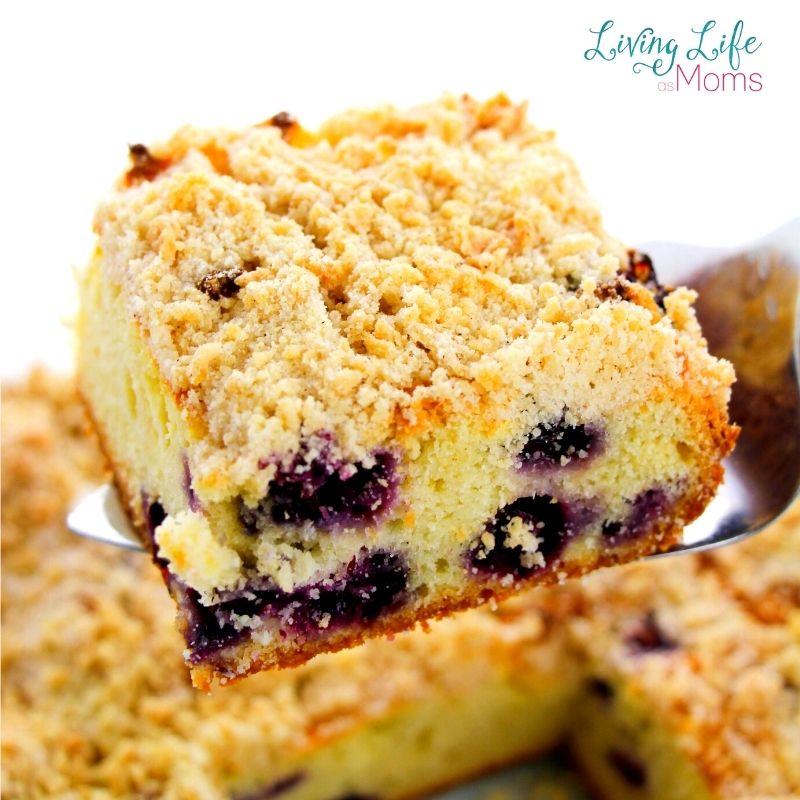 Are you excited and ready to make this homemade buckle recipe? Get ready to find out how to make the best dessert recipe, ever!
If you make it with a different fruit, be sure to come back and tell me how it is! I love hearing any and all varieties that people make so that I can try them out myself!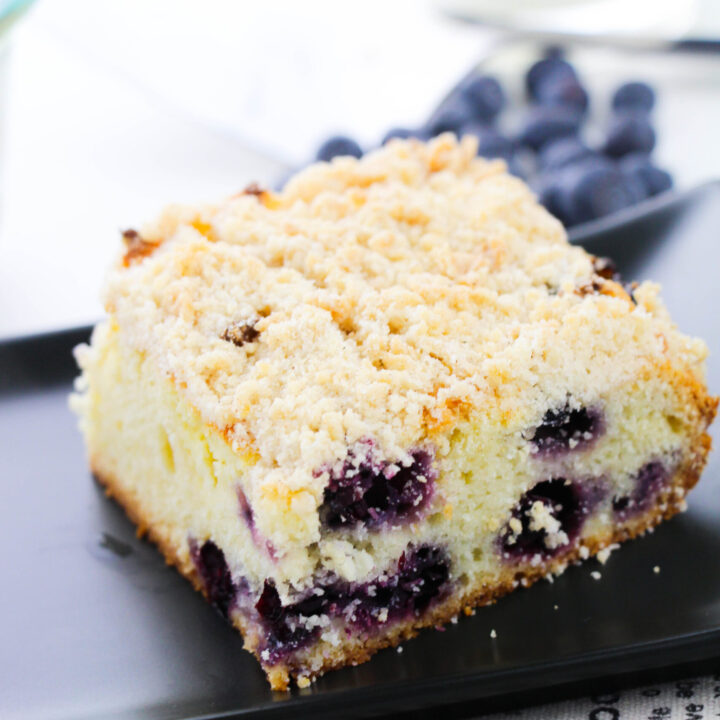 Blueberry Cream Cheese Buckle Recipe
A blueberry cream chees recipe that kids will surely love. It's creamy, yummy, and easy to make.
Ingredients
1 1/2 cups All-Purpose Flour
3/4 cup White Sugar
1 1/2 teaspoons Baking Powder
1 teaspoon Salt
6 Tablespoons Butter, melted
1 Egg Plus One Egg Yolk
1/3 cup Milk
1 teaspoon Vanilla Extract
2 cups Blueberries
1 cup Cream Cheese
3 Tablespoons Cold Butter (optional topping ingredient)
1/2 cup All-Purpose Flour (optional topping ingredient)
1 teaspoon Cinnamon (optional topping ingredient)
Instructions
Preheat the oven to 375 degrees. Be sure to grease the casserole dish. I like to use an 8x8 size pan.
Whisk the sugar, flour, baking powder, and salt in a bowl. Create a well in the middle. Sit the bowl aside.
Grab a different bowl and melt 6 T of butter. Then add in the milk, eggs, and vanilla, and whisk.
Take the wet ingredients and pour into the well that you made with the dry ingredients. Add the blueberries and fold carefully.
Add the batter to the dish and press down to make it even.
Make 12 intentions in the cake batter with a teaspoon and then put 1 tsp of cream cheese in each indention. Set it aside.
Grab a clean bowl and mix the flour, cold butter, and cinnamon. Sprinkle over the top of the cake batter.
Pour the batter into the prepared casserole dish, and press down to an even layer.
Use a teaspoon to make 12 indents into the cake, and then insert a teaspoon of cream cheese into each indentation. Set aside.
Put in the oven and bake for 22-28 minutes.
Recommended Products
As an Amazon Associate and member of other affiliate programs, I earn from qualifying purchases.
More Dessert and Snack Recipes
Are you looking for even more tasty desserts? This sweet blueberry treat is one that will have everyone wanting more. This is why I've gathered up some of my other favorites to share with all of you.
Best Shortbread Thumbprint Cookie Recipe
We love this cookie recipe and make it all the time! The texture is one of our favorites!
Mermaid Hot Chocolate Bombs Recipe
These hot chocolate bombs are the best! Such a cute gift idea, too! You can make these anytime of the year for the kids to enjoy.
Kids love pudding and all things unicorn so you know that this recipe is going to be a hit!
Looking for a far-out dessert? This one is the best! Perfect for a sweet treat and a great way to have the kids have their very own cupcake without having to share.
Mouth-Watering Nutella Popcorn Recipe
Love popcorn and Nutella? Wait till you combine them to get this delicious treat! Excellent for a surprise snack for the kids or a movie night at home.
14 Healthy Dessert Recipes Your Kids Will Love by Purewow
If you need some healthier options, check out these easy dessert recipes that will give them a boost!