Wacky Alien Cupcakes Recipe
Little green men from Mars? No, this wacky alien cupcakes recipe isn't really from outer space. It's just out of this world cute and delicious!
The thought of life in outer space is a great story for many kids. Aliens are cute, cartoony characters, and part of the fun of space exploration games. But when your little astronauts are all done flying through space, celebrate their successful trips with this adorably wacky alien cupcakes recipe.
You have to admit that these cupcakes are totally "out of this world", right? And the best part? They're so simple to decorate and make!
What we really love about making them is that there really aren't any rules. Aliens can have one eyeball, two eyeballs, three eyeballs, or more! And don't forget about adding on the wacky antennae!
Let your children take charge of their decorating skills with this simple cupcakes and sit back and see what they come up with. You're certain to see several different options and creations.
Wacky Alien Cupcakes Recipe
With their little antennae and the googly eyes that give them an out-of-this-world appearance, these alien cupcakes are as delightful as they are delicious. Green cupcake bases under the green frosting alien heads make the perfect little green alien snack for your space explorer.
They're just the cutest, right?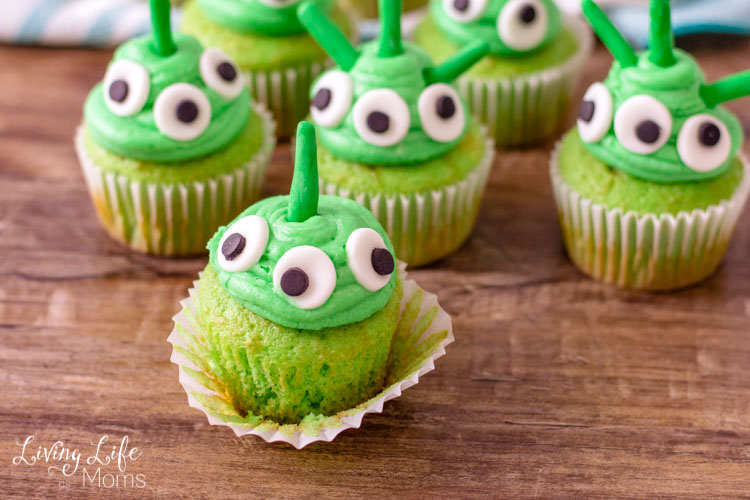 They are a lot simpler to make than they look so don't worry! Plus, there are so many fun ways that you can make these cupcakes up and share them!
Have them for a fun movie night at home where you're watching shows about space or whip them up for an alien-themed birthday party. There's no wrong way to serve them at all.
It's time to make Wacky Alien Cupcakes
Just start with a simple boxed cupcake package, and follow my simple directions below to create your own wacky alien cupcake.
With a little fondant and food coloring, your kids can have their own alien snacks to enjoy after a fun day zooming around the universe. There are no special ingredients or tools required to make these either. All you really need is a basic decorators' kit and a rolling pin.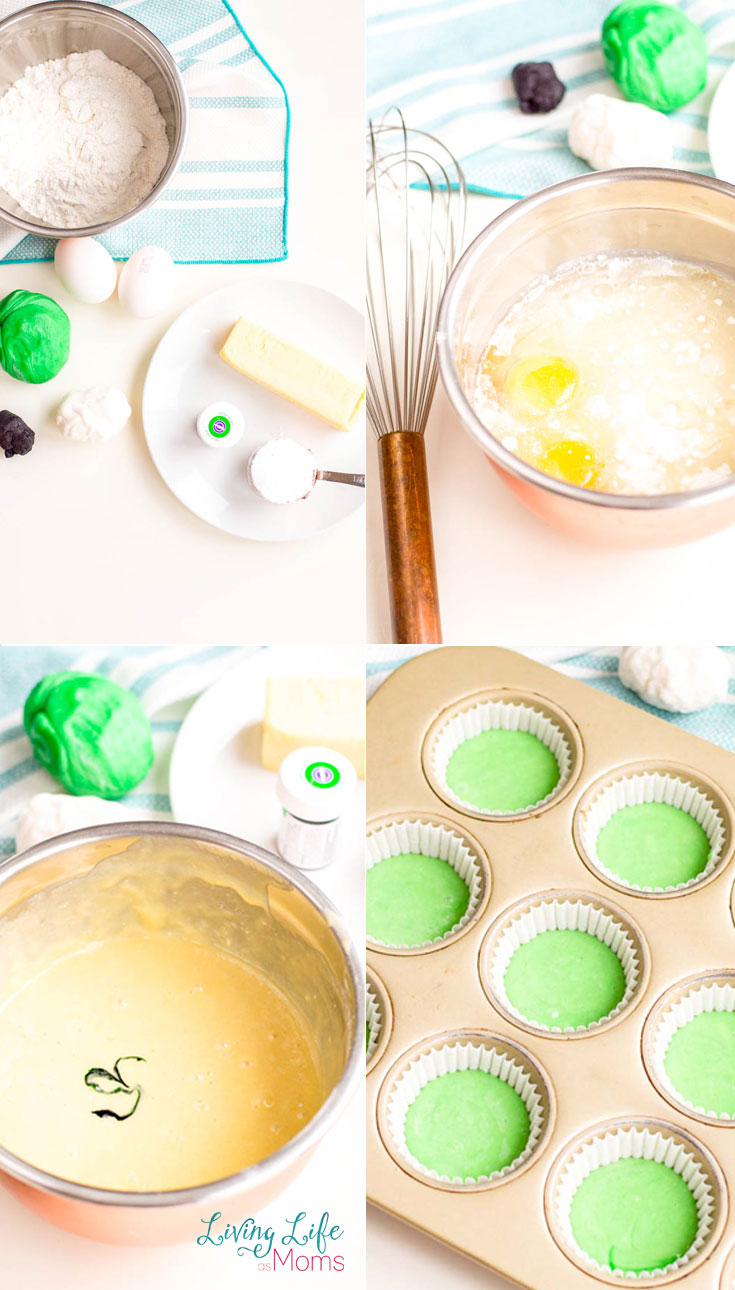 How to make wacky alien cupcakes:
Start with making the cupcakes. Before you bake them, add food coloring to the batter to make them green. Bake as per your cupcake box instructions, and allow to cool completely before decorating. (trust me on this – if you don't, your decorating toppings are going to melt right off!)
You could use whatever color you wanted, really. Try a blue cupcake base with blue or maybe red frosting for the head. Or maybe you could have a purple cupcake base with pink or yellow frosting on top. The combinations are endless. But for today, we're making little green aliens. (You could even make rainbow colored aliens!)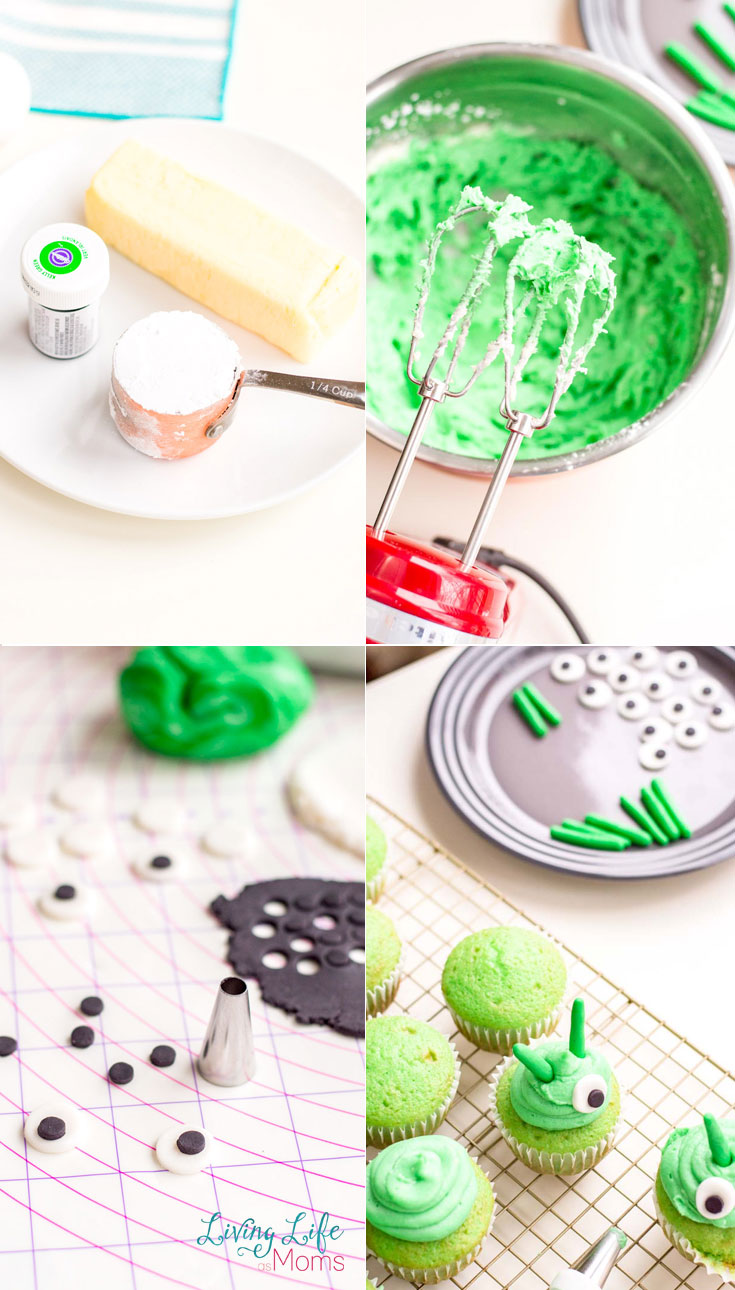 While the cupcakes are cooling, use black and white fondant to make little googly eyes. I suggest that you have 36 eyes – 3 eyes per alien, for a dozen cupcakes. But maybe you have aliens with just 1 eye or with 5 eyes?
Green fondant rolled into tiny "logs" make the alien antennae. Once you've got them set into the frosting, step back to admire your work. Aren't they the cutest little wacky alien cupcakes? The recipe is below. (I can't wait to hear what you think about this simple cupcake recipe! We always have so much fun making them!)
Alien Cupcakes Recipe
Cook Time:
20 minutes
15 seconds
Total Time:
55 minutes
15 seconds
Ingredients
Cake box mix + all ingredients to make 12 cupcakes (note: most cake box mixes yield 24 cupcakes, so we recommend dividing the mix and ingredients by half to make one dozen)
½ cup unsalted butter, softened
2 cups confectioners' sugar
2-3 tbsp milk
2 drops green gel food coloring, divided
3-4 oz. green rolling fondant
2-3 oz. white rolling fondant
1-2 oz. black rolling fondant
Instructions
Prepare cupcake batter according to the package's directions. Once the batter forms, add one small drop of green gel food coloring and mix until completely colored.
Bake cupcakes in a muffin tin lined with paper muffin cups.
Allow the cupcakes to cool completely before decorating.
As the cupcakes cool, roll out 12-36 logs out of green fondant. They should be 1.5" long and about ¼" thick, each. Set aside to use later.
Use a rolling pin to roll out both the white and black fondant, so that each is about ¼ thick.
Use the back of a Wilton tip #12 to cut out 36 circles from the white fondant. Use the smaller end to cut out 36 circles from the black fondant.
Press one black fondant circle onto one white fondant circle and set aside. Repeat for all 36 circles.
Combine butter, milk, and sugar in a large bowl, using an electric mixer. Beat on low speed, and gradually increase to high speed, until smooth.
Add a drop of green gel food coloring to buttercream frosting, and beat again until it's all one color.
Use a piping bag with Wilton tip #12 to pipe frosting onto center of cupcake. This is the base of your alien head.
Add 3 fondant circle "eyes" to the frosting.
Insert 1-3 green fondant logs into the top of the frosting, randomly.
Serve and enjoy!
I'm sure that this wacky alien cupcakes recipe will be a hit with your budding astronomers. Or it could be the perfect finish to a space themed dinner party. You could also make these little green men just for anyhow because they're cute and delicious. No other reason needed.
Serve and enjoy!
More Cupcake Recipes