Rainbow Sprinkles Cupcakes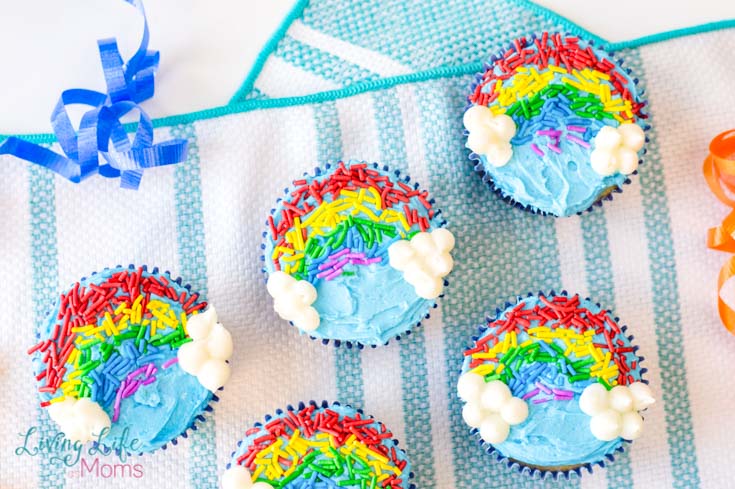 These Rainbow Sprinkles Cupcakes are just as fun to make as they are to eat! We love to make these every year around St. Patrick's Day and other run holidays as well.
I don't know about your house, but in ours, we are in love with anything rainbows. Not only are rainbows fun and beautiful, but they're just so mesmerizing to look at as well. (Plus, they're associated with unicorns, and who doesn't love those?!)
This cupcake recipe is great for a birthday celebration or even just as a fun rainy day treat. If you like to decorate cupcakes, you're going to love being a part of creating these beautiful rainbows!
And if you need more cupcakes, we've got more creative cupcake decorating ideas here.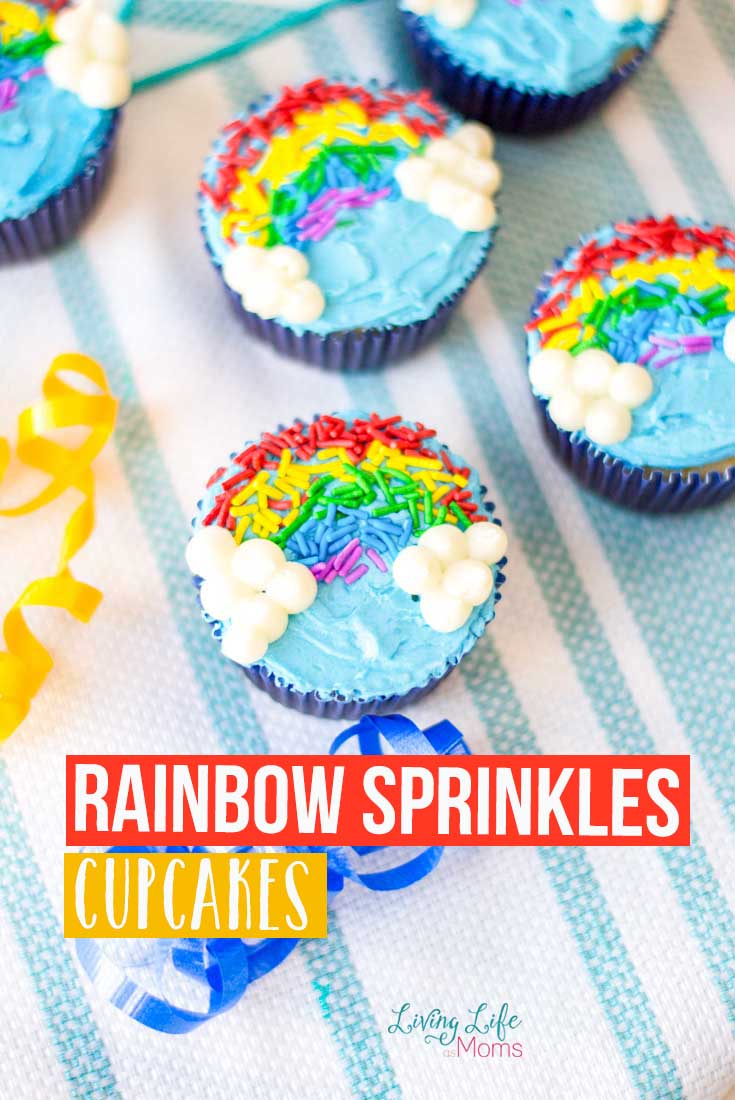 Rainbow Sprinkles Cupcakes
Did I mention how crazy simple these cupcakes are to make? All you need are a few simple ingredients and you'll be well on your way to creating the perfect edible rainbows.
I love the fact that we get to use premade cupcakes for this recipe because it really is all about decorating fun. Although, if you wanted to make your very own homemade cupcakes for this recipe, you totally could! Just sometimes, I don't have the time and the kids really just want to decorate and eat them quickly as is.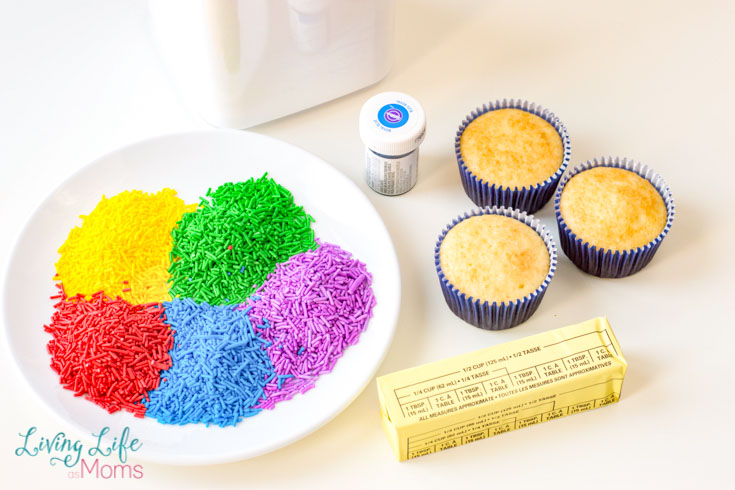 One thing that is also great about this recipe is that it's easy enough for small hands to help as well. They'll be able to jump right in and start decorating all the cupcakes fast!
Show the little ones how to spread the icing and then let them have the fun! (and lick the frostings off their fingers, too!)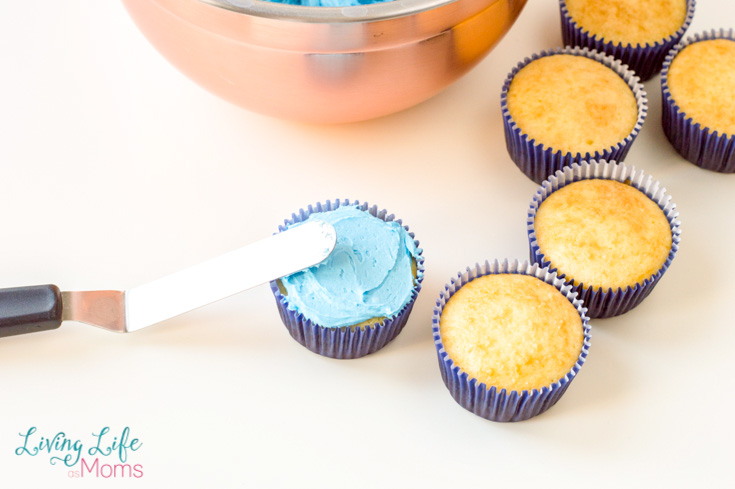 Once the frosting has been piled on, now it's time to make that rainbow! This is another job that the kids can help with, and there's no doubt that they'll want to as well.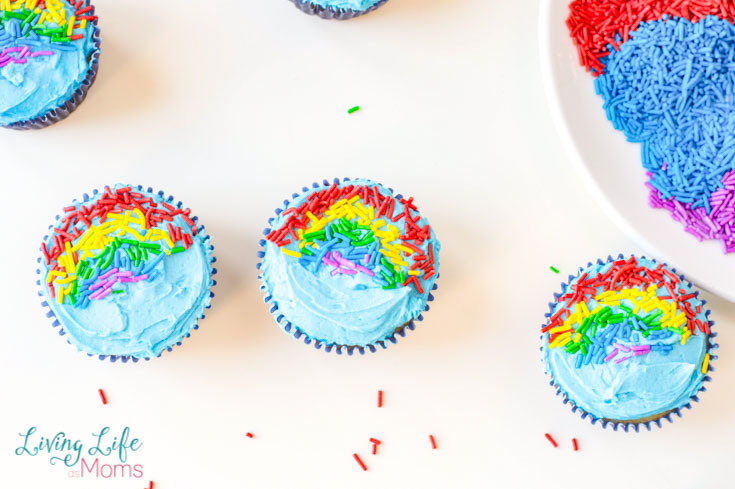 Let them have fun creating their own unique rainbows. And then don't forget to add on the clouds!
This is also a great chance to talk about the colors of the rainbow and even try to learn the order of the colors, too. We always like to ask each other the silly question about what we'd do if we found a pot of gold at the end of the rainbow as well. It always produces some pretty funny answers!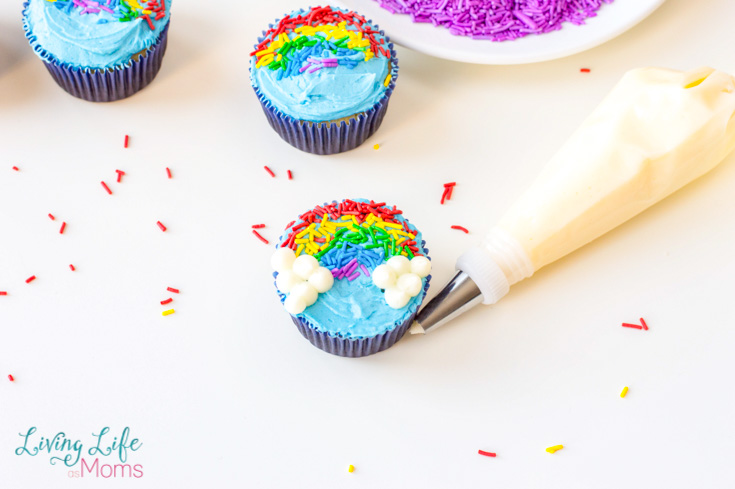 Seriously though, aren't these cupcakes just the cutest things ever?! Make certain that when you're starting to add the sprinkles that you start with an arch shape to really resemble a rainbow!
Recommended Cupcake Supplies
Don't have everything you need? These cupcake supplies will make decorating a breeze. The brighter the colors, the better!
Wilton Nonpareils 6 Mix Sprinkle Assortment

Classic.Simple.Good. Cupcake/Cake Decorating Kit, Easy Cake Decorating Tip Set, X-Large Stainless Steel Tips and Pastry Icing Bags, Extra Bonus Large Tip

LetGoShop Baking Cups- Disposable Cupcake Liners Muffin Paper Cups Pack of 100 (Rainbow)

Wilton Seasonal Cupcake Liners, 300-Count

AmazonBasics Reusable Silicone Baking Cups, Pack of 24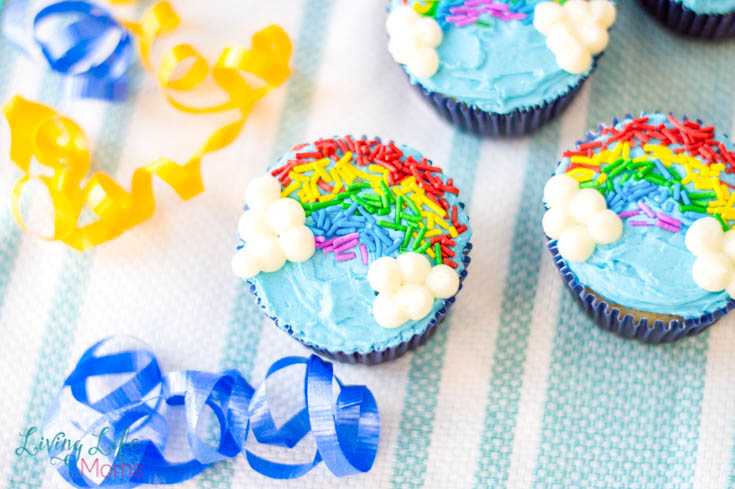 See how simple and easy these rainbow sprinkle cupcakes are? Perfect for upcoming birthday celebrations or just whenever you're needing that cupcake fix.
This is even a fun idea to have these at a party for kids to be able to decorate them on their own! Who doesn't love making rainbows? Being able to eat them is just an added bonus.
Use these fun Rainbow Sprinkles Cupcakes as a way to bond together over a fun and delicious activity!
The perfect treat for any birthday, party or get together. A family favorite for sure.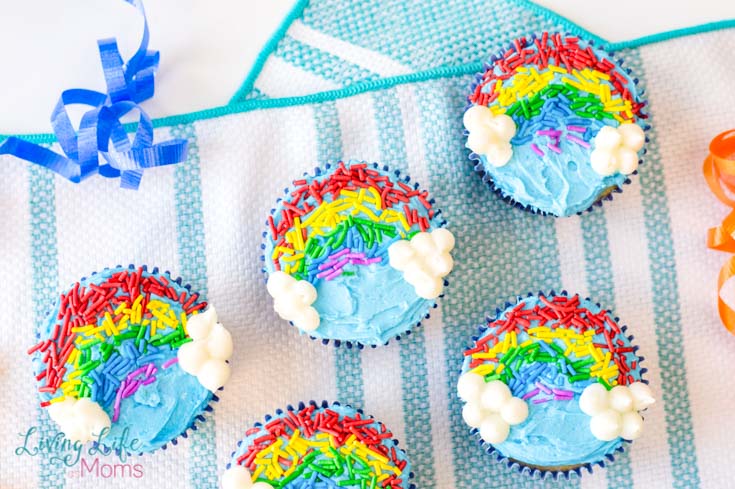 Rainbow Sprinkles Cupcakes
Ingredients
One dozen of your favorite vanilla cupcakes, completely cool to the touch
1 Stick butter, softened
2 cups Confectioners sugar
2-3 tablespoons of milk
2 drops of Blue gel food coloring
1-2 tablespoons Each of the following sprinkles: red, yellow, green, blue, purple
Instructions
You'll want to start by creating the buttercream icing. Put the following ingredients together in a large bowl and beat with an electric mixer: Â butter, confectioners™ sugar, and milk. Have the mixer on low to begin and then slowly increase to high.

Once all the ingredients are combined well and are forming peaks that are stiff as you're mixing, it means that the buttercream is done and ready.

Take about half of the newly mixed buttercream icing and place it into a piping bag. You'll also want to have a round tip on the end as well. Set aside.

Color the remaining buttercream icing with the blue gel food coloring.

Using a small knife or spatula, frost the cupcakes with blue frosting.

Then, it's time to add your rainbow. Don't forget to make it in an arched shape as you go, but start by adding the red sprinkles, followed by the yellow, green, blue, and purple.

Pick up your piping bag and squeeze out the "clouds" at the end of both sides of the rainbow.
Other cupcake recipes you might like: