These simple unicorn cupcakes are not only adorable, but they are delicious as well!
Feel like being a bit festive or have a unicorn-themed birthday party coming up? These beautiful unicorn cupcakes are perfect!
After all, cupcakes are always a safe bet! There's just something so delicious about cupcakes that you just never grow out of craving. Plus, cupcakes tend to be less mess as well!
>> See more unicorn snacks to make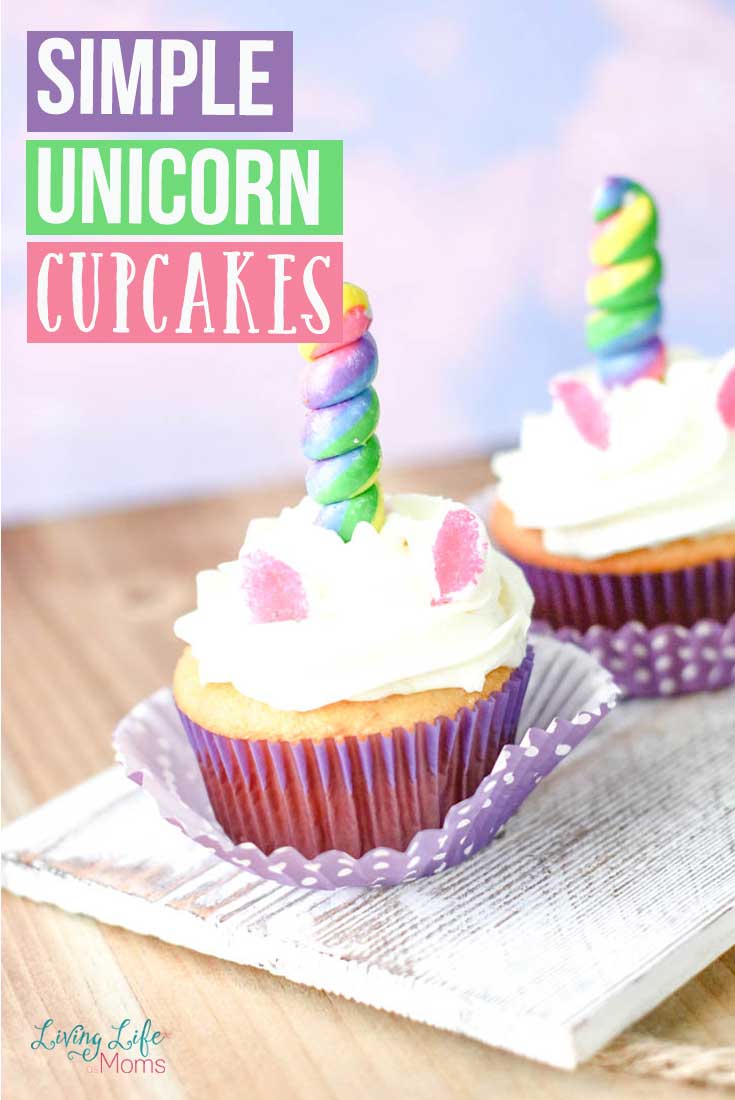 Simple Unicorn Cupcakes
Here's the deal…this unicorn cupcake recipe is actually more of a decorating recipe because you get to use premade cupcakes!
If you want to make your own homemade cupcakes, be my guest! However, you may find it more simple and quicker to buy them at the store. Then, you can put all your focus and effort into making them look awesome! (Vanilla cupcakes were used for this recipe, but you could use chocolate, too!)
Just look at how few ingredients you truly need!
Part of the fun of decorating these cupcakes? Making the swirl with the frosting! But as they always say, practice does make perfect. (and anything that you mess up on, you can always wipe off with a knife and try again!)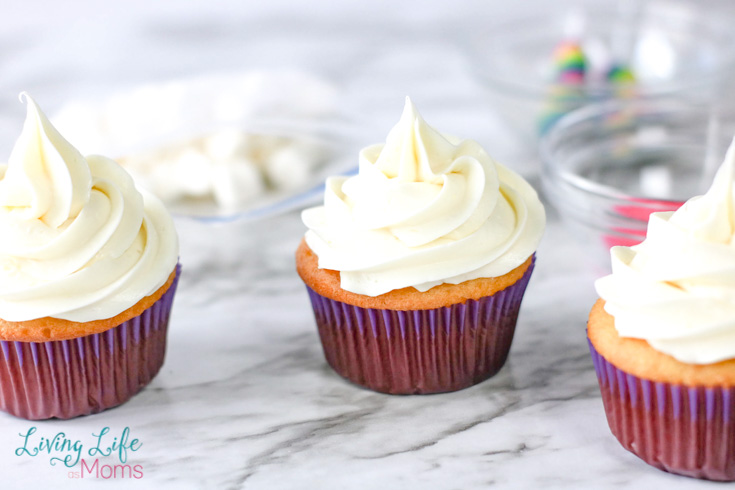 Decorating these Simple Unicorn Cupcakes
These unicorn cupcakes are also fun to make together as a family. Gather around the table and let one decorate with frosting, while another gets to add on the glitter and unicorn ears.
Hard to believe that after these simple steps, you're almost done with the cupcakes!
Adding the unicorn ears is a breeze. Just make certain that you get them covered with that pink sugar and you tap away any of the extras. That way that pink sugar doesn't fall off and get all over everything!
And once those ears are added, it means one thing…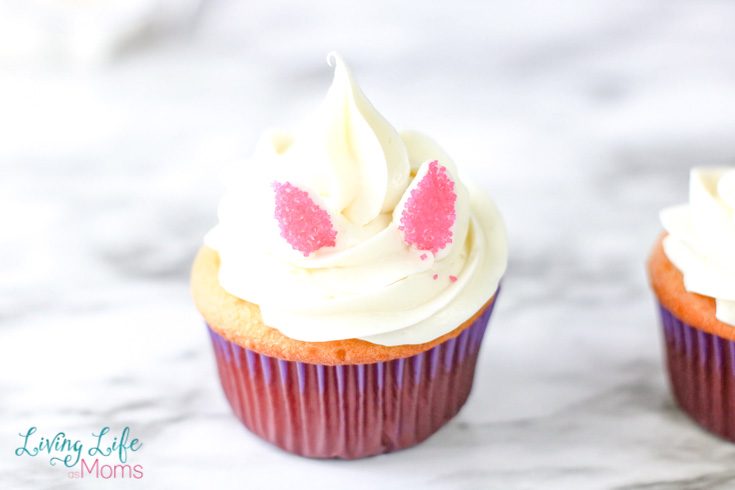 It's time to add on the unicorn horn! And by saying a unicorn horn, you're going to be adding one of the coolest lollipops, ever.
Seriously, look at those rainbow colors! It's like this sucker was invented to be a unicorn horn. Perfection.
And just like that, the unicorn cupcakes are done and ready to be enjoyed! (after being admired, of course!)
 Rainbow Twisty Lollipop – Birthday Party, Favors, Decorations, Supplies – By Lolly Pop Party (Pastel Rainbow)

 Albert's Color Splash Pops Tubs 30 ct – Rainbow – Tuitti Fruitti Flavor

 Jet Puffed Miniature Marshmallows – 16 Ounces

 Wilton 415-2286 300 Count Polka Dots Standard Baking Cups

Simple Unicorn Cupcakes
Ingredients
12

Cupcakes from your favorite recipe or boxed mix

2-3

cups

Vanilla frosting

12

Rainbow swirl lollipops

6

Miniature marshmallows

Piping bag

Large open star tip (Wilton 1M Open Star Piping Tip)
Instructions
Take your cupcakes and frosting and begin piping in a circular motion where you're starting from the outside and working towards the center.

Next, carefully cut your miniature marshmallows diagonally in half and dip the cut side into your pink sugar. Once you have that side coated with sugar, place on the cupcake as the ear. Repeat with the other marshmallow.

Take your lollipop and put it into the center of the cupcake as the horn. (If the stick is too long, trip before putting into the cupcake.)
Store these unicorn cupcakes in an airtight container to make them last for a couple of days!
You'll love these simple unicorn cupcakes! Making a double batch so you don't run out is always a good idea!
More unicorn recipes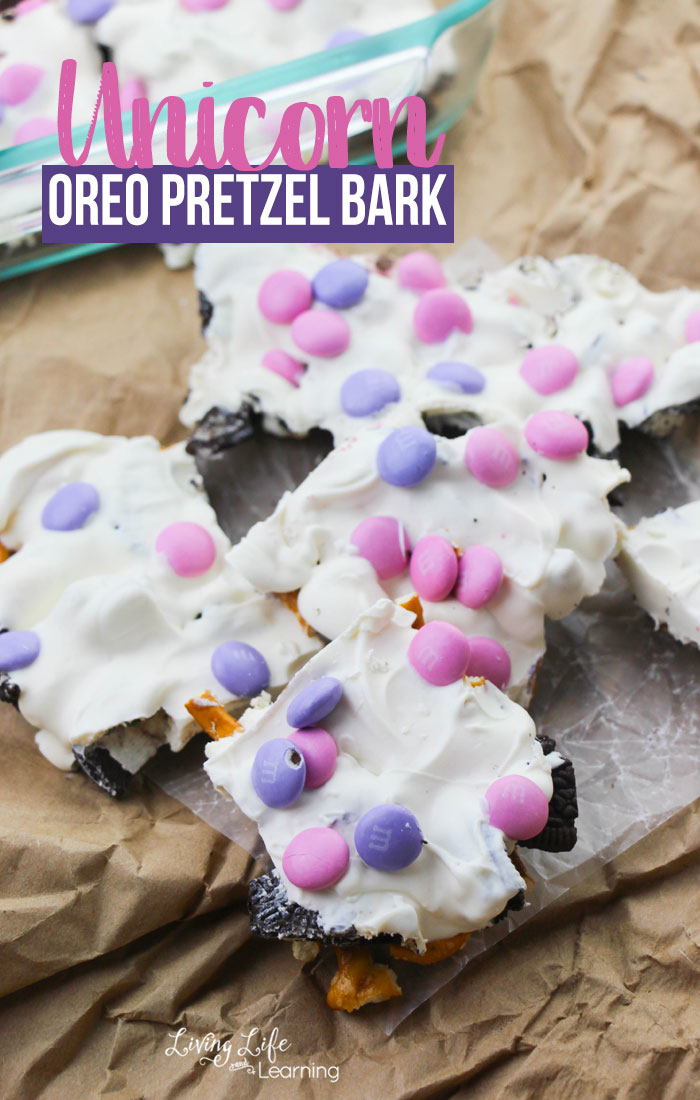 Get Weekly Updates
Taming the chaos of motherhood -
Subscribe and get a daily schedule printable