These Red, White and Blue Rice Krispies Treats are perfect for summer fun. With the Fourth of July coming up in just a few months, the dessert planning needs to begin!
Here's the deal. During the summer months, we crave desserts and snacks that we can hold and eat on the go. And while we might not always be on the go, it's good to know that we HAVE to be, we can take our food with us and get out the door.
These are why I love these Rice Krispies treats. Not only are they super simple to make, but they're easy to take as well.
And as most of you also know, I like to celebrate the seasons and holidays as well. If these don't scream patriotic, I don't know what does!
>> See more Rice Krispies Treats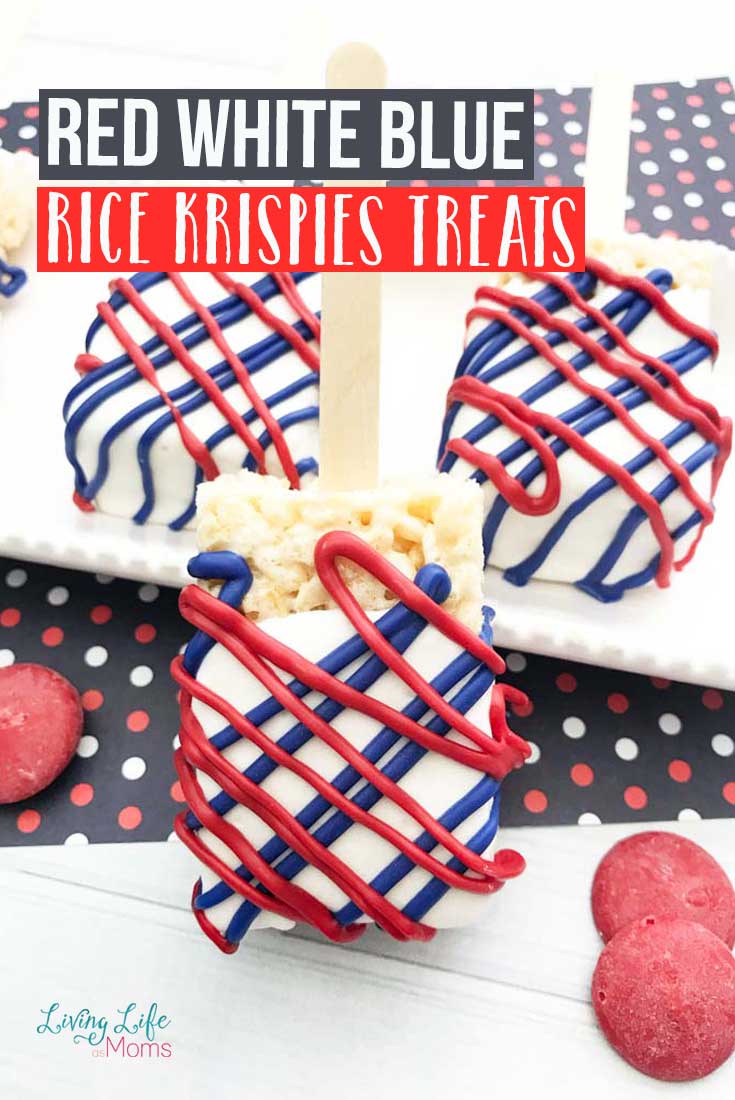 Red White and Blue Rice Krispies Treats
What I love most about this recipe is that it's made using premade Rice Krispie treats. Seriously, it doesn't get any better than that. You don't even have to melt or mix in the marshmallows at all!
All you need are the simple ingredients below to get started!
While you don't have to melt the marshmallows, you don't have to melt the chocolate disks so that you can dip the Rice Krispies and get them covered. (Don't worry, it's not hard to do at all!)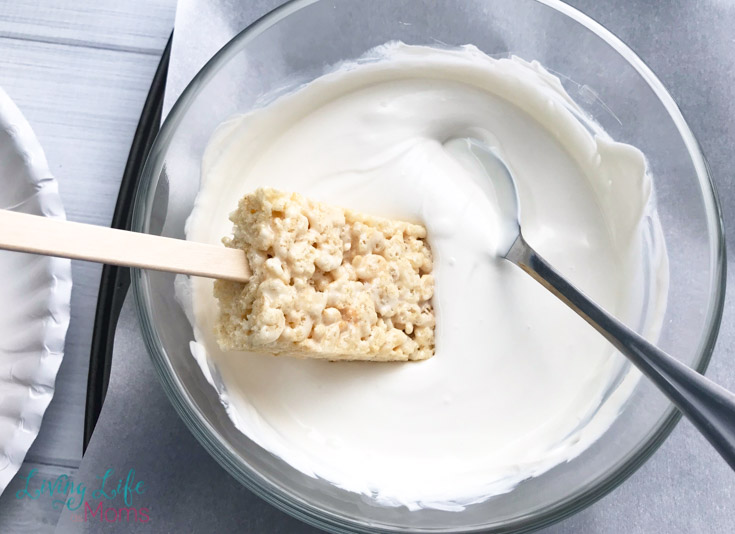 Once you have the white chocolate melted and covered the treat, now comes time for the decorating fun!
This part of the recipe is always a fun time to let the little ones in the house help. The melted chocolate has cooled enough so it's not hot and who doesn't like to use the red and blue colors to make a "mess"?
Remember, there aren't any rules or patterns to follow on these patriotic desserts, so let them go wild and have fun!
Recommended Rice Krispie Supplies
Grab your box of Rice Krispies to make your own treats or if you're short on time, buy the premade Rice Krispies treats instead.
Kellogg's Rice Krispies Breakfast Cereal, Original, Fat-Free, Family Size, 24 oz Box

Kellogg's Rice Krispies New 60ct Treats Bars

Artlicious – Natural Wooden Food Grade Popsicle Craft Sticks (1000 Sticks)

Wilton Red Candy Melts, 12-Ounce (Pack of 2)

Wilton Candy Melts, 12 oz.

Wilton 1911-4320 Candy Melts, 12-Ounce, Royal Blue

Once they get done swirling on the blue, it's time to do the exact same thing with the red!
After that, they're done and ready to eat! How cool is that, right?!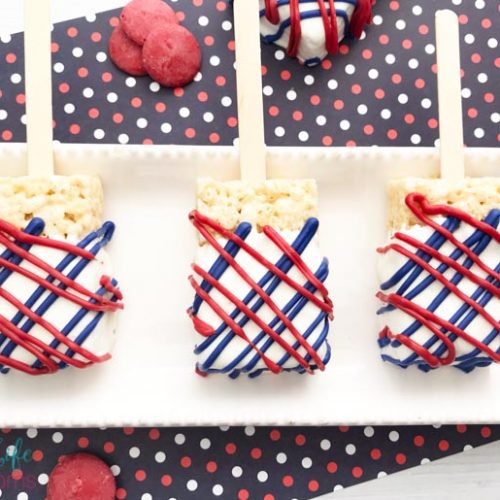 Red, White, and Blue Rice Krispies Treats
Ingredients
(2) 8-count packages of

Kellogg's Rice Krispie Treats

10 oz package of

Wilton Royal Blue Candy Melts

10 oz package of

Wilton Bright White Candy Melts

10 oz package of

Wilton Red Candy Melts

16 popsicle OR lollipop sticks

2 small sandwich bags

Kitchen scissors
Instructions
Find a large baking sheet and line it fully with parchment paper.

Open up all the Rice Krispies and take them out of their package. Once they are removed, take the popsicle sticks and insert them into the bottom.

Once done, lay the treats flat on the baking sheet and stick in the fridge for 20 minutes.

After the 20 minutes is up, take and pour the white melts into a microwave safe bowl. Put in the microwave and heat for 30 seconds at a time. Every 30 seconds you need to stir.

Once the white melts are melted completely, remove your treats from the fridge and start dipping them one by one into the melted white melts. Only dip them down about 3/4 of the way.

Once they've been dipped, place them on the parchment paper on the baking sheet. Do all.

Wait a few moments to allow the white chocolate to set up properly on the treats.

Once the white chocolate melts have set, take and scoop 1/2 cup of the red and bright blue candy melts and place them into separate sandwich bags.


Microwave each for 30 seconds and gently squeeze the chocolate to help it melt. Repeat microwaving (if needed) until melted.

Take your scissors and cut a small corner of each sandwich bag and gently squeeze the melted chocolate out onto the Rice Krispie treats in a fun pattern.

Repeat for all until done.
See how they turn out? Super simple and so much fun to make! This is one dessert that literally everyone in the house can help with!
Just make certain that you let the melted chocolate cool down enough so that no one gets burnt in the process.
Once they are cooled and decorated, they are ready to enjoy!
More Rice Krispies treats you might like: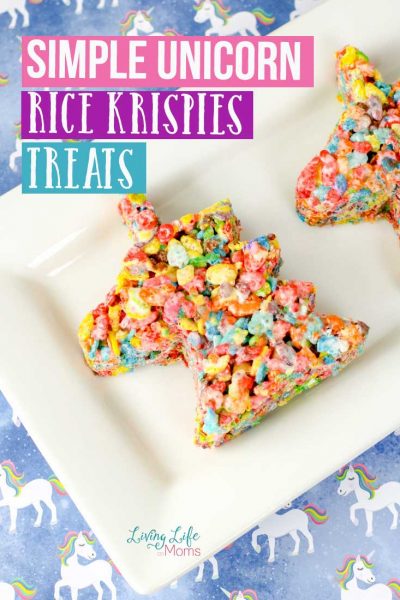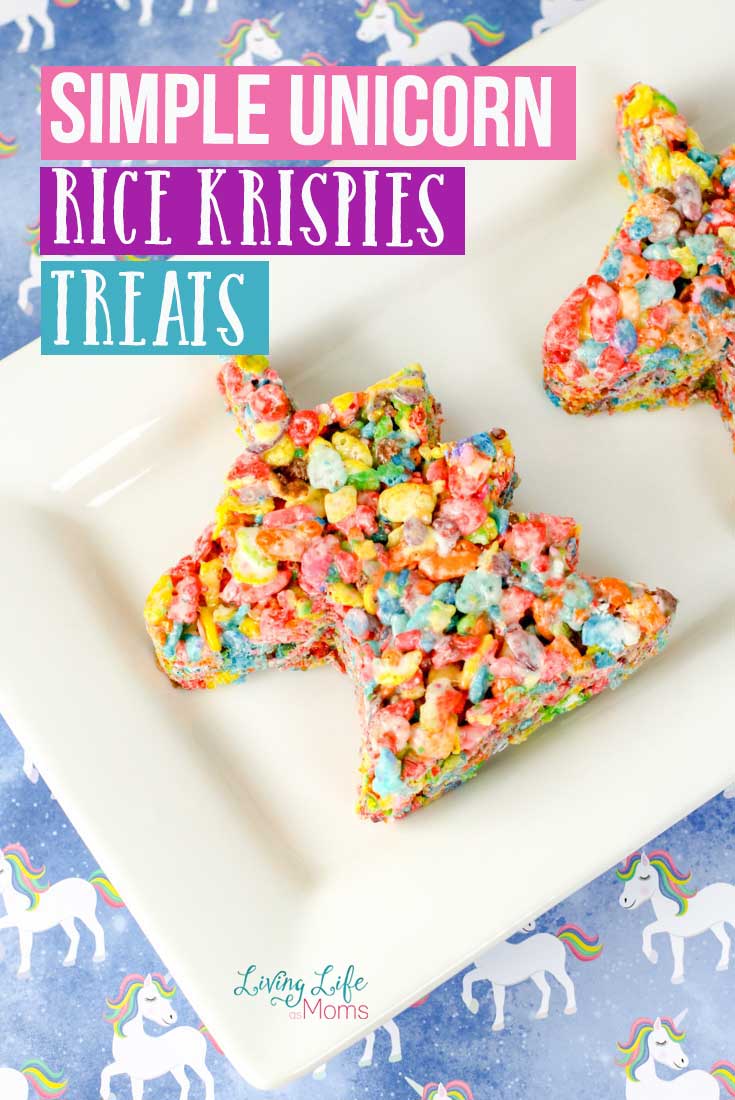 Simple Unicorn Rice Krispies Treats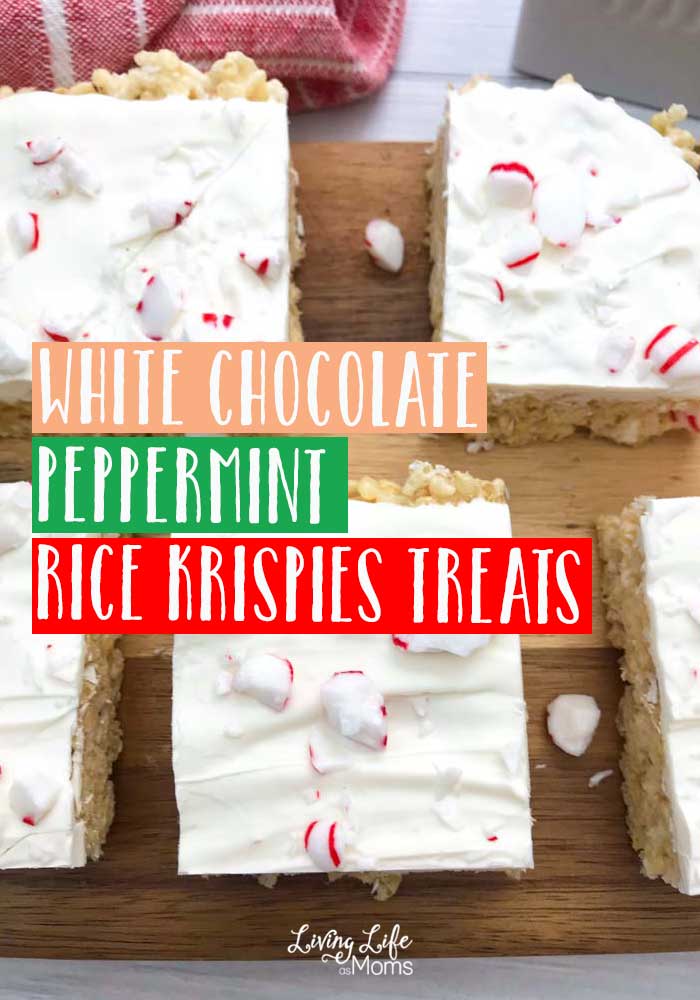 White Chocolate Peppermint Rice Krispie Bars
Get Weekly Updates
Taming the chaos of motherhood -
Subscribe and get a daily schedule printable