Mermaid Hot Chocolate Bombs Recipe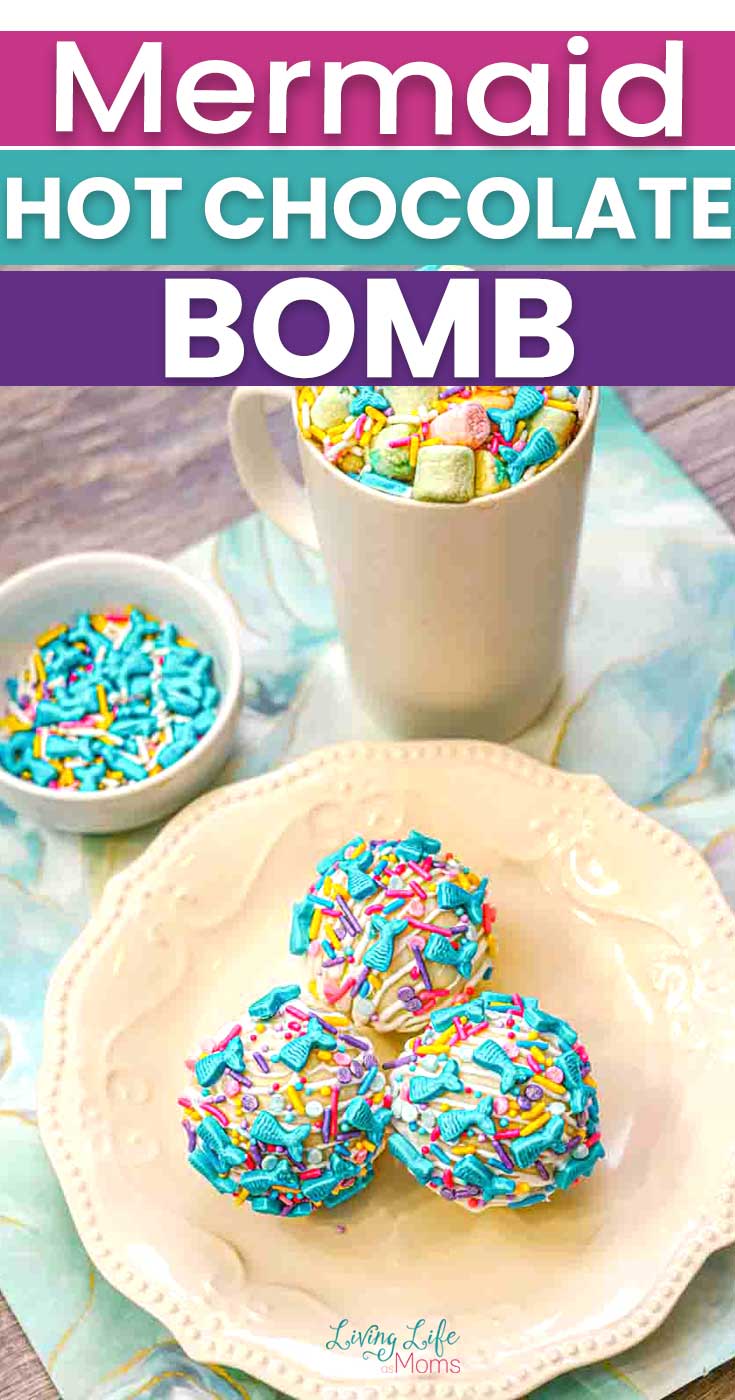 This Mermaid Hot Chocolate Bombs Recipe is so much fun to make! Not only are they mermaid-themed but you can easily whip them up to enjoy! A nice cup of hot chocolate can easily make the stresses of the day melt away!
What I really love about this simple hot cocoa bomb recipe is that it's made using just 6 simple ingredients. I'm all for an easy recipe that will bring the kids (and me!) a ton of happiness and fun. But even better yet, I love the flavor and taste that this simple recipe brings.
Since it gets really cold here during the year, there's always a good reason to want to drink a cup of hot chocolate. I've found that when I fill my cup with a homemade hot chocolate bomb, all my coldness somehow just magically melts away.
Be certain to check out our Chocolate Unicorn Cookies as a fun dessert to enjoy with your mug of hot chocolate!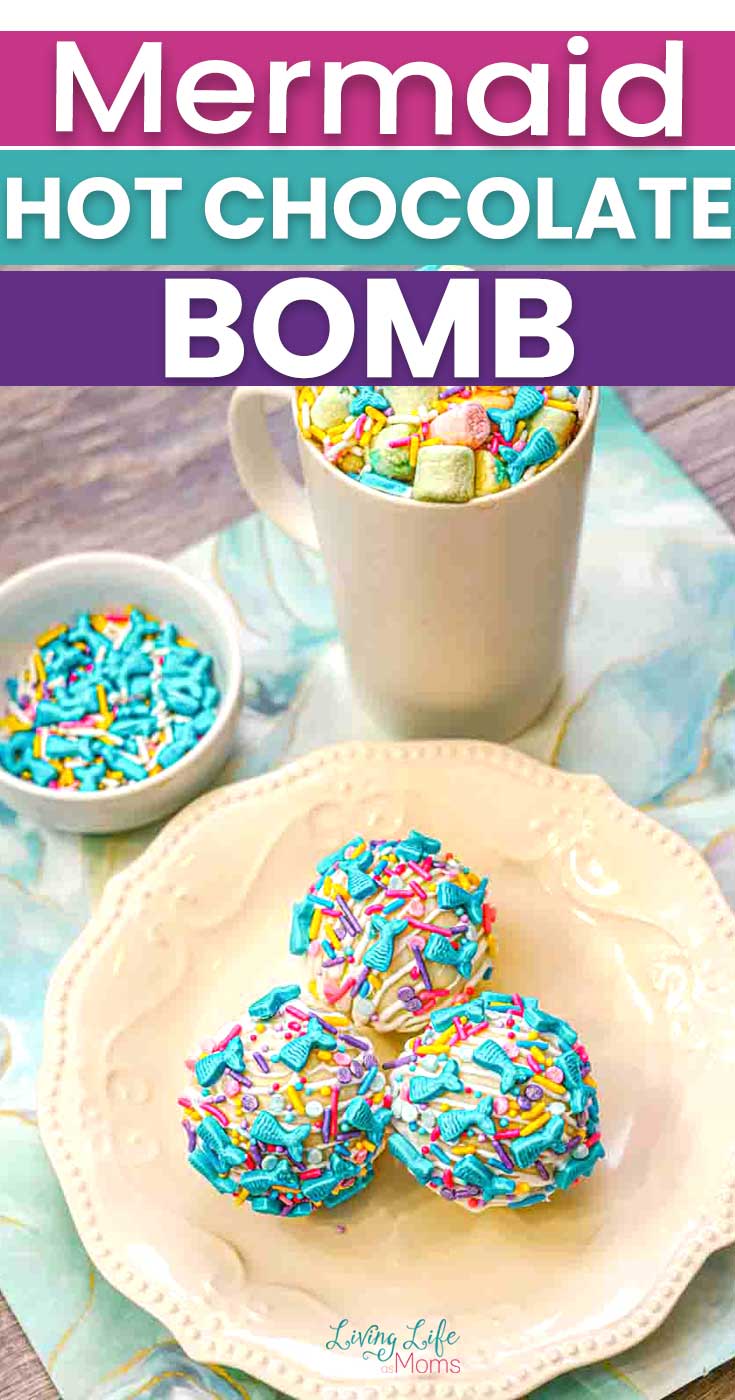 Mermaid Hot Chocolate Bombs Recipe
There's just something special about this recipe. Maybe it's the fact that it's bright and colorful and fun or maybe it's the fact that I love mermaids and drinking sweet things…and even though this recipe might be geared towards the kids, there's a good chance that I'm going to be drinking one of these with them every single time.
The last thing that you should do is stress out about the fact that you THINK these hot cocoa bombs are hard to make. I can assure you that this Mermaid Hot Chocolate Bombs Recipe is so simple to make. And once you get the hang of it, you're going to want to make it over and over again.
Ingredients needed for Mermaid Hot Chocolate Bombs Recipe
As I mentioned earlier, you don't need a ton of ingredients to make this simple chocolate bomb. Here are the ingredients to make certain that you have on hand:
White Candy Melts
Hot Chocolate
Mini Marshmallows
White icing
Mermaid Sprinkles (Walmart, Hobby Lobby, Michael's)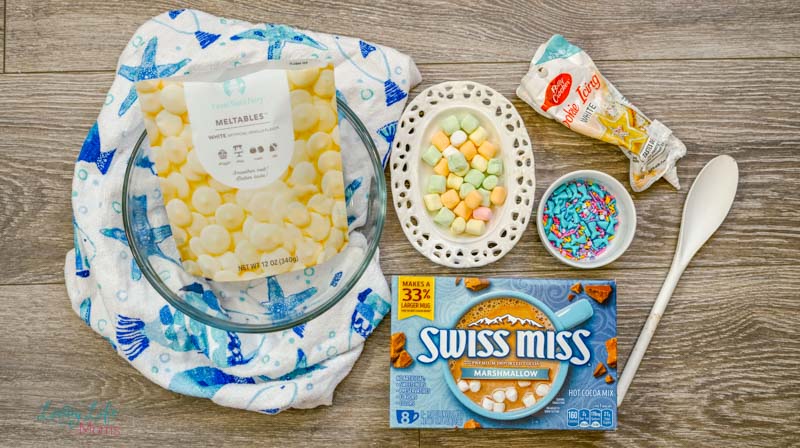 Simple Tips for Making this Mermaid Hot Chocolate Bombs Recipe
Making hot chocolate bombs isn't hard to do but there are a few tips to keep in mind that can make this recipe a lot easier!
When you're melting the chocolate, make certain that you stop and stir in 30-second intervals. This will make it melt faster and take away the chances of it getting too hot and burning.
Once the chocolate is melted, you need to be certain that you're adding a good layer to the mold and have the melted chocolate covering the sides of the mold as well as the bottom of the mold as well.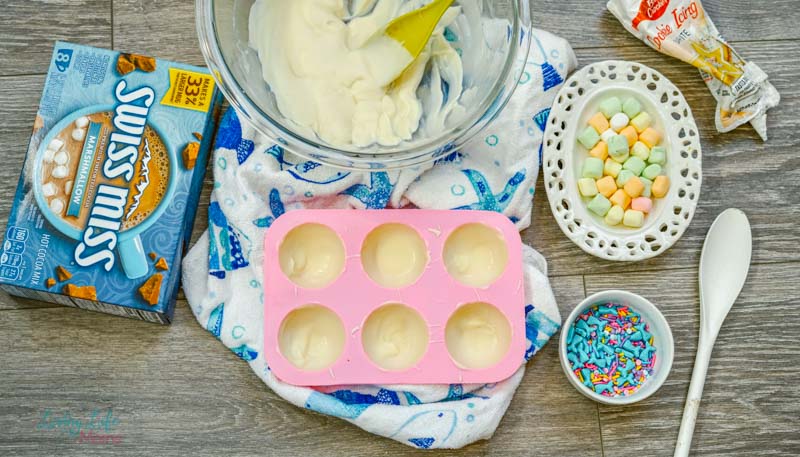 The other big tip to keep in mind is that you want to make certain that you seal it really well so that nothing leaks out of the cocoa bomb until you're ready for it, too.
(But in all reality, if it does – just pour on the milk and stir because in the end…you're going to be drinking it anyway and life is too short to stress!)
The other big tip to keep in mind is to have fun with the sprinkles. We were able to find some really cool mermaid sprinkles out and about but if you can't, just find some that are brightly colored and have fun with it. I've seen some really cool shimmering sprinkles that would be an awesome addition as well!
To use these hot cocoa bombs just put in the bottom of a mug and pour in 6 ounces of hot milk! Stir and enjoy!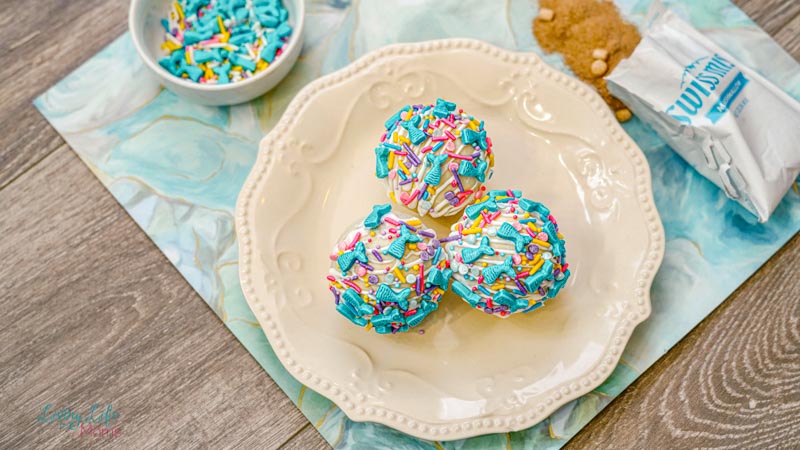 How do you store hot cocoa bombs?
If you're not ready to eat your hot cocoa bombs quite yet, you can always add them to a sealed container and store them until you are ready to eat them.
There is no rush to consume them but it will be hard not to!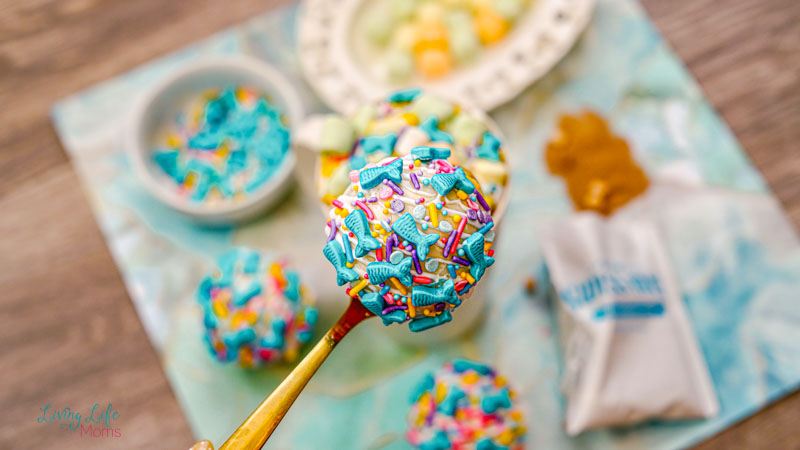 Fun ways to share these Mermaid Hot Chocolate Bombs
While you can easily keep these all to yourself, they're super fun to share as well. And whoever is lucky enough to receive them will be super thankful, too!
I've actually given these to family and friends and they let me know they were hooked! Plus, they're just an easy way to brighten someone else's day and give them a tasty treat at the same time.
If you have a mermaid-themed birthday party or event coming up, these are great for that, too! You can even do a simple tutorial and have the kids make their own with you during the party.
The options are really endless on how and when you can make this Mermaid Hot Chocolate Bombs Recipe!
Mermaid Hot Chocolate Bombs Recipe
You'll love the flavor of this Mermaid Hot Chocolate Bombs Recipe!
Ingredients
12-ounce bag of White Candy Melts
1 Tbsp Hot Chocolate Per Bomb 
Mini Marshmallows
White icing 
Mermaid Sprinkles
6 Sphere Silicone Mold
Instructions
Put the white candy melts into a microwave-safe and heat in 30-second increments. Stir between each time.
Take the melted chocolate and spread it on the bottom of the mold and up the sides.
Let the mold sit for 5 minutes and add more chocolate after it settles if you need to and then put them in the fridge for 45 minutes.

Remove from the fridge and take the mold out of the spheres.
Fill one 1/2 with hot cocoa, sprinkles, and marshmallows.
Put a glass plate in the microwave for 1 minute and then put the chocolate sphere of the empty one down on the plate to melt the rim.

Stick the halves together and seal.
Drizzle melted chocolate on top and add the sprinkles.

More Fun Mermaid Ideas
The following recipes aren't food but they're still super fun to make!