Magical Unicorn Dip Recipe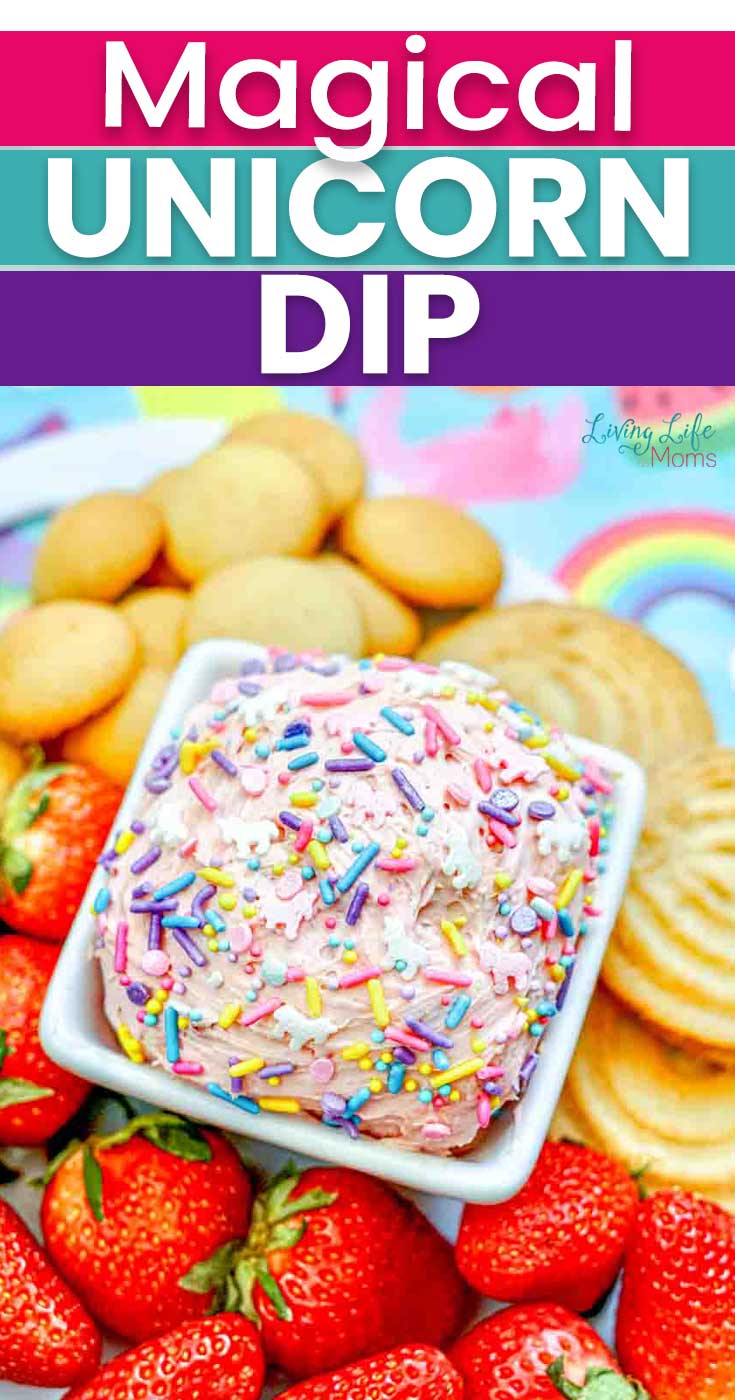 Get ready to fall in love with this Magical Unicorn Dip Recipe. It's the perfect dessert dip that will have your tastebuds craving more!
It's safe to say that we're pretty crazy and passionate about anything unicorn in our house. We love the idea of them, the thought of them, decorating with them, and just celebrating them because they're magical and fun. So when the idea struck to make this delicious Magical Unicorn Dip recipe, I knew that this was going to become a family favorite before we even took our first bite.
With just 5 simple ingredients needed and no need to turn on your oven AT ALL, I think you're going to love this simple dip recipe, too. Add in some unicorn sprinkles and cut up some fresh fruit and you have a treat that'll have everyone coming back for more.
Be certain to check out our Fun Unicorn Snacks to Make at Home as well.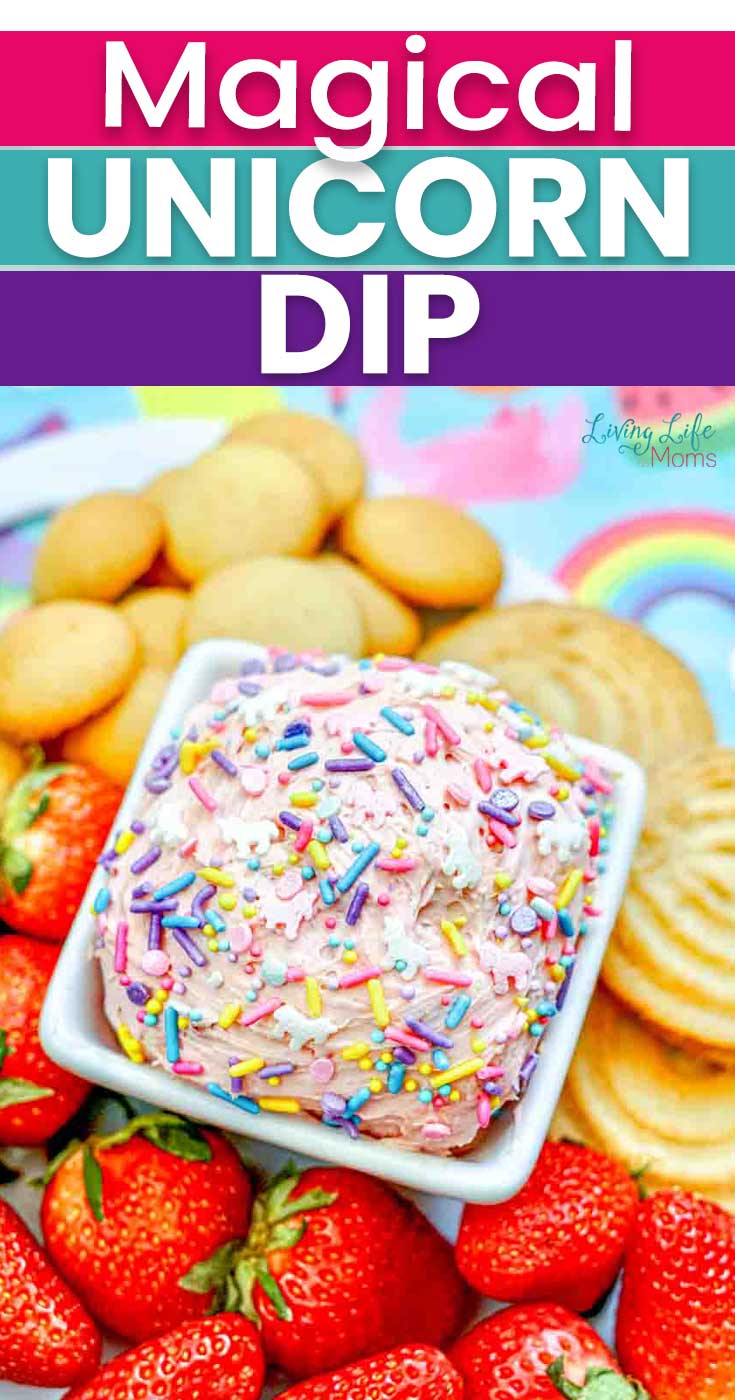 Magical Unicorn Dip Recipe
If you're looking for a fast and easy dessert recipe, try this dessert dip. You can easily make up this dip to share with family and friends or to make a fun snack for weekend fun.
Ingredients needed to make this Magical Unicorn Dip Recipe
All you need are the following ingredients to make this delicious unicorn dip. As you can see, it's fast, simple, and awesome!
Mystic Sprinkles Confetti Sprinkle Mixes (Unicorn Dreams Confetti Mix 2.8oz)
Kraft Philadelphia Cream Cheese (8 oz. pkg., 6 ct.)
Duncan Hines Signature Perfectly Moist Strawberry Supreme Naturally Flavored Cake Mix, 12 – 15.25 OZ Boxes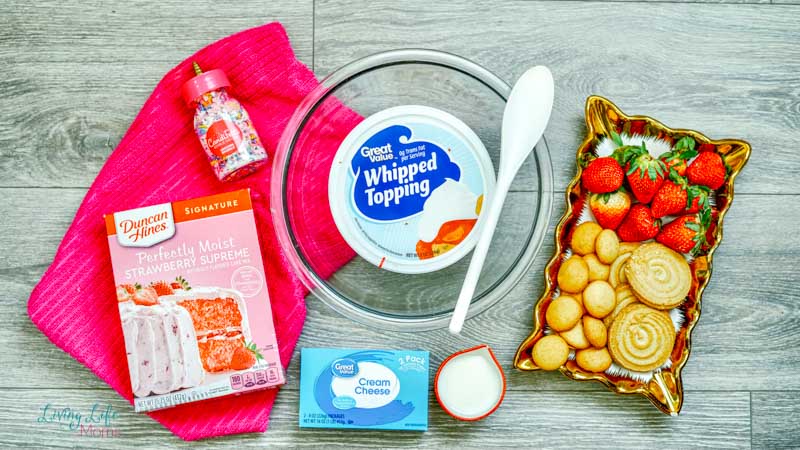 How to make this Magical Unicorn Dip Recipe
This recipe is so much fun to make with the kids. They'll be able to help measure and stir and be a part of the entire process. This will teach them to get excited about helping out in the kitchen as well!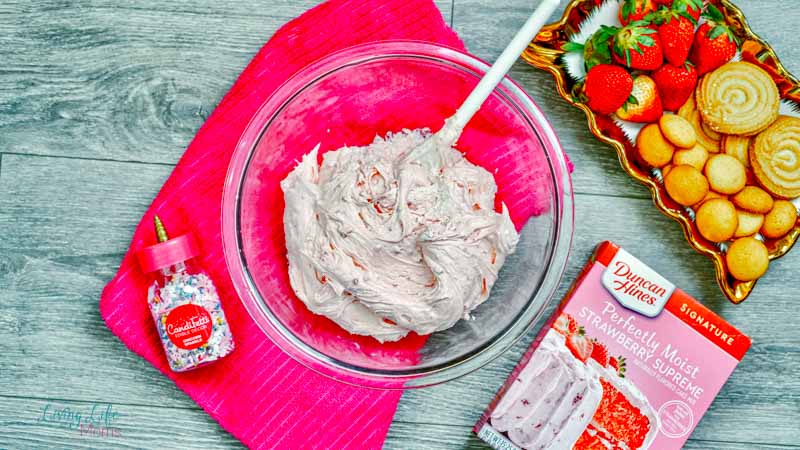 The biggest thing to remember about making this simple dessert dip is that it just takes a lot of mixing. It's so simple to make and mix together that you're not going to want to miss out on this simple dessert.
We also love to add on even more sprinkles than we're supposed to because why not? Since we're obsessed with all things unicorns, we just have to take the unicorn sprinkles over the top!
Recommended Unicorn Party Supplies
Do you need more supplies for your unicorn-themed party? Have a look at these awesome products from Etsy that you must have.
Get the Pastel Unicorn Sprinkle Mix and make your desserts extra special.
Also, don't forget these cute Unicorn Plates for a complete magical party.
Recommended Dessert Recipe Books
Do you want more dessert ideas? Grab these recipe books and start making your tasty desserts.
Dessert Boards: 50 Beautifully Sweet Platters and Boards for Family, Friends, Holidays, and Any Occasion
Le Cordon Bleu Pastry School: 101 Step-by-Step Recipes
Tasty Dessert: All the Sweet You Can Eat (An Official Tasty Cookbook)
Dessert Person: Recipes and Guidance for Baking with Confidence: A Baking Book
How to Cook That: Crazy Sweet Creations (Chocolate Baking, Pie Baking, Confectionary Desserts, and More)
FitWaffle's Baking It Easy: All My Best 3-Ingredient Recipes and Most-Loved Sweets and Desserts
Ways to change up this Magical Unicorn Dip Recipe
There are actually a few fun ways that you can change up this simple dessert dip. I've tried different varieties and they always taste great!
One of the easiest changes that you can make is to change up the flavor of the cake mix that you use. Chocolate cake mix makes a super delicious flavor and lemon cake mix is a lot of fun, too! It will also change the coloring of the dip as well so that is something to keep in mind. (The kids really love the pink coloring but other colors can be great, too.)
You can also add in flavored whipped topping from the store, too. Just see what options they have and give that a try.
And last, but not least, vary up what you're dipping into the dip. It's a simple way to change the texture. This dip tastes totally different on fruit than it does on cookies. I also love to dip banana wafers and graham crackers, too. (and sometimes, I just eat it by the spoonful!)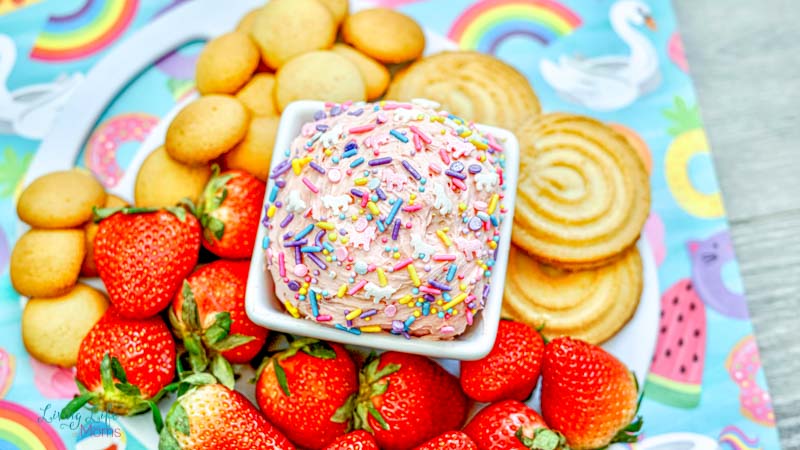 Use this simple dessert recipe as a treat for the summer months or a fun dessert idea for a Unicorn-themed birthday party, too! You can also add in different colored sprinkles in this fun magical unicorn dip recipe as well! Have fun – it's delicious!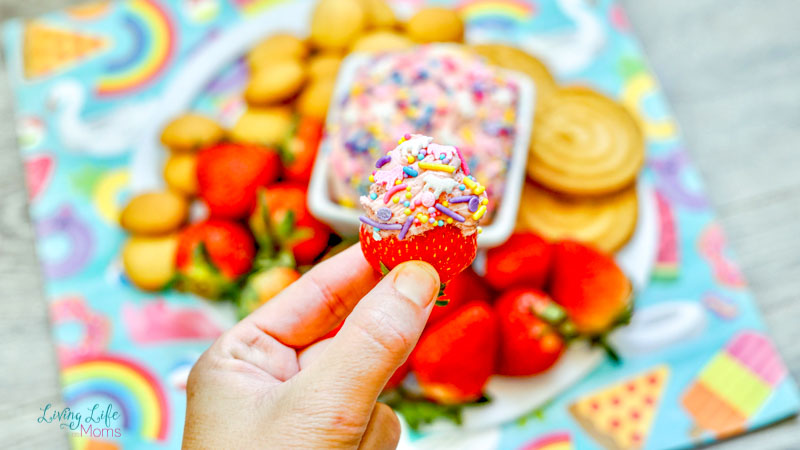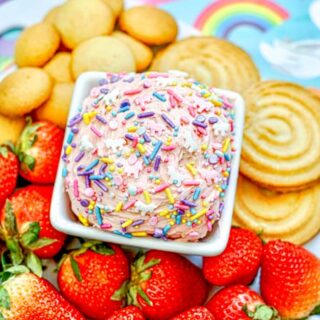 Magical Unicorn Dip Recipe
This delicious dessert recipe is so much fun to make!
Ingredients
Unicorn Sprinkles
1 tub of Whipped Topping
18 ounce Strawberry Cake Mix
8 ounces of Cream Cheese
1/4 Cup of Milk
Cookies and Fruit for dipping
Instructions
Mix together the cake mix, cream cheese & whipped topping into a bowl.

Add the milk and stir well.

Put dip into your favorite dip bowl and pour on the sprinkles.

Serve with cookies or fresh fruit and enjoy!
Recommended Products
As an Amazon Associate and member of other affiliate programs, I earn from qualifying purchases.
More fun Unicorn Recipes
Sally the rainbow unicorn cake by Taste