Fun M&M Hot Chocolate Bomb Tutorial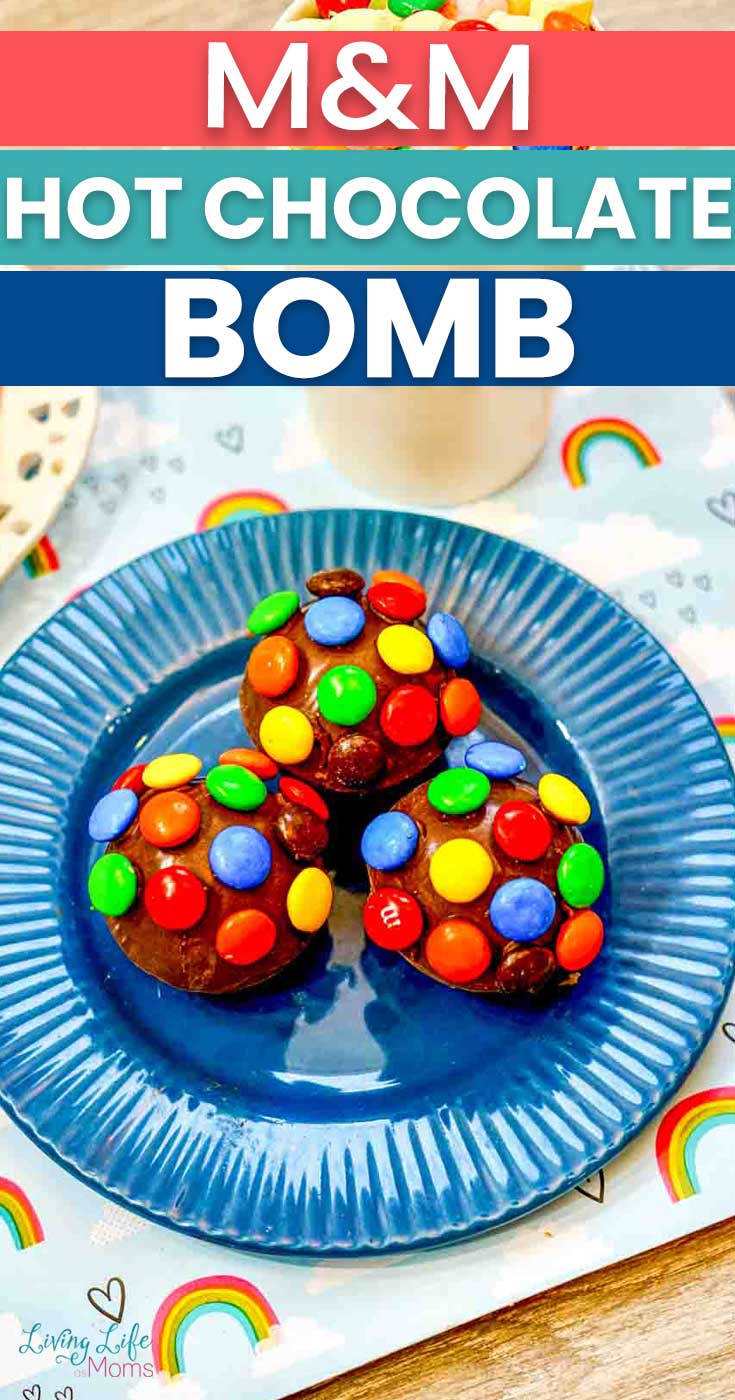 Looking for a super fun M&M Hot Chocolate Bomb tutorial? You're going to love the ease of this tasty treat! Not only are these super popular right now, but they have M&M's which make them totally delicious and better than all the rest. (okay, my opinion only but I'm certain that they're better than a lot of them!)
If you're looking for a simple way to make hot cocoa bombs together as a family, don't miss out on this simple recipe. In just a few easy steps, everyone in the family will be loving having their own mug to sip and enjoy.
We made these several times this winter and they were always a hit. Now that winter is coming to an end, I don't see us stopping anytime soon because they're just super fun and delicious!
Be certain to check out our Unicorn Marshmallow Cupcakes for another super fun treat!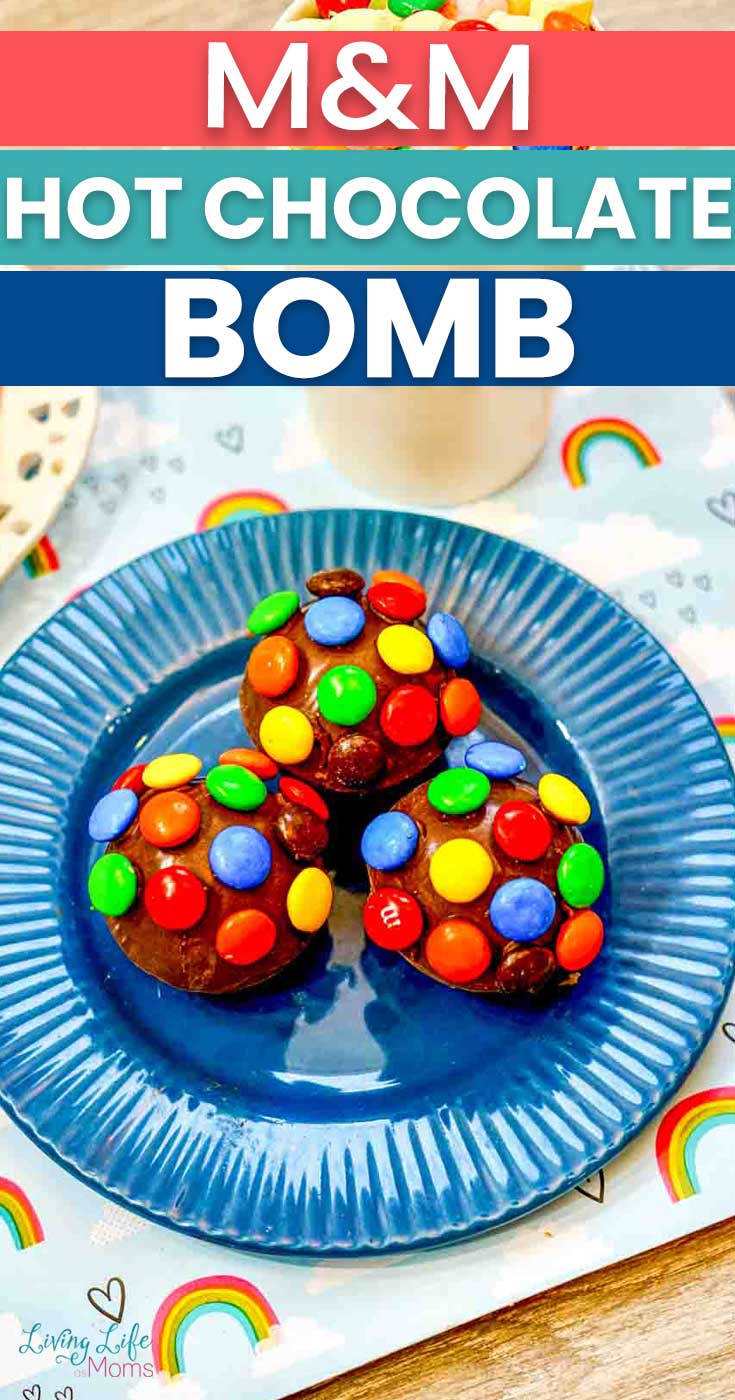 Fun M&M Hot Chocolate Bomb Tutorial
While this is a fairly simple recipe to do, keep in mind that there are several tips and tricks that can help. Since we've made this so many times, we've got a few tricks up our sleeves to help out!
One of the biggest things to keep in mind is that this recipe should be fun to make! It's a great way to get some sweetness in your tummy and something that the kids love and enjoy, too!
Tips for making this Fun M&M Hot Chocolate Bomb Tutorial
Make certain that you have all the ingredients on hand before you get started. There's nothing worse than starting and then having to stop or scrap the whole recipe because you're missing a major portion of it.
The other big thing to keep in mind is that it's a learning process as you go. This means that while your first one may not turn out perfect, you'll keep perfecting it each and every time.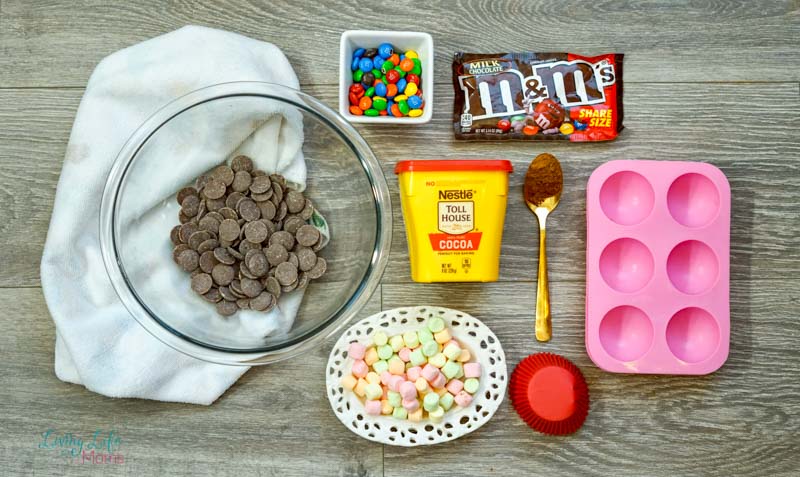 Ingredients needed to make this fun M&M Hot Cocoa Bomb tutorial
1 tablespoon of Hot Chocolate in each bomb
Mini Marshmallows
M&Ms
6 Holes Silicone Mold For Chocolate, Cake, Jelly, Pudding, Handmade Soap, BPA Free Cupcake Baking Pan (2)
2 Pack 6-Cavity Semi Sphere Silicone Mold, Baking Mold for Making Hot Chocolate Bomb, Cake, Jelly, Dome Mousse
How to make this Fun M&M Hot Chocolate Bomb Tutorial
While the full printable recipe can be found below, here are a few shortened directions that can be a huge help. Make certain that you melt the chocolate enough so that it's thick in the mold and goes up the sides of the mold, too.
The reason for doing this is because you are going to be making a sphere or chocolate to connect together so you need to have the chocolate high enough to form a connection.
Don't try to rush the process of putting the molds in the freezer, either. They have to be frozen and ready before you can move forward.
Once done, you can remove and start to add in your fillings. This recipe is pretty simple but some get pretty elaborate with the additions! You can totally change them up each time as well and create new flavors and tastes with ease.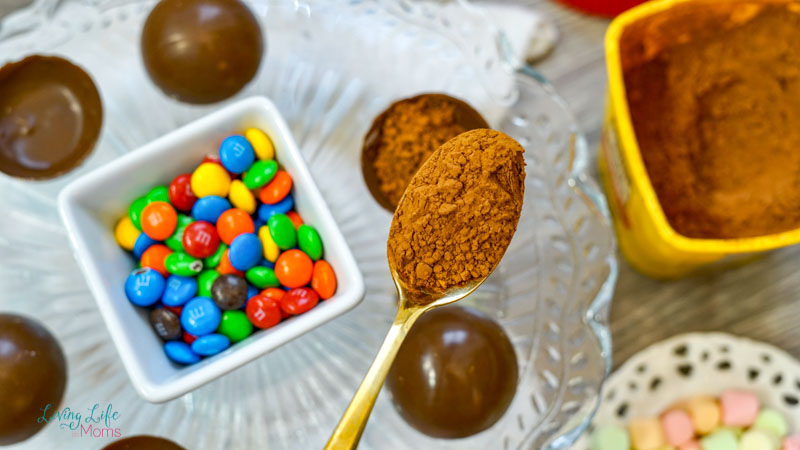 The other big thing to remember is that you're going to want to seal together the chocolate spheres so that they hold in all the ingredients. This may sound hard, but it's not. Again, just follow the printable directions below and you won't have any issues.
Don't forget to add the M&M's on the outside of the cocoa bombs. They really add a fun element ad make them look so tasty!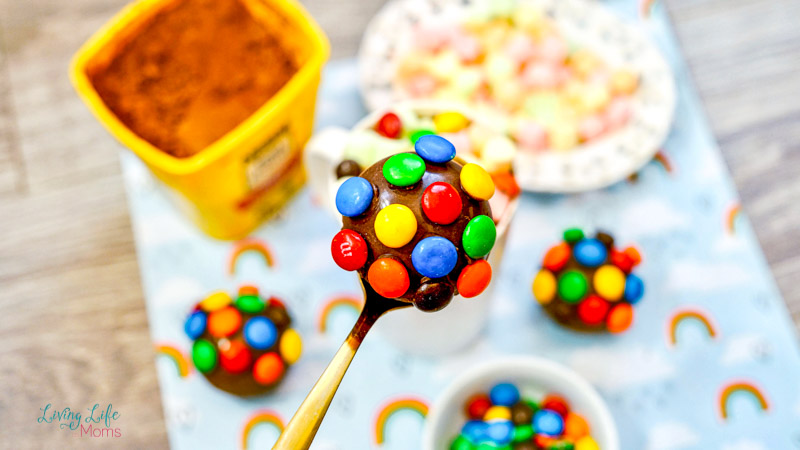 How to use hot cocoa bombs
Once you have the hot cocoa bombs done and ready, it's time to put them to good use and get them in your tummy! All you have to do is put the cocoa bomb in your favorite mug and pour about 6 ounces of hot milk over the top.
The hot milk is going to start to melt away the chocolate and that will release the inside cocoa mix and ingredients. All you then have to do is stir and sip!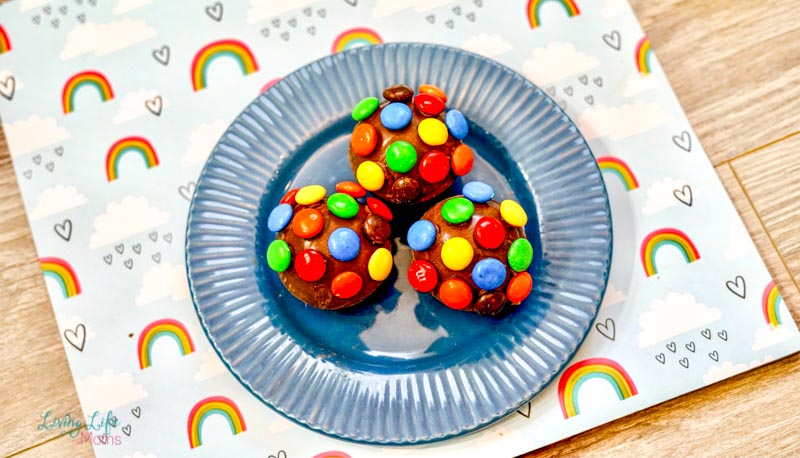 Now that you know how simple this recipe can be, it's time for you to make your very own at home! The kids are going to love the fact that you're creative and ready to make this fun recipe!
Fun M&M Hot Chocolate Bomb Tutorial
This hot cocoa bomb recipe is so much fun to make!
Ingredients
12 ounces of Chocolate Candy Melts
1 tablespoon of Hot Chocolate for each bomb
Mini Marshmallows
M&Ms
6 Sphere Silicone Mold
Instructions
Put candy melts in microwave-safe bowl and melt according to the directions on the bag.

Once melted, spread the chocolate out in the molds evenly and up the sides, too.

Let sit for about 5 minutes and then respread the chocolate again for another layer.

Pop in the fridge for about 45 minutes to harden.

Take out of the fridge and take out of molds.
Fill 1/2 of the chocolate mold with hot cocoa powder, M&Ms, and marshmallows.

Fill half of the chocolate mold with the hot cocoa powder, M&M & marshmallows.
Put a glass plate in the microwave and heat for 1 minute.
Take out the plate and place the rim of the empty chocolate sphere face down to melt the edges.
Put the melted edge on top of the other sphere. s
Add M&Ms on top and stick on with melted chocolate to hold them in place.

More Delicious Recipes