White Chocolate Unicorn Bark Recipe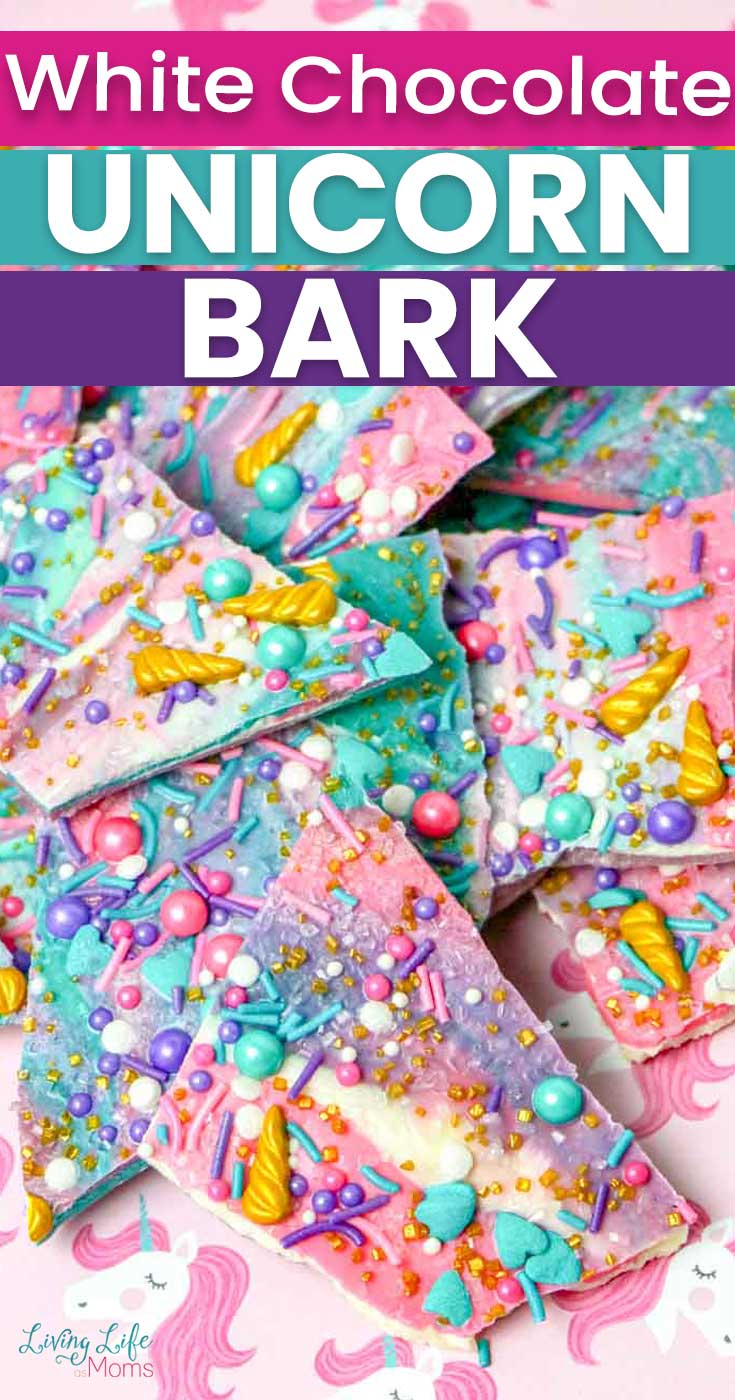 You're going to love this White Chocolate Unicorn Bark Recipe! It's bright in color and full of flavor and a perfect recipe that adults and kids will love!
There's no denying that this chocolate bark recipe is beautiful. But is it too beautiful to eat? I think not. This is one of our favorite chocolate recipes to easily make at home. The brighter the colors, the bigger the fun.
We've made this unicorn bark recipe so many times for so many different things. It's perfect for unicorn-themed birthday parties, fun family dinners, and great for a unique and fun homemade gift idea as well.
If you're looking for a simple and delicious dessert recipe, don't miss out on this! It's a lot of fun to make and a lot of fun to eat!
Be certain to check out our Fun Unicorn Snacks to Make at Home.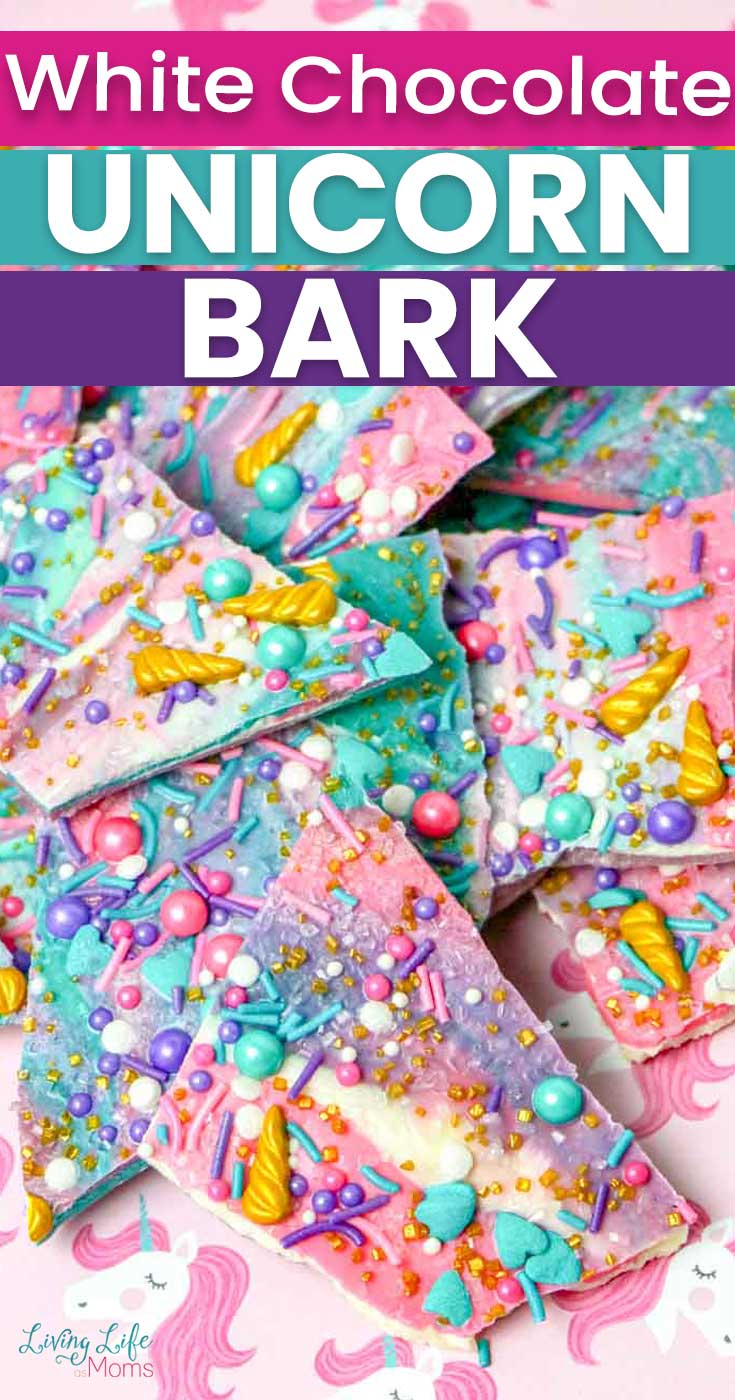 White Chocolate Unicorn Bark Recipe
The best part about this recipe is that it's just really fun to make. I love it because while there are steps to take to make this simple dessert, it doesn't have to look "perfect" to be perfect.
Concentrate on adding in the colors and sprinkles and sparkles and just letting it look wild and free. You can't mess up how it looks at all and I personally think that the brighter and crazier it looks, the better.
You can even add in other candy melt colors if you want to this White Chocolate Unicorn Bark Recipe. It's really up to you. I just love how the pink, purple, white, and aqua create that magical unicorn look.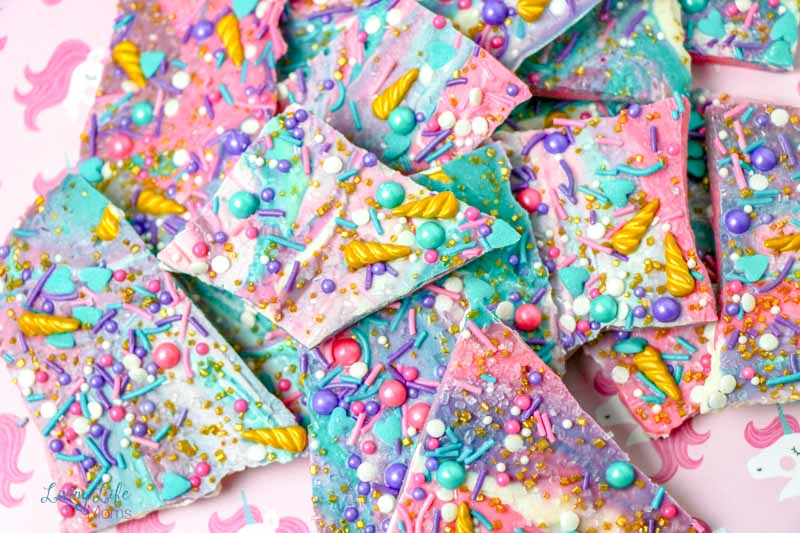 No matter how you create the fun colors or how big or little you break up the pieces, it's going to be perfect. As you can see, the pieces are meant to be all different sizes. (Just save the bigger ones for yourself!)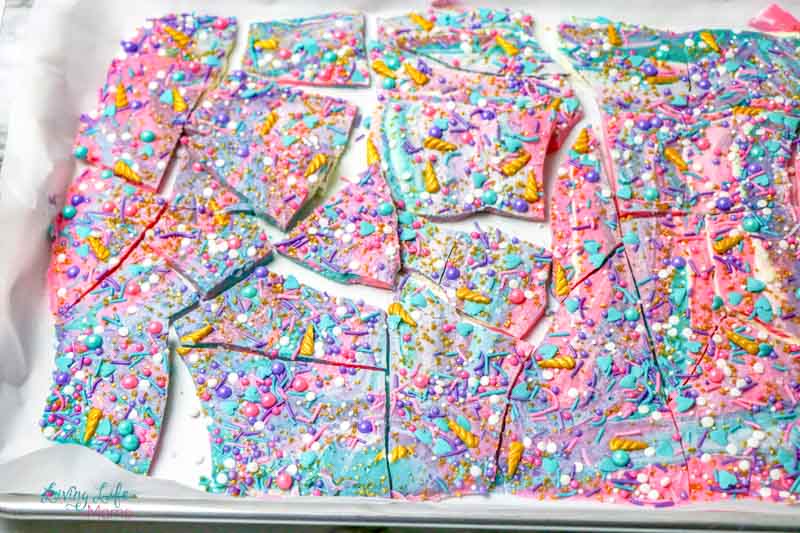 Ingredients needed for this White Chocolate Unicorn Bark Recipe
This recipe is simple and that means that you don't need a ton of ingredients to get started. Listed below are what you need:
Candy melts in assorted colors (I used white, pink, turquoise, purple)
White chocolate morsels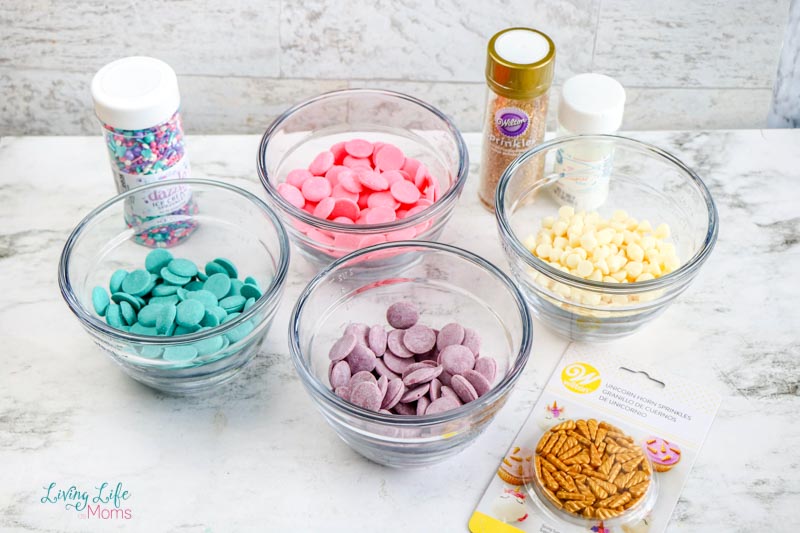 Tips for Making This White Chocolate Unicorn Bark Recipe
The big tip to remember when making this simple unicorn dessert recipe is that you want to melt the candy melts until they're smooth and creamy. This might take a few times in and out of the microwave but it's important for the texture of the bark.
Don't forget to stir between each interval because some of them might be melted even though they don't look like it. Stirring speeds up the process and helps make it smooth quickly.
Recommended Dessert Recipe Books
Do you want more dessert ideas? Grab these recipe books and start making your tasty desserts.
Dessert Boards: 50 Beautifully Sweet Platters and Boards for Family, Friends, Holidays, and Any Occasion
Le Cordon Bleu Pastry School: 101 Step-by-Step Recipes
Tasty Dessert: All the Sweet You Can Eat (An Official Tasty Cookbook)
Dessert Person: Recipes and Guidance for Baking with Confidence: A Baking Book
How to Cook That: Crazy Sweet Creations (Chocolate Baking, Pie Baking, Confectionary Desserts, and More)
FitWaffle's Baking It Easy: All My Best 3-Ingredient Recipes and Most-Loved Sweets and Desserts
How to thin out melted candy melts
If you're not crazy about the texture after melting the candy melts, you can add a little bit of vegetable oil and stir to thin in out. Just be careful not too add too much as you don't want it to become greasy. I prefer to use coconut oil over vegetable oil as it gives it a sweet coconut flavoring which is nice.
Have so much fun making this unicorn bark! It's beautiful, flavorful, and delicious! Make certain to store the pieces in an airtight container so that they're ready to eat and enjoy!
You can store them in the fridge if you want to but it's not required. I've even put them in the freezer and eaten them that way and I love them frozen, too!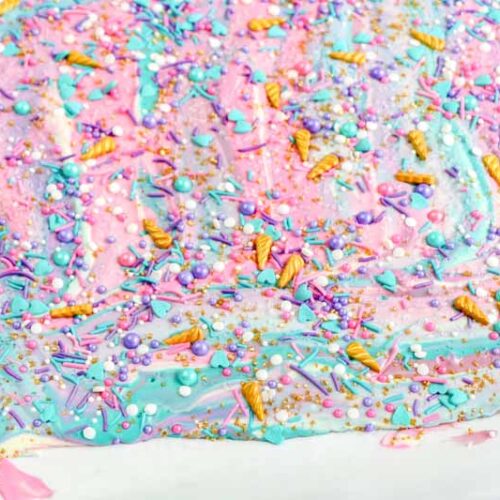 White Chocolate Unicorn Bark Recipe
You're going to love the flavor of this White Chocolate Unicorn Bark Recipe!
Ingredients
Candy melts in assorted colors (I used white, pink, turquoise, purple)
Unicorn horn sprinkles
Ice cream sprinkles
White chocolate morsels
Instructions
Put a baking sheet in the oven and warm it up.
Put each of the varied colors of candy melts into a bowl (different bowls) and microwave, stirring every 30 seconds until they are melted.
Don't burn. If the mixture is too thick, add in 1 teaspoon of coconut oil at a time and stir. Do not add water.
Take the baking sheet out of the oven and put parchment paper on it.
Once all the melts are creamy and melted, pour on the parchment paper and swirl using a butter knife. If the melts dry too quickly, you can heat the baking sheet on a stovetop burner on low heat for a very short amount of time.
While the candy melts are soft still, add the sprinkles.
Let dry and then break.
Recommended Products
As an Amazon Associate and member of other affiliate programs, I earn from qualifying purchases.
More Dessert Recipes