How to Make Fondant Unicorn Cupcakes
Planning a unicorn-themed event? Make fondant unicorn cupcakes as the highlight treat! It's easy and they are adorable too.
These gorgeous cupcakes are fun, easy, and adorable! When you use fondant, it's like a shortcut to some of the more complicated-looking designs out there. But knowing how to make fondant unicorn cupcakes doesn't require a culinary degree. It just takes a few simple tricks.
There are so many ways that you can use these Unicorn Cupcakes because everyone loves unicorns. I'm thinking birthday parties, baby showers, weekend sleepovers, or even just a fun after school snack. The options are endless when you're talking about great ways to make up these adorable cupcakes.
Need even more unicorn snacks you can make at home? We've got all the unicorn themed food you could want!
How to Make Fondant Unicorn Cupcakes
Unicorns are a huge trend right now for birthday parties, baby showers, and all kinds of special events. With the magic of a unicorn, you can share the wonder of celebration with everyone. And the fantasy of a magical unicorn world is so cute!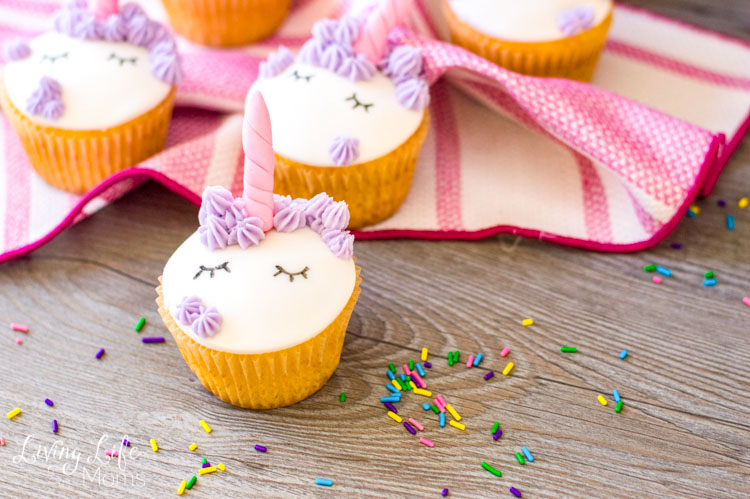 Remember to choose pastel colors, like pinks, purples, yellows, baby blue and mint green. But in all reality, the unicorns can be any color that you want. Leave it up to the kids and have them help in the fun.
Also, lots of sparkles, silver and gold elements will help create that fantasy atmosphere too. And if you use tissue paper, you can create the dream-like effect for decorating your unicorn-themed event.
The more whimsical and fun you can make these unicorn cupcakes, the better. These cupcakes were meant to "wow".
Recommended Unicorn Party Favors
You can't have fun with unicorns without adding some fun unicorn party favors for your special event.
So I love these unicorn headbands, backpacks, bracelets and stickers. And send your guests home happy with some of these unicorn pencils and notebooks in those awesome goodie bags!
Everyone loves some good unicorn swag and there is plenty of it out there to have on hand.
96 Pack Unicorn Party Favors for Kids, Unicorn Party Supplies Birthday Decorations with Unicorn headband, Bracelets, Rings, Stickers, Hairpin, Bonus Goodie Bags, Perfect Unicorn Gifts for Girls
CXWILL Unicorn Party Favors Bags 14 Pcs Drawstring Gifts Bags for Kids Party Decoration
24 Pcs Unicorn Multi Point Pencils
48 Mini Unicorn Notepad for Unicorn Party Favors Bulk for Girls Kids Toddlers Birthday Favor Spiral Notepads Notebooks
9 Pieces Colorful Unicorn Bracelet Girls Unicorn Bracelets Rainbow Unicorn Beaded Bracelet for Birthday Party Favors (Bead Style)
LPFEZRS 36 Packs Unicorn Galaxy Slime,Galaxy Slime, Party Favor for Kids Girls & Boys, Adults, Non Sticky, Stress & Anxiety Relief, Wet, Super Soft Sludge Toy
Recommended Baking Tools
This baking mat turns the ordinary baking sheet into a reusable non-stick and easy-to-clean baking surface.
Grab this cute silicone spatula for personal use or as a gift for your closest baking buddy.
If you want another easy but delicious cupcake recipe, these yummy funfetti cupcakes are what you need!
Recommended Cupcake Supplies
To make these fondant unicorn cupcakes, grab some of my favorite supplies. And I highly recommend getting a pastry mat for easy clean up! Also, these food coloring markers makes creating the unicorn look — the eyes and eyelashes, super easy.
For this recipe, you'll also need pink and white fondant, icing sugar, butter & milk for buttercream icing, and violet food coloring. And you can use this with your favorite cupcake recipe, whether it's from scratch or from the box.
Remember to let your cupcakes cool completely before icing. You don't want your unicorns to slide! If you try to use any of the frosting or fondant too early, it's going to backfire and cause a big mess. And that's the last thing that you want after all the hard work that you've done!
Bakerpan Food Coloring Markers, Fine Tip, Black, Set of 3 (Black)
Marcorex Extra-Large Silicone Pastry Mat with Measurements and Conversion Charts, Non-Stick Non-Slip, Fondant Mat, Cookie Rolling Dough Mat (X-Large (26
Satin Ice Baby Pink Fondant, Vanilla, 2 Pounds
Satin Ice White Fondant, Vanilla, 2 Pounds
Tate & Lyle Fairtrade Icing Sugar – 1kg (2.2lbs)
Warmparty Baking Cups Cupcake Liners, Standard Sized, 300 Count (White)
If you also have a galaxy lover, you have to learn how to make Galaxy Cupcakes!
How to Make Fondant Unicorn Cupcakes
Cook Time:
20 minutes
15 seconds
Additional Time:
20 minutes
Total Time:
1 hour
10 minutes
15 seconds
See how you can make these adorable fondant unicorn cupcakes, your party will be a huge hit!
Ingredients
For Cupcakes
1/2 White cake mix
Ingredients for cake mix - Eggs, milk, and oil
For Buttercream
2 cups Confectioner's sugar
1/2 cup soften unsalted butter
1 tbsp Milk
1 drop Violet food coloring
For Decorations
5 oz White rolling fondant
3 oz Pink rolling fondant
Black food marker
12 toothpicks
Instructions
Prepare cake batter according to box's directions.
Scoop batter into a muffin tin, lined with paper cupcake liners. Bake according to the package's directions.
Allow to cool completely before baking.
While the cupcakes cool, prepare the fondant pieces. Using a rolling
pin, roll out white fondant until it's about ¼ of an inch thick.
Using a cookie cutter that's about 2 ½ inches in diameter, cut out 12 white fondant circles.
Use black food marker to draw a pair eyelashes on each white fondant circle. Set aside.
Roll out 12 spheres from the pink fondant – about ½ an inch in size each.
To make the fondant unicorn horn: roll out one pink sphere into a strip, until it's about 4 inches long.
Form an arch with the pink fondant strip and twist. Press at the end.
Insert a toothpick at the bottom of each fondant unicorn horn. Set aside.
Prepare the buttercream: in a large bowl, beat together butter,
confectioners' sugar and milk with an electric mixer. Start on low and
gradually increase to high.
Once the ingredients are well-combined and form semi-stiff peaks, set ¼ cup aside in a separate bowl.
Color the remainder of the buttercream with a small drop of violet gel food coloring. Mix until completely tinted.
Scoop purple buttercream into a piping bag with Wilton tip #21 attached. Set aside.
Use an offset spatula to spread a thin layer of white buttercream onto each cupcake.
Place one white fondant circle on each cupcake.
Insert one fondant unicorn horn at the top center of each cupcake.
Frost each cupcake with purple buttercream as you please (around the horn, along the edge, dots at the bottom, etc.)
Serve and enjoy!
More Unicorn Recipes
Sally the rainbow unicorn cake by Taste