Don't miss out on these fun road trip printables! If you're excited to get out and take a trip, these printables need to be printed out and ready in your car!
Spring break and the summer months are the perfect time to travel as a family. But what tends to happen is that the kids don't like the idea of sitting in the backseat of the car literally counting down the seconds until the car arrives at the destination. "Are we there yet?" tends to be a common question that probably gets asked about 100 times per trip.
And as tiring as it is, there are ways that you can overcome this question and get the kids to focus on something else to help the miles pass by. Having fun printables on hand for the road trip is an easy way to pass the time and to have the kids engaged and learning as well.
I really dislike having the kids just stare at a screen during a road trip so if I can have printables such as these on hand, I'm excited to make it happen!
If you need more printables for your upcoming trip, check out my list of Travel Printables that will make your trip go smoothly.
Fun Road Trip Printables
The best part about these fun road trip printables is that they're geared towards everyone in the car. While there are some times when quiet is nice, other times fun laughter and family interaction can really help the miles to pass by!
All of these printables are great for a wide variety of ages to easily be a part of and do. I love that they have words and pictures on them which is super handy for children that can't quite read yet.
I also like to be active with the kids during our road trips, too. Even when I'm in the front seat and they're in the back, they can easily interact with me in a way that makes us all feel close together.
Be certain to check out our Free Travel Planner Printable as well.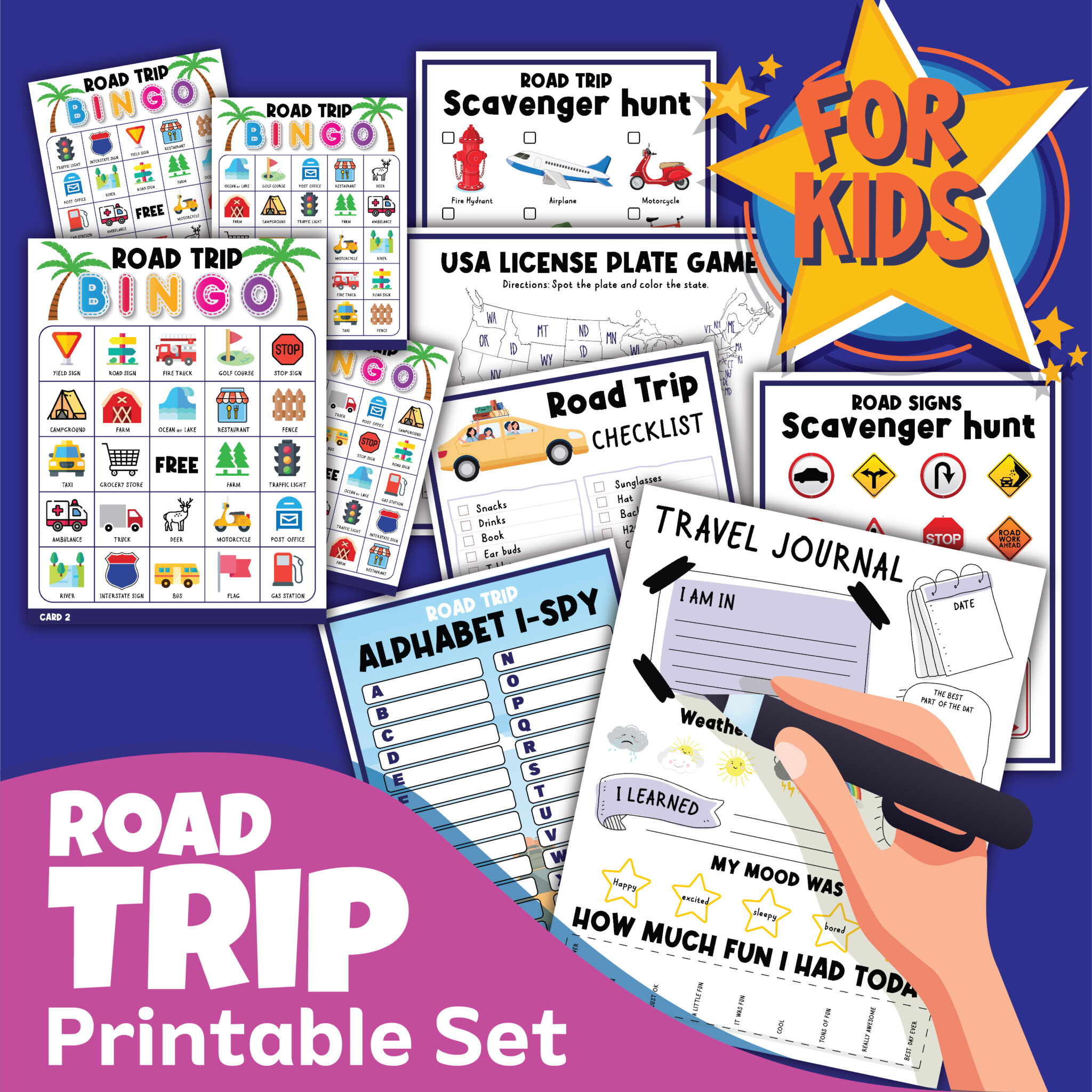 Recommended Travel Sized Games
Help your kids ward off boredom in the car with fun travel sized board games or activities that will keep their attention on your long drive.
Educational Insights Kanoodle Head-to-Head Puzzle Game for 2, Easter Basket Stuffer for Kids, Teens & Adults, Featuring 80 Challenges, Ages 7+
Connect 4 Grab and Go Game (Travel Size)
I SPY Travel Card Game for Kids, Entertain Children on a Long Road Trip with a Hunt and Seek Card Game
Melissa & Doug Travel Bingo
H2o Doodle Water Doodle Mat-Aqua Magic Mat-Doodle Board for Road Trip Activities for Kids-Water Drawing Mat-Aqua Mat for Color Wonder(Bugs Life P)
Gamenote Erasable Doodle Book – Kids Travel Activities Toys Portable Drawing Pad Painting Set for Airplane Car Game Road Trip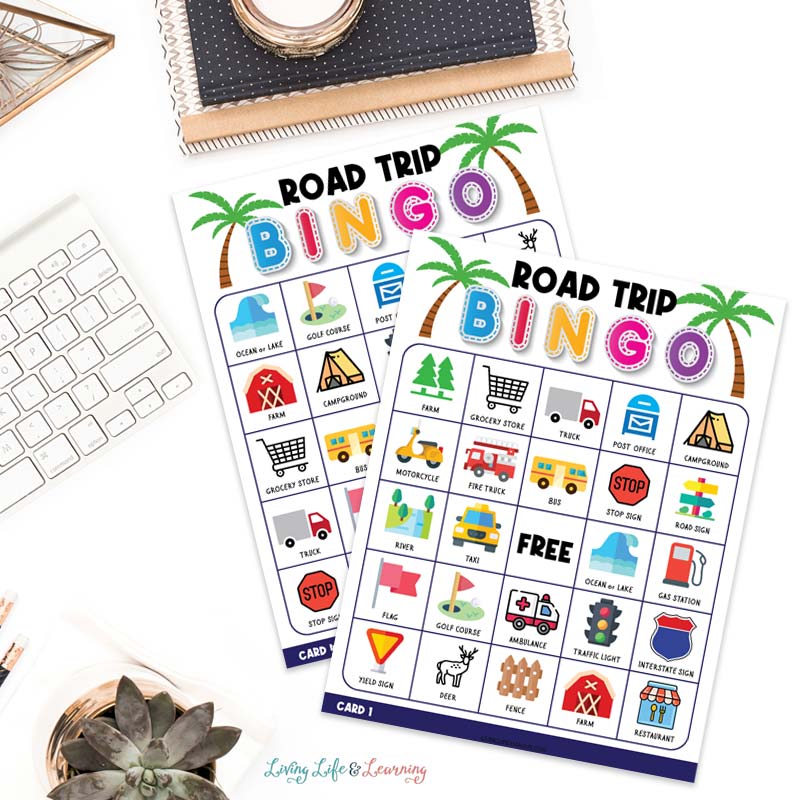 What is included in these fun road trip printables?
The whole point of these printables is to make certain that the kids have something fun to do during the road trip. With so many different printable learning options, there is certainly going to be something in these fun road trip printables for everyone to like!
Included in this road trip printable packet is:
Alphabet I-Spy
Road Trip BINGO
Travel Journal
Road Trip Scavenger Hunt
USA License Plate Game
Road Trip Checklist
This fun printable pack makes certain that everyone in the family is ready for an epic family road trip! And the best part about this packet is that no matter how long the road trip is, these are games and activities that will work no matter what!
Just be certain to keep your eyes on the wheel if you're driving in the car and be safe at all times.
Fun Ideas for a Road Trip with Kids
The other super fun idea for taking a road trip with kids is to have a few prizes ready and waiting in the car. I love to buy some new items like coloring books or a fun treat to have as "prizes" for the travels. This is also a great way to keep them interested and wanting to join in on the fun printables games.
Just make certain that you wrap them up like a gift so that it adds to the excitement and makes them want to open them and get them more!
Don't forget to grab your Fun Road Trip Printables below!
More Travel Tips
How to Travel with Kids Hassle-Free
Restaurant I Spy Printable by 3 Boys and a Dog
Road trip activities by Crystal and Comp