Does your head hurt from all the things you have to prepare to travel with your kids? We want to travel but we don't want the headache of planning and forgetting things behind. We also want to ensure that we all get to enjoy our mini-vacation, adults as well as the kids. Would I love to go somewhere with hubby and enjoy some romantic getaway, well, in our season of life, that's just not going to happen.
We're going to take one of those kid-friendly vacations and hope our kids have a blast. That means find a kid-friendly hotel, planning to visit kid-friendly attractions and packing all the right supplies.
Kid-Friendly Hotels
When looking for a hotel, we wanted something right in the downtown area. We decided to take a visit to the big city since it's not something we often do. We knew we were not going to do much driving so a hotel close to our desired amenities was our preference. We also wanted a hotel that had a pool, the kids love to swim so it's our way of getting all of that excess energy out of them.
As a family of 5, we also had to find a hotel that would accommodate us in one room. That's a rare option since we usually have to look for two rooms for our family and that doesn't work for us.
Luckily we found a hotel that had a suite so we could all be in one room. There was a king size bed and a double fold out couch that allowed all of use to room together.
There was a video game console to play games and watch movies, not that we had time for that. They also left the kids a giant bowl of popcorn on the second night which was a nice treat for the kids.
Things to Pack
I know we have our basic list of necessities that we all need but you also need those things that you just won't have access to on the road.
Here's a list of things you need.
several pairs of clothes including sweaters, those who are in potty training stage or under 5, I always have an extra set of clothes because we always seem to end up with stains or in case of accidents
toiletries – toothbrush, toothpaste, lotion, face wash, kids' shampoo (not a fan of hotel toiletries for the kids), makeup, deodorant
plastic bags – for garbage or dirty clothes
swimsuits
slippers for the hotel or swimming pool
bedtime necessities – if your kids need their stuff animals at night
stroller or baby carrier depending on your child's age
books
electronic devices for long rides
Find Kid-friendly Attractions
During our visit, we took the kids to the Royal Ontario Museum and the Ontario Science Centre. They were both busy and tiring days but we were able to head back to the hotel in the evening to wind down and relax. The ROM is one of our kids' favorite destination, it's filled with hands-on kids exhibits about history, animals, and dinosaurs. There's something for everyone here. My oldest really enjoys the rocks and minerals exhibit.
If you're in Toronto, you should definitely visit the science center with your kids as well. There is a circus exhibit there and my son loved trying to balance on the "tightrope" while holding the bar. I'm told it's very heavy. We were also able to catch a show in the planetarium, it's catered to the children age 5 and up. My daughter was not very interested in the presentation and let us know 5 minutes into it that she wasn't happy about it. She was a trooper though and stuck it out. My boys really enjoyed it though.
I think any family travel has to involve kid-friendly attractions or else they end up bouncing off the walls in the hotel. I took my daughter to the hotel gym and she was ready to workout with me. With the huge windows in there, it was so bright and welcoming, she didn't want to leave, she just clung onto this ball for dear life.
Because Friday night was so tiring, we ended up having fast food. However, we vowed not to do so the next day, so we found a wonderful restaurant for the whole family. My kids pigged out on burgers, chicken wings, and springs rolls.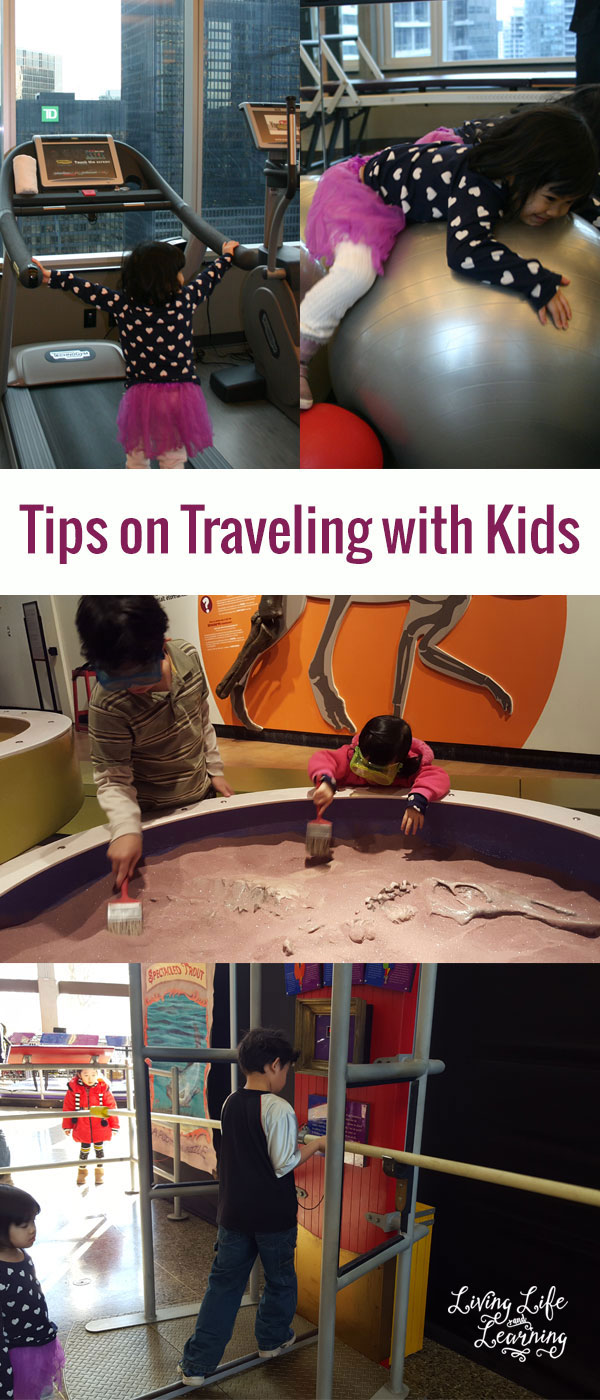 Pack an Emergency Bag
I had a small bag that I carried around with me while I was traveling in addition to my purse. This way I could grab it quickly as we were in and out of the hotel and I didn't really need to worry about it and I knew it had everything I needed. When you're traveling with kids, kids can easily get tired and hungry at times that you may not be ready to have a meal just yet so I had a bag of goodies.
My emergency bag had were packed with these:
hand sanitizer
travel essential oils pouch
diapers
water
snacks
extra pair of clothes for my youngest
socks
Things NOT to Do
There are just some things that you can't do as a traveling family. I'm not able to experience fine dining unless they have a kids' menu. My kids eat like there's no tomorrow. My teenager is an endless pit, I can't imagine how much our bill would come to in order to fill him up.
We can't do long romantic walks, or any kind of walks together. Someone's feet always hurt, then people don't want to walk on their own even though they are well beyond the age of being carried. Someone doesn't want to be in their stroller but would rather push it and ram it in your legs from behind. It just doesn't work for us.
We can't do movies, with a newly turned 4-year-old, unless it's a super engaged cartoon, she's going to end walking all over that movie theater and yelling at me about the movie or telling me she needs to leave for an hour.
It was a wonderful experience and my kids are already asking to go back. I'm not looking forward to unpacking but it will be nice to return to our regular routine.
Get Weekly Updates
Taming the chaos of motherhood -
Subscribe and get a daily schedule printable