Magical Unicorn Treasure Hunt Printables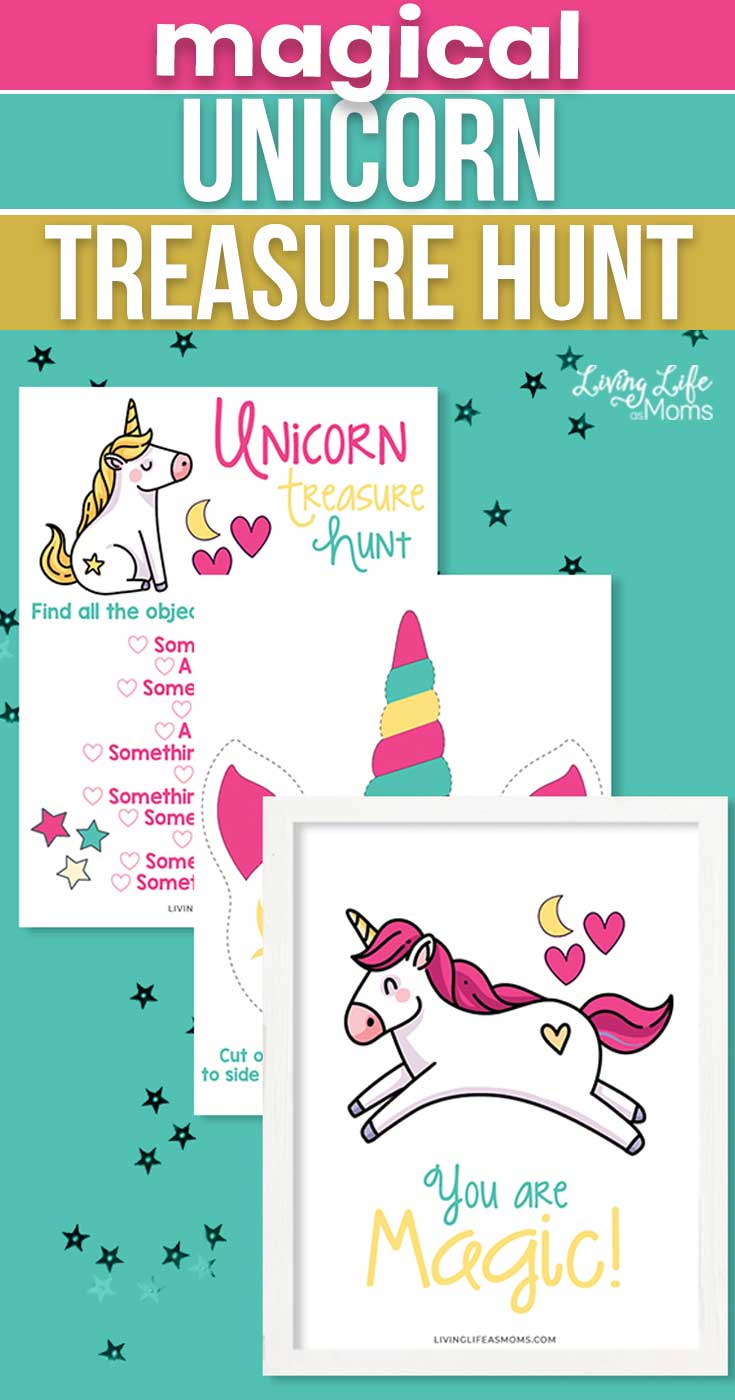 Couldn't we all use a little bit more magic in our lives? This is what these Magical Unicorn Treasure Hunt Printables are all about! Because when it comes down to it, no one is ever too old to stop believing in the magic of unicorns.
And even those these unicorn printables might be geared towards the kids, it doesn't mean that you can't jump right in and join in on the fun, too. There is always room for more helpers in a treasure hunt, right?
While these unicorn printables are great for a quiet weekend or evening at home, you can also easily use these as an awesome addition to any unicorn birthday party as magic-themed party as well. And the best part? They're 100% free for you to print and use! It just doesn't get much better than that!
If you're looking for something fun that the kids are certain to love, don't miss out on these fun unicorn activities. Make certain to also check out our Fun Unicorn Snacks to Make at Home, too. Because they're certain to get hungry after all of these fun activities.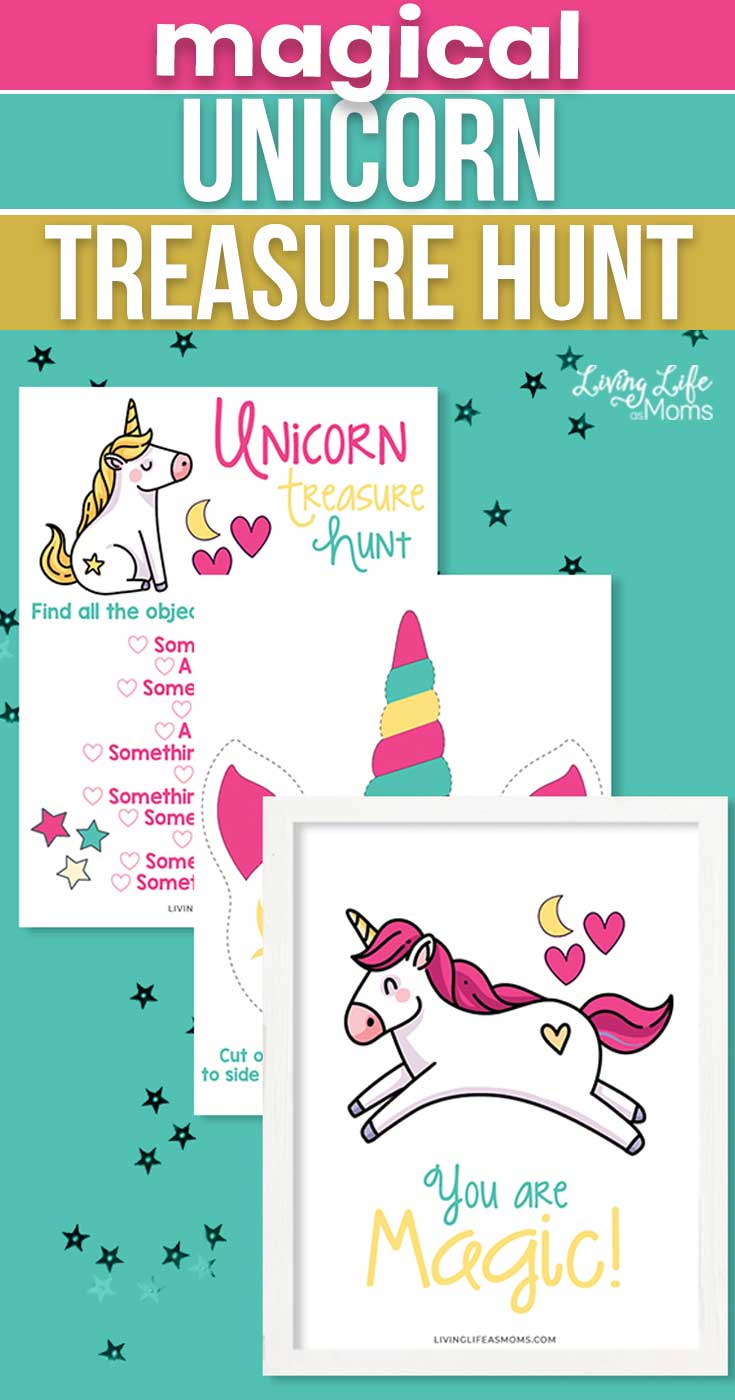 Magical Unicorn Treasure Hunt Printables
We're big fans of unicorns in our house. So much so that we pretty much have some sort of unicorn activity or snack every week of the year. I also really appreciate unicorns as well because they really do bring the kids a lot of joy and happiness.
It's amazing to be able to step back and see the world through the eyes of the kids. When they believe in magic, I believe in magic. And during this time of year, we could also use a bit more magic and happiness in our lives.
This is just one of the reasons that we have fun with these free unicorn printables. Not only does it get us up and moving around the house, but it also gives us a fun unicorn mask to print out and wear and a super adorable unicorn printable to frame and hang up on the wall.
And if I have the option to wear a unicorn mask to make my kids smile for just a few moments of time, then hand me a pair of scissors and call me a Unicorn because that is something I'll gladly do over and over again.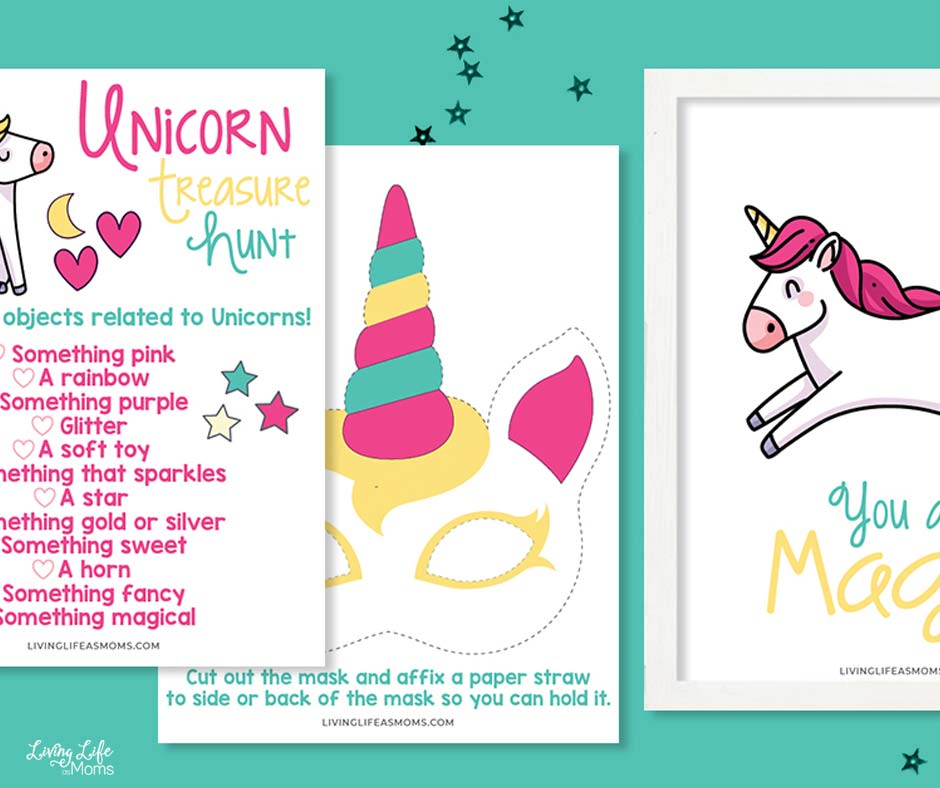 The great thing about most of the printables that I offer is that I make it super simple for you to receive them. There aren't a bunch of hoops that you have to jump through and you don't have to pay a bunch of money either.
This is because I believe in providing family-fun activities that will encourage confidence and creativity in kids. And since my kids tried out this printable pack and loved it, I'm so happy to be passing that on to you and your family as well.
Don't forget to claim your Magical Unicorn Treasure Hunt Printables below! It's as easy as clicking that button to get started.
Fun Ways to Use This Magical Unicorn Treasure Hunt Printables
If you're anything like me, once this printable is printed you're going to be giving it to the kids right away to do. Just keep in mind that you can easily break it up so that you do the treasure hunt one day, the mask the next day, and help them clean up and decorate their room with the cute Unicorn printable another day. The options are there for you to have fun with!
Are you looking for some outdoor activities for your kids to do this summer? Try this Outdoor Summer Challenge for Kids and get them busy, active, and learning.
More Unicorn Activities for Kids
If you want even more unicorn fun, I've got you covered with these other simple unicorn activities and ideas.
DIY Unicorn Bath Bomb Tutorial