DIY Unicorn Hair Bow Holder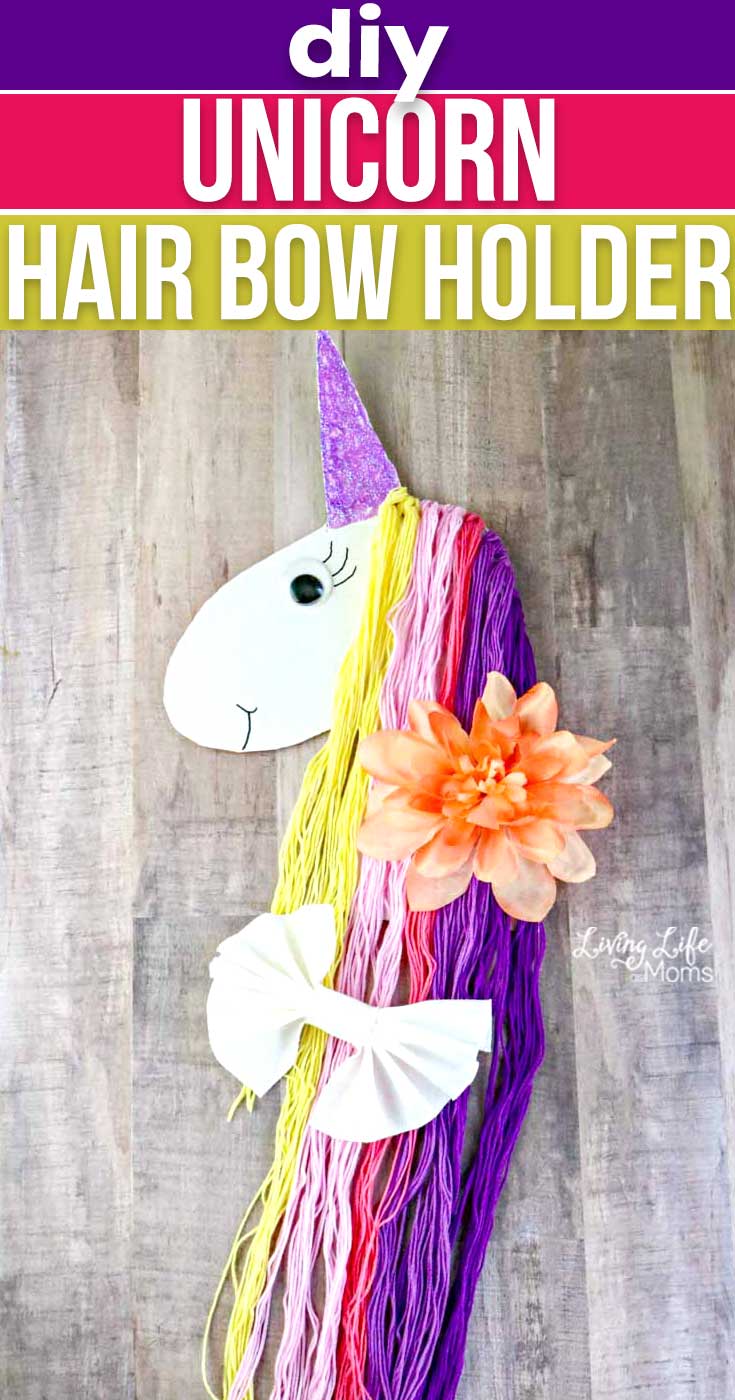 If you have little girls, chances are you have tons of hair bows all over the house. If you could use a cute way to keep them all in one place to make it easy to find them, then this DIY unicorn hair bow holder is the project for you! Not only would this go perfectly in any unicorn-themed room but it's just such a great way to keep all those hair bows and holders up and off the floor.
I can't tell you how many I've stepped on or lost or probably vacuumed up somewhere along the way! Thankfully this unicorn hair bow holder is a simple project that you and your daughter can easily do together!
If you're a fan of all things unicorn, make certain to check out these DIY Unicorn Glitter Ornaments as well! They're another great unicorn craft that are so much fun to make!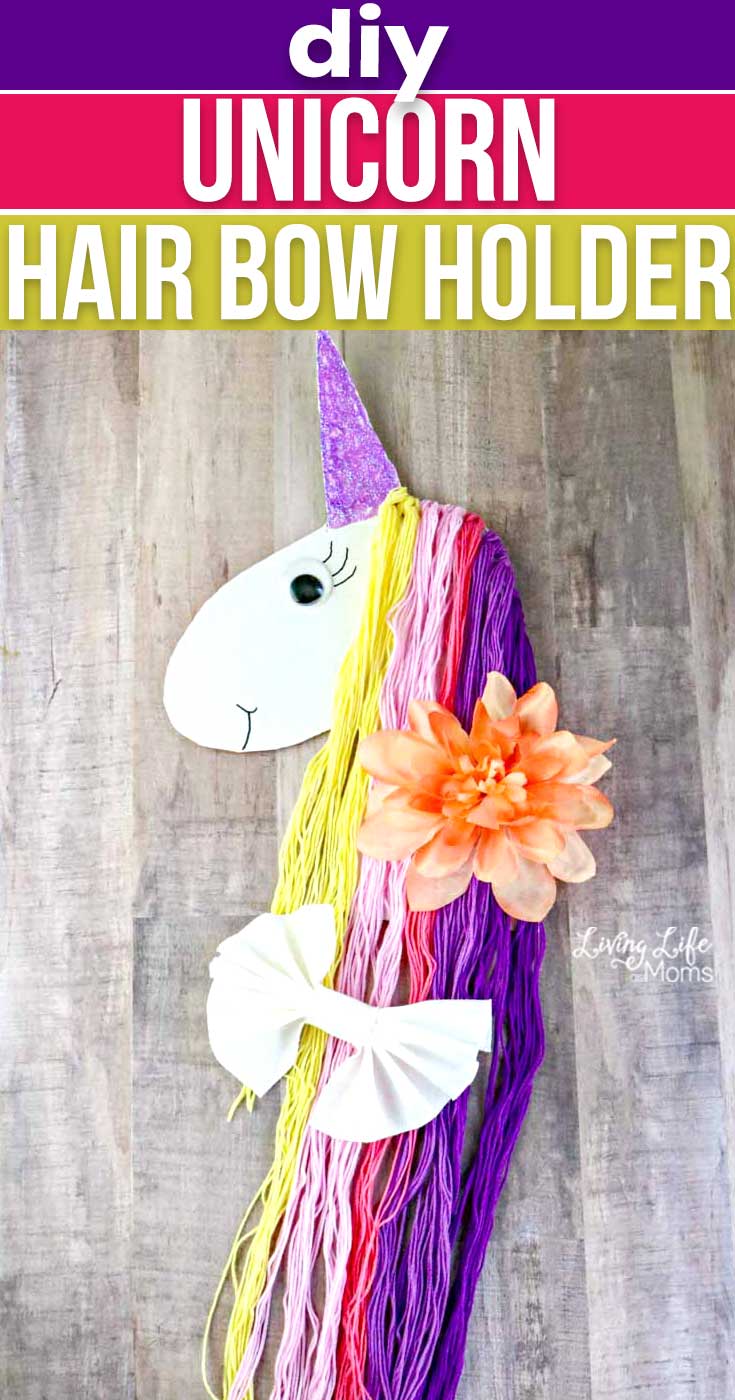 Rainbow Hair Bows and Clips
I'm not gonna lie…I'm pretty much obsessed with this adorable rainbow hair look that this unicorn has going on. It's okay to have this hanging up in my room too, right?
I love that it serves the function of having the hair bows up and off the floor while it also adds some super fun pops of color to the room as well.
It's also a fast and simple project that gave my daughter a ton of smiles and confidence as well. That's pretty awesome and priceless in my opinion.
Unicorn Snap Hair Clips 6Pcs Little Girls Toddlers Kids Hair Clips,Unicorn Party Birthday Gift

6Pcs Siwa Hair Bows for Girls,5 Inches Hair Bows for Girl Grosgrain Ribbon Hair Barrettes Accessories for Toddler

Glitter Unicorn Hair Bows For Girls Boutique 3in Hair Bows Alligator Clips For Girls Children Gift Set Of 8 (Hair Clip-1)

Girls Unicorn Hair Bows with Alligator Hair Clips Cheer Bows Hair Accessories for Kids Toddlers 6 Packs

20 Pieces Baby Girls Hair Bows Clips Hair Barrettes Accessory for Babies Infant Toddlers Kids in Pairs

Bevan Cute Bow With Rainbow Wigs Barrettes For Girls Teens Toddlers Kids Party Birthday Celebrations,Mixed 3 Colors (F0004-1)

As you can see from the pictures it's a pretty straight-forward craft but there are a few things that you can easily do to change up the look. While the hair color is supposed to be rainbow, this is one thing that could be changed up if you want it to be. You can change up the order of the colors as well.
You can also draw the face on the unicorn if you don't happen to have any googly eyes on hand, although I'm just such a big fan of how they look!
Supplies Needed To Make This Unicorn Hair Bow Holder
Scissors
Pen
Black Permanent Marker
White Cardboard
Philips Screwdriver
Glue Glitter
Googly Eyes
Yarn in various colors
How To Make This Unicorn Holder
The main thing to keep in mind is that you need to cut out the unicorn head shape and horn. Don't forget the unicorn horn!!
Once you have that done you can glue on the eye, draw on the smile and put the glitter on the horn.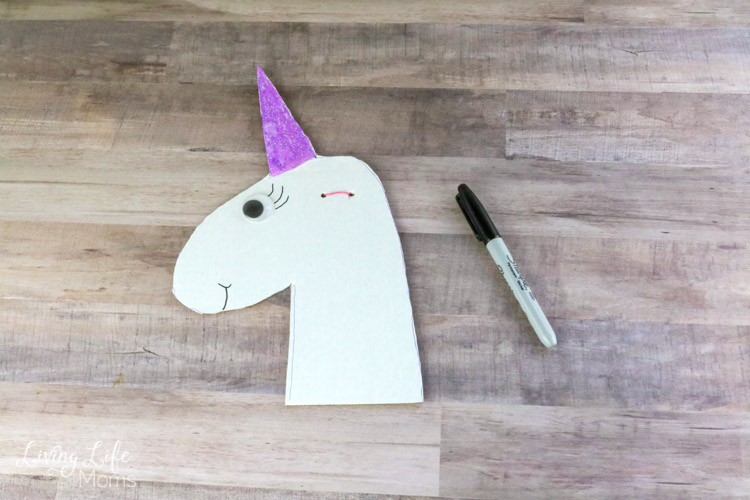 We used purple glitter for this but you can really use any color of glitter that you want to. It's totally up to you in what color you choose.
Tips For Making This Unicorn Hair Bow Holder
Even though this is a super simple project to do, make certain that you're leaving the yarn long enough so that you can easily clip the hair bows onto it. (and trust me, you're daughter is going to be tempted to cut the hair shorter and shorter "just because"!)
Since this is a simple project, make certain to let your child help out as much as possible. This helps to build their confidence as well as creative skills, too.
Supplies:
Printable Template (or you can freehand draw it)
Scissors
Pen
Black Permanent Marker
11″x9.5″ White Cardboard (I cute from presentation board from Dollar Tree)
Small Phillips Screwdriver
Glue
Glitter (used purple)
1 Large Googly Eye
9 skeins Embroidery Floss (different colors)
Small piece of Embroidery Floss
Premium 105 Embroidery Thread Skeins – Friendship Bracelet String – Perfect Embroidery Floss Kit for Beginners – Set of 10 Gold Eye Needles and 1 Threader Included – DMC Color Card Included

16Pcs Giant Googly Eyes – 3 Sizes Large Googly Wiggle Eyes with Self Adhesive for Halloween Christmas Decorations and Craft Making (2, 3, 4 Inch)

Elmer's 2024016 Elmer's Halloween Slime Kit, Glitter Glue, Glitter Pens & Magical Liquid Activator Solution, 8 Count

That is it! You are done with your DIY unicorn hair bow holder. Simply hang it from the thread on the back and attach the bows to the hair to store and display them.
DIY Unicorn Hair Bow Holder
This DIY hair bow holder is a great way to get the hair bows up off the floor!
Materials
Scissors
Pen
Black Permanent Marker
White Cardboard
Philips Screwdriver
Glue Glitter
Googly Eyes
Yarn in various colors
Instructions
Cut out the unicorn template.
Trace template onto cardboard using a pen.
Cut the cardboard on the traced templet lines.
Add glue to the horn area and cover in glitter. Allow it to dry.
Using the small screwdriver make two small holes in the cardboard about 2 inches down from the top of the neck area of the cutout. Then push the small piece of string through the holes using the screwdriver. Tie in a knot in the back and trim off any extra.
Glue the eye in place just slightly in front of the horn and down just a little.
Use the marker to draw 3 eyelashes above the eye and to make a smile on the lower area.
Using the screwdriver make 9 small holes starting at about the center of the horn and work your way down the side keeping the holes about a half-inch apart. You want them to be just below the edge but not so close that it rips the edge.
Stretch each of the colors of floss all the way out. Then fold it in half 4 times. Using the end of the folded floss that does not have the loose ends on it, twist it slightly then push it through a hole using the screwdriver.
Then make sure to open all the loops from the area you just pulled through and run the other end of the floss through the loops and pull until snug.
After you have all the thread added to the cardboard you need to cut the loops at the end so they are all loose.
More Unicorn Activities
DIY Unicorn Sugar Scrub Recipe
Make your skin feel amazing by trying this simple recipe.