How to Make Unicorn Donuts
Are you ready to learn how to make unicorn donuts? This sweet treat is one of the best ways to wake up the kids and start the day. If you're looking for a simple donut recipe, this one is going to be a hit!
We've obsessed with anything unicorn in our house. No matter if we're talking about unicorns, dreaming about unicorns, or playing with unicorns, there is literally always something unicorn going on.
This is why it just made sense to whip up this fun unicorn donut recipe. The kids had a blast making them and I loved that they loved eating them. Check out our other Unicorn Snacks to Make at Home as well! You can never have too many unicorn snacks and treats.
How to Make Unicorn Donuts
I'm really quite a fan of donuts. And it doesn't matter what type of donuts either. Chocolate, vanilla, cake…I'll eat them all. I also really like long john donuts and any donuts that have filling, too.
Donuts are a fun treat that you don't have to do all the time but every once in a while, they're the best! If you're a fan of eating sweet in the morning, I can't recommend this simple donut recipe enough!
Just gather up the simple ingredients listed below to get started. They're so fun and simple to make!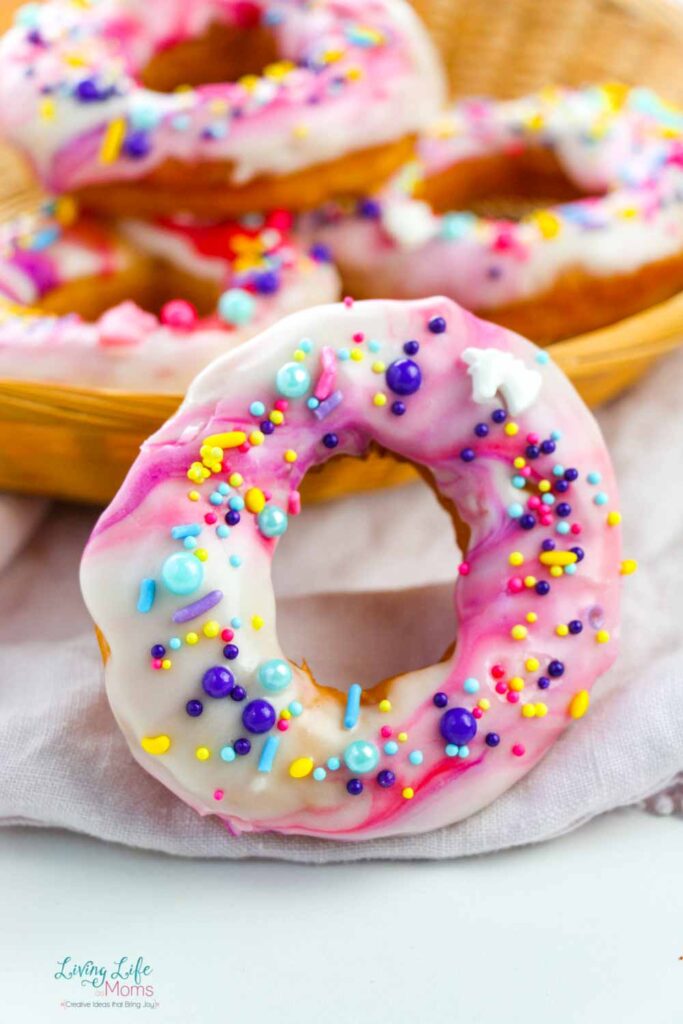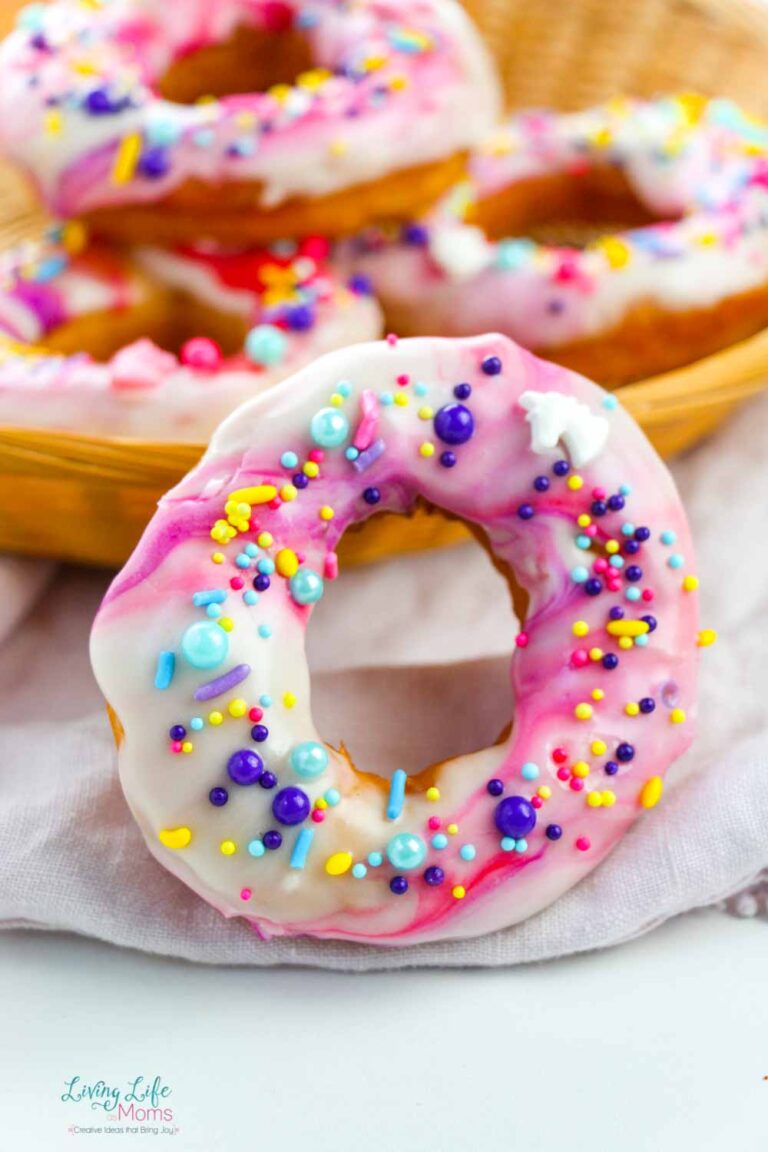 Ingredients Needed to Make Unicorn Donuts
You're not going to believe that this unicorn donut recipe is so simple! Just gather up these ingredients to get started.
premade biscuits
powdered icing sugar
milk
vanilla extract
pink/purple food coloring
unicorn sprinkles
Make sure to scroll down to the bottom of the recipe to get the full measurements for these easy donuts.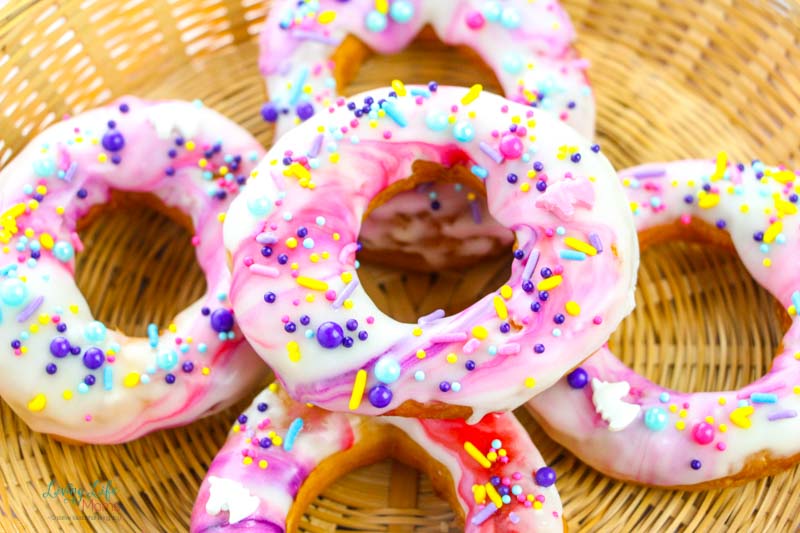 How To Make Unicorn Donuts
Did I mention that this is a super fun recipe to make as a family? If you're looking for a reason to get in the kitchen together, let this be the reason to make it happen.
You'll find out that once you make these easy donuts once, you're going to want to do it over and over again.
As you can see by the pictures below, it's such a simple donut recipe to do! Who knew that making fried donuts didn't have to be a long process at all?
As you're making your donuts, pay attention to the process. Since you're dealing with hot oil, you want to be really careful so that you're taking care of that part so that the kids don't get burnt!
Once the donuts are fried to perfection, it's time to give them that unicorn look. This is such a fun part of the recipe and one that the kids could easily take over and do!
The cool part is that each and every donut is going to look completely different from one another. If the kids wanted to make their very own donut to eat, this is the time to be creative and let it happen.
How do I know when the donuts are done frying?
The best way to know that the donuts are done frying in the oil is to look at the coloring. Once they start to turn a golden-brown, it's a good sign that they're done and ready to be pulled.
They'll actually look a little lighter in the oil than they will once you take them out and let them cool. Typically, you'll want to fry them on each side for about 1 minute each as an indicator of how long it will take.
This donut recipe will take about 4 cups of oil for frying. You will want the oil to be about 4 inches in depth in the pan that you're using. Any type of oil will work such as peanut, canola, or vegetable oil.
How long does the glaze take to harden?
The homemade glaze is the perfect topping of these donuts! It's fun to make and really delicious but it does take about 30 minutes to firm up once you add it to the top of the donut.
And if you have some leftover, I always use it to top cookies or something fun like that, too!
As you can see, this donut recipe is great for a fun treat at home. Let the kids jump in and help out when adding on the glaze and sprinkles and make it the perfect donut that they'll love to eat and enjoy!
Tips for Frying Donuts at Home
Even though this recipe is pretty straightforward, there are a few tips to keep in mind. Since I've made these donuts many times before, here are some things that I have learned along the way.
Make sure to let the excess grease drip off. You are going to want to put them on a cooling rack so that they aren't sitting in grease. This will get rid of the extra grease and make them not soggy at all.
If you're not a fan of adding on the glaze, you can skip and try frosting or whipped cream instead. As long as you add something on top that the kids like and that will hold the sprinkles, you can't go wrong! And if you want to add powdered sugar only – do so! You won't be able to stick on any sprinkles but they'll still taste great!
Store any leftover donuts in an airtight container. You don't have to keep them in the fridge but you do need to keep the air out of the container.
If you want to freeze these donuts, freeze them once they're fried and before you add on any glaze. You can always make the glaze fresh when you unthaw and reheat them later.
Have so much fun making this simple donut recipe! It's a great way to give the kids a fun treat to start the day or the perfect dessert for a unicorn birthday party! The kids will love being a part of the process to make these donuts at home!
More Unicorn Recipes
Unicorn Donuts
This fun recipe for donuts is perfect for unicorn fans!
Ingredients
1 can of biscuits
1 1/2 cups powdered icing sugar
2 T milk
1 tsp vanilla
purple/pink food coloring
1/4 cup unicorn sprinkles
Instructions
Put a cooling rack on top of a cooking sheet and set it aside.
Put the oil in your pan over medium heat. Make sure to bring the temperature to 350 degrees. Use a candy thermometer to test the temperature.
Cut a hole in the middle of the biscuit and stretch the dough to make them wide.
Once the oil is ready, fry the donuts for 1 minute on each side.
Put the fried donuts on the cooling rack to cool and get rid of the extra oil.

Don't forget to turn off the heat on the stove!
Add the sifted powdered sugar into a bowl.
Whisk in the vanilla and milk
Put in one drop of purple and pink food coloring in different areas of the glaze. Take a knife and swirl them together.
Dip the donut into the glaze then set it on the cooling rack. Add the sprinkles on asap.

Let them harden for about 30 minutes. Enjoy.

Notes
This donut recipe will take about 4 cups of oil for frying. You will want the oil to be about 4 inches in depth in the pan that you're using. Any type of oil will work such as peanut, canola, or vegetable oil.