Fun Gratitude Journal for Elementary Students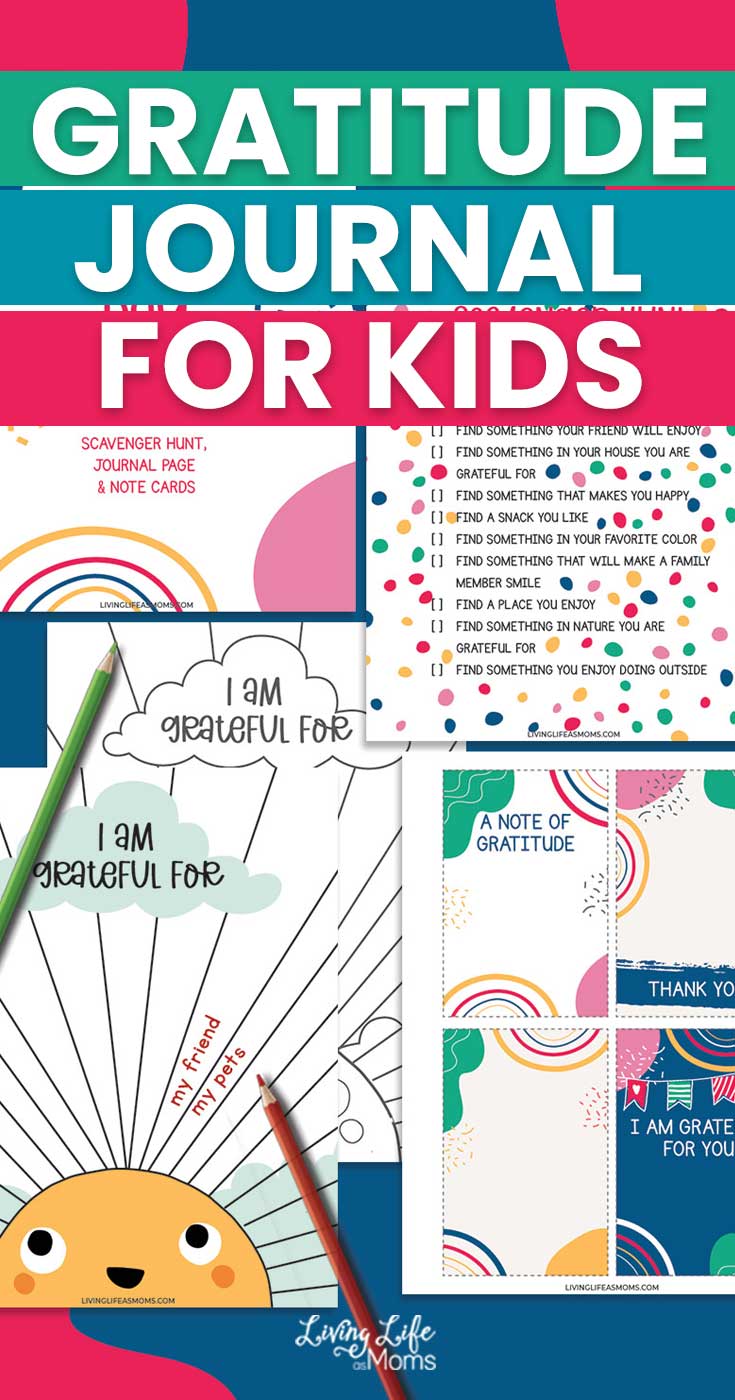 Gratitude Journal for Elementary Students is a great way to help your child be thankful and learn a bit more about gratitude. If you're looking for a fun way to talk to the kids about the importance of gratitude, this is the perfect way to do just that!
Gratitude is something that can be talked about and done, all year long. Even though we tend to ramp it up a lot over the holidays, there are so many chances throughout each and every day to actually talk about and think about gratitude more.
This Gratitude Journal Printable for kids is a great way to help them think about ways that they can find things to be grateful for!
Make sure to check out my Gratitude Journal Printable as well for even more gratitude fun.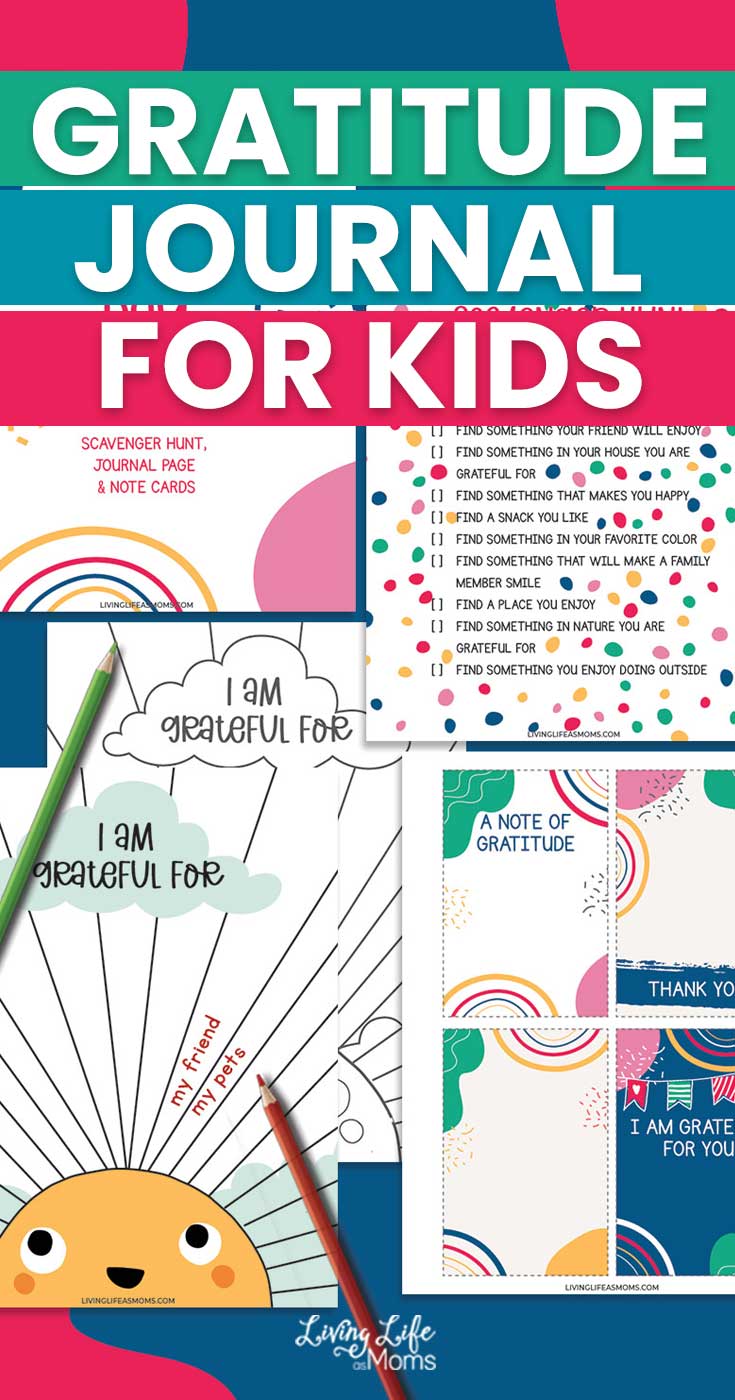 Gratitude Journal for Elementary Students
Being a parent means that we're always finding ways to talk to the kids about slowing down and enjoying life. And to be honest, that seems to get harder and harder to do with all the games and technology that are constantly at their fingertips. But one thing is for certain – kids know about gratitude and what it means but they just might be needing a reminder here and there – as we all o!
This gratitude journal for kids is a great way to have them think about all the things in their life that they're grateful for and helps them remember how great life truly is.
Even though this is a journal for kids, adults can actually use this as well as a simple way to slow down and write down what they're grateful for, too. The best part about this is that it can mean something different for each person who is filling it out!
We can all be grateful for totally different things!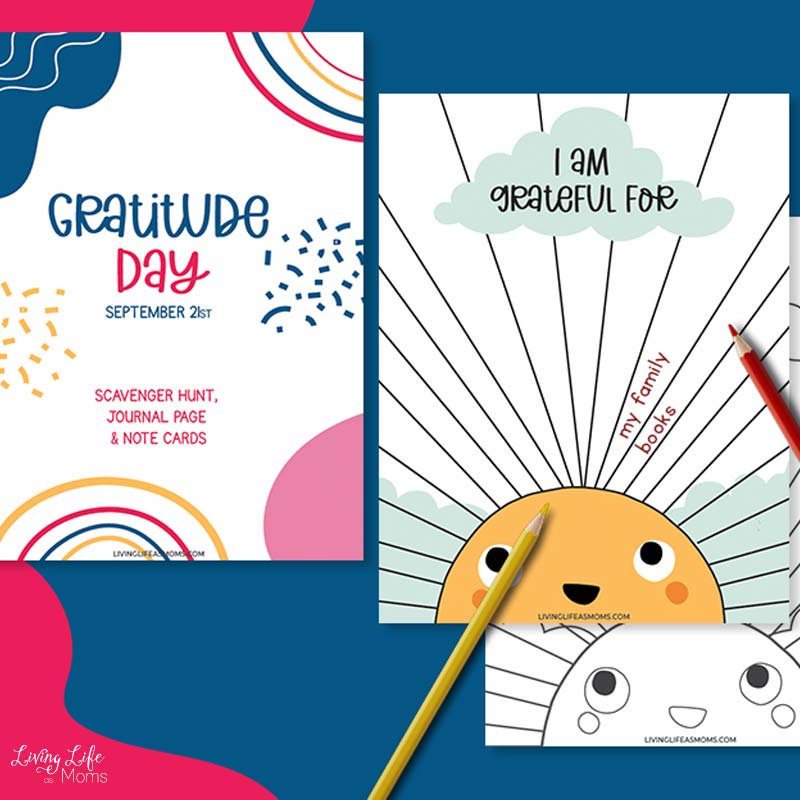 What is included in this Gratitude Journal for Kids?
This journal is all for them to have fun ideas of things to be grateful for. There are several pages for them to explore and make their very own.
Some of what is included are:
gratitude scavenger hunt
I am grateful for list
a note of gratitude
thank you notes
And this is just to get their brains working. Once they start on their journal, they may think of even more ways to show and share gratitude with others.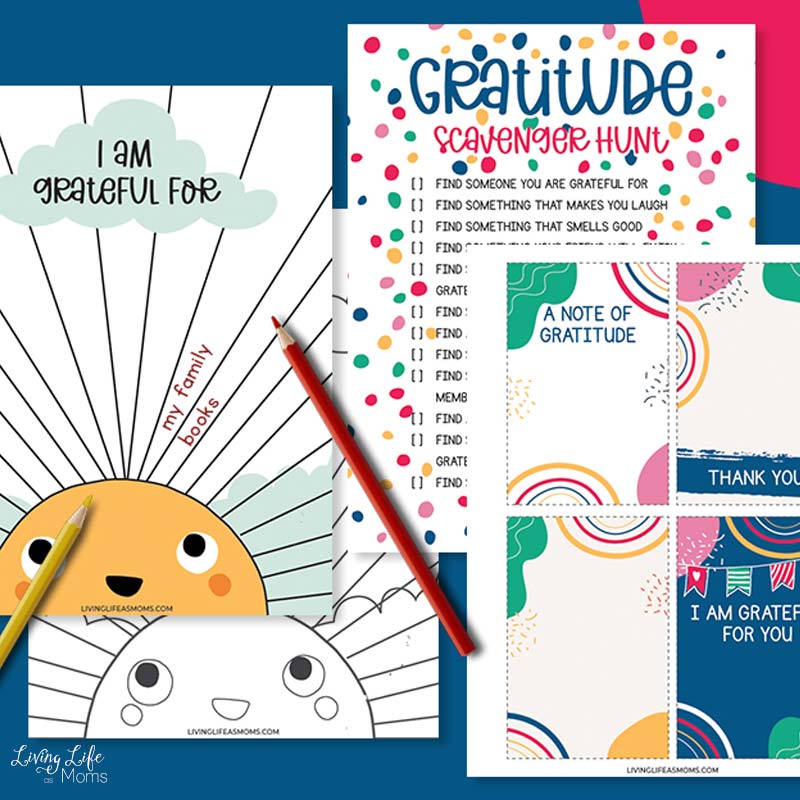 What are ways to show gratitude?
This is actually something that we talk a lot about in our house. Being grateful is something that we try to show each and every day.
That doesn't mean that some days aren't harder than others but at the end of the day, we all do our best to remember the positive and block out the negative.
If you're wanting a few fun ways to show gratitude, use this simple list as ideas and branch off and add some more.
Tell someone you're grateful for them
Draw someone a picture
Write thank you notes to your family and friends
Make a gift and deliver it to someone else
Bake a homemade treat and surprise someone
Do the chores in the house that are ones that no one wants to do
Save the last cookie for someone else
Make your bed without having to be asked
Clean up your room as a surprise
Eat all your dinner without asking for dessert
Help wash the dishes and put them away
Tell someone that you're thankful for them
Look at someone and just smile
Open your ears and listen to someone when they're talking to you
Offer a helping hand
Give someting to someone that needs it more
Do someone nice for someone without expecting anything in return
This simple list can be done by kids and adults and are a great way to show people that you're thankful and grateful.
Why show gratitude?
Why not? When you can show someone gratitude, it shows them that you're aware and thankful for them and what they're doing.
I tell the kids that being grateful is a great way to show someone that you're appreciative of them as well. We talk about different things that happen throughout the day and it's a fun way to slow down and highlight the good.
I tell the kids that I'm grateful for them because they help out during the day around the house, shower me with lovely smiles, do their best during school, eat up their veggies, and are truly the light of my life.
They like to tell me that they're grateful for me making dinner, picking up after them, feeding them and clothing them, and driving them around.
We're also grateful that we're a team – we work together daily to keep putting our best foot forward.
Don't forget to print out your gratitude journal below. This is a great activity for the kids so that they can slow down and enjoy their day and bring to their attention all the good things happening in their lives.
Gratitude Scavenger Hunt
You'll also notice that this journal has a scavenger hunt for the kids to do as well. This is a fun way for them to find things that they're grateful for and talk about them even more!
Feel free to add to the scavenger hunt so that the kids can find even more great items, too. This scavenger hunt is a mixture of things, feelings, and objects which makes it that much more fun!
More Gratitude Printables
Don't forget to check out the rest of my gratitude printables.
15 Free Gratitude Printables – These printables are great for printing out and having them as a reminder that life truly is wonderful!
Unicorn Gratitude Journal for Kids Printable – Combining this journal with unicorn fun is a great idea. Kids love all things unicorn!
Floral Gratitude Journal Printables – The look of this floral jounral means that it might be perfect for adults as well.
Gratitude Journal Printables for Kids – You can never have too many printables for the kids to have and use.
100 Gratitude Journal Prompts by Confessions of Parenting