3 Totally Simple Happy Planner Habit Tracker Ideas
I want to show you three Happy Planner habit tracker ideas that I've started since using my Happy Planner. They're super-easy and really help me keep my habits and daily "to-do's" on track!
Since my Erin Condren planner ended in July, I just started testing out the Happy Planner, and I'm digging it! I bought an 18-month dashboard layout and also an 18-month color block layout (they were on sale at Michaels).
If you've been following my blog, you'll know I don't normally use stickers or decorating. I like to have plenty of room for writing.
But, the Happy Planner has so much room and lots of social media inspiration, I had to try out their stickers for myself! So, I got the Color Story, Mom, and Budget sticker packs to try.
Right now, I'm tracking THREE habits in my Happy Planner:
my daily goal of writing 500 words per day,
Our family's daily cleaning schedule, and
my daily brush lettering practice (which is going horribly lol! I'm left-handed and had no idea I needed a special course for that! Live and learn.)
I made a video all about the habit tracker layout ideas, and also in this post are some close-up pictures of the three ways I'm tracking daily habits in my Happy Planner:
Let's get to it!
1. Daily Cleaning Habit Tracker – Year at a Glance Pages
This first place where I keep a daily habit tracker is at the very beginning of the Happy Planner.
So, I can never keep track of the last time I clean something, to know when I should clean it next. For example, bed sheets need to be cleaned once a week, but I can never remember which day of the week which sheets were cleaned!
So, I had been writing down the room I clean, on the date I cleaned it, in my planner. Now, that got very messy very quickly. It took up too much space on my month calendar, and it wasn't helpful on my week layout, since I had to keep flipping the pages back and forth to see the last time I cleaned a room.
Well, Happy Planner fixed that for me – this planner has an awesome year-at-a-glance area at the very beginning of the planner. It is literally a list of each day of the year.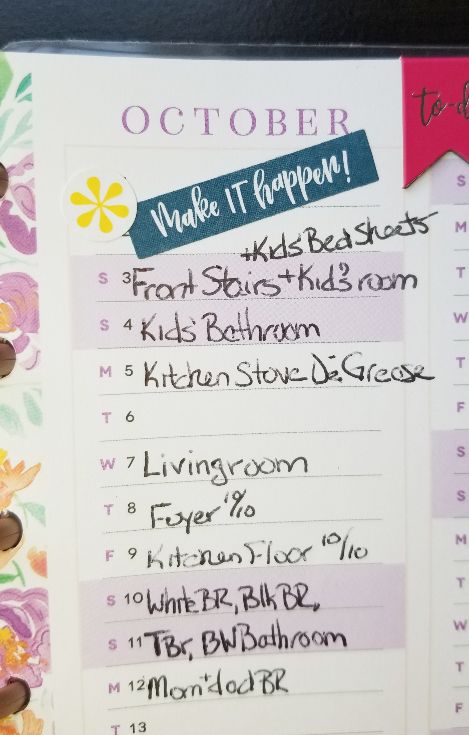 This is a GREAT place for tracking a habit that you want to do every day, no matter what. For me that's getting a little cleaning done each day. It's perfect because you know which rooms to pick from when you feel like cleaning, and also this tracker can help develop a habit of cleaning a little bit at a time, so it's not such a huge undertaking once a week. (Unless that's your thing! I've heard it can be very therapeutic.)
These pages are helping me so much with keeping track of cleaning everyday. I think they would be perfect for any 30-day challenge.
2. Daily Progress Habit Tracker – Side of Your Weekly Layout
Place number two where I can track my daily progress is with a little habit tracker box on the side of the weekly layout.
I grabbed these tracking stickers out of my old Erin Condren life planner that I used last year:
I took a brush lettering class from Little Coffee Fox with my daughter, which was so fun to do together! She picked it up right away but unfortunately, I'm left-handed and need a LOT more practice. So, I made a challenge for myself to practice every day.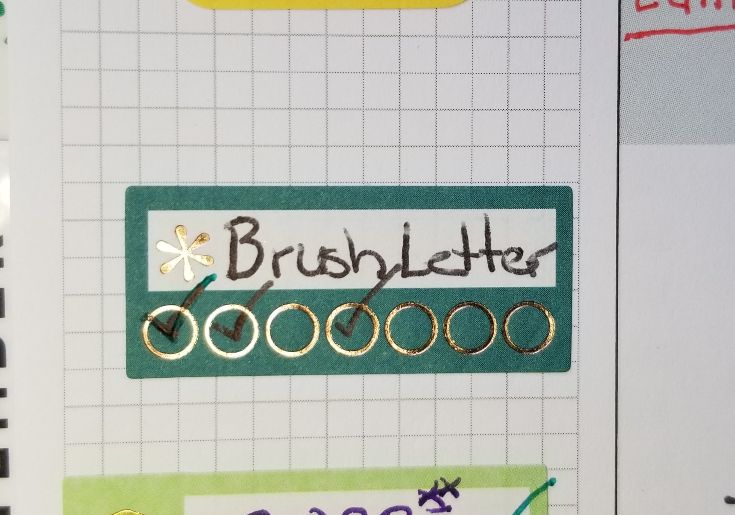 With this sticker, I can check off each day that I practice. Plus, there's more than enough room for a few of these stickers, for daily habit ideas to track each week.
I even wrote in a simple weekly tracker box this week, to see how I liked it: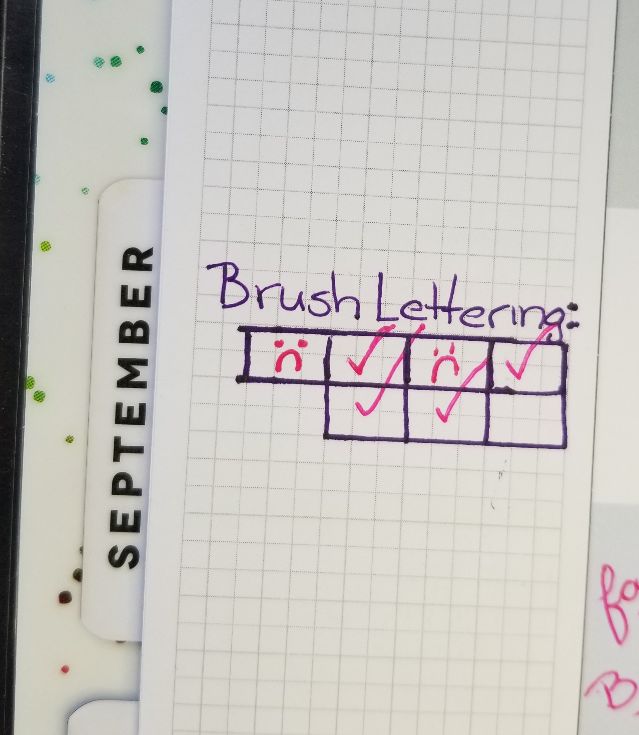 This week got away from me for sure, but seeing the missed days on my habit tracker helps motivate me to keep at it!
3. Personal Goal Progress Habit Tracker – Inside Your Weekly Layout
This is the last place that I keep a habit tracker, for now, anyway!
I have a personal goal of writing 500 words, every single day. A lot of my job, and my blog obviously, consists of writing, and sometimes I just feel out of it, you know? I feel stuck sometimes, and maybe don't really know what to write about.
We all need a motivational push sometimes, even to do the things we love. So, I write my goal at the top of each day on my weekly spread. I want that goal to be at the top of my planner, so it's at the top of my mind at all times.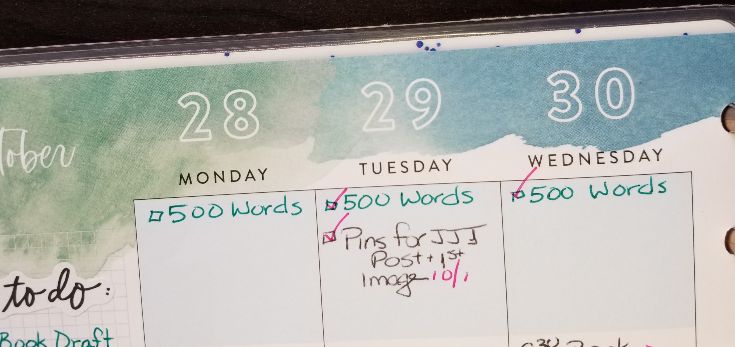 This small personal goal is something that will help achieve other goals in my career and life, and I make sure to check it off at the end of each day. I bet you can think of something that you know is good for you, but put off most of the time (green veggie, anyone?). That's a perfect thing to track at the top of your planner.
Writing your habit in that specific place (at the top) on each day, will also signal to your brain that it is REALLY important, and can possibly be the first thing you knock out in the morning. Wouldn't that feel great?!
How to Keep Motivated With Your Happy Planner Habit Trackers
It's one thing to have a habit tracker, and quite another to actually do the habits, right?
Some ways to keep yourself dedicated (I don't really love the word "motivated,") can include:
Celebrating the "small wins" each week. Making time for yourself to work on habits is not easy! Give yourself a "quick win" reward at the end of the week.
Keeping pictures or affirmations of the transformations you want to see in yourself, around you.
Preparing the day before. Make it easy to jump into whatever habit you are tracking, and set yourself up for success. Maybe that means taking your exercise gear out at night for your morning workout. Or, like me, having my brush pens and blank lined sheets on my desk.
Schedule time and block it off in your calendar, then tell a friend. Accountability can be very powerful. A close friend or family member can give you a little text or call reminder.
Do You Want Your Habit Tracker On Its Own Page Instead?
I feel you! I have this new set of 2021 Habit Tracker printables in my Etsy shop, you get them in five sizes, including Classic Happy Planner size. Here is what they look like: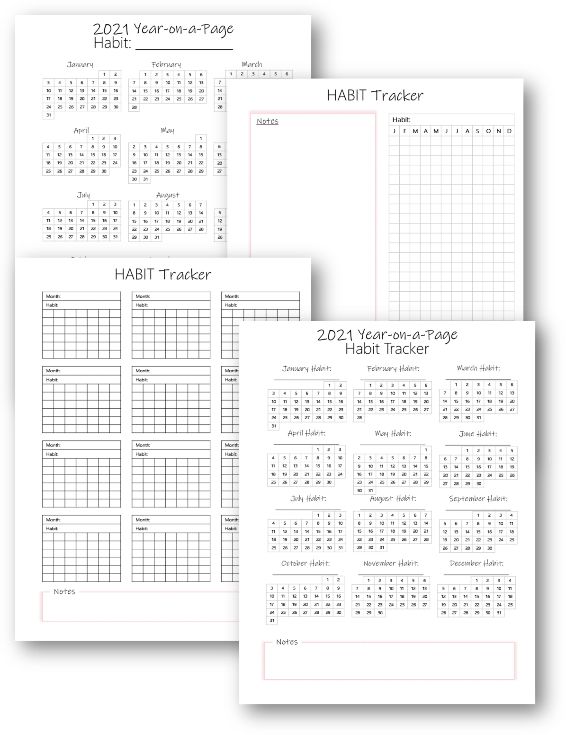 Happy Planner Habit Tracker Ideas
To recap, here are the three places in my Happy Planner I use for habit tracking:
Year at a glance pages at the very front of the planner,
Stickers on the side of the weekly planner spread, and
Writing one personal goal at the top of each day.
No matter what habits you want to track, sometimes you have to MAKE the time to take care of yourself, or your home, or personal goals. I hope these Happy Planner habit tracker ideas give you an extra nudge to start that new habit you've been wanting to bring into your life!
What habits are you trying to keep track of now? Do you have any other habit tracker layout ideas? Let me know in the comments, I love to hear from you!
Hugs,
Mina
P.S.: Here are some more blog posts I bet you'll find useful!