Pretty Frozen Rice Krispies Treats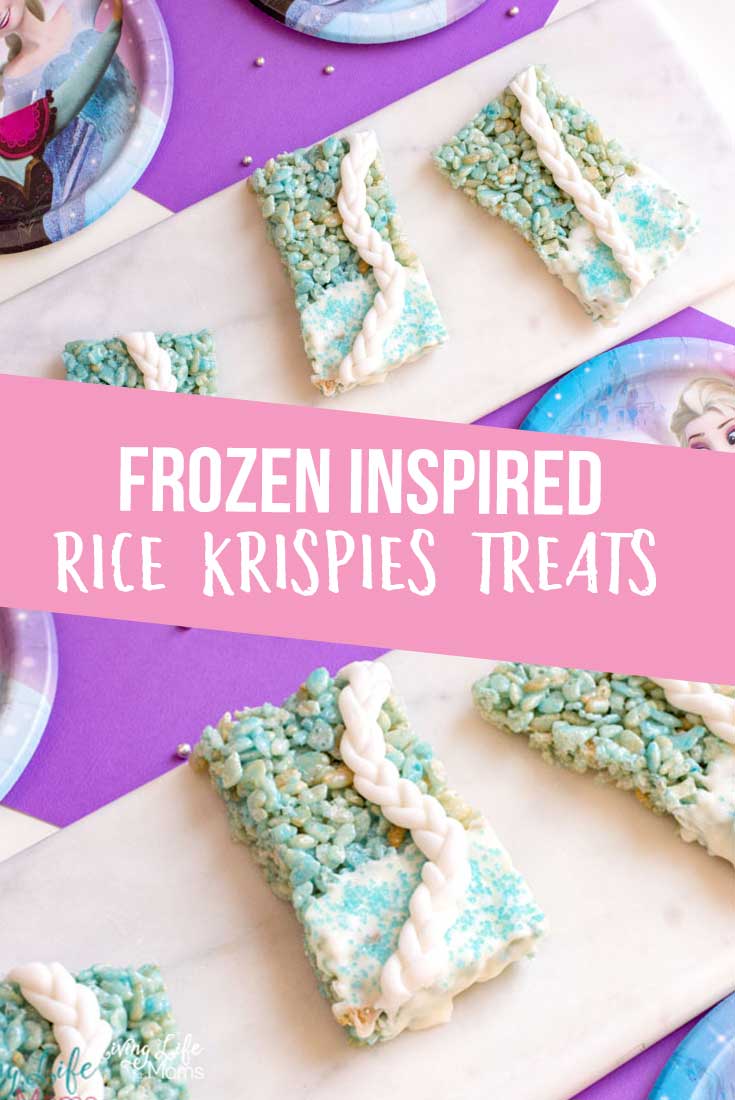 Who doesn't love the movie Frozen? If you're super excited about the new Frozen movie coming out this November, you're going to want to have these Frozen Rice Krispies Treats on your baking radar!
In our house, we really do like to combine entertainment and food together as much as possible. And what this means is that when there is a new movie coming out that is family-friendly to enjoy, we'll find the perfect baking recipe to accompany the excitement and anticipation.
Our household are huge Frozen fans so it just makes sense that we had to find something to create to amp up our excitement even more. This is why these Frozen Rice Krispies Treats are beyond perfect for the occasion. (Plus, they taste pretty great as well!)
See the other Rice Krispies treats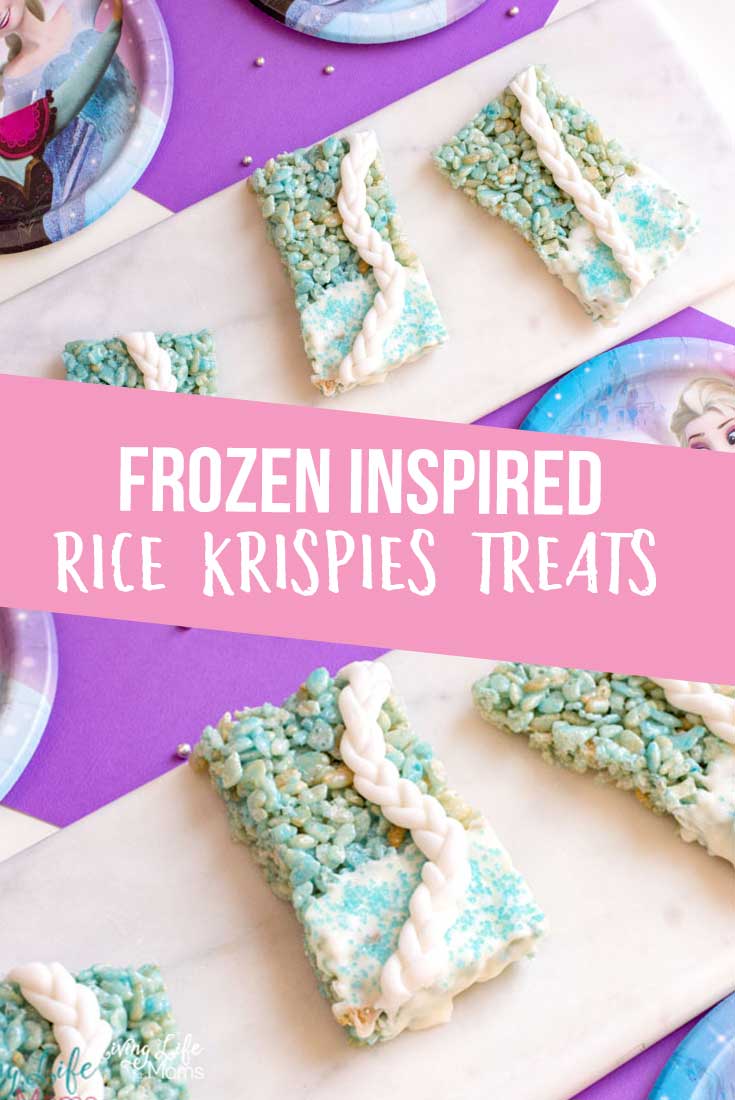 Frozen Rice Krispies Treats
One of our go-to desserts in our house tends to be Rice Krispy Treats. Not only are they super simple to make, but they leave a lot of wiggle room for making them unique and fun as well.
As you can see from the picture below, the ingredients needed to create this fun Frozen dessert are minimal and easy to find.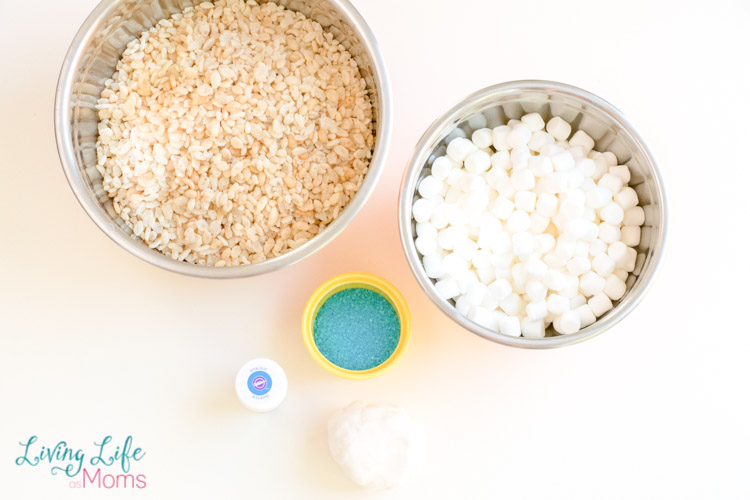 The "hardest" part of this recipe is melting the marshmallows so that they don't get burnt. This process isn't actually overly difficult to do but it does require you to continuously stir and pay attention during this time.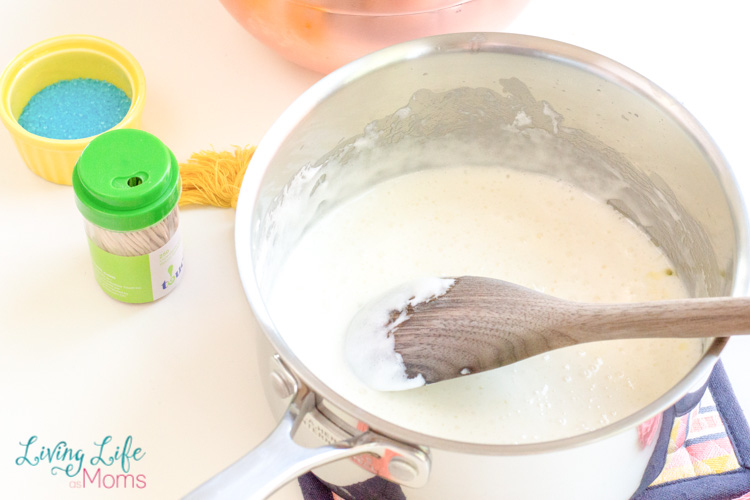 Once the melted marshmallows are creamy and smooth (seriously, it looks so cool!), adding in the Rice Krispies is a breeze. Muscle up and give them a good stir so that everything is coated.
Is fondant hard to work with?
It's actually not. I like to compare it to the consistency of playdough (mom life, right?!) so it's easy to mold and form. This is why it's so popular in the baking community.
Once you play around with it for a bit, you'll find that it's actually pretty easy to create almost anything that you want with fondant.
As they say, practice makes perfect.
If you have a little one in the house that likes to braid or ones to help out during this recipe, letting them take over and create the "hair" braid is something that they can totally do!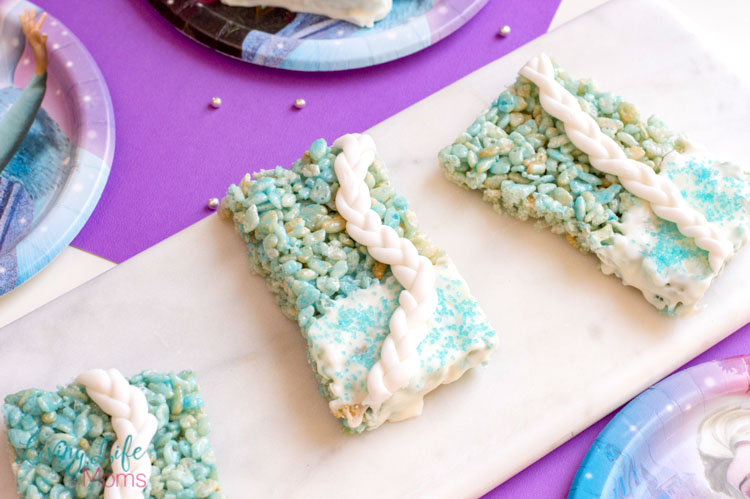 Have fun creating these delicious and simple treats! They're the perfect way to get everyone in your house excited for the upcoming movie! (and if you just can't wait to make them, do a few practice rounds now!)
Frozen Rice Krispies Treat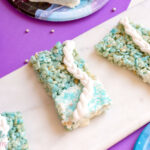 These Frozen Rice Krispies Treats are so much fun to make!
Cooking spray
3 Tablespoons butter
4 Cups of miniature marshmallows
2 Small drops blue gel food coloring
1 Cup white candy melts
3-4 Ounces white fondant
6 Cups of rice cereal
Blue crystal sprinkles
Get a 13 by 9 pan and coat it so it's nonstick.

Use a large saucepan, place on the stove and melt your butter over medium heat.

Measure out the marshmallows and add into the pan. Make certain that you continuously stir until they are completely melted.

Once melted, remove from heat and add in the blue gel coloring. Stir until it's mixed in entirely.

Measure out the rice cereal and add into the melted marshmallows. Mix and fold until it's evenly combined.

Once combined, take the mixture and pour into the coated pan. Press down until spread out and let set for 15-20 minutes.

After that time has passed, cut the treats into 8 different rectangles and set on a plate.

Take a baking sheet and line it with wax paper.

Take your candy melts and put them in a microwave-safe bowl. Heat for 30-second intervals until totally melted but make certain that you're stirring after every 30 seconds.

Once melted, grab one of your Rice Krispy treats and dip the bottom half into the melted candy. Then sit on baking sheet once done.

Grab the crystal sprinkles and coat into the melted chocolate on your treat. You'll want to give them about 15 minutes to set and dry.

While the chocolate is setting, start in on making the fondant braid to add to the top.
To make a fondant braid:
Roll out three separate spheres that are about 3/4 an inch in size.

Next, roll them out into long strips that are about 6 inches in length.

Set the three strips side by side and pinch the tops together. Once that is done, braid them together.

Once braided, place it on top of the rice cereal treat and cut off length if it happens to be too long.
More Rice Krispie Treats to Try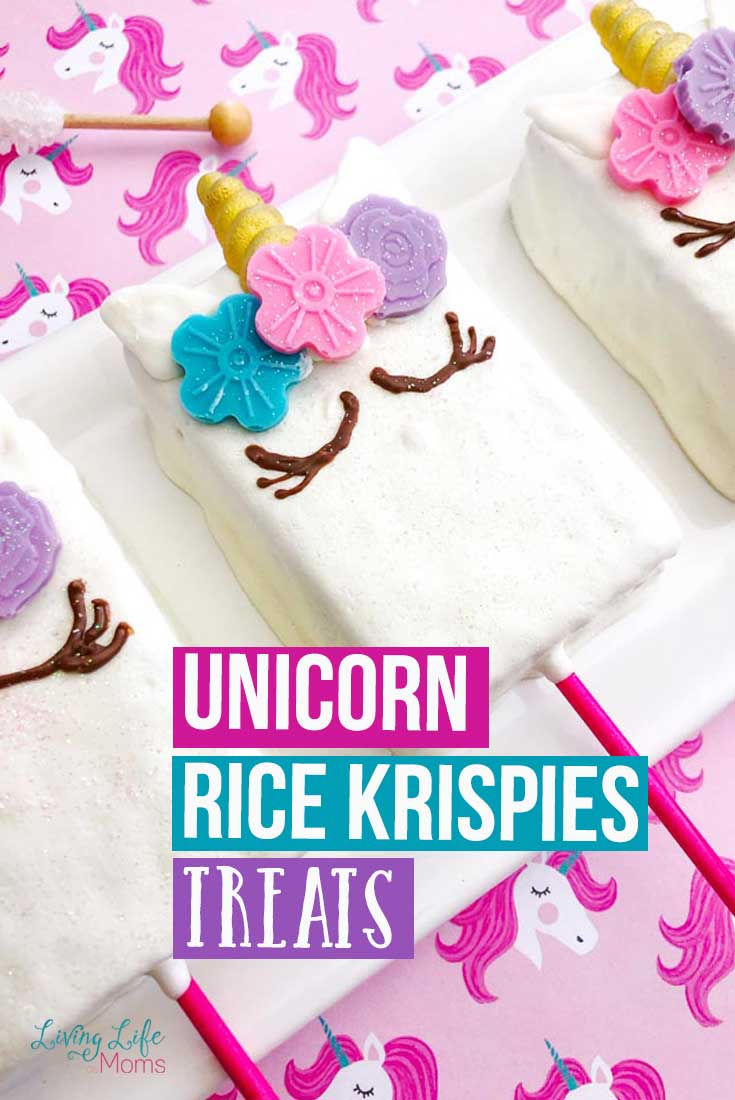 Simple Unicorn Rice Krispies Treats