Adorable Pumpkin Rice Krispie Treats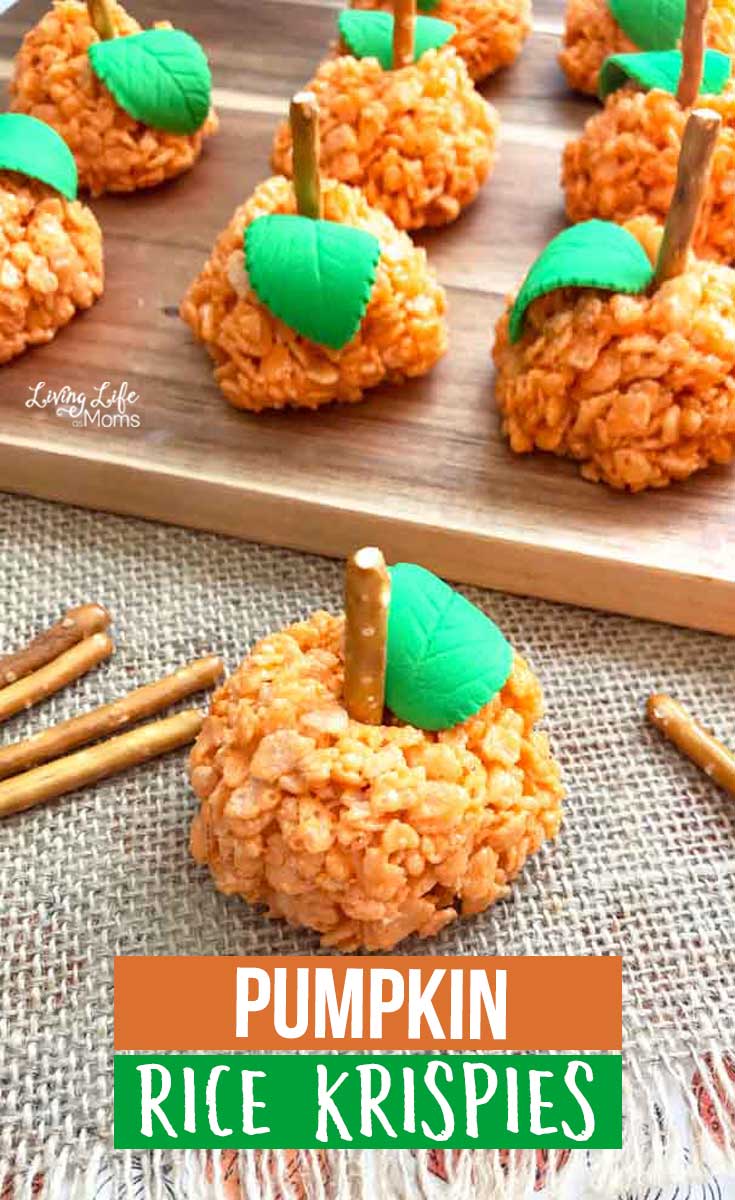 Who doesn't love the thought of making these adorable Pumpkin Rice Krispie Treats? Not only are they super simple to make, but they taste really great as well!
With fall literally right around the corner, it's time to start thinking about anything and everything pumpkin. This is why this simple dessert is perfect for this time of the year!
You can easily make your own edible pumpkin treats and have a unique and fun snack waiting for your kids to arrive home from school. Bite-sized and perfect, your family will love these easy rice Krispie treat desserts.
See the other Rice Krispies treats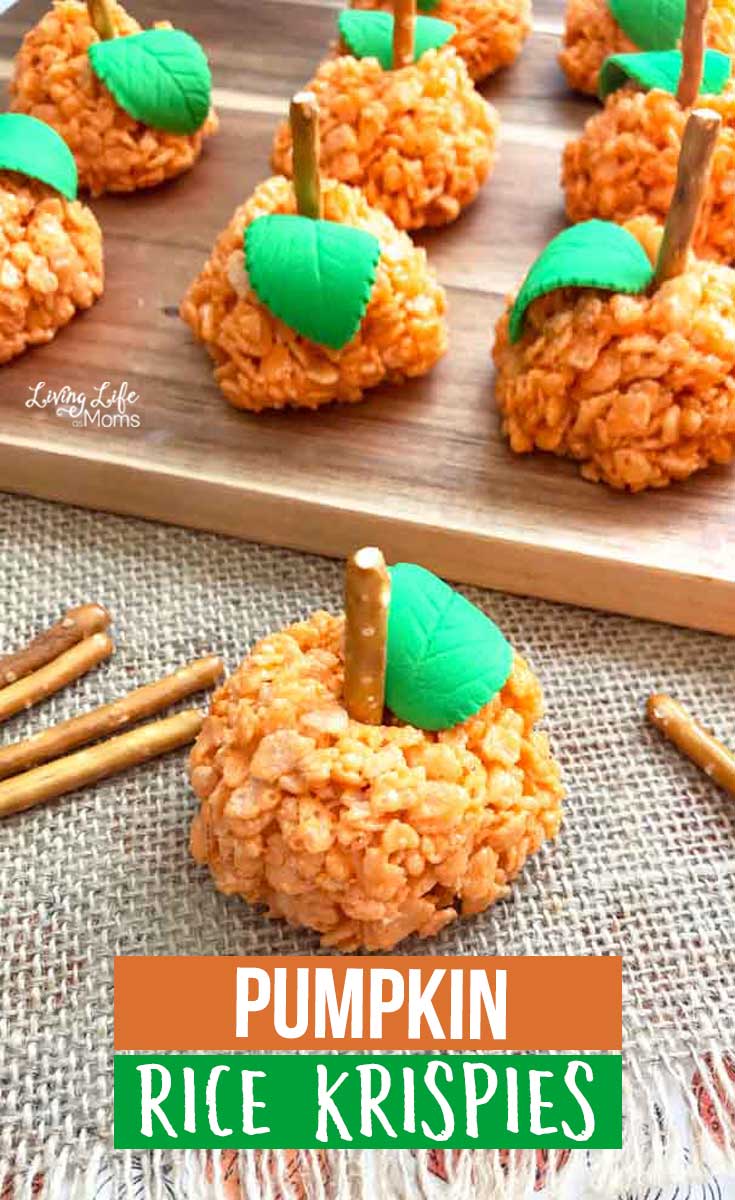 Adorable Pumpkin Rice Krispie Treats
We love making these every fall. They're an easy dessert recipe that gets everyone exciting about the upcoming transition into fall and Halloween, without having to bring in a spooky factor or worry about anything like that.
Plus, this is such a simple recipe that the kids can help out with as well. Any time we can create a recipe together that they can help cook, it's certain to be an absolute winner.
As you can see from the picture below, the hardest part of this entire recipe is probably getting the marshmallows all melted smoothly so it isn't lumpy. It takes a lot of stirring and a little bit of patience!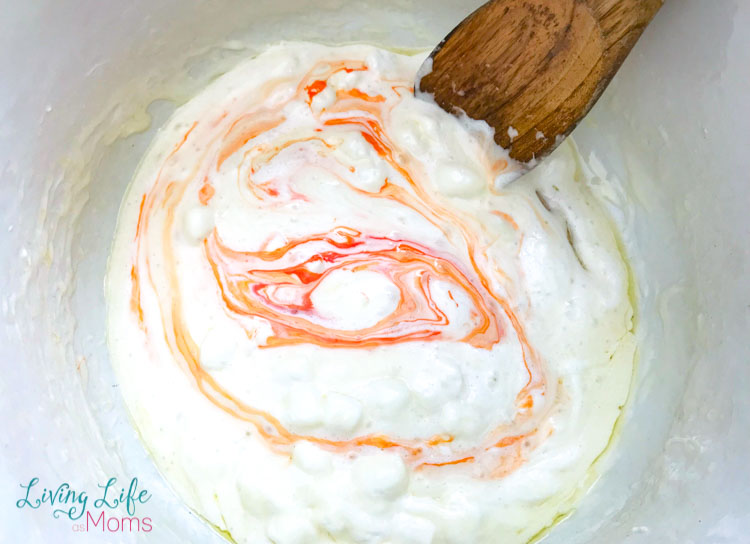 But, once stirred and food coloring added, you'll love seeing it transform right in from of your eyes. It's so fun to think that there are recipes like this out there that have such a "wow" factor without having to put in a ton of effort.
As you're stirring, do your best to make certain that the orange coloring is spread out really well throughout the entire rice Krispies mixture.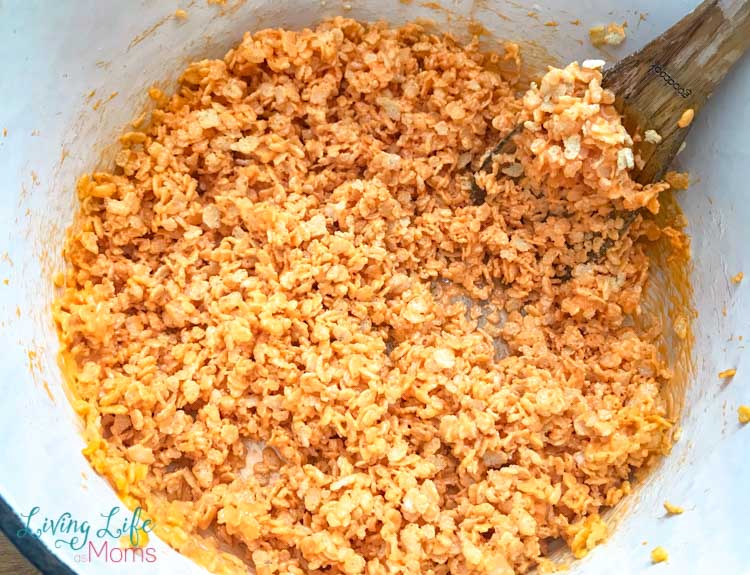 Making the mixture into the pumpkins is also so fun! Just know that it might get a little bit sticky, and that's okay. Wash your hands first, and grab a small handful.
Your child is certain to love to help with this part! Aren't those mini pumpkins the cutest?
Don't forget to add in the stem and the leaf as well. And once you do that, your pumpkin look is completed and ready to sit for a short time.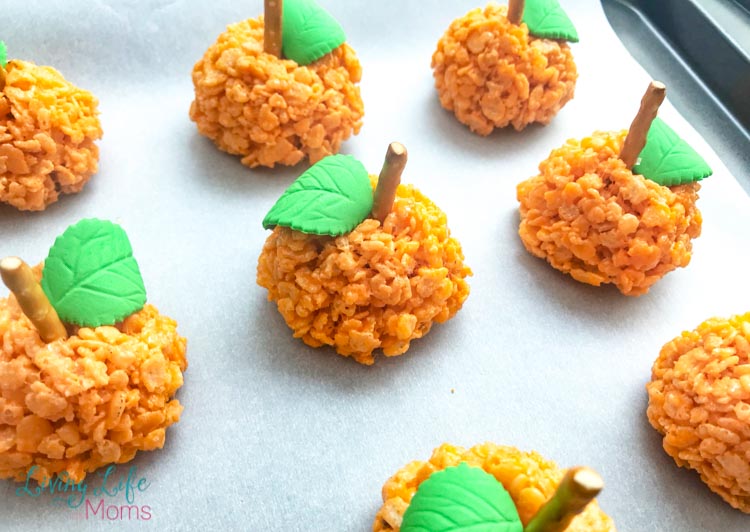 If you're wanting to give your child the job of putting in the pumpkin stem, it's one that they'll probably really enjoy doing, plus it's a super important step to the recipe! Pumpkins have to have a stem, right?!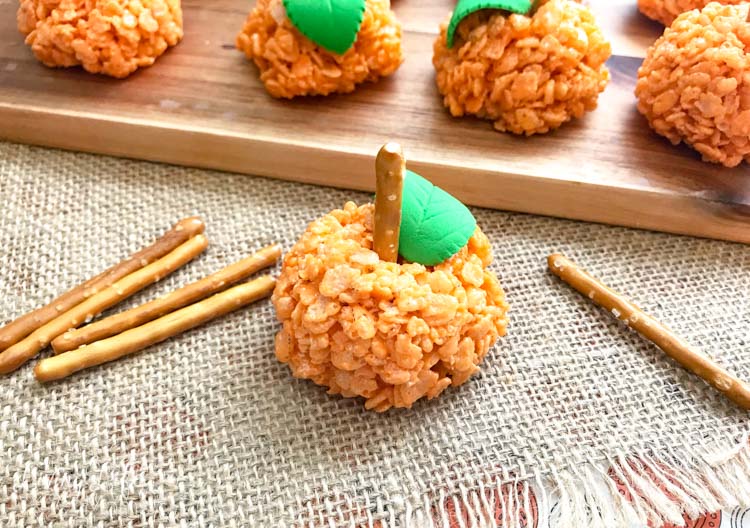 Can I use fondant for the leaf on the pumpkin?
You can! If you have fondant already at home, you can absolutely use that instead. Just make certain that you take your time with it and cut out the shape carefully to place it on your pumpkin Rice Krispies treat.
Have fun creating this delicious fall dessert! It's one that is simple, kid-friendly, and certain to taste amazing as well!
Pumpkin Rice Krispies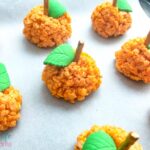 These Pumpkin Rice Krispies are so simple and easy to make!
6 Cups of Rice Krispie cereal
10 Ounces mini marshmallows
3 Tablespoons of butter, sliced into pieces
Cookie scoop
Non-stick cooking spray
20 Mini Pretzel Sticks
20 Wilton Leaf Icings
Orange Gel Food Coloring
Grab two separate baking sheets and line them with wax paper.

Place a large pan on the stove and add in the butter and marshmallows. Turn on to low or medium heat and start melting the ingredients. Stir occasionally and keep a close eye on it.

Once you notice that it's melted almost half the way through, add in a few drops of your food coloring. Stir to change the entire mixture orange. Remove from heat once mixed.

Next, pour in all your cereal and mix together until all of it is coated and combined.

Since it's going to still be hot, let it cool for a few minutes. This is to help it thicken as well, otherwise the balls won't stick together.

Using your cookie scoop (or hands), make the mixture into 2 inch balls and place on the cookie sheet. (If you are using your hands, let it cool well beforehand so you don't get burnt) Also, make certain that you spray your hands with non-stick cooking spray to help with the stickiness a bit. Even if you do use the cookie scoop, you're still going to want to smooth out how they look by rolling them in your hands a bit and then putting them back onto your baking sheet.

Once you've created the pumpkins, give them a few moments to sit. Then, take a pretzel and place in the top area and add on a leaf. Make certain you repeat this step with all the other pumpkins.
More Rice Krispies desserts to try
Dragon's Feet Rice Krispies Treat