How to Make Lavender Soap with Shea Butter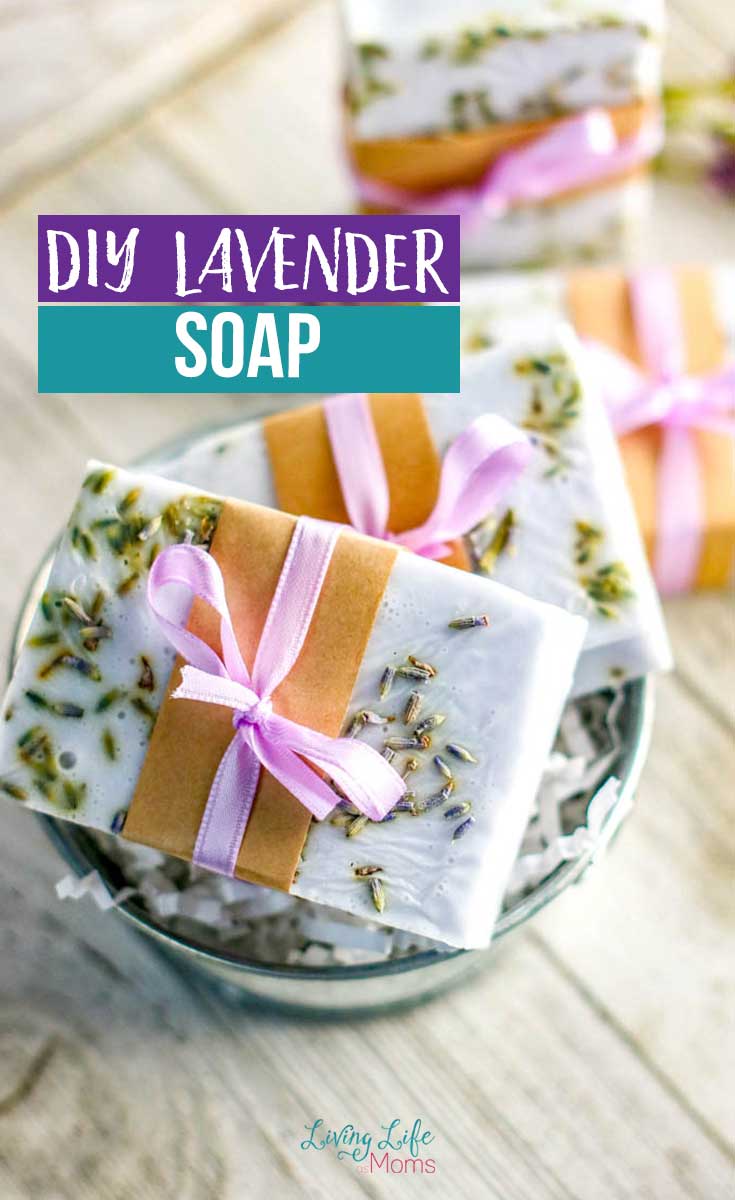 Do you hate all of the chemicals they add to commercial bars of soap? Let's be adventurous and I'll show you how to make lavender soap with shea butter.
This way you know the exact ingredients that go into your soap. These soaps are so gorgeous that you could easily gift these to your friends and family too.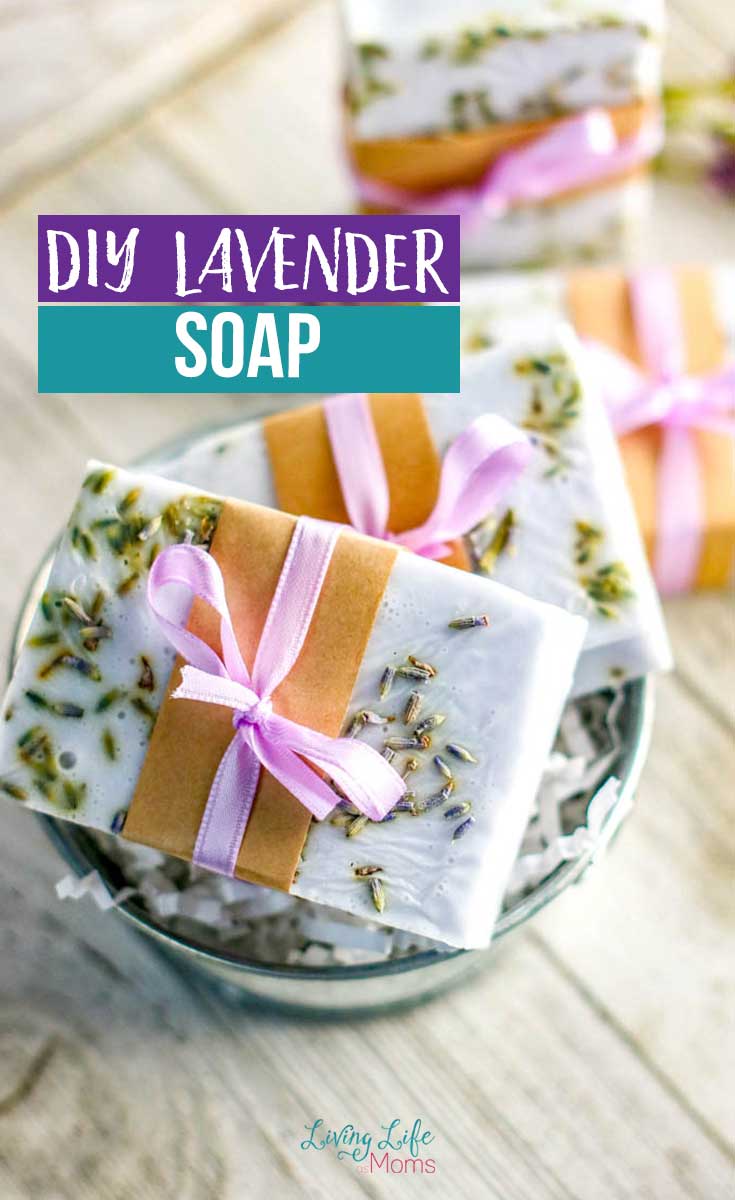 It's all in the packaging and you can do something super simple to make these soaps look super elegant.
Wouldn't you love to show these off in your bathroom?
Wrap them up in cellophane or place them in a nice gift box to give away. They'll be loved no matter who gets them.
I love knowing what kind of ingredients go into the things we're putting on our skin on a daily basis.
Not only is good for you but they look amazing! In the summer I can go out to my backyard and pick out lavender from my garden. I love how it smells, it's so soothing.
Lavender essential oil is extraordinary calming properties that help you relax in the bath or shower.
This could be a treat for yourself, you know when you don't have kids knocking at your door or who want to be in the bathroom with you.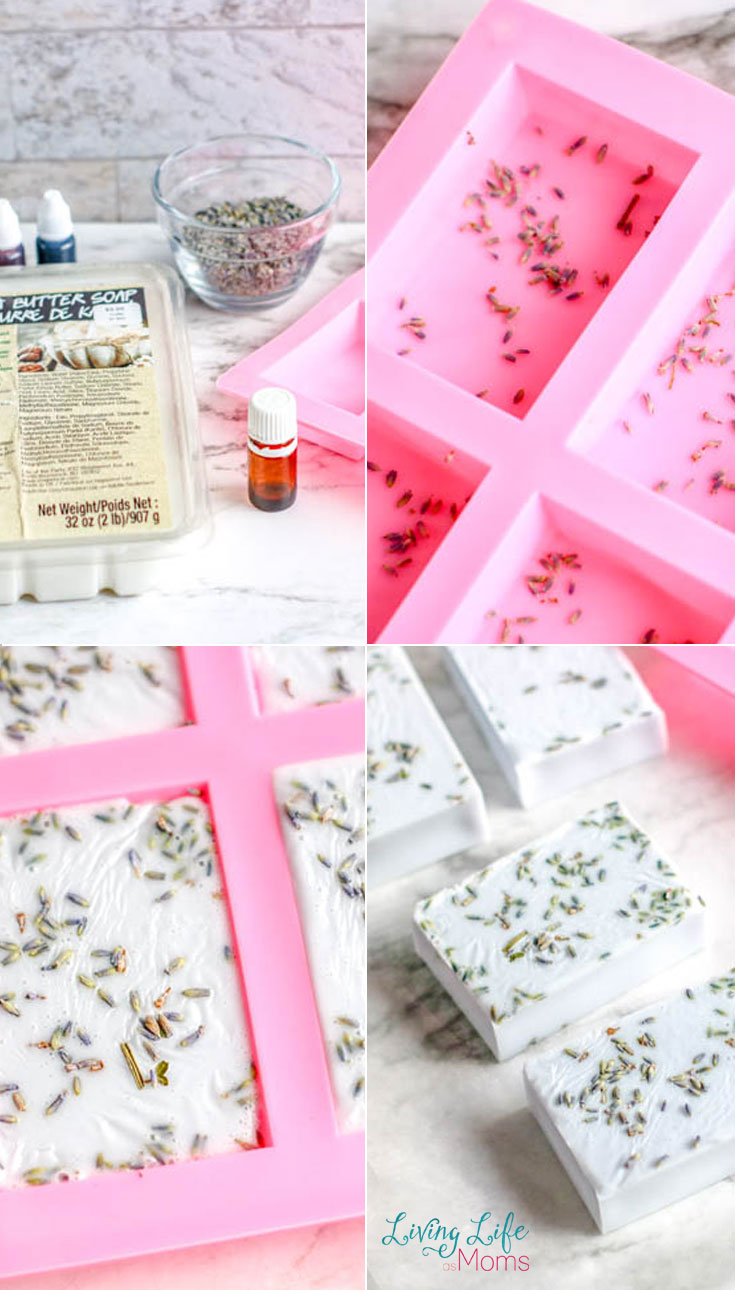 Recommended Soap Molds
How well your soap looks is all in the soap molds. You can get simple rectangle ones or get all fancy with flower or other patterns. Look how pretty!
Ozera 2 Pack Silicone Soap Molds, 6 Cavities Silicone Baking Mold Cake Pan for Soap Making, Pdding, Muffin, Loaf, Brownie, Cornbread and More

Silicone Soap Molds – Flower Assorted Silicone Molds for Ice Cube Tray, Handmade Jelly, Soap, Pudding, Muffin, Cupcake

Ellipse Silicone Soap Molds – Set of 2 for 12 Cavities – Mixed Patterns – Soap Making Supplies by the Silly Pops

Homemade Lavender Soap Recipe
Additional Time:
45 minutes
Total Time:
1 hour
15 minutes
Know the exact ingredients that go into your soap by making your own lavender soap with shea butter.
Materials
Dried Lavender Petals
Lavender Essential Oils
Instructions
Remove the soap base from its container and then cut into small pieces into a microwave bowl.
Heat according to the package directions.
Add 10 drops of the essential oil.
To color the soap, add the soap colorant until you reach the desired shade of color. Be sure to mix it evenly.
Sprinkle the dried lavender petals into the soap mold.
Pour the melted soap into the molds and add more lavender petals if desired.
Allow the soap to set for 45 minutes.
Remove the soap from the mold and then package as desired.
Notes
Once the soap has melted, work as quickly as you can since the soap will begin to harden around the edge of the bowl.
If the soap begins to harden, then microwave for 10 seconds.
Try another DIY project like this DIY Lavender Candle. Perfect stress reliever!
More DIY Ideas