The Ultimate Busy Mom Meal Prep Guide (Step By Step) Plus 3 Days of Meals!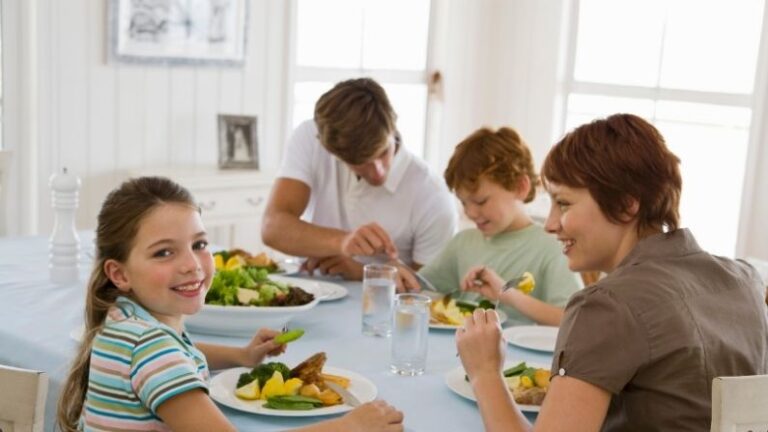 Here's exactly (step-by-step) how I meal prep as a busy mom, plus three days of lunches, dinners and snacks. Try out these busy mom meal prep steps and dinner prep will fly by!
Working mamas, as much as I love the idea of meal prepping, our days are too prone to changes, to fully cook our meals for the entire week.
I've tried the traditional meal prep (Grill 7 chicken breasts! Steam 3 lbs broccoli!) & regularly end up with some random unexpected wrench thrown in, like the hubby showing up with takeout (Surprise!).
I'm left with way too much food, that nobody is going to eat.
Plus, whenever I try to pre-cook dinner, everybody in my house complains about eating "reheated leftovers." They're not wrong, unfortunately.
Time for the New Busy Mom Meal Prep Experience!
So here's what I do now (and I'll show you the EXACT steps below)….
Instead of cooking from scratch every night (my worst nightmare), I found that I can meet "do nothing" & "meal prep" in the middle by prepping the ingredients.
This means once a week, I take an hour or two to do all of the planning, chopping, slicing, sauce-making, marinating and all that for each meal that week.
Basically, I do everything that I can get away with doing, up to the part where I start to actually cook.
This way, I'm prepared when the meal times come along, while at the same time I can be flexible about which things I use & when.
Each night, I literally throw ingredients in, and cook. Now, "making dinner" is the actual cook time, and that's it.
The only exception to this is grains – Every meal prep day, I make enough brown rice & quinoa to last the week. They stay well in the fridge and nobody notices that I've microwaved it.
(Splash about a tbsp of water in with the grain & partially cover it when reheating, that helps keep it soft.)
Let's get into the steps below!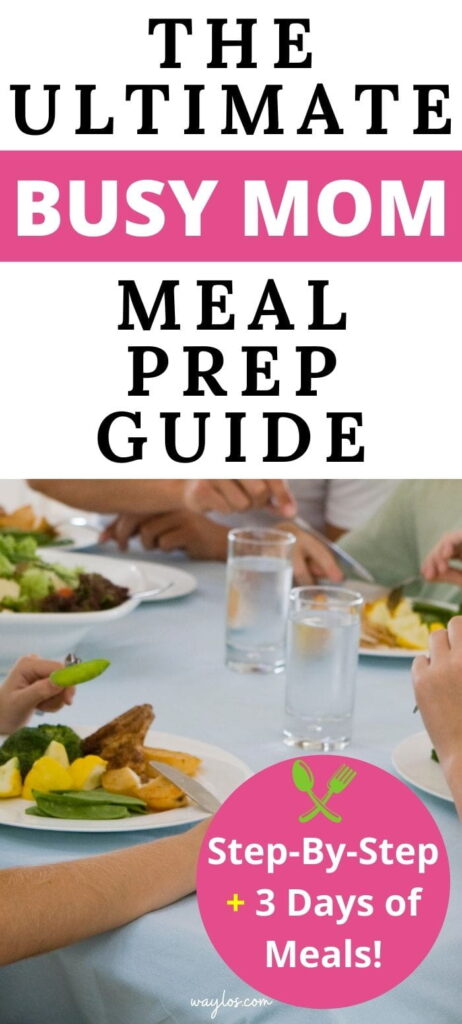 Meal Prep Step 1: Decide on Your Dinners & Snacks
Any acceptable dinner has three main ingredients:
1. a protein,
2. vegetable, and
3. a grain.
Make a list of proteins, veggies & grains your family enjoys. Here's ours:
Once a week (or month if you like), mix & match your ingredients to make a list of seven dinners. Make sure each meal has a protein, a veggie and a grain.
*You can add a marinade or sauce to each dinner, as well.
Next, make a list of snacks you enjoy, preferably containing a fruit or vegetable.
If you need some ideas, my meals & snacks below are very simple to mix & match, take a look!
Your lunch each day will be leftovers from the last night's dinner. In the Grocery buying step below, you'll be buying enough for one extra serving for yourself (or however many extras your house needs for lunch the next day.)
Don't worry, we will be mixing it up and turning the leftovers into tacos and sandwiches and stuff for lunch.
Meal Prep Step 2: Decide on a Weekly Grocery Day & Go Shopping!
Take your list of meals and head to the grocery store to pick up the ingredients, or do your online shopping.
I have Amazon Prime, so I use their Amazon Fresh service (it's included), and I also order from our local Whole Foods when the price is right ("Amazon Grocery" has been hit or miss, sometimes we would get bad or rotten food).
Make sure you buy enough dinner food to make ONE EXTRA plate of dinner each night, to have for lunch the next day. The amount of food you buy will depend on the number of people you are cooking for, plus one.
I have a method I use to keep track of which grocery stores I order from, you can find it in this post.
Or, if you're interested in a meal prep printable to help you keep everything in one place, I have a great one in my Etsy Shop here! This is what they look like: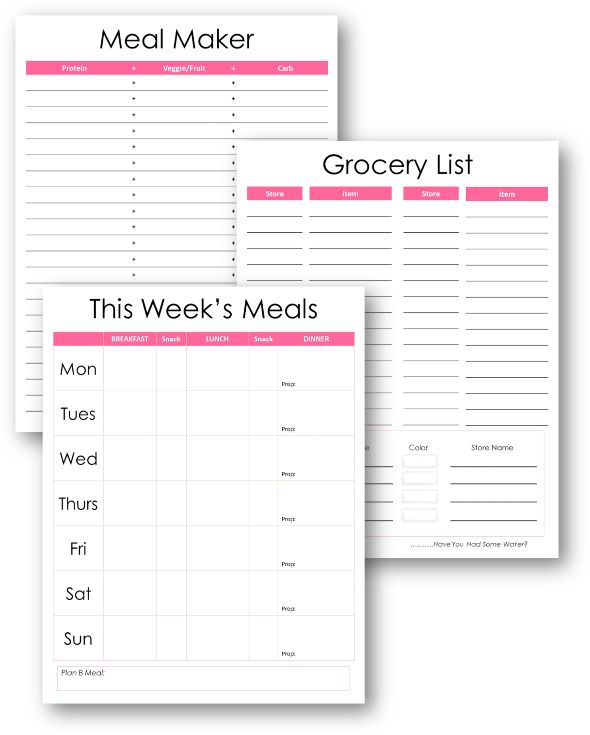 Meal Prep Step 3: Prep the Ingredients
Now it's time to do all of the chopping, slicing & marinating for all of your dinners and snacks for the week:
Cook big batches of Brown Rice, Quinoa or your grain of choice
Clean & cut vegetables for roasting, steaming, grilling & eating raw
Clean & cut potatoes, put them in a bowl or pot of cold salted water & put in the fridge
Prep meat/poultry/seafood, add marinades if you like, freeze what you can
Cut and/or slice onion & garlic, put in separate Tupperware in the fridge
Make stir-fry sauces, pesto, dressings to keep in the fridge
If you want to get fancy, slice a pineapple & keep it in the fridge for when you grill during the week, it's delicious!
REMEMBER, you are making enough dinner for one extra meal, to have as lunch the following day.
Now when it's dinner time, all you have to do is throw all the pre-cut veggies in the steamer or oven, grill or roast the meat, maybe pour on some sauce & you're done!
And now it's time for my Three Days of Easy-To-Execute Meals…..
3 Days of Meal Prep-able Meals
If you are still stuck on what to make, I did a little planning for you!
My kids are super-picky and it's a toss up on whether or not they feel like eating these meals, but you can just skim through for inspiration, and sub in things you know your family will love.
Here is:
Ingredients list,
Meal prep instructions, and
Three days of Lunch for yourself (or however many grown-ups are in the house), Snacks & Dinner (one snack is a smoothie):
Actually, the ingredients list also includes food for an easy dinner meal for the day you are doing your actual Meal Prep. We'll call that day, "Day Zero." That way, you have lunch all set up for Day 1.
Grocery List:
Produce:
· Carrots (1-2 carrots per person)
· Cucumbers (1 per person, or 2-3 small cucumbers per person)
· Bell Peppers, any color you like (3 peppers for 3 servings)
· Broccoli (1/4 head per person + one extra serving)
· Brussels Sprouts (5 big ones/6-7 little ones per person)
· String Beans ( 1/2 cup per serving + 1 extra serving)
· Apples (2 per person)
· Banana (1 per person)
· Blueberries, fresh or frozen (1/2 cup per person)
· Spinach (1 small bunch per person)
· Arugula (1 bunch is fine)
· 1 Clove of Garlic
· 1 Lemon
· 1 Lime
· Yams (½ to 1 yam per person + 1 extra serving)
· Cilantro (if you like it)
Meat:
· Boneless & Skinless Chicken Breast (6 breasts for 3 people, should be enough for an additional serving for lunches)
· Peeled & De-Veined Shrimp (4 oz per person + 1 extra serving)
· Salmon (4-6 oz per person + 1 extra serving)
Grains:
· Brown Rice (2-3 cups uncooked, depending on how much you like brown rice)
· Quinoa (2-3 cups uncooked, depending on how much you like quinoa)
· Whole Grain Crackers
Condiments:
· Peanut Butter (or you can sub out for cheddar cheese sticks, or get both why not)
· Hummus
· A little Pesto sauce if you like it
· Onion Powder
· Dried Oregano
· Chili powder
· Cumin
· Cayenne pepper
· Salt & Pepper
Ingredients for a quick stir-fry sauce if you want (for 2 people, double for more servings) – I like:
· 2 Parts Soy Sauce
· 1 Part Sesame Oil
· 1 Part Honey
· 1-2 Cloves Chopped Garlic
· Salt & Pepper
Day Zero: Prep the Ingredients & Make Dinner:
Put everything in the fridge when you are done, except the marinated chicken which goes in the freezer:
Batch cook brown rice & quinoa – let cool before putting in fridge
Clean & cut carrots, cucumber & bell peppers into sticks – put ½ of each in one container, put the rest of the peppers into a small bag or bowl, and the rest of the carrots/cucumbers in another container
Clean & cut broccoli into florets, put in a big bowl
Clean & half the Brussels sprouts (I usually take off the bottom stem & a layer of leaves too)
Clean, skin & dice the yams & put in the broccoli bowl, about 1 tbsp of EVOO, salt & pepper. Mix together and cover to use for dinner tonight
Rinse & pat dry the arugula
Clean & trim string beans
Chop up 3 cloves of garlic (or 5 cloves if you want to make the above stir-fry sauce)
Marinate the shrimp in 2 cloves of the chopped garlic, 1 tsp onion powder, 1 tsp dried oregano, ¼ tsp each salt & pepper (for 2-3 servings) cover & refrigerate
Rinse the spinach, then place in a large bowl filled with cold water to let any remaining dirt fall to the bottom, drain & pat dry
Lightly pound 3 of the chicken breasts (for 3 people) a little bit to even thickness, cover & put in fridge
Slice the other 3 chicken breasts in half lengthwise & put in a gallon zip-top bag
Follow the instructions here to make the marinade for these Baked Chicken Fajita Rollups by Kelly at Eat Yourself Skinny. Throw the marinade all over the chicken in the bag, lay it as flat as you can & put it in the FREEZER so the chicken stays good until Day 3.
Mix the stir fry sauce ingredients in a small container & refrigerate, if you want it.
Have hummus, nut butter, pesto, an apple, a banana, cheese sticks, whole grain crackers & berries (fresh or frozen) at the ready
Dinner/Tomorrow's Lunch Meal:
Wrap the salmon in foil w/ EVOO, salt & pepper, place on a baking sheet next to the broccoli & yams w/ EVOO salt & pepper.
Bake @ 450° for 20 minutes
Day 1 Meals
Snack: Some Carrot, Bell Pepper & Cucumber sticks with Hummus
Lunch: Plate of Leftover salmon & broccoli/yams from the night before, with ½ c of cooked brown rice – microwave until heated through
Snack: Apple slices with Nut Butter (or a cheese stick if you are allergic)
Dinner: Shrimp, Quinoa & Brussels Sprouts:
Steam the pre-cut Brussels sprouts for 6 minutes, until just tender.
Meanwhile cook the pre-marinated shrimp in lightly oiled hot pan 2-3 mins per side, until white/cooked through & browned.
While the shrimp is cooking, reheat the quinoa in the microwave.
This is on the plain/not sauce side, you can add some pesto sauce if you like. **Make sure to make enough to keep 5-6 extra cooked shrimp for tomorrow's lunch
Day 2 Meals
Snack: Make this blueberry, banana & spinach smoothie I love from TheSpruceEats.com. It is delicious.
Lunch: Toss leftover shrimp with:
½ c brown rice
¾ c arugula
olive oil, a lemon squeeze & fresh pepper
Snack: Whole grain crackers w/ Hummus
Dinner: **Take the marinated chicken out of the freezer & put in the fridge to defrost for tomorrow**
Grab the prepped NOT marinated chicken breast out of the fridge
Salt & pepper both sides, then cook in a LIGHTLY OILED medium-high preheated pan 4-5 mins each side until brown & cooked through to 165° (I have an instant meat probe thermometer like this one https://amzn.to/382JGZS that is great for checking)
Meanwhile, steam the string beans for 4-5 minutes, until just tender, and warm up some quinoa in the microwave.
Move chicken to a plate & cover lightly with foil, let the chicken stand 5 minutes before cutting into strips (leave the thermometer in the chicken for the 5 mins).
Throw the string beans, chicken strips & stir fry sauce in the pan & mix around until warmed up, then serve with the quinoa (You don't need the sauce, but if you're a sauce person this will do).
Day 3 Meals
Snack: Pre-cut Carrots & Cucumber with Hummus
Lunch: Chicken w/ spinach & brown rice:
Heat 1 tbsp oil in a pan & throw 1 handful of spinach in the pan & toss around for 5 minutes until wilted.
Meanwhile, cube the leftover chicken breast & throw it in the pan to warm through.
Heat up some brown rice in the microwave, and serve with the chicken & spinach.
Snack: Apple slices with Nut Butter/cheese stick
Dinner: Take out the marinated chicken & the rest of the sliced bell pepper. Follow the cooking instructions for the Baked Chicken Fajita Roll-Ups https://www.eatyourselfskinny.com/baked-chicken-fajita-roll-ups/#tasty-recipes-15200, along with some microwaved quinoa or brown rice.
Busy Mom Meal Prep Success!
I hope you got some great ideas about how to easily put a simple meal plan together. Prepping the ingredients takes a ton of time out of actual dinner-making.
If you need more dinner ideas, check out my Ultimate List of Dinner Ideas!
What's your favorite, easy meal? Let me know in the comments!
XO,
-Mina
P.S.: Here are some more posts you may find helpful!