Have Easier Evenings With This Cleaning Schedule for Working Moms!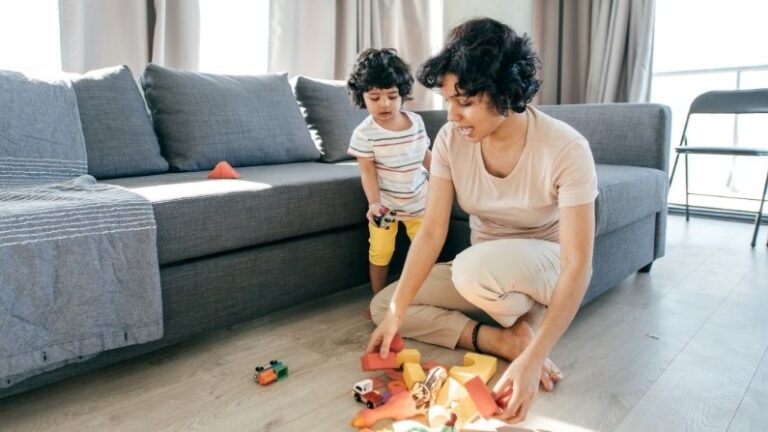 As a full-time working mom, it sometimes feels IMPOSSIBLE to keep up with cleaning my house. Even something as simple as "cleaning a bedroom" can have so many tasks included, I can get too overwhelmed & not do it at all!
That's why I have to stick to a regular and SIMPLE cleaning schedule. A cleaning schedule for working moms specifically, gives you three things:
Simplicity,
Structure, and
Flexibility.
My working mom cleaning schedule has all three! I'm explaining it to you below, with examples of working mom cleaning schedules that might work for you as a busy working mom.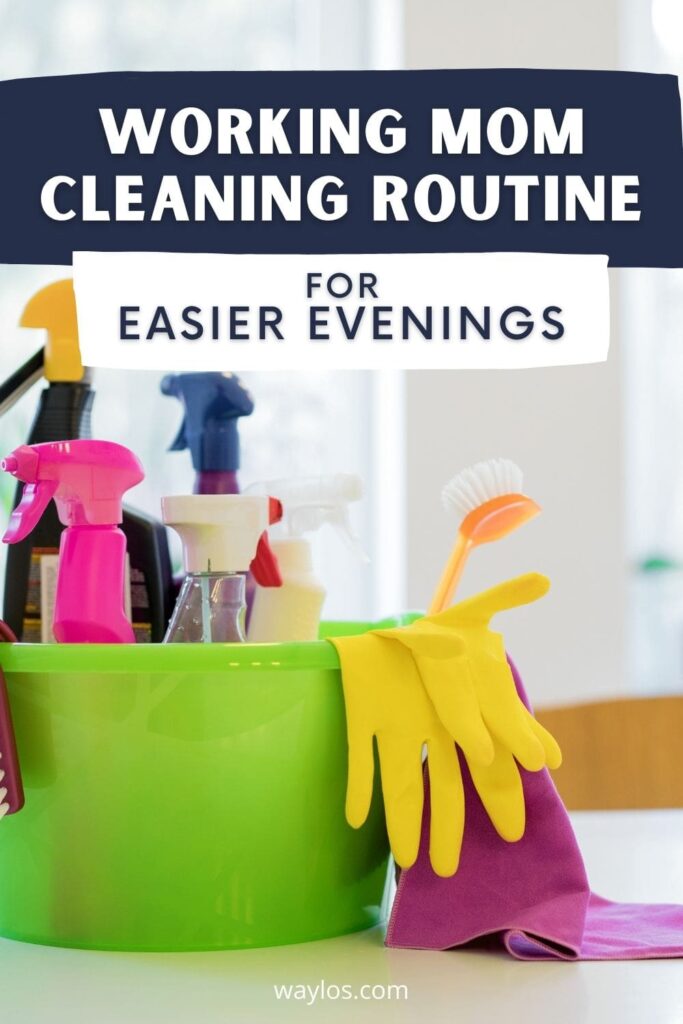 Before Work vs. After Work Cleaning Schedule
Before we dive in, you have a big difference in energy levels throughout the day as a working mom.
Especially after work and especially if you commute, after-work time can be exhausting. Your motivation to get cleaning done when your work day is over can be close to zero.
So, it's really important to listen to your body throughout your day and know your "high energy" and "low energy" times at home.
During your "high energy" times, you can do things like:
Bring the vacuum upstairs in preparation for cleaning a bedroom later,
Actually clean a whole room,
Do a 15-minute tidy with the family,
Put folded laundry away
Patiently give gentle reminders to the kids to get their chores done
During your "low energy" times, it may be easier to just give some attention to the rooms you are already in. You can do things like:
Just dust or sweep or wipe down the room you are in,
Spray & wipe a random sink
Start your robot vacuum
Sweep the porch or tidy your yard while the kids are outside
Choosing the Important Tasks to Include in Your Working Mom Cleaning Schedule
Part of being a working mom means you are VERY short on time. It's super-important during the week to pare down your cleaning list to what is necessary to have clean, neat living spaces (so the places your family regularly uses).
In my house, that means I regularly clean:
Kitchen
Bathrooms
Den (where the kids play)
My home office area
Bedrooms
Hallway/staircase
Front entrance
There are rooms in the house that we really don't go into, or very rarely use, or just don't need regular weekly cleanings.
For my house, that means I DON'T have these rooms on my daily/weekly working mom cleaning routine:
Dining room
Basement
Livingroom (formal)
Pantry
Inside oven
Inside fridge
Laundry Room/Area (I do keep a swiffer in this area to dust the surfaces quickly, otherwise this is a "monthly" cleaning space)
As you go through your day, pay very close attention to which parts of your home your family uses regularly. Those rooms/areas should be on your daily or weekly cleaning schedule.
Make a list of those rooms/spaces, and add those to your daily/weekly cleaning routine.
The rest of your house can be really done whenever you get to it. I personally have a "monthly Cleaning" list (anchor link) that I look at when I have a few extra minutes on a weekend and feel like cleaning.
Now let's get to the daily & weekly working mom cleaning schedules!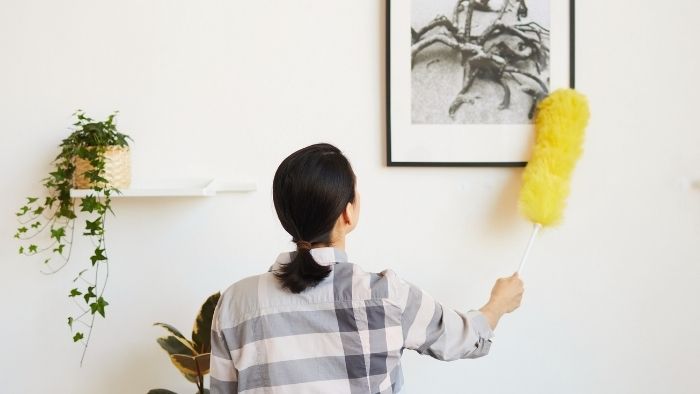 Daily Cleaning Schedule for Working Moms
Like I said before, your daily cleaning time is for necessities only. If you add too many tasks to your day, you will burn out. You don't have an entire day to clean, you only have a little time before work & a little time after work.
And, you'll have a hard time getting your family on board to help because you won't be as patient.
So, to make your daily cleaning schedule, take your list of necessary rooms/spaces, and list out the things you need to do each day to keep those areas clean & neat. I suggest considering the following tasks:
Tidy up (things go in their place),
Dust,
Wipe surfaces, remotes & light switches, and
sweep/vacuum/mop
No moving furniture, no digging into closets or drawers to organize – just the necessities to make each area clean, neat and usable.
Remember to schedule the more physically demanding tasks during your "higher energy" times, and the easier tasks for your "lower energy" times.
Here is what my daily cleaning schedule looks like as a working mom:
Before Work:
(early morning) Put laundry in the dryer & start 2nd load
(morning) Wipe kitchen counter & wash dishes from breakfast/put in dishwasher
(morning) 2nd load in dryer, fold laundry & give to kids to put away
After Work:
(before dinner) fold 2nd load of laundry & put away
(before dinner) pick from your weekly tasks (below) – for example I clean one lived-in room with family together (dust, wipe & vacuum/mop)
(after dinner) wipe kitchen counter, wash dishes from dinner/put in dishwasher, sweep kitchen floor all together with family
(after dinner) 5-minute tidy together with family (wherever it's needed)
(bedtime) wipe bathroom sinks if it's needed after brushing teeth
(bedtime) put a load of laundry in & set timer to start next morning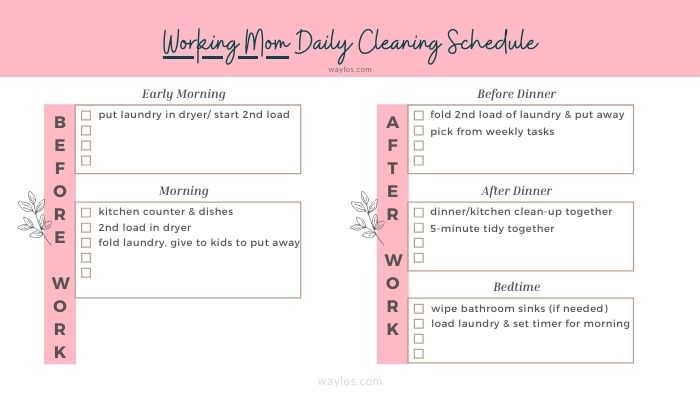 Weekly Cleaning Schedule for Working Moms
Besides the daily cleaning that keeps the house from completely falling apart, weekly cleaning of each "lived-in" area of your home helps keep dust away, and makes it much easier to use the space.
A great way to keep up with weekly cleaning is to schedule a small block of time each day to do one of the tasks on your weekly cleaning schedule.
There are a few ways you can break up these cleaning tasks throughout the week:
By Task
By Room
Flexible One-Room-a-Day
Weekly Cleaning By Task
This cleaning schedule assigns a cleaning task to each day, so for example, dusting on Mondays, cleaning floors on Tuesdays, etc.
Weekly Cleaning By Room
Each day of the week is reserved for a different room or rooms. So for example, Bedrooms on Mondays, bathrooms on Tuesdays, Kitchen on Wednesdays, and so on.
Here is an example of a Weekly & Monthly stay at home mom cleaning schedule, by room: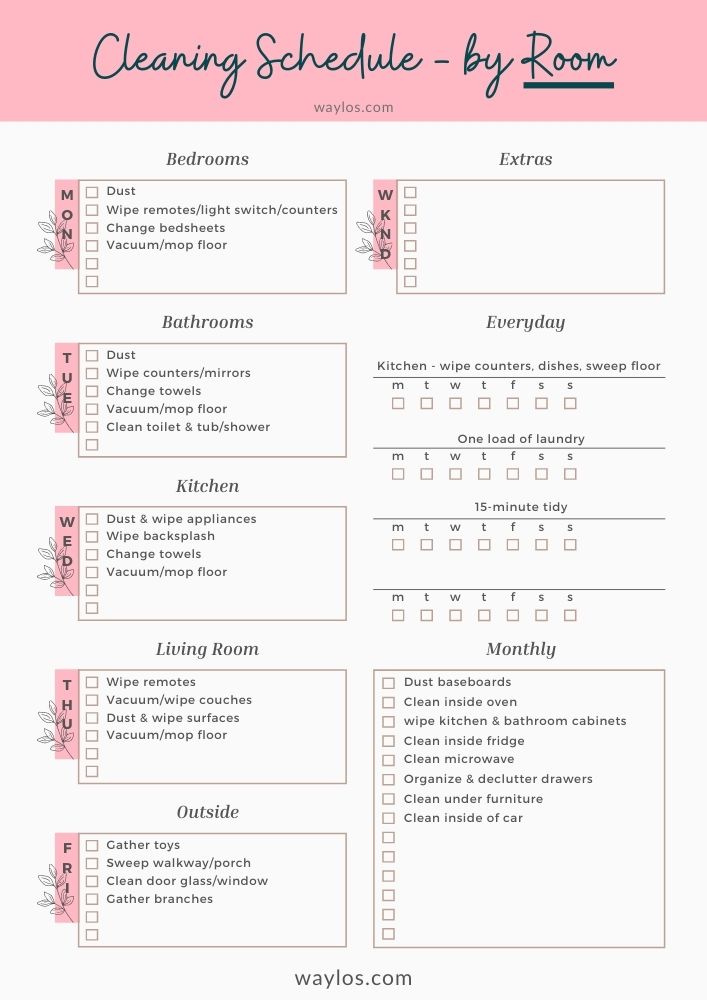 Weekly Flexible One-Room-a-Day Cleaning
This is the weekly cleaning schedule that I use.
Here's how it goes: You clean one random room a day. That's it! Whichever room you want to clean, go ahead and clean it.
What's great is you'll DEFINITELY clean your whole house eventually!
I keep track of the rooms I've cleaned with a perpetual calendar. Here's an example of mine, I use the one in my Happy Planner:
Monthly Cleaning List
The monthly cleaning list is where you keep those cleaning tasks that don't specifically need to be done every single week. I take out this list and choose a task or two when I have a few extra minutes on a weekend and feel like cleaning.
Examples of tasks on my Monthly Cleaning list are:
Cleaning under/behind furniture
Inside oven
Inside fridge
Pantry
Organizing drawers
Organizing closets
Cleaning windows
Laundry Room
…and other "cleaning" or "organizing" tasks that I can knock out on a Saturday or Sunday morning.
Keeping the family involved and having them either help with a cleaning task, or do one of the tasks themselves, will help this monthly cleaning list get checked off faster.
Why Have a Working Mom Cleaning Routine?
Specifically having a house cleaning schedule for working moms, and not just following a random cleaning schedule, is super-helpful because it understands that you have only small pieces of free time, and it forces you to minimize the tasks you include in the schedule.
It helps you to only do what is necessary, and see that this amount of cleaning is enough – it's perfectly fine, it keeps your kids healthy & that's what matters.
It's just not worth it to do more than that. The rest of your mornings and evenings are for you, and for binding with your kids & partner.
Taking away from that precious time to clean or organize something that just won't matter is not worth it.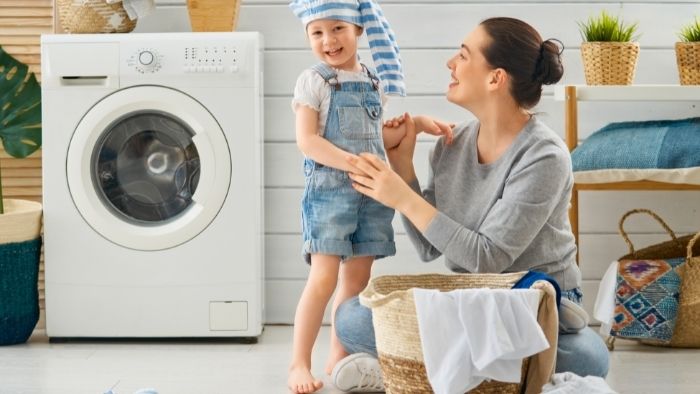 How to Make Your Working Mom Cleaning Schedule Easier:
Just start. Don't worry if there's some place in the house that needs a deep clean, just start with the easiest thing and add the deep cleaning to your monthly list. Don't worry about it during the week.
Schedule time with kids into your evening. When you already have a set time for cleaning and a set time for playing, you'll be less likely to feel like something isn't getting enough attention.
Catch the kids & spouse doing helpful things, like bringing dishes to the sink or cleaning up a toy and say "that is so helpful" this will do two things: it will help them see value in keeping their areas clean and it will make it much easier for them to say yes when you ask them for help.
Actively look for things to delegate. It is much easier in the moment to just "do it yourself," but in the long run you just get burnt out.
Keep extra sets of cleaning supplies where you use them the most, so you don't have to go looking for them when you have a second to quickly clean something
Invest in shortcuts. The absolute best cleaning purchase we have ever made is our robot vacuum. I called it stupid for YEARS and when I finally got one, I realized how much physical energy vacuuming was costing me.
The vacuum we have is the Ecovacs Deebot Ozmo T8:
Available at Amazon (prime & free returns), and BestBuy
It vacuums our hard floors, rugs & carpets, and even mops the floors. It is a total God-send game changer for busy working moms, and 1,000% worth the price.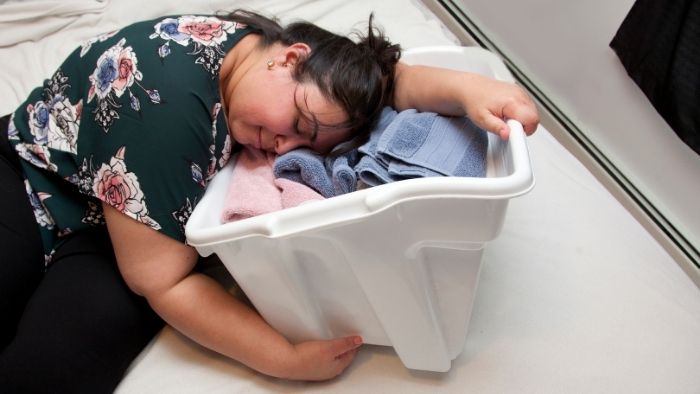 Considering a Cleaning Service
If keeping the house clean is just too hard right now, talking with your partner about a bi-monthly or weekly cleaning service is definitely a good idea.
Get some quotes, and sit with your budget to see if you can make it happen. You may be surprised at how helpful even a twice-monthly cleaning is for your home!
There is NO SENSE in making yourself miserable trying to keep up with cleaning your home, if you are already being pulled in too many directions. Even with the best cleaning schedule for working moms, if you find yourself always being frustrated with cleaning, then paying for a cleaning service is 100% worth it if you can afford it!
Here Are More Posts About Cleaning You May Find Useful: