Dress Up Your Favorite Oatmeal Cookies Recipe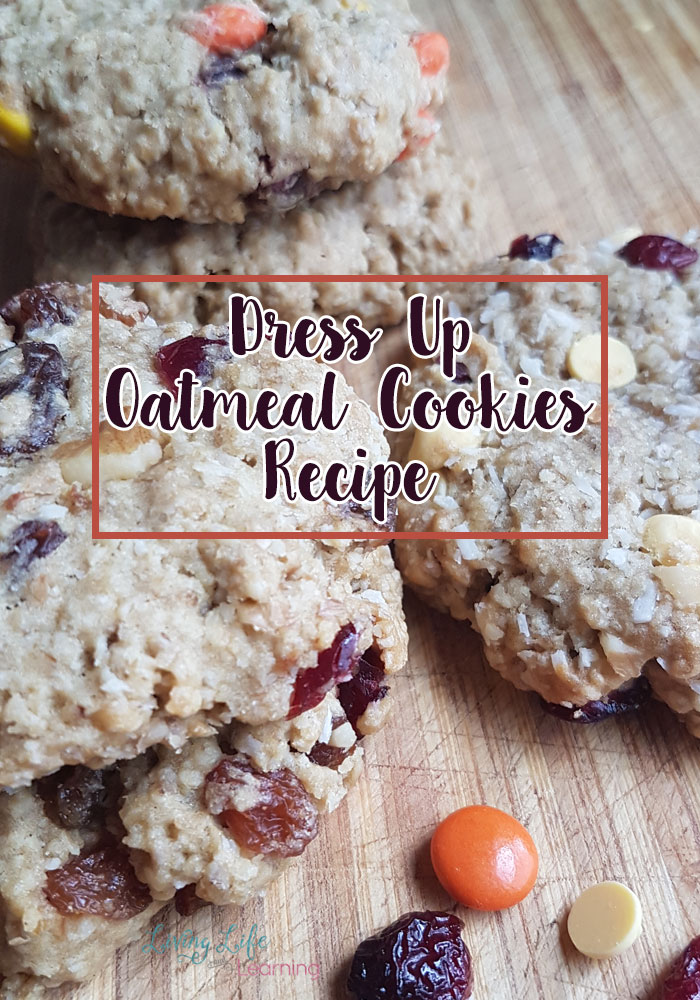 I love making cookies with my mother and while she didn't love to bake, it was the memories of baking and eating those delicious cookies that I treasure. My daughter loves to cook with her little chef's hat and I'm trying to create those memories for her.
She loves helping me in the kitchen, something that I remember that I loved to do with my mom. I hope to cultivate a love of cooking and baking in my kids so they can be self-sufficient once they're grown. And hopefully they'll want to cook for me, that's my secret wish anyways, don't tell them.
My daughter loves putting on her chef's hat to help me cook in the kitchen. I love her willingness to help and of course, to eat her work afterward. She gets really excited when we sit down to dinner and she can say that she helped me with that.
My boys love eating dessert and since I don't buy them often, we bake our own. This way I can control the sugar content and use ingredients that are on the healthier side. I like baking oatmeal cookies rather than regular ones and only use brown sugar in these ones.
Dress Up Oatmeal Cookies Supplies
3 cups quick cooking oats
1 1/2 cup flour
1/2 tsp baking soda
1/2 tsp salt
2 eggs
1 cup butter (I use Gay Lea butter)
3/4 cup brown sugar
1/2 tsp vanilla
optional toppings: Reese's pieces, cranberries, raisins, coconut shavings, lemon chips, walnuts
Dress Up Oatmeal Cookies Directions
Pre-heat oven to 350F
Cream together the butter and sugar
 Add eggs one at a time and vanilla
 Combine the dry ingredients together in one bowl – flour, baking soda, salt
Add the dry ingredients to the wet ingredients until just combined
We split the dough so we could add different toppings.
Roll into flat balls and bake for 12 minutes
We made 3 kinds of oatmeal cookies
Raisins, walnuts and coconut flakes
Reese's pieces
Dried cranberries and lemon chips
We wanted to have fun with the flavors and step away from the usual chocolate chip or only raisins, we do love those raisins though. We enjoy using Gay Lea butter for the convenience of the pre-measured bars. Makes it super easy to measure and add the correct amount to all of our recipes. Gay Lea is a Canadian dairy company that strives to create wholesome products that I'm happy to feed with my family with.
Disclosure: I am part of the PTPA Brand Ambassador Program with Gay Lea and I received
Compensation as part of my affiliation with this group. The opinions on this blog are my own."