How to Use a Weekly Planner, For a Stress-Free Week!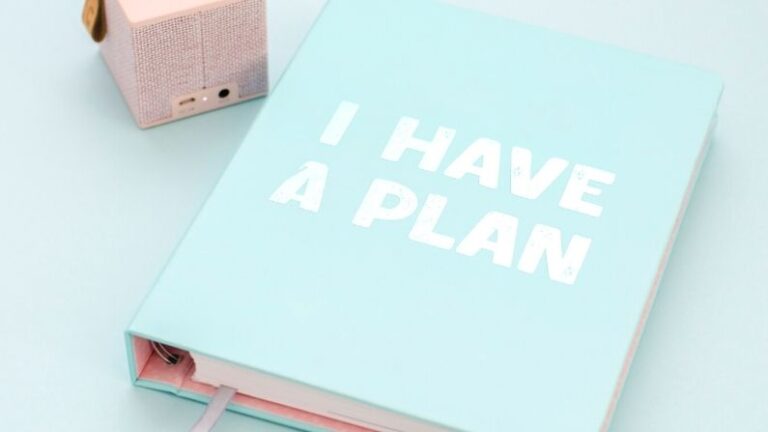 I'm showing you how to use a weekly planner to streamline all the categories of your life, and breeze through your week!
I have been living on weekly planners for years. Daily planners have way too much room for me, while month planners & calendars just don't have enough space to keep everything I need.
I love using a weekly planner because at first glance, they seem like not enough room to keep lots of events, tasks, and other info. But, when using a weekly planner effectively, you can easily fit your whole world in one place!
Weekly Planner Layout Types
The four most popular types of weekly layouts are:
Hourly,
Vertical Blocks,
Horizontal Blocks, and
Compact Blocks
Here are some examples of each type of weekly layout: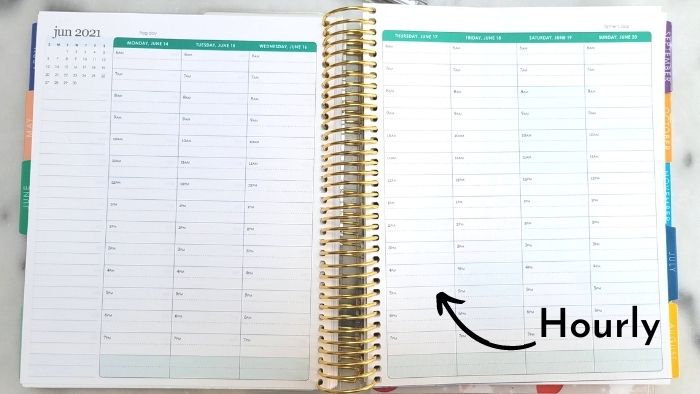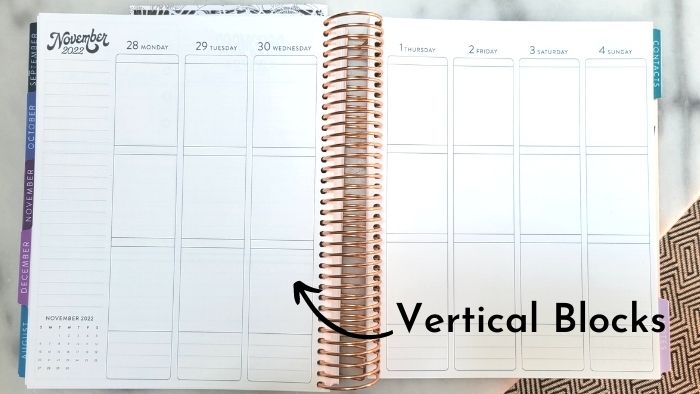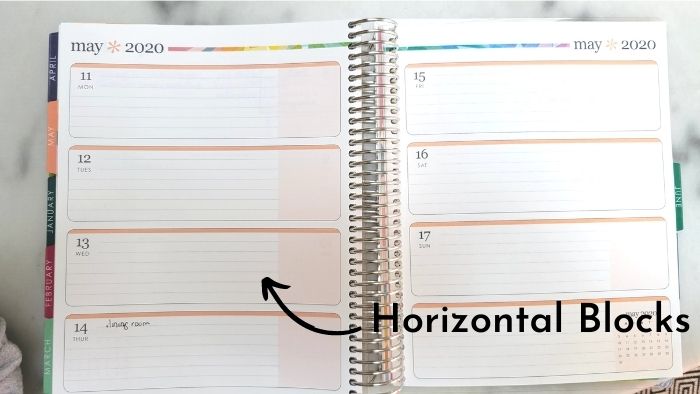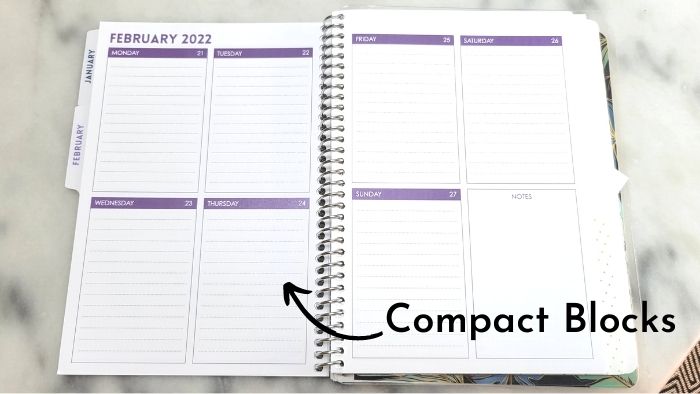 How to Use a Weekly Planner
What You'll Need:
An awesome weekly planner (check out some great options below)
A pencil,
Some highlighters, markers, stickers or other decorations
Your cell phone/access to your emails
That pile of mail you haven't gone through yet
How to Structure Your Weekly Planner
How you structure your weekly planner will depend on which type of weekly layout you choose. But, no matter which type of layout you pick, I always recommend putting these items into your actual week layout:
Appointments/events,
To-do list/daily & weekly tasks,
Reminders, and
Meal plans
Then, these items can go into your month layout:
Bill due dates, and
Appointments & events
Lastly, these items are perfect for the notes pages that are usually at the beginning or end of each month, or at the back of your weekly planner:
Checklists & charts,
Quarterly & monthly goals, and
Long-term planning
It's really important to keep your goals & long-term planning pages as close to your planner as possible, because you are way more likely to use that info to make your day-to-day, to-do list decisions.
That's why I want you just to put it right inside your actual planner. So you keep your goals close to you and at the front of your mind.
Today we are focusing on just the weekly layout part of your planner. But, if you are interested in how to use your whole planner to organize your life, here is a great post for that.
Using a Weekly Planner: Your Planning Routine
A planner is great and all, but if you don't use it consistently, it won't have all of your helpful info in it, and it wont work to make your week any easier.
That's why you need to set aside just a little bit of time to get that info into your planner. Three minutes on Friday, three minutes on Sunday and a minute or two each day is all you need to keep your planner up-to-date, and get those appointments, reminders, and to-do's done for the week.
Friday Planning
Each Friday, check your monthly layout and make sure all appointments and events for next week are on your weekly page. If they aren't, write them in now.
Then, skim through the upcoming week so that you are prepared mentally for what's coming up, and set any reminder alarms in your phone if you need to.
I also suggest planning your meals for the week, and make a short grocery list.
Sunday Checking
Now that you've had the weekend to maybe catch up or think more about what you want the new week to look like, it's a great time to put together a short list of tasks/to-do's for each day, and write them into your planner's week slots.
If you don't want to assign tasks for each day yet, you can also make a short list and either put it on a post-it, or write it into the notes section on the planner page, and check the tasks off from there each day.
Each Day's Planning
There are a few times daily that you usually get new information that needs to go into your planner:
Checking your mail,
When the kids come home from school, and
When you check your emails.
Keep your planner close to you during the day, so that when these times come up, you can immediately & quickly jot the important info into your planner:
Monthly layout: Bill due dates, appointments/events & date-specific reminders
Week section: appointments/events & date-specific reminders
You won't have to wait, the mail won't pile up, and nothing will get lost – everything's right in your planner.
What You Should Write in Your Weekly Planner
Everything you need to remember, and everything you need to do for the week! I'm not kidding! This is the BEST way to use your weekly planner.
The point of using a weekly planner is so that you don't forget anything, right? So, you've gotta take advantage of all the different places in your week layout that can hold all that helpful info for you.
If that sounds difficult or time consuming, I promise you it's not! Just use the routine above and it'll only take you a few minutes each week.
Once you get into a habit of using the planner routine, your week will run much more smoothly. No more forgetting random things!
How to Fill Out a Weekly Planner: Layout Examples
Here are some examples of how to fill out a weekly planner, using each of the four most popular weekly layouts.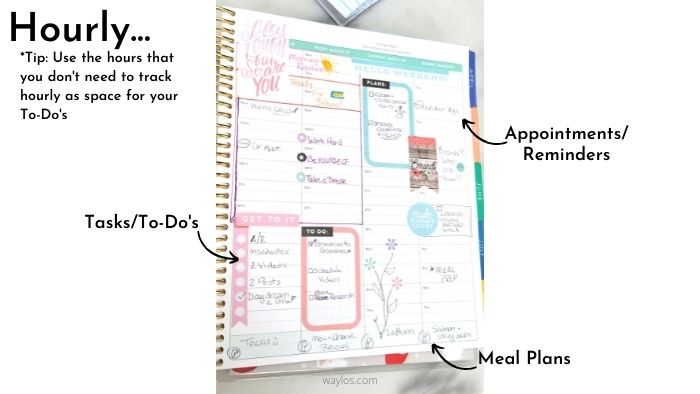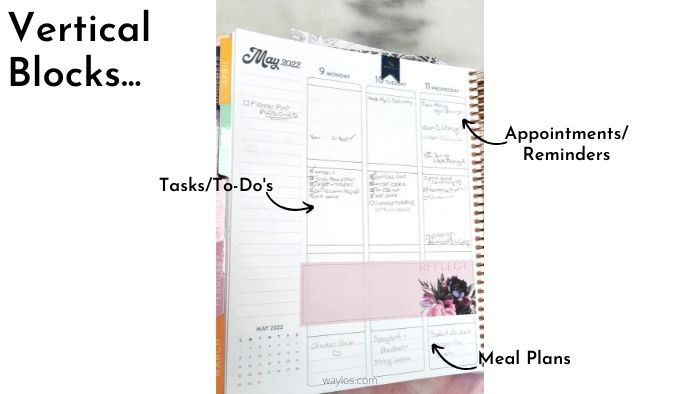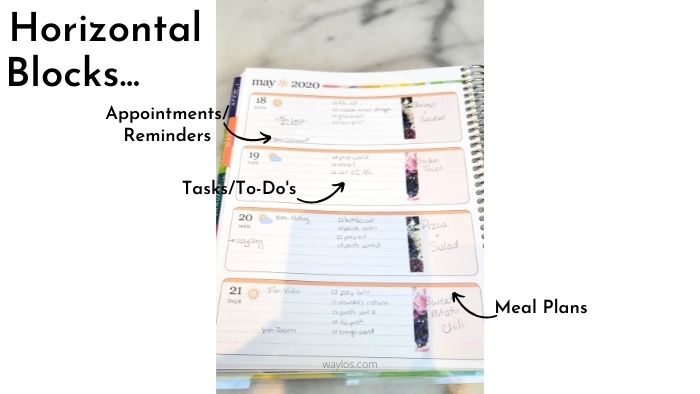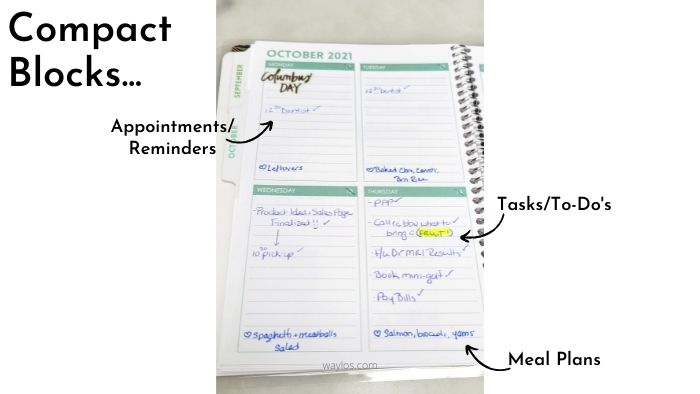 Here Are My Favorite Weekly Planners
Erin Condren LifePlanner – I've used every weekly layout from this company and my favorite is the vertical blocks. There's plenty of room for each day, plus notes on the side. And, I love the month-at-a-glance on each page. Check out my full review here.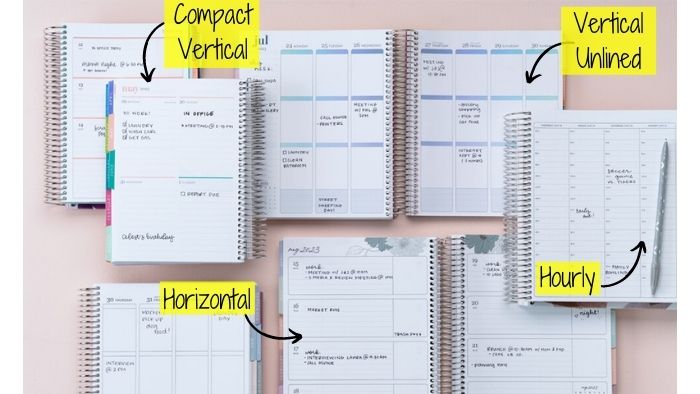 Happy Planner (Colorblock Layout) – I like all of the Happy Planner layouts, but this particular layout is great if you want to separate the different categories in your day.
PurpleTrail Planner (Compact Lined Layout) – Perfect for people with lots of to-do's. Check out my full review here.
Living Well Planner – This undated weekly planner has a great hourly layout, and GENEROUS room for notes & goal-setting.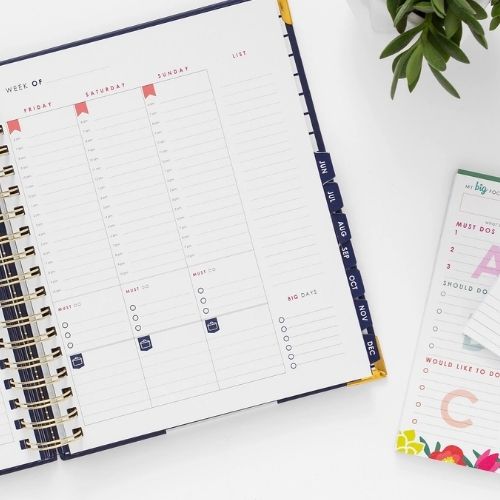 I also have a VERY thorough list of 22 Best planners for moms (new for 2022), check it out!
Here Are Some More Helpful Posts About Planners: