That Time I Let My Mind Make Me Sick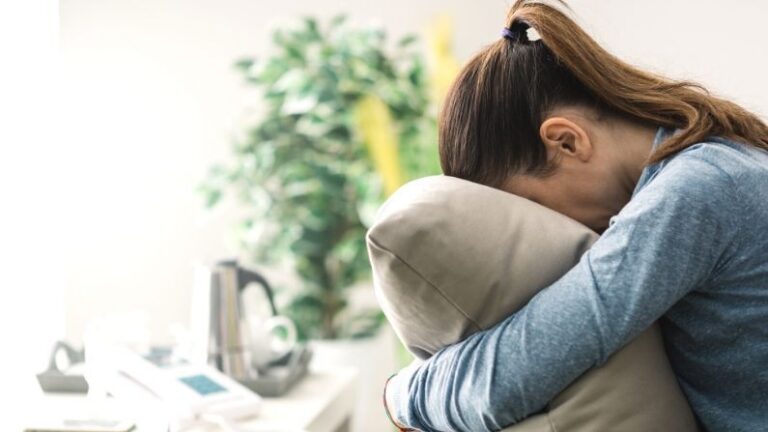 This is a bit of a different post.  It's possible what I'm going through might help some of you (or maybe you can help me!), so here it is….
A part of me feels like my brain is so frazzled and stuck, that it's affecting my physical health.
I'm physically fatigued in all parts of my body, my eyes are out of focus, and my mind keeps circling around thoughts I should be able to let go of.  I know that I've also been letting my healthy choices slide in order to focus on work, which may be contributing to this.
[/et_pb_text][et_pb_image src="https://livinglifeasmoms.com/wp-content/uploads/2019/12/My-Mind-Made-Me-Sick.jpg" _builder_version="4.0.9″][/et_pb_image][et_pb_text _builder_version="4.0.9″ text_font="Georgia||||||||" text_text_color="#000000″ text_font_size="19px" text_line_height="1.6em" ul_font_size="20px" ul_line_height="1.7em" ol_font_size="20px" ol_line_height="1.7em" header_font="Georgia||||||||" header_2_font="Georgia|700|||||||" header_2_text_color="#cc1c9a" header_2_font_size="30px" header_2_line_height="1.7em" header_3_font="Georgia||||||||"]
I want to come out of my mind, and get mentally and physically healthy.
By healthy, I mean:
Exercise my body,
Fuel my body (eat healthy),
Nurture my relationships, and
Calm my mind.
My desire is to be content with what "is" and be less worried/anxious.
I'm wondering what to do to help this happen, and I've come up with some ideas:
Some options are (in no particular order):
To Exercise My Body:
Exercise every day, or hit over 10,000 steps if I'm not exercising that day
Wake up early and get to sleep early
To Fuel My Body:
Eating healthy foods is relatively easy, since there are plenty of options in my house and my spouse is on board with that.  My biggest obstacle is overcoming indecision when it's time to eat something.  I start to worry about what food group I ate already, or whether I'm eating too much of this or that.  Sometimes I end up skipping altogether, or just eating the easiest fruit or veggie I can find and nothing else.
To Nurture My Relationships:
Play with each of my kids a game they pick, once per day (they're older and don't really want to spend every waking moment with me, lol)
Physically touch my spouse several times per day and at night
Reach out to a relative once per week
Possibly be helpful in some way to someone else outside of my family, once per week if it's available.
 To Calm My Mind:
Uninstall the YouTube app on my phone (Did it – I don't have Facebook, Instagram or any of the other social media accounts, YouTube seems to be my vice)
Uninstall whatever news feed happens when I open my internet browser (doesn't look like that's possible so I won't use Internet Explorer anymore)
Get some direction regarding proper meditation for anxiety and gratitude
Make one big life decision each day, and let it go after that (my hubby thinks this is one of my biggest issues, that I over-analyze and end up scaring myself and letting things consume me)
Maybe read a fiction book? To get out of reality a little bit?
I obviously want this to start having benefits immediately, so I'm wondering where to start, or to just check each thing off each day, like a list.  I think I will do a checklist-type of approach.

So for example, today I ate not that great, and I noticed that when I had coffee, I was very uncomfortably wired & jittery.  I'll eat whole foods and drink water for the rest of the day.

I'll also do 15 mins of yoga tonight while the Hubs does his night time routine with the kids, since I'm feeling very stressed and I don't think I should increase my heart rate right now.

I'll also make sure to physically touch Hubs whenever I can today.

Calming my mind, I'm not 100% sure what to do yet, although I feel like that's probably the thing that needs the most immediate attention.  I did try to meditate a little already today so I'll check that off for now, and if I can fit in some fiction reading, I'll do it later tonight.

I also found this Meditation for Anxiety video by Yoga With Adrienne that I'm going to try, if you want to check it out:

[/et_pb_text][et_pb_code _builder_version="4.0.9″][/et_pb_code][/et_pb_column][/et_pb_row][et_pb_row _builder_version="3.29.3″][et_pb_column type="4_4″ _builder_version="3.29.3″][et_pb_text _builder_version="4.0.9″ text_font="Georgia||||||||" text_text_color="#000000″ text_font_size="19px" text_line_height="1.6em" ul_font_size="20px" ul_line_height="1.7em" ol_font_size="20px" ol_line_height="1.7em" header_font="Georgia||||||||" header_2_font="Georgia|700|||||||" header_2_text_color="#cc1c9a" header_2_font_size="30px" header_2_line_height="1.7em" header_3_font="Georgia||||||||"]

I'm missing the "be content" part of this, but my hope is that when I do something from each of the 4 health categories, it gets me closer to being just grateful and content in general.

Anyway that's where I'm at!  Have any of you been down this rabbit hole before?  Am I on the right track?  If I can't make progress I will absolutely talk to my doctor, but when I look in the mirror, I know there are life choices I'm making that I need to be intentional about changing.

XO & I hope you had the best year ever!

-Mina

[/et_pb_text][/et_pb_column][/et_pb_row][et_pb_row _builder_version="3.25″ custom_padding="27px|0px|0|0px|false|false"][et_pb_column type="4_4″ _builder_version="3.25″ custom_padding="|||" custom_padding__hover="|||"][et_pb_text _builder_version="4.0.9″ text_font="Georgia||||||||" text_text_color="#000000″ text_font_size="19px" text_line_height="1.6em" ul_font="||||||||" ul_line_height="1.6em" header_font="Georgia||||||||" header_2_font="Georgia||||||||" header_3_font="Georgia||||||||"]

P.S.: Here are some more posts that might be helpful:

How to Simplify Life & Actually Stop Wasting Time

Organize your Goals to Win the New Year

[et_pb_section fb_built="1″ _builder_version="3.29.3″][et_pb_row _builder_version="3.29.3″][et_pb_column type="4_4″ _builder_version="3.29.3″][et_pb_text _builder_version="4.0.9″ text_font="Georgia||||||||" text_text_color="#000000″ text_font_size="19px" text_line_height="1.6em" ul_font_size="20px" ul_line_height="1.7em" ol_font_size="20px" ol_line_height="1.7em" header_font="Georgia||||||||" header_2_font="Georgia|700|||||||" header_2_text_color="#cc1c9a" header_2_font_size="30px" header_2_line_height="1.7em" header_3_font="Georgia||||||||" hover_enabled="0″]