16 ACTUAL Moms Answer: What Should I Get My Mom For Christmas?
I went right to the source, and asked 16 busy moms what gifts are at the TOP of their holiday lists, so you don't have to go scrambling for mom's gift ideas!
The answer to "What should I get my mom for Christmas" is right here in this post.
Most Moms Want the Gift of "Alone Time" for Christmas
Yes, there are many excellent physical gifts in this list of gift ideas for moms.
But, going through the answers for this mom gift guide, I picked up on a pattern (and it isn't that surprising if you ask me)….
A lot of the answers really show the extent of what us moms give all year. We really give our families the gift of our TIME & ENERGY.
The moms below give some great & creative ways to give mom the gift of some alone time (or "alone time" with her S.O.), while also handing her an actual gift to open.
It's good to keep this in mind when you're shopping for gifts for mom any time of year, for mom's birthday or mother's day.
Let's get into the gift ideas for mom!
Here's What to Get Mom for Christmas, from 16 Actual Moms
A Big, Beautiful Puzzle
"I would love to get 1000 piece puzzles, I use them to unwind and it really helps me to relax. They are such a good form of me-time for anyone who likes to keep their mind busy."

– Anna, from On Your Journey
An awesome gift for puzzle loving moms would be this Puzzle Box Subscription. She'll get a new 1000-piece puzzle every 3 months, with beautiful images from independent artists.
A Special Spa Day
"A massage!! My neck and back have been in pain for two years since my little one was born from carrying him around. I would kill for some restoration!"

Marly, from Marley's Menu
"A local relaxing spa package would be a perfect holiday. Running a full-time business and being a mother is stressful! Having a spa package ready to go that needs to be used will force me to take that time off for myself."

Jessica, from

The Forked Spoon
Whichever spa you decide to send mom for her Christmas gift, make sure to check out the reviews first!
Some easy places to find local spas are Spa Finder and Groupon, and Massage Envy has over 100 locations.
Don't forget, you can get cash back on SpaFinder and Groupon if you have Rakuten!
An Overnight Babysitter so Mom Can Have Some Real Alone Time with Dad! (this was the #1 pick!!)
"I would love to go on a short getaway with my husband without kids. We barely have time to ourselves with 3 kids and could need a break!"

Susanne, from Lil Tigers
"A night out with my husband and someone babysitting our children. It would be even better if the grandparents kept them overnight!"

Erin from

Crafty Art Ideas
"At the top of my list this year is a real night out with my husband! The past year and a half has been so crazy for all of us and honestly the idea of getting dressed up and hitting the town like we used to before kids sounds like a perfect gift!"

Siobhán, from Mimosas and Motherhood
This is an easy and free gift to give to the mom in your life with young children:
Open your home for a fun sleepover,
spend a night or two at their house,
If you are the husband, make the plan! Book a mini-vacation and enlist a family member for babysitting duties, way in advance – Don't just make a "coupon" for a "free getaway."
Some "Mom" Alone Time to Unwind – With a Few DIY Goodies.
"As a mom of 3 busy boys, I would love the gift of some time to myself to actually relax. Some DIY self-care items like bath bombs and sugar scrubs would complete the package!"

Heather, from Made in a Pinch
Such a thoughtful idea: Wrap a small, beautiful box of DIY spa activities, and pull up your calendar – and volunteer for babysitting duties!
Don't let Mom leave until you've scheduled the day, or it'll never happen.
If you're not the crafty type, there lots of self-care gifts at places like Target, or these beautiful handmade goodies from Etsy: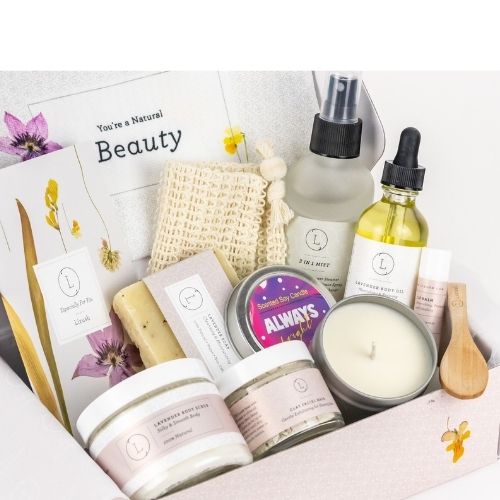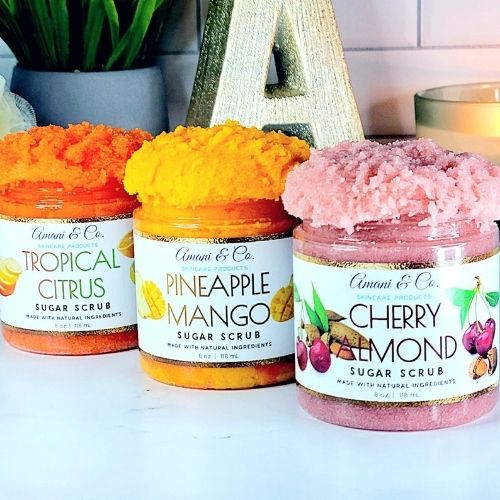 A Gift Card to Mom's Favorite Store
"This year, it'd be nice to get a gift card to HomeGoods or a similar store. We're moving into a new home and I'd love to get some new home decor."

Marissa from Mommy Knows What's Best
Home decor is always a fun way to spruce up the place where us moms spend the most time. Lots of stores sell gift cards to places like HomeGoods, Bed Bath & Beyond, Wayfair, or wherever your favorite mom's favorite place is!
Try the customer service area at Whole Foods, and Target has an entire wall dedicated just to gift cards!
An even better (and free!) place to check your credit card – if you have rewards points, lots of credit cards allow you to redeem the points for gift cards!
Some Additions to Mom's Favorite Hobby
"I would love a new lens for my camera. I am really enjoying my food photography. It's a great way to fill my own cup which helps me be a better Mom!"

Sarah, from Keep Calm and Eat Ice Cream
"I want the same thing I want every year- someone to clean my basement for me! But absent that, enough peace and quiet to finish a good book, lumber for my raised bed garden, or some lace for a crafting project."

Hillary, from Home Grown Hillary
Asking mom exactly what she wants for her hobbies is your best bet here.  But, if you want your gift to be a surprise, an AmEx or Mastercard gift card she can use anywhere will make it easy to splurge.
Some Help around Mom's House
Don't think I just glossed over "someone to clean my basement for me" – what a fantastic gift idea for mom! Block out a day to go to mom's, and bring some big garbage bags and boxes with you.
And here's another helpful and thoughtful gift idea for mom, for any time of year:
"I would love for someone to come to my home and make me a huge stack of freezer meals. Not having to cook in January would be the best gift I've ever received!" Jennifer, from

Jennifer, from Healthy Happy Impactful
If you are new to freezer meals, jump on The Family Freezer's website – there are TONS of freezer meal recipes, and Kelly makes it so easy with simple ingredients.
If your mom has a crock pot/slow cooker, she'll love them!
Helpful Gifts to Make Mom's Day Easier
"Well, since I'm an infectious disease physician in addition to a mom and a blogger, the biggest gift someone could give to another would be to get the COVID vaccine so we can gather safely. Absent that, I've been desiring a combination air fryer and instant pot for quick weeknight dinners and to be able to make these bars."

Joanne, from Ugly Duckling Bakery
I've seen these everywhere! You can find them on Amazon, in Target, or Walmart.
"I would love to get some kitchen cushioning mats. I stand for so long in the kitchen cleaning up and feeding my family and it is a real strain on my legs and back!"

Robyn, from

A Dime Saved
It's my turn! There are TWO things at the absolute top of my christmas list this year, which would make my life MUCH easier:
The first is a french press – I drink decaf while my husband drinks regular coffee, and I'd love to have something easy to use (and clean!) instead of waiting my turn for the coffee machine!
Second, I would love some bluetooth earbuds that are compatible with my phone. This way, I can listen to a podcast or an audiobook while I'm taking care of the house. I bet other moms would love a pair of cordless earbuds, too.
Quality Time With the Older Kids
"Well, my boys are older teenagers – 1 first year of college and junior in high school. For Christmas, I'd like uninterrupted time with them to make cookies and Christmas treats and put puzzles together like we did when they were little. Or, if you could just pause time for a little while. <3"

Paula, from Call Me PMC
Aw! Older kids can wrap a few games and cookie ingredients together, and block out an afternoon with mom!
Some Meaningful Jewelry
"This year I hope to get stackable birthstone rings with my kiddos birthstones. I would love to wear something on my right hand that represents my kids and compliments my wedding rings."

Jeannie, from Crafting Jeannie
These rings are handmade, stackable, customized with your choice of stones and absolutely beautiful!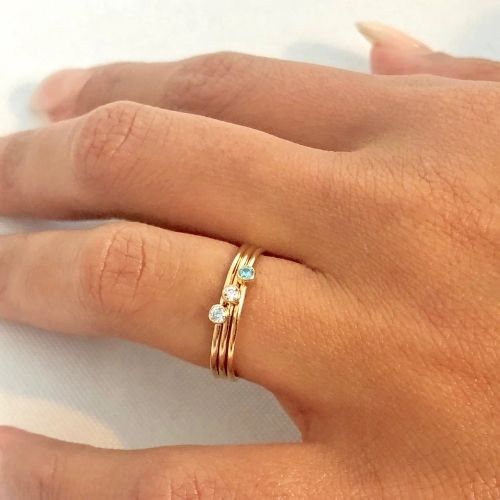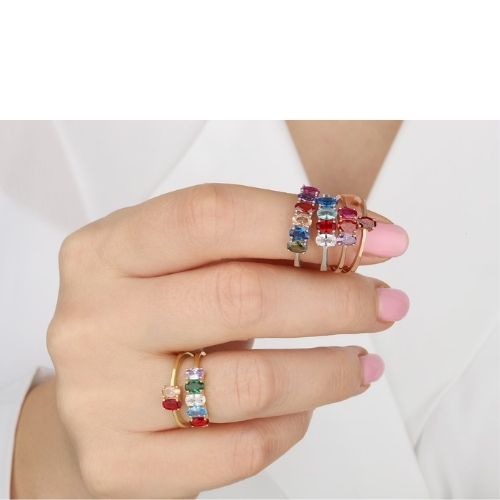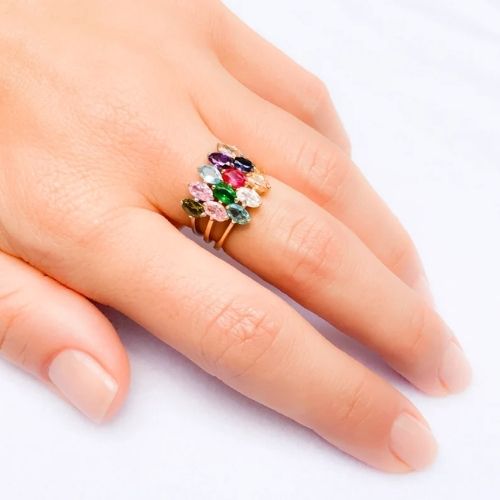 That's What to Get Mom for Christmas!
I'll be checking off my list with awesome gifts for the moms in my life, and adding a few goodies to my own holiday list!