Best Gifts for Teen Gamers
No matter if you have a teen boy or girl, one fact remains true; most teens are into the gaming industry. Whether it's Fortnite, Minecraft, or Among Us, the game options out there are readily available to our teenagers.
That's why I wanted to feature a fun list of Best Gifts for Teen Gamers. Each of these ideas will help you get in bond with your teen as they see that you truly do get their gaming lifestyle.
What to get a gamer who has everything?
Perhaps your teen gamer already has everything they could possibly need. That's why it's important to think creatively when it comes to buying gifts for teen gamers.
Below you'll find some of the cutest wall décor items, socks, and unique gamer accessories that will work for any gamer who has everything.
Finding new ways to bond with your teenager isn't easy these days, with technology ruling their life, but these gifts for teen gamers will surely earn you a few parental "coolness points" this gift-giving season.
Recommended Coding and Programming Books
Is your teenager interested in programming or coding? These books are perfect for aspiring game developers or programmers.
Coding for Kids: A Hands-on Guide to Learning the Fundamentals of How to Code Games, Apps and Websites (Learn to Code)
Coding for Teens: Minecraft and Lua. Intermediate Guide with 162 awesome Activities. An unofficial Minecraft Book.: Christmas version! (Coding Book. Learn to code)
Code for Teens: The Awesome Beginner's Guide to Programming
Coding Concepts for Kids: Learn to Code Without a Computer
Code a Minecraft Mod in JavaScript Step by Step (Coding Projects for All)
Computer Programming for Kids: An Easy Step-by-Step Guide For Beginners To Learn Programming And Coding Skills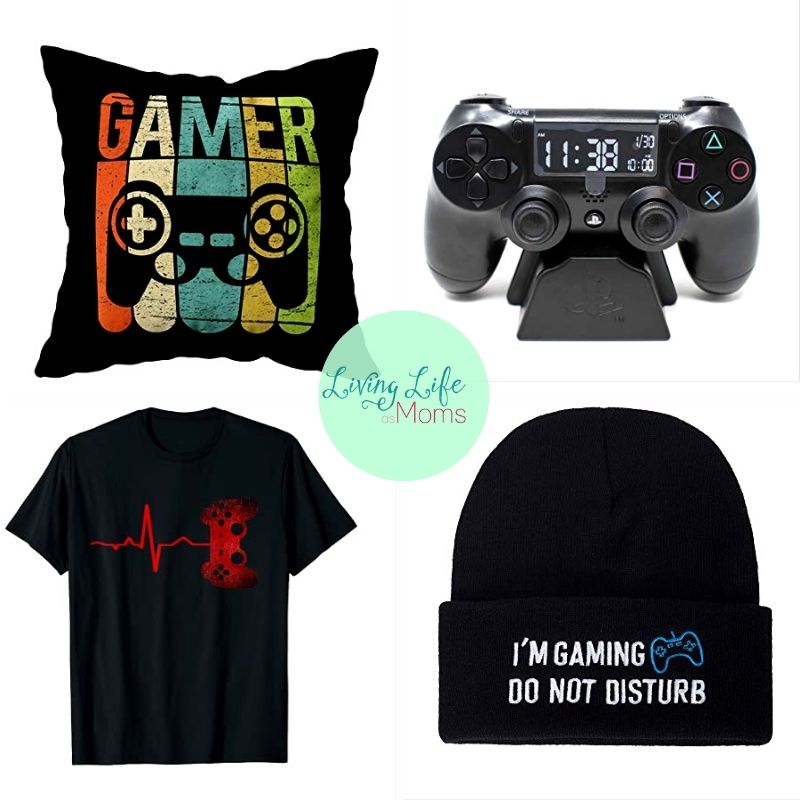 Recommended Teen Gamer Collections
Get this Gaming Controller Gift Card Holder and the Do not Disturb Gaming in Progress Door Hanger and make your teen gamer happy.
Best Gifts for Teen Gamers
Are you in need of gift ideas for your teen gamer? Check out this list of the best gifts that you can give that he or she can appreciate.
If you want a safe gift idea, T-shirts are on the top of the list. You can never go wrong with this.
This cool hoodie is a great gift for gamers. They will surely relate to this funny phrase.
Who doesn't like a beanie? Gamers do like wearing beanies and this one has a pretty cool phrase, too.
Your teenager will love this gamer-themed blanket. A perfect addition to a gamer's collection.
This pillowcase is so pretty and perfect for a gamer's bedroom or a game room.
Wall decals as gifts? Definitely yes! Your teen will immediately stick this to his room!
This controller has an alarm clock that is perfect for those who are having trouble keeping time.
Photo Credit: www.etsy.com
Grab this cute personalized mug as a gift to your teen gamer to put a smile on his face.
Another awesome T-shirt design that gamers will like.
Comfy socks for your teen? This cool pair of socks can be a perfect gift for a special occasion.
Photo Credit: www.etsy.com
This one is a unique gift idea that you can give to your teen gamer. They'll enjoy taking a bath with these cool bath bombs.
Get this gaming room decal for your son or daughter who loves playing.
Neon signs as room decorations are a hit these days. I am sure your gamer teen will love to have this as a gift.
Simple yet elegant. This framed room decor is a great gift for a person who love gaming.
Gamers will love this comfortable footwear with an Xbox theme.
I hope you were able to find a fun gift for your teen who loves to game. It can be hard to find something they like but once it's related to video games you can't go wrong.
Still confused about what gift you should get? Have a look at these Electronic Gifts for Kids that can be Educational Tools too.
More Ideas for Teens
Things I Want My Teenage Daughter to Know
5 Things I Want My Teenage Girl To Know Before She's an Adult
64 Gifts the Teenager in your Life Will Actually Like by Today