22 Best Planners For Moms in 2023, From a BUSY MOM (I Know My Stuff!)
I'm a super-busy working mom, and have been an avid planner user for over ten years.  I'm so excited to give you this new-for-2023 list of the absolute best planners for moms!  
Moms with different lifestyles have many different needs. In this article I dive right into my top pick for best planner for moms overall, as well as my top best mom planner picks for all of you wonderful working moms, homeschooling moms, budget-savvy moms, and more!
Plus, I'm giving you my top tips for what to look for when you are buying a new planner, so you don't waste your money (a lot of planners are final sale, unfortunately).
Between our family, our kids, and all the things that keep us up at night, it's not easy to simplify down and control our schedules & routines, without a helpful system in place.
A planner is exactly what we need to keep everything in one place, keep us reminded of each family member's events & appointments, and house important lists like groceries, menus, important phone numbers, etc.
Best Planners For Moms 2023
| Best For: | Best Planner: | Where To Buy: |
| --- | --- | --- |
| Best Planner for Moms Overall | Happy Planner | Amazon (Prime & Free Returns) or Happy Planner site |
| Best Planner for Stay at Home Moms | Erin Condren Family Organizer Book | Erin Condren site |
| Best Planner for Working Moms | Bloom Daily Planner | Amazon (Prime & Free Returns) or Bloom Daily Planner site |
| Best Daily Planner for Moms | Erin Condren Daily Duo | Erin Condren site |
| Best Planner for Moms with Big Personal Goals | Passion Planner | Passion Planner site (Free Returns!) |
| Best Planner for Homeschooling Moms | Practical by Default Printable Homeschool Planner | Practical by Default |
| Best Budget Planner for Moms | Blue Sky Planner | Amazon (Prime & Free Returns) |
| Best Planner for Mompreneurs | Legend Planner | Amazon (Prime & Free Returns) |
| Best Planner for Moms with Big Families | MomAgenda Home Office Planner | MomAgenda site |
| Best Printable Planner for Moms | Ultimate Mom Planner | Cassie Scroggins |
| Best Planner for Moms Who Get Bored Easily | Any Happy Planner | Happy Planner site |
For moms overall, I believe that the most important feature to look for in a planner is flexibility. The Happy Planner is disc-bound without feeling like a binder, so you can move pages and sections around if having them in different places works better for you.
And, it comes in 11 layouts, so you can mix and match them all to create a planner that truly works for your unique situation.
Available on Amazon (Limited choices but Prime & free returns) or the Happy Planner Store
This is the planner I am using this year and honestly it has room for EVERYTHING I keep track of, like:
Bill due dates,
To-do's & schedule for my job,
My blog to-do's and deadlines,
Family & home tasks, appointments & events,
Monthly, quarterly and yearly work & personal goals,
Meal planning, etc.
I found that, where I would normally have 2 or 3 planners going at the same time, the Erin Condren LifePlanner alone is working great for me right now. Read my review of the EC LifePlanner here.
Available at Erin Condren, or limited collection at Amazon
Stay at home moms need planners that can keep up with their need to be flexible, as well as have room for all the different family categories.
The Family Organizer Book is BRAND NEW & keeps a lot of the family/home-type lists AND everybody's schedules all in one place, so that you're free for the fun stuff!
Available at Erin Condren
This is a very inexpensive planner option for stay at home moms. What I LOVE about it is the layout – for each week, you get a weekly layout on one side, and a full page of notes space on the other.
It's also got tear-out pages for lists, and some goal-setting pages.
Available on Amazon (Prime & free returns)
It's called a "daily" planner, but it's really a weekly planner…I don't know why they do that lol!
This planner is very budget friendly, and comes in three sizes.
It also has two parts to the layout that are my FAVORITE…a "NOT to do list," and a "my ideal week" page. This is such a great way to keep the focus on the important things as a working mom with not a lot of free time.
Available on Amazon (prime & free returns), or the Bloom Daily Website.
So this planner has a very minimalist layout, but honestly I love it because of the huge note page with each weekly spread. It's really easy to break it up & use it for lists, reminders, trackers, etc.
Available on Amazon (Prime & free returns)
When a weekly spread just doesn't cut it, this daily planner has all the room you need to spread out, so that you can see all the important stuff on one page & don't have to go looking for anything.
The Daily Duo is a set of two three-month planners, so that you don't have to carry around a huge bulky planner with hundreds of pages.
Available at Erin Condren
This is an undated daily planner with some really cool prompts on the week and daily pages. I really love the "work," "personal" and "life balance" to-do lists!
Available on Amazon (prime & free returns)
Best Planner for Moms With Big Personal Goals:

Passion Planner
I love a goal-centered mama! Life goals, career goals, home projects, financial goals…
The passion planner has goal-centered pages both before and after each month.
One "con" about this planner is that I am left-handed and although the Passion Planner is "lay-flat," softbound planners in general aren't 100% comfortable for me, just a personal preference.
The Passion Planner is 100% refundable, but if you want to try it out before you buy, you can download free Passion Planner pages here.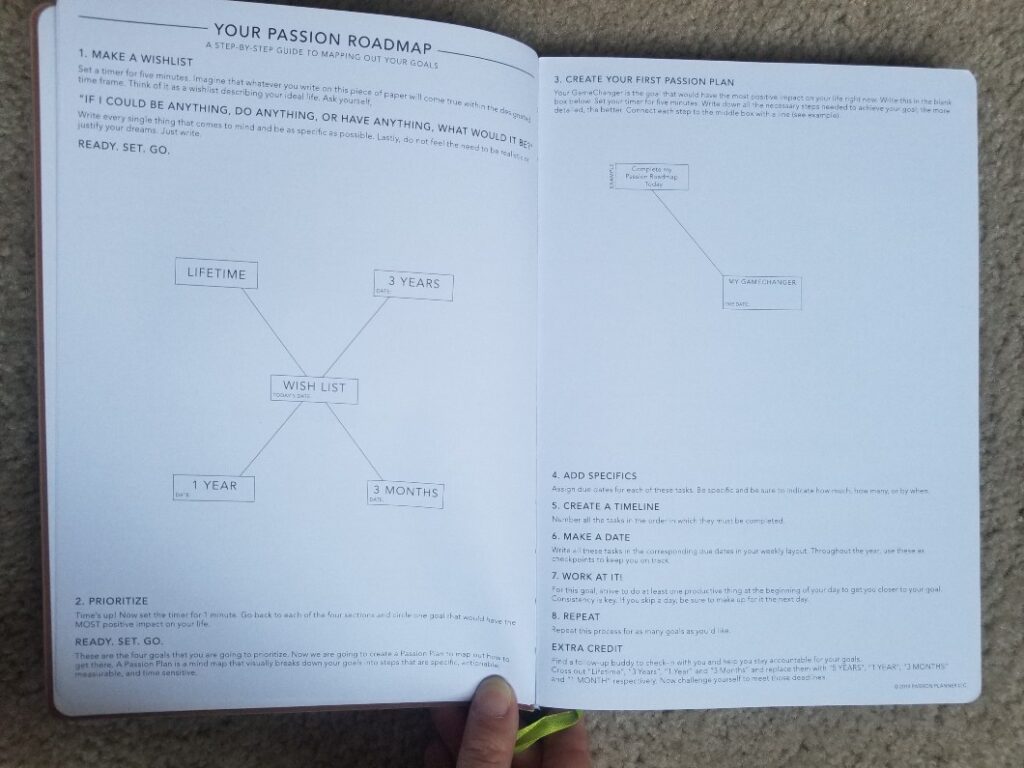 Available at the Passion Planner site.
So this planner has a ton of goals pages, and it's structured in a way that literally makes you break them up and get them done!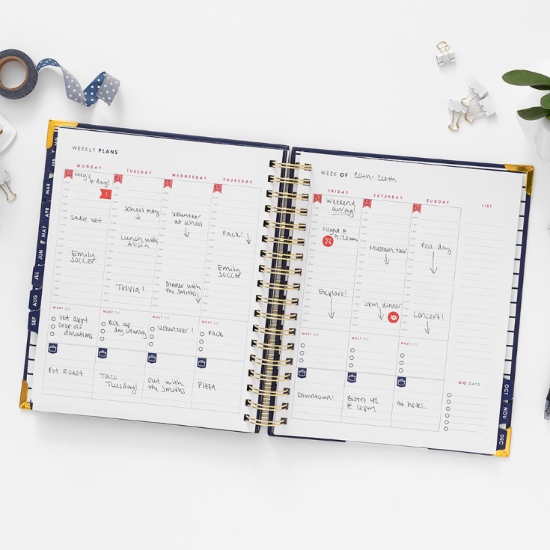 A "con" for this planner is that the cover is freaking heavy!! It's like carrying around a hardcover book. But, if you leave your planner at home or have a sturdy tote, it isn't much of a problem.
Check out the Living Well Planner here.
This printable Homeschool Planner for Working Moms from Jen at Practical By Default has EVERYTHING a homeschooling mom wants, plus:
A video walkthrough of each planner page, and
LIVE virtual planning classes with Jennifer, to show you how to plan your homeschooling around your work time…how cool is that!?
Made by a homeschooling, working mom, this planner keeps all of your homeschooling lists, charts, trackers and schedule in order, so that you can breeze through your week without taking away from your work time.
You can see from Jen's IG account that she is the real deal, and this printable Homeschool Planner for Working Moms is the product of her many years of personal experience.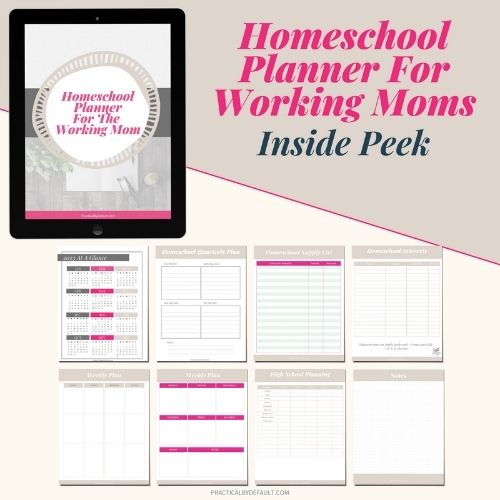 Check out the Homeschool Planner for Working Moms here.
Teacher planners have lots of extra lesson-specific inserts for moms who give their kids an awesome education & learning space. The Erin Condren Teacher Lesson Planner has lesson planning pages, communication logs, and there are some great accessories as well.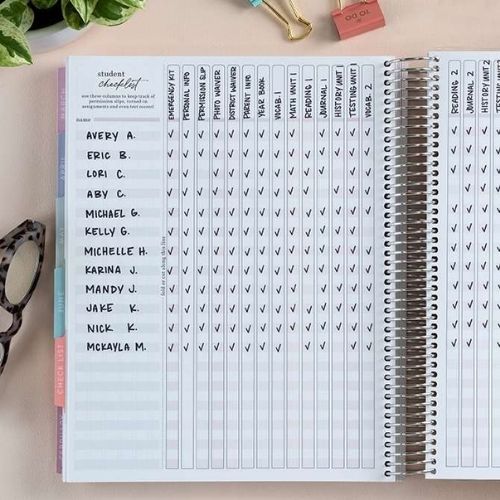 Available at Erin Condren
Best Planner for Moms on a Budget:

Blue Sky Planner
Moms don't have to sacrifice quality to have an inexpensive, helpful, nice-looking planner. This planner's biggest version is under $15, the layout is clean and spacious, and the cover options are gorgeous.
Available on Amazon (Prime & free returns)
What's better than having to buy a new planner every year? This Rocketbook reusable planner has a useful life until 2080! It comes with an erasable pen and microfiber eraser, so the pages stay clean and unscratched.
Available on Amazon (Prime & free returns)
Best Planner for Mompreneurs:

Legend Planner
The Legend Planner is most similar to the Passion Planner, in that it focuses on goals and breaking them down so you can focus on them each day and week. But, the reason why I love the Legend Planner for business owners is because the week layout has more structure for tracking things, so that the busy-work doesn't get lost in the shuffle.
Available on Amazon (Prime & free returns)
This planner's goal sections are fantastic for keeping track of business milestones and monthly/quarterly goals.
It also has a lot of intentional journaling prompts – having prompts like these are super-helpful in keeping business goals in mind day-to-day.
Available on Amazon (Prime & free returns)
This is a big, spacious planner that has room for up to four kids. There's plenty of room for lots of details, and the layout is AWESOME.
Available at the MomAgenda website
The Happy Planner's Color Block isn't specifically for families, but its layout has room for keeping track of up to five kids at once!
Available on the Happy Planner site.
This printable planner for moms has 45 pages of super-helpful checklists, charts, worksheets, and more! Cassie thought of everything you need to keep track of your home and your family.
Available at CassieScroggins.com
I have a daily planner! It's got
Daily Planner Page for Each Day of the Week (7 pages)
Undated Daily Planner Page
Daily Reflections Page
Future Year-at-a-Glance Calendar
Fun Coloring Page with Affirmation
Available in my Printables Shop
Best Planner for Moms Who Get Bored of Their Planners Easily:

Bullet Journals
A lot of people think that having a bullet journal is this intricate, artistic, complicated process (thanks, Pinterest!).
But, the truth is that you are free to write in only what you need, and leave the rest out. It saves a lot of room and paper, and you aren't stuck with standard planner pages that you'll never use.
You can try out any kind of layout you want, and if it only lasts one day or one week, no problem! Just turn the page and you have a totally blank slate.
The Ultimate Guide to Starting a Bullet Journal by Keri at Journaling My Life is a fantastic resource if you want to learn how to use a bullet journal. It includes the best supplies to get started with bullet journaling, including budget friendly options, step-by-step instructions for setting up the first minimalist layouts, and a couple other goodies too!
You can easily franken-plan and change your layouts by grabbing new inserts any time of year, instead of starting a brand-new planner.
Available on Amazon (Limited choices but Prime & free returns) or the Happy Planner Store
How To Choose a Planner
Choosing a planner you will love is really not that complicated. However, a lot of planners are "final sale," meaning they can't be returned, so you want to make sure you are making an informed purchase, and don't end up wasting money.
There are four main options to consider when choosing a planner, I go through each of them below:
Daily vs. Weekly
Hourly vs. Block or Lined
Dated vs. Undated
Big vs. Small
Daily vs. Weekly Planners for Moms
The main difference between daily & weekly planner layouts is the amount of space you have per day to work with. A good rule of thumb is that weekly planners will give you ⅓ of each page per day, while daily planners can give you either one or two full pages per day.
Now, one of my favorite differences between daily and weekly planners is that weekly planners usually have one "goals" dashboard or one notes page per month. But, here is where daily planners really shine…
Daily planners can get really creative with their use of space, and add lots of room for hourly planning, checklists, goal-setting, reflection and more.
Now, will you use all of that space? That's the question you want to ask yourself when you are choosing a daily vs a weekly planner layout.
Do you need space for DAILY checklists and tracking? Or more creative space for decorating & stickers? If so, a daily planner like these [anchor] is the way to go.
If you found it hard to use up planner space in the past, then opting for a weekly planner is probably best.
Hourly vs. Block or Lined Planners
Hourly planners are really helpful for moms who either have a structured day that has set transition times (like lunch at 11am, play time 12-1:30, nap time, etc.), or for moms who find themselves keeping track of time-specific events (like volunteering, doctor appointments, work times, meetings, etc.).
"Hourly" layouts are called "hourly," but different planner companies have different start and end times, and can break up the time by hour, half hour or fifteen minute increments,
On the other hand, maybe you don't have a need for such a specific time-based structure, or you only have a few appointments or events per week or month. Sometimes it can feel like your planner is bare because you don't need all those hours. If that's so, a block layout or lined layout is more than enough space.
I am using an unlined (three-block-per-day) layout from Erin Condren, and here's how i use it:
One block to list specific events,
One block for my job & blog to-do's, and
One block for my home tasks
At first I thought I would never have enough room for my whole life to fit in there without breaking my day up by hour, but the layout is way more than enough.
Dated vs. Undated Planners for Moms
Dated planners usually start in January or July (for academic planners). The idea is that there is a new year (or school year) starting and having a fresh, new planner helps to keep up your motivation,
If you have a favorite planner, it can be really fun during "new planner" season to watch for new styles!
On the other hand, undated planners can start at any time, on any month/week you choose.
Plus, it can be therapeutic to take time once each month to put the dates into your planner with stencils, stickers or handwriting.
Big vs. Small Planners for Moms
So, the term "big planner" is kind of misleading, because "Big" and "Small" are relative. I personally don't think my 7in x 9in Erin Condren planner is big, but it really is compared to the compact planners in Staples!
For this comparison, I'm considering a "big" sized planner to be 7in x 9in and bigger, and anything smaller than that I consider to be small.
Here's the one question to ask when you are thinking about which planner size to get: Am I bringing this planner with me throughout my day, or am I keeping this planner in one place?
Big planners are going to be a bit heavier than smaller ones. Bigger planners are great if you keep your planner at home, or if you have a nice sized tote that is big enough to hold it.
Smaller, more compact planners are much easier to bring around with you throughout your day. If you spend a lot of your day out of the house, but you receive info all day and are constantly reaching for your planner, a more compact planner is easier.
I don't recommend "pocket planners" for moms. Those are planners that are approximately 3in x 7in, and have month layouts with very small squares. It's both hard to write in and hard to scan through, and really doesn't have room for ANYTHING else but your schedule.
How Will a Planner Help Me as a Mom?
Planning is a task that is often delegated to the mom. And, it's a task that can be quite challenging to manage without a good system.
So, it's important for us to have the right tools in order to make sure that we don't forget anything! A planner is one of those tools.
A planner will help you keep track of all your tasks and appointments, so you know what needs to be done when, and where. It also helps you create a schedule that works for your family, so you all can stay consistent with a routine.
There are many planners that are specifically designed for moms, just take a look at any of the planners above! Lots of them have sections that are dedicated to managing tasks and reminders. Some planners also come with sections for budgeting or meal planning too.
Keeping everything in one place with a planner also makes it extremely easy to use your planner CONSISTENTLY. And THAT'S the key to having a successful planner experience.
I don't mean that you have to use it in a certain way, or the same way all the time. You'll most likely need to tweak things here and there to fit your family's unique needs.
But as long as you have that anchor, that place for all the schedule & routine things to go to (your planner), you'll always know what's coming, and being prepared is the most valuable tool there is as a mom.
Best Planners for Moms 2023
Here are some helpful articles on how to use your planner as a mom: