Birchwood Snowman Ornament Craft
Take a look at this fantastic snowman ornament craft! Isn't it beautiful?! It brings a natural and rustic look to your home décor that makes the holiday season warm and cozy. In this post, we show you what you need and how to make this fun birchwood snowman ornament craft. Your kids will have a blast making it and then decorating the Christmas tree with it!
With the holidays quickly approaching, now is the time to make some really fun Christmas ornaments. Not only is this simple and easy to do but it's really great for the kids as well.
It's a fun ornament that can easily turn into a keepsake ornament as well. If you're sentimental at all, this is one ornament that you're going to want to keep and hang up every single year.
Have fun making this simple Christmas ornament. Homemade holiday ornaments are literally the best!
Birchwood Snowman Ornament Craft Supplies
Keep in mind that this craft isn't hard to do at all. You'll just need a few simple supplies to get started, which you'll find listed below.
It's always a good idea to make this on a craft weekend and then hang them on the tree. We also like to make these up as gifts and give them out to our family and friends as well.
It's so fun to have a tree full of homemade ornaments and this is one of my favorites for sure. I probably have several of these that I hang up every year because I just can't part ways with them!
Birchwood Snowman Ornament Craft Supplies
Gather up the list of supplies to get started on this simple snowman ornament.
 Tinksky 30pcs 6cm Round Wooden Discs Birchwood Circles
 DIY Polyester Felt Nonwoven Fabric Sheet for Craft
 Watch them wiggle eyes, Black(500 PIECES) – BULK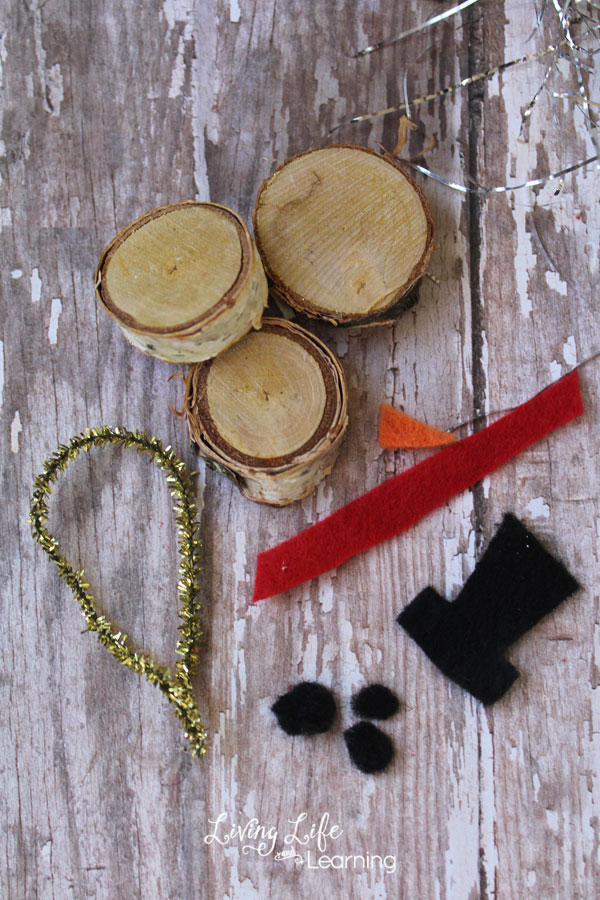 Ornament Supplies
Ribbon or pipe cleaner for hanging
Birchwood Chips (found a most craft stores, sold by the bag)
Craft felt in orange, red, black, and tan
Scissors
Pair of googly eyes
Hot glue, glue gun
Directions for Snowman Ornament
1. Choose three birchwood chips to craft the body of your snowman. Line them up and add hot glue between each piece. Press together and hold until secure to create the body.
2. While the glue dries, you can cut out your felt shapes to create the details on your snowman. Cut out an orange triangle for the carrot nose, a few black circles for buttons, a red strip for the scarf, and a small black hat. We also made small stick like hands using the tan felt.
3. Once the glue holding the birchwood chips together is dry you can glue your googly eyes in place at the top of the clothespin.
4. Add a dab of glue to your felt details and glue them in place. You can glue them as shown or create a look of your choosing.
5. Add some glue to your ribbon or pipe cleaner and press to the back of the snowman's body. Once this piece is dry, your birchwood snowman ornament can be hung!
Thank you for visiting our Birchwood Snowman Ornament Craft post!
The main thing to keep in mind when making this snowman ornament craft is that you need to give the glue time to dry.
This can be hard for the kids to slow down and understand, especially when they're excited to decorate the tree.
Talk to them about this process beforehand so that it's not a shock to them once they start. Once they understand the importance, they'll have no issue being a little bit patient for their craft to be perfect.
More Christmas Activities
If you like this fun Christmas activity, here are some others that you're going to want to do.
Christmas Wreath Rice Krispies Treats