Cardboard crafts are a great activity for preschoolers and kindergarteners. This Valentines activity is easy and fun for children; all you need is red or pink colored yarn, a corrugated cardboard box, scissors, and a hole puncher. Add this kids activity to your list of valentine craft ideas.

These Cardboard Lacing Hearts are the perfect fine motor activity for kids, and it doesn't require any hot glue guns or anything complicated. 
They're not only easy to assemble, but they're a great idea for Valentine's Day as well. Instead of tossing that cardboard in the trash, use this simple idea as a way to reuse and up-cycle it into a useful and fun kids craft. 
When it comes to fine motor skills, using a piece of cardboard is a great idea. This activity is excellent for hand-eye coordination and a great way to make a cute yarn heart. 
These fun threading cards are perfect for a beginner sewing activity and are great for taking while traveling or on the road.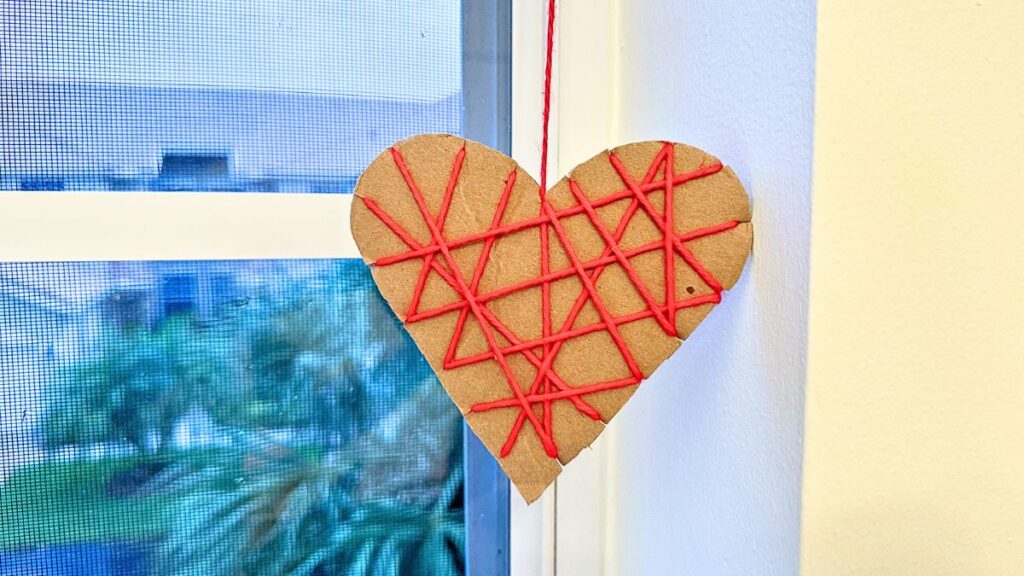 Cute Valentines Day Craft for Kids to Try
Who knew that a cardboard heart would be such a fun craft?
This hearty lacing card project is excellent for all ages to join in on the fun and simple to make as well (This activity is also great crafts for adults).
These fun heart threading cards are the perfect crafts for kids and make a simple and easy art project to complete at home. 
While this cardboard heart string art could be done any time of the year, it's especially fun and festive to make it during Valentine's Day.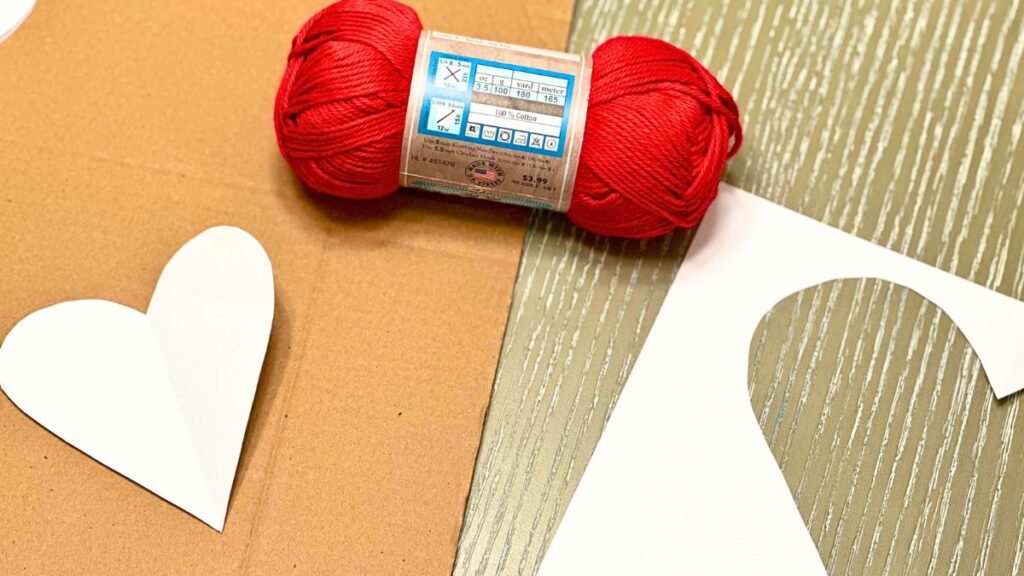 Craft Supplies – Tools You'll Need for This Heart Craft
Corrugated cardboard (we used our diaper boxes cardboard)
Red yarn
Hole puncher
Scissors
Steps for This Fun Activity
Start by drawing a heart onto the back side of a piece of cardboard. You can use a pre-cut paper heart shape to help you draw a perfect heart like the picture shown above.
Cut the heart with scissors.
Once you have the cardboard cutout of the heart, you can use the hole puncher to punch holes around the edges. Alternatively, you can also just cut some slits around the edges to slip the yarn through. 
Tie the end of the yarn onto the backside of the heart, and then thread the yarn from hole to hole.
Once the kids get done, tie off the other end of the yarn to show that the plate heart weaving project is complete. 
Tracing with a Heart-Shaped Cookie Cutter
The beautiful thing about making all kinds of heart crafts is that they're easy to change. 
Grabbing a cookie cutter and tracing a single heart is an easy option, too.
Alternatively, you can just cut out a heart shape to the best of your ability. If you have a heart stencil, that works great, but freehand is an option as well. 
This heart lacing card can still happen even if you don't have a sheet of cardboard or a template. 
Cutting Out Heart Shapes
Using scissors to cut out the heart shape is perfect for fine motor tasks. It might take a couple of times to get it exact, but the kids will get the hang out it in no time at all. 
Be sure to have the appropriate scissors for the children to use so that they can start cutting without frustration. Scissors that are too big, or scissors that aren't for the correct hands will make for a frustrating experience. 
A great way to have the kids work on cutting out rounded shapes and hearts, is to have them practice cutting on different sizes. This will teach them how to turn the scissors and the cardboard in the right direction to make the cutting easier.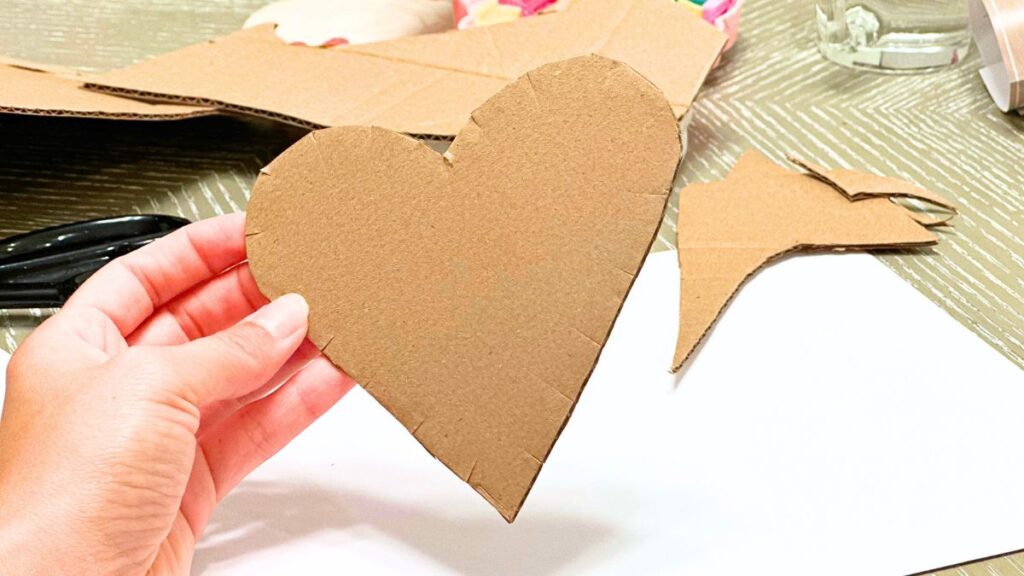 Lacing Hearts
Who knew that a piece of yarn would be the perfect fine motor skill activity for kids? Once they start this heart for lacing activity, they're going to want to keep going with that momentum. 
There is a bit of a balance in starting this project because have too short of yarn won't be enough to finish and have a too-long piece will make it more difficult than normal to do. 
Not only will they learn sewing skills, but they'll learn the importance of taking their time and paying attention so that they don't miss any of the holes. 
Benefits of Cardboard Crafts Activities for Children –
While there are many benefits to this activity, the biggest one has to be that it's excellent for hand-eye coordination and fine motor skills. This activity will also help develop problem solving skills and focus. 
Not only do the kids have to focus on holding the yarn and then threading it into the hole, but they have to be sure that they're going at a good pace and paying attention so that nothing gets missed.
Teaching children basic activities like this is a great way to show them that they can have fun and be creative with simple supplies and ideas. And – what better way to use those packaging boxes than by doing crafts with cardboard!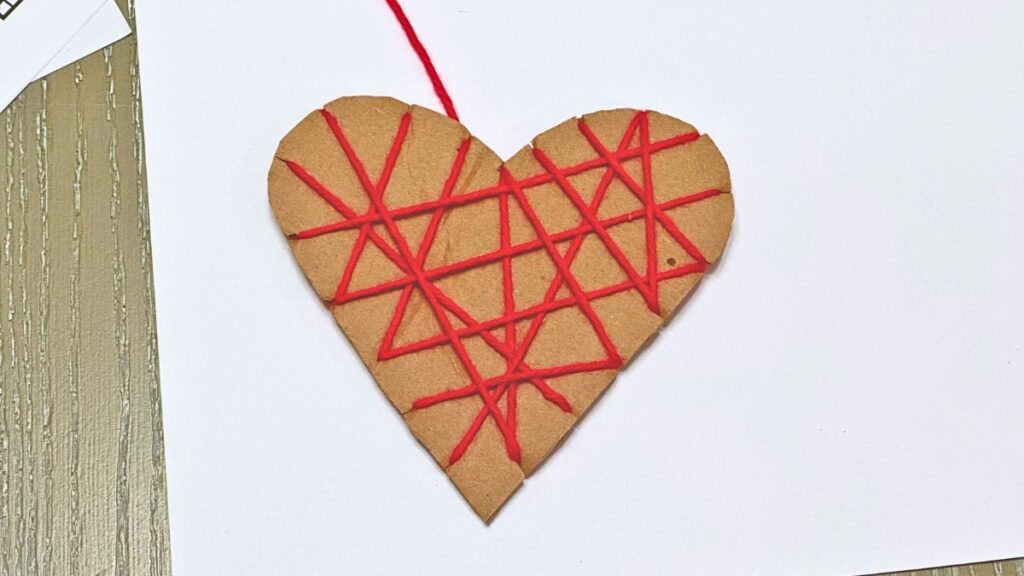 If you liked this activity, be sure to check out this super cute: DIY Unicorn Hair Bow Holder.
How can I make a laced heart without using cardboard? 
One other fun way is to create a beautiful paper plate heart! Basically, a paper plate is used in place of the cardboard for this heart lacing card project. 
Using a paper plate for this heart string art craft is a fast and simple way to create this project, without a ton of extra stress. 
And if there isn't time to even cut out a heart shape, use the hole puncher to make a heart shape and then thread the yarn through those holes. Paper plate heart lacing is just as simple as using cardboard crafts or even a printable heart lacing card!