Easy Lemongrass Sugar Scrub
You're going to love this Easy Lemongrass Sugar Scrub recipe. Not only will it make your skin feel smooth but it will also leave you smelling great as well! This simple sugar scrub is one that I love to make all the time because it has minimal ingredients and works like a charm.
It's also a great sugar scrub for boys and girls because it doesn't have an overly feminine scent to it. This means that the boys won't mind using it to keep their skin smooth and hydrated as well.
If you're looking for an easy homemade beauty recipe, you're going to have so much fun with this one. It's fast, easy, and makes a great DIY gift idea well!
Be certain to check out our DIY Peach Mango Sugar Scrub Recipe as well!
Easy Lemongrass Sugar Scrub
The great thing about this simple sugar scrub recipe is that its' really quite simple to make. With just 4 easy ingredients, you'll literally have nothing but minimal prep work to worry about.
I've made this numerous times and I just love how refreshing the scent of it is. It's an easy solution for my dry skin during the cold months out of the year as well.
I also like that it's natural on my skin as I don't have any oily residue or anything like that to worry about as I have from some scrubs that I've purchased from the store.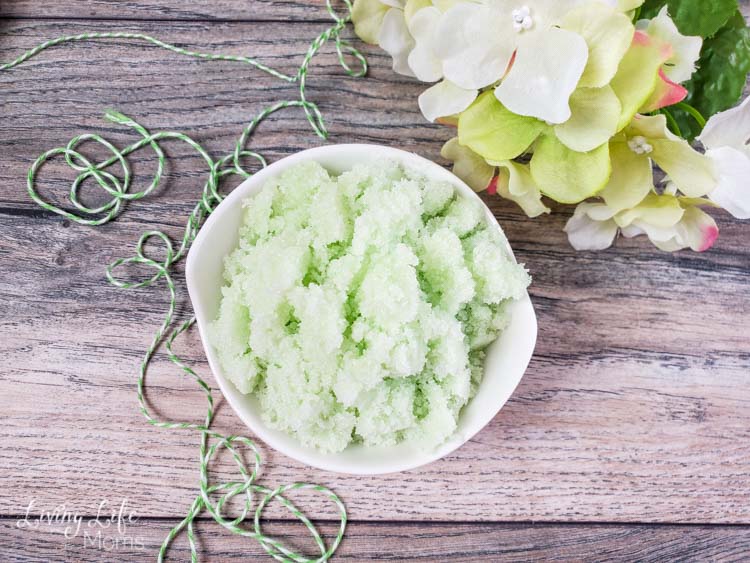 Supplies Needed To Make DIY Sugar Scrub
I told you this was easy, didn't I?
How to Make Easy Lemongrass Sugar Scrub
It's really all about mixing and stirring. Doesn't get much better than that, right?
Make certain to stir and get it all mixed well as it will start to get harder to stir the more that you stir. You'll also want to stir to get the green coloring evenly mixed with all the other ingredients, too.
How To Store Homemade Sugar Scrub
The good news is that storage is simple! Once you have it mixed, just store it in an airtight container for up to 6 months. You shouldn't have to keep it in the fridge or anything like that, which makes it super nice to have in your bathroom to use for washing your hands quickly and easily.
I like to store it in a cute little jar with a lid so that it keeps it as fresh as possible for as long as possible. Keeping the air out when you're not using it is key to it staying nice and fresh.
How to Use Sugar Scrub
I use this for taking care of my hands and sometimes my feet during the winter months, It's also gentle enough to use on your body, too. But since this doesn't make a huge batch, I tend to keep it for smaller areas so it lasts longer.
Just run on gently and exfoliate the skin, then rinse off with warm water. That's really all you have to do.
If you notice that your skin is starting to look irritated, you might need to give it a break for a few days and see if that helps. This is highly unlikely but something worth mentioning and watching, just in case.
Have fun making up this simple DIY Sugar Scrub recipe! It's fast, simple, and has an amazing smell! Put it in your bathroom as a reminder to take care of your skin or give it as a fun gift to your family and friends.
Easy Lemongrass Sugar Scrub
This sugar scrub recipe is so simple to do!
Materials
¾ cup of sugar
30 drops of lemongrass fragrance oil
¼ cup of grapeseed oil
⅛ teaspoon of fruit green mica powder
Instructions
Grab a small bowl and mix dry ingredients together: sugar and mica powder.
Next, put in the liquid ingredients: grapeseed oil and fragrance oil.
Mix all the ingredients thoroughly until the color is uniform.

Notes
Store in an airtight container and use within 6 months.
More Beauty Recipes
Essential Oils for Personal Care