The Ultimate List Of Meals For Dinner You Need Tonight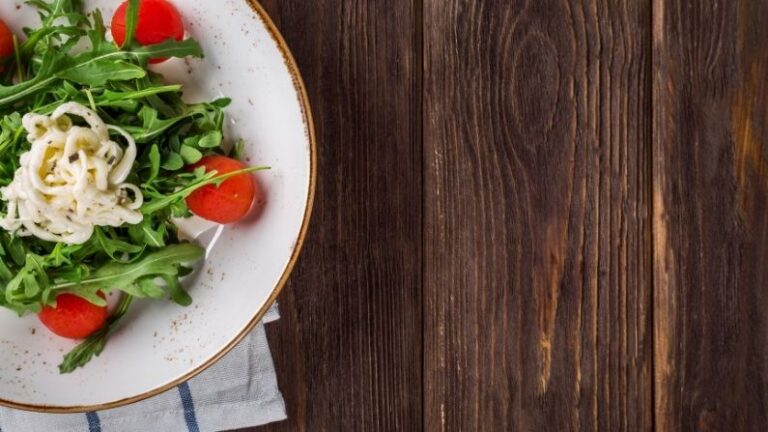 Last year I really dropped the ball with making dinner, and we relied on takeout a few too many times. This month, I'm making an extra effort to get my dinner-making under control.
One of the problems I was having was that I never had a PLAN, and ended up staring into my void of a fridge once dinnertime came around……And then I ordered takeout.
So, I put together this ultimate (and easy) list of meals for dinner. Having this list on hand to scroll for dinner ideas is a TON easier than starting from scratch, trying to pull dinner recipes from your brain….and fridge.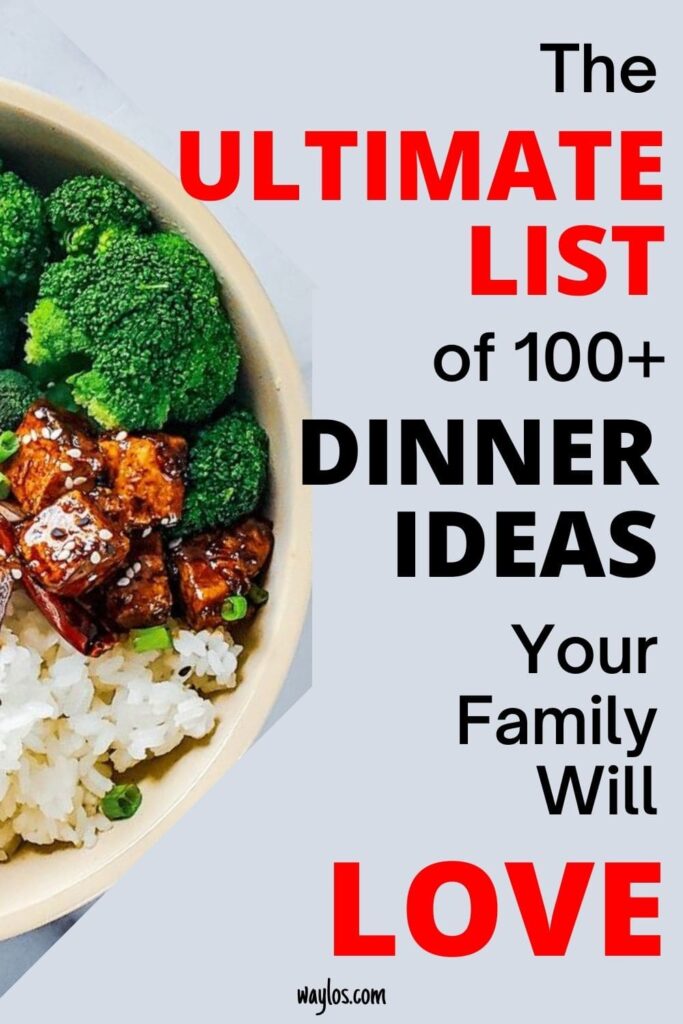 Quick Tips To Make Dinnertime Easy
Make Meal Planning and Meal Prepping a Part of Your Week
Since we don't really have the luxury of quickly popping into the market for things anymore, making sure there is food in the house is more important than ever.
So, we have to be more intentional each time we go to the grocery store. That's where this list of easy dinner meals comes in SO handy.
We can look through the list and pick out the dinner recipes for the week all at once, and make one grocery list for the week that covers everything.
Meal planning in general is important for two reasons:
It takes away the need to make that decision every day, freeing up brain power, and
It helps give structure to your day and to your family, which is especially important when you have children. Nobody's asking, "What's for dinner" anymore, they already know.
Meal prepping can go hand in hand with your meal plan, and this is what REALLY helps me get out of the order-takeout-rut.
You see, once you know your daily dinner recipe, you know what needs to be thawed, mixed, and all that before dinner comes.
I use a very simple meal prep plan, which is preparing the ingredients ahead of dinnertime (usually on Sunday or Tuesday of each week). Chopping, slicing, marinating, mixing, etc.
This way, all I have to do is throw the ingredients into the pot or pan to cook, and my nightly dinner cooking time is literally however long it takes to cook the meal. It's the BEST time saving hack I have in my working mom arsenal.
Here is my post all about meal prepping for busy moms, it even includes three days of meals if you are feeling stuck on what to make!
Get the Kids Involved in Picking Dinner Recipes
The kids (and the rest of the family, really) can get involved with dinner and basically take some of the load off of your shoulders. Here's how:
They can help pick out the recipes with you for the week
They can help prep the ingredients with you on your meal prep day
For older children, your house can rotate dinner duty each night, giving each family member the job of making a dinner they pick out. This not only gives the child some (supervised) responsibility, but it also makes sure they are home for family time on some nights during the week.
Benefits of Cooking at Home By Having a List of Meals for Dinner at The Ready
It's cheaper,
It pretty much guarantees you won't be throwing away expired & rotten food at the end of each week, and
You are much more likely to use items on your shelf and pantry that are easily forgotten.
Ultimate List of Meals for Dinner
This list of easy family meals will make sure you NEVER run out of dinner ideas ever again! If you want to skip around by category, click on any of these:
List of Dinners by Cooking Tool/Style:
One Pot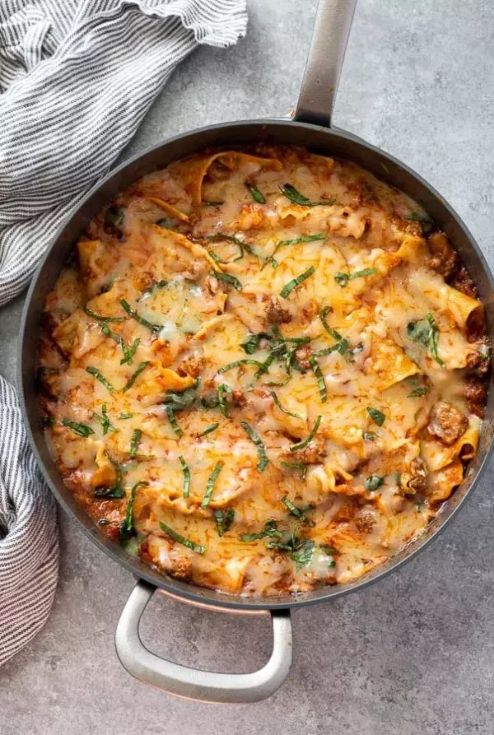 Skillet Lasagna (One Pot + 30 Minutes!), by Flavor the Moments
Easy 1 Hour Deep Dish Pizza, by Sweet Tea and Thyme
One Pan Rosemary Chicken Thighs with Cranberry Sauce, by Tasting with Tina
20 Minute Sweet and Spicy Noodles, by Served from Scratch
One Pan Mexican Quinoa, by Vegan Huggs (also Vegan)
Shakshuka With Feta, by Caramel & Cashews
One-Pot Italian Chicken and Rice, by Coffee Fit Kitchen
Cheesy Broccoli Sausage Pasta Skillet, by This Ole Mom
Chicken Stroganoff, by The Cozy Cook (also Crock-Pot Friendly)
Zucchini Beef Skillet, by Eating Richly
The Best Ground Turkey Chili You'll Ever Eat, by On My Kids Plate (also Freezer-Friendly)
One Pot Sausage Linguine, by 365 Days of Baking & More
Chickpeas with Chorizo in Spicy Tomato Sauce, by Everyday Delicious
One Pot 20 Minute Greek Pasta, by Served from Scratch
One Pan Chicken Potato Gratin, by Where Is My Spoon
Easy Chicken Fajitas, by Small Town Woman
Crock Pot/Slow Cooker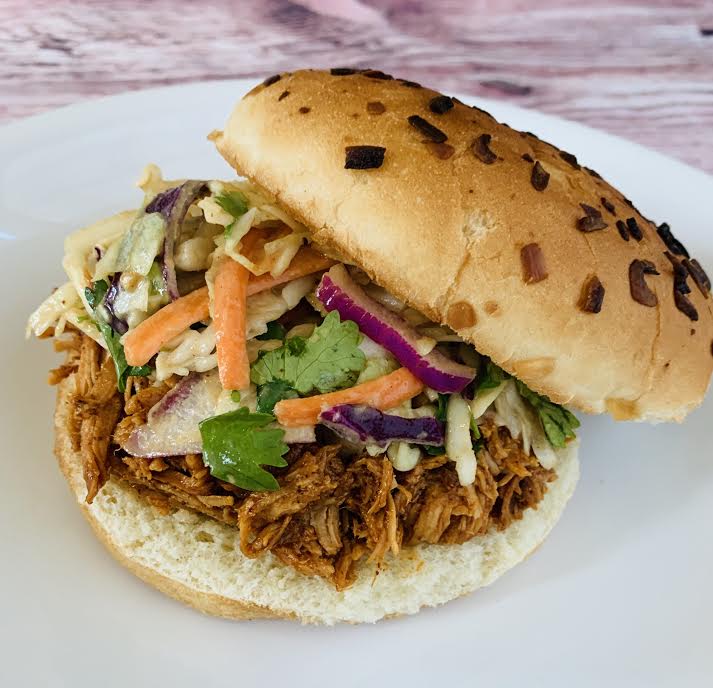 Slow Cooker Pulled Chicken, by The Art of Food and Wine
Crockpot Shredded Chicken Tacos, by On My Kids Plate
Slow Cooker Creamy Tortellini And Sausage Soup, by Cheese Curd in Paradise
Slow Cooker Chicken Caesar Sandwiches, by Cheese Curd in Paradise
Easy Slow Cooker Pulled Pork, by The Gracious Wife
Slow Cooker Salsa Chicken, by Strength & Sunshine
Casserole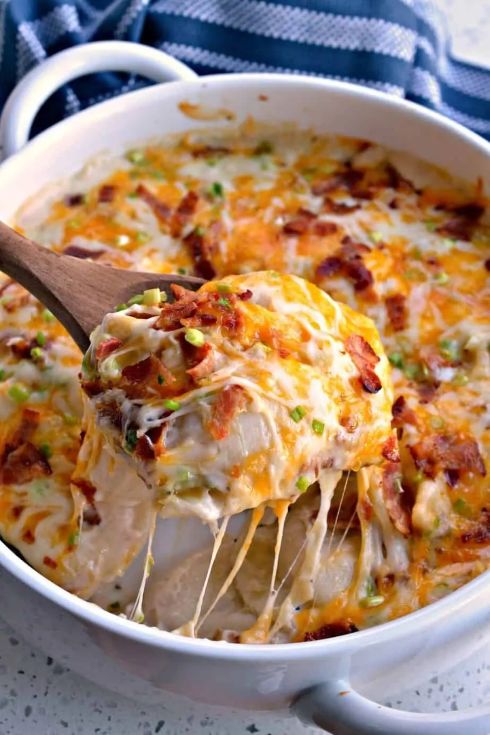 Cheesy Pierogi Casserole, by Small Town Woman
Baked Ziti, by Confetti & Bliss
Chicken Noodle Casserole, by Baking Beauty
Easy Turkey Taco Casserole, by Honey + Lime
One-Pan Chicken Potato Gratin, by Where Is My Spoon
Mexican Chicken Casserole, by Amanda's Cookin'
Veal Orloff, by Peter's Food Adventures
Sheet Pan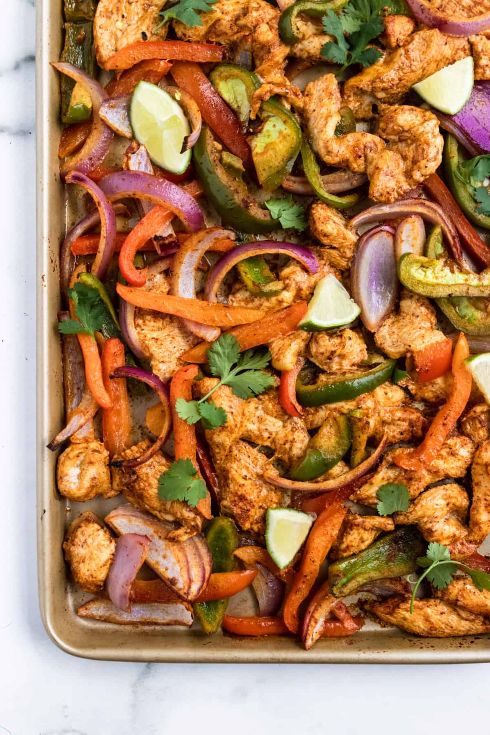 Easy Pizza Rolls with Homemade Pizza Dough, by Everyday Thrifty (also Freezer-Friendly)
Sheet Pan Trader Joe's Cauliflower Gnocchi With Chicken Sausage & Broccoli, by Hungry Hobby
Biscuit Pizza Puffs, by Stef's Eats and Sweets
Honey Lime Baked Chicken Fajitas, by Lemons + Zest
Dew Drop Cabbage & Sausage, by Eating Richly
One Pan Baked Chicken Thigh Recipe with Green Beans and Red Potatoes, by Coupons & Recipes For Your Family
Easy Orange Glazed Salmon and Asparagus, by Greta's Day
Sheet Pan Mozzarella Chicken and Potatoes, by Dancing Through the Rain
Instant Pot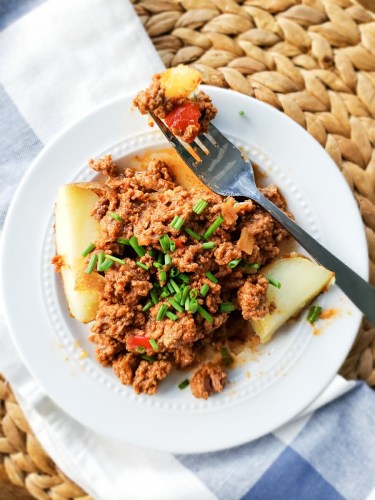 Instant Pot Broccoli Cheddar Mac and Cheese, by Tasty Oven
Keto Instant Pot Chili, by Two Sleevers
Instant Pot Chicken Curry, by Went There 8 This
Instant Pot Turkey Stir Fry, by The Inspiration Edit
Instant Pot Vegetable Biryani, by Piping Hot Curry (also Vegetarian)
Instant Pot Sloppy Joes, by Super Simple Salty Life
Air Fryer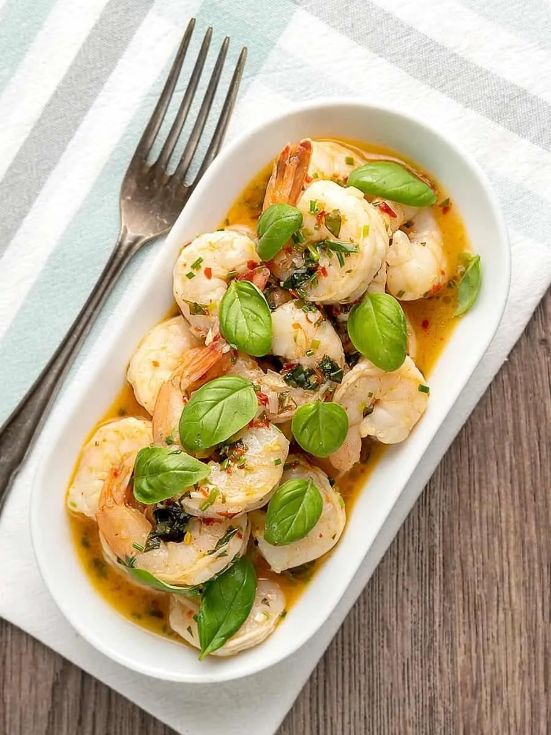 Air Fryer Keto Shrimp Scampi, by Two Sleevers
Stir Fry
Easy Egg Roll in a Bowl: Keto Crack Slaw, by Wholesome Yum
Chicken Cabbage Stir Fry, by Wholesome Yum
Easy Thai Vegetable Stir Fry With Pumpkin + Tofu, by Nutriciously
Ultimate Chinese Chow Mein, by Savory Bites Recipes (I would pre-prep the spices & the sauce to save cooking time with this one)
Dinners By Main Ingredient:
Chicken
Easy Oven Baked Drumsticks with Potatoes and Carrots, by On My Kids Plate
Pesto Chicken Bake, by Confetti & Bliss
Easy Breaded Chicken Tenders, by Urban Bliss Life (also Freezer-Friendly)
Sun Dried Tomato Pesto Chicken, by Sula and Spice
Easy Lemon Artichoke Chicken, by Amee's Savory Dish
Easy Chicken Alfredo, by Lemons + Zest
Easy Baked Chicken Parmesan, by Amee's Favorite Dish
BBQ Baked Chicken Quarters, by The Anthony Kitchen
Easy Baked Boneless Chicken Breasts, by Go Healthy Ever After
Chicken Burrito Bowls, by All Nutritious
Chicken Shawarma Lettuce Wraps, by Sassy Cooking
Thai Cashew Chicken, by State of Dinner
Fish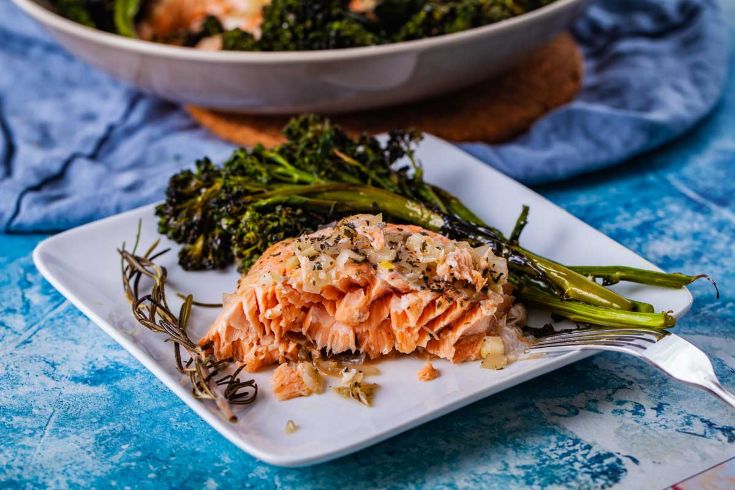 Easy Pan Seared Salmon with Chimichurri Sauce, by Tasting with Tina
Easy Weeknight Salmon Dinner, by NP Courtney
Easy Baked Lemon Dijon Salmon, by Flavor the Moments
Salmon Spinach Pasta, by White Kitchen Red Wine
Buttery Baked Salmon with Baby Broccoli, by My Chefs Apron
Shrimp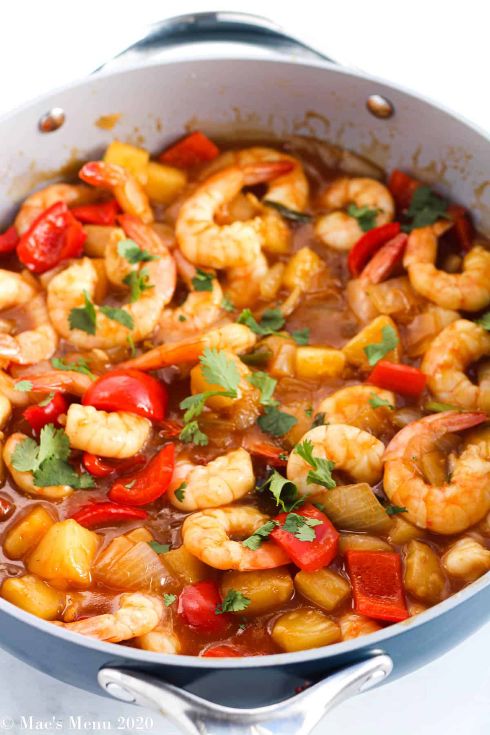 Easy Thai Shrimp Curry, by Went Here 8 This
Shrimp Tacos with Mango Salsa, by Give Me a Fork
Sweet and Sour Shrimp, by Mae's Menu
Beef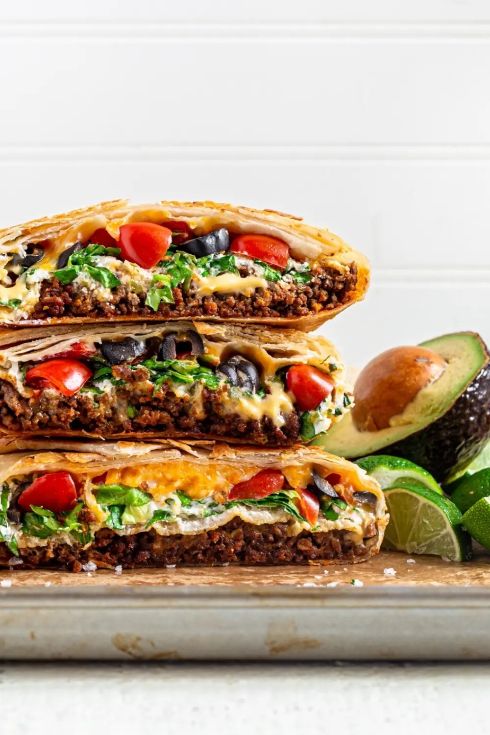 The Best Chuck Pot Roast, by The Diasporic Dish
Crunchwrap Supreme, by Confetti & Bliss
Easy Hamburger Stew, by Small Town Woman
Spinach Tomato Meatza Pizza, by Low Carb Yum (Also Paleo)
Easy Grilled Steak and Potato Kebabs, by Moore or Less Cooking
Carne Asada Recipe, by The Art of Food and Wine
Cheesy Beef Enchiladas, by On Ty's Plate
Shepherd's Pie Loaded Baked Potatoes, by Cupcakes & Kale Chips
Tofu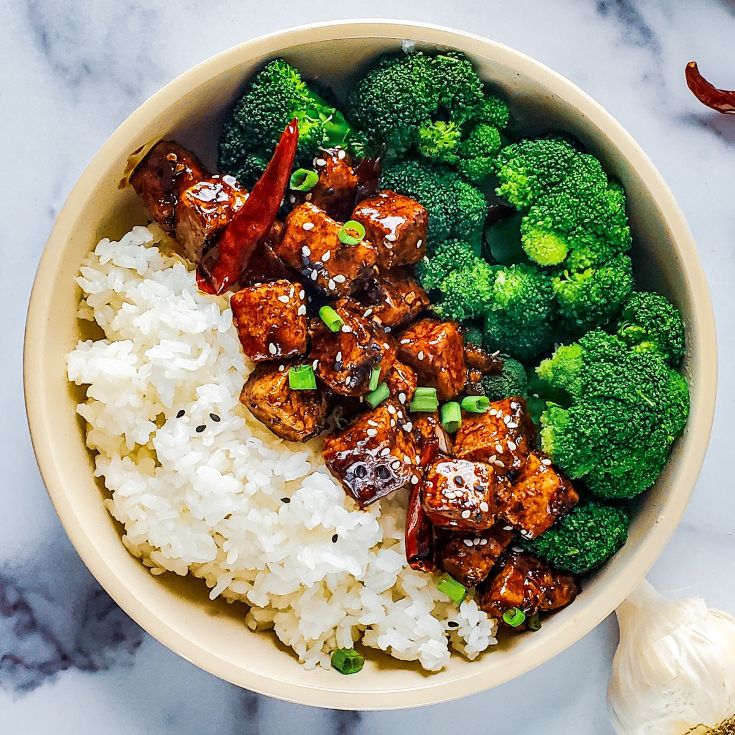 Crispy Sesame Tofu, by Southern & Modern
Peanut Tofu Satay Curry, by Rhian's Recipes
Vegan Asian Broccoli Mushroom Tofu Stir Fry, by My Plentiful Cooking
Beans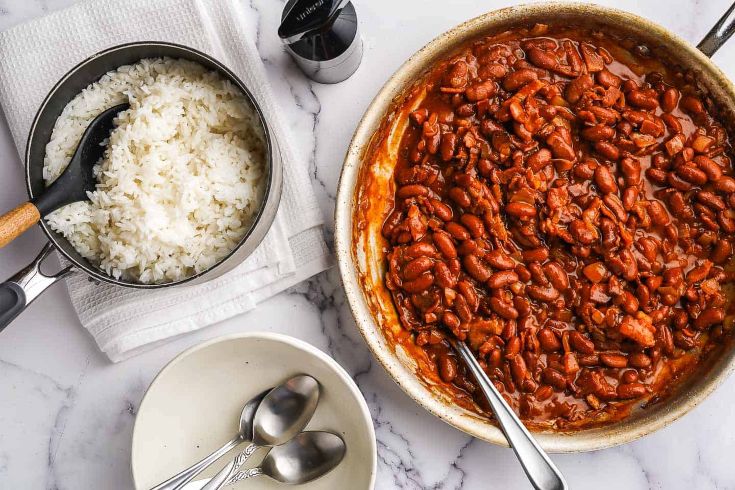 Quick Red Beans and Rice, by Nibble and Dine
Soup, Salad & Pasta Dinner Meals
Soups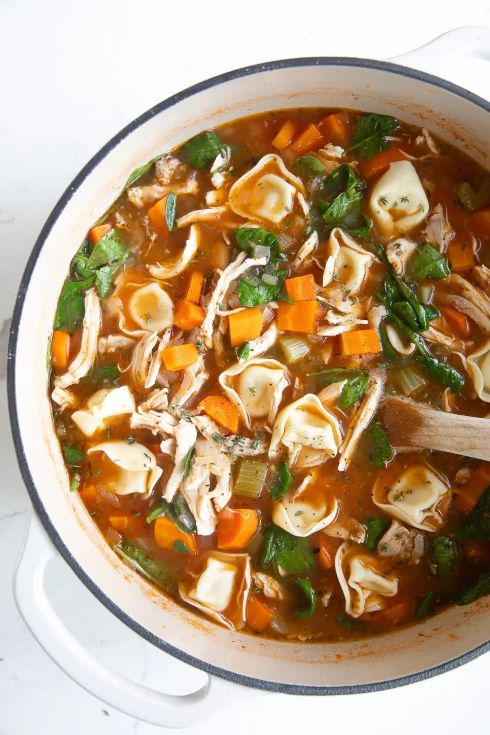 Easy Chicken Tortellini Soup Recipe, by The Forked Spoon
Keto Chicken Pot Pie Soup, by Cassidy's Craveable Creations
Healthy Clear Vegetable Soup, by Dassana's Veg Recipes
Easy French Onion Soup, by Emily Fabulous
Easy Ramen Noodle Recipe, by Emily Fabulous
Healthy Chicken Lime & Avocado Soup, by Everyday Thrifty
Salads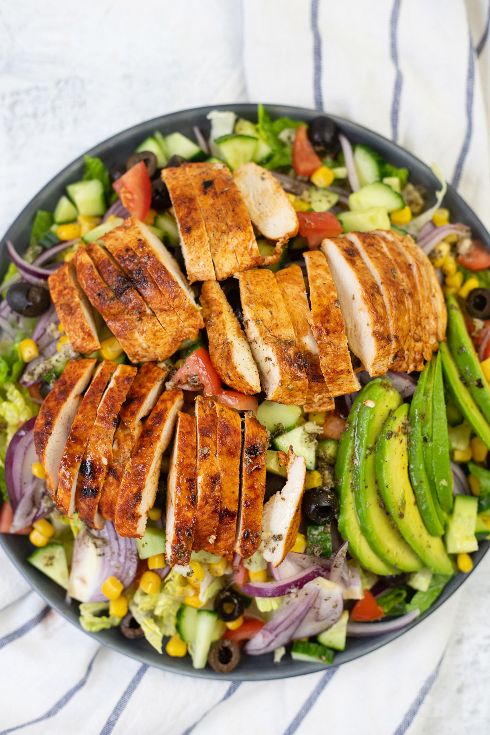 Easy Taco Salad Recipe, by Sustain my Cooking Habit
Pan Seared Chicken Caesar Salad, by On Ty's Plate
Fresh Caprese Salad with Crispy Eggplant, by Straight to the Hips, Baby
Eggplant Tomato Onion Salad, by Alyssa Germaine
Grilled Chicken Salad, by Healthy Life Trainer
Pasta
Chicken Thyme Pasta, by Cooked by Julie
One Pot Fettuccine Alfredo, by Spoon Fork Bacon
The Best Easy Penne Alla Vodka, by Sweet Tea + Thyme
Cream Cheese Pasta, by Green Bowl 2 Soul
Schinkennudeln (German Pasta with Ham and Eggs), by Recipes from Europe
Angel Hair Pasta Recipe With Shrimp And Red Sauce, by Go Healthy Ever After
Prawn Linguine, by The Accidental Chef
Creamy Vegan Cabbage Pasta, by the Accidental Chef
Garlic Angel Hair Pasta, by Mae's Menu
Light and Flavorful Broccoli Pasta, by Julie Blanner
Vegetarian & Vegan Dinners
Vegetarian/Meatless Monday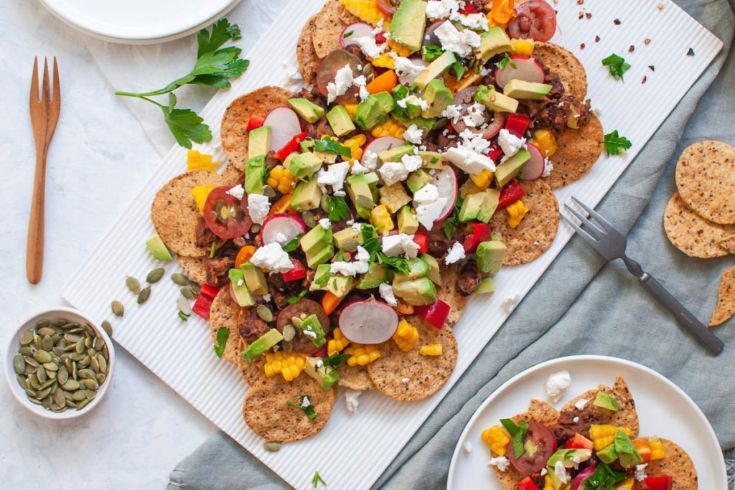 Fried Tortellini and Broccoli, by Tasty Oven
20 Minutes Zucchini Stir Fry, by Curry Trail
15 Minute Vegetarian Nachos, by Ms. Jones' Kitchen
Spinach & Corn Salsa Quesadillas, by Mom's Test Kitchen
Vegetarian Quinoa Enchilada Bake, by Two Pink Peonies
Best Dan Dan Style Noodles, by Home with Anna
Vegan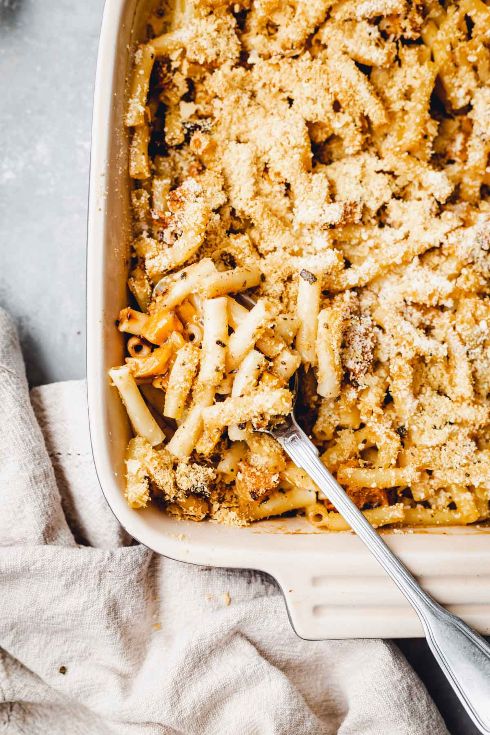 Easy Vegan Peanut Noodles, by The Pesky Vegan
Lazy Falafel, by Rhian's Recipes
Easy Vegetable Lo Mein, by Vegan Huggs
Healthy Vegan Mushroom Stroganoff, by Plant Prosperous
Lemon Garlic Zoodles, by Pink Fortitude
Anti-Inflammatory Vegan Lentil Carrot Soup (One-Pot), by Nutriciously
Satay Sweet Potato Curry, by The Accidental Chef
Vegan Baked Mac and Cheese, by My Vegan Minimalist
Chana Masala, by Urban Farmie
Lentil Sloppy Joes (Instant Pot, Slow Cooker, or Stovetop), by Delightful Adventures
Creamy Vegan Spinach Artichoke Pasta, by Plant Prosperous
Simple Spinach Dal, by Go Healthy Ever After
Dinner Meals Using Leftovers
Chicken Taco Salad, by Bakers Beans (using Leftover Chicken)
Jacket Potato with Cheesy Pesto Chicken, by A Mummy Too (using Leftover Chicken)
Leftover Roast Beef Gyros with Tzatziki Sauce, by Healthy Christian Home (using Leftover Roast Beef)
The Ultimate List of Meals for Dinner
Don't forget to pin this list to keep it handy!
XO,
Mina